The S&P 500 is nearing a 10% correction. If you pay daily attention to the markets, then you've probably heard some of the arguments that a bear market has arrived. A bear market may or may not be forthcoming. Either way, the long-term, income-minded investor should always be focused on durable companies whose income-yielding stocks have been beaten down badly. I don't really know where the broader market is going, but I am interested in looking for value (and not 'value traps').
For the last three years I've been watching W.P. Carey (W.P.C), a REIT with mission-critical properties in many countries. All this time I've been hesitant to recommend this stock because it has been hovering well above its average valuation, but this recent downturn has brought it back. I believe that W.P. Carey is now an 'accidentally high-yielder,' and is therefore worthy of your consideration. This article covers W.P. Carey's growth prospects, its risk profile, its dividends, and finally its valuation.
Valuation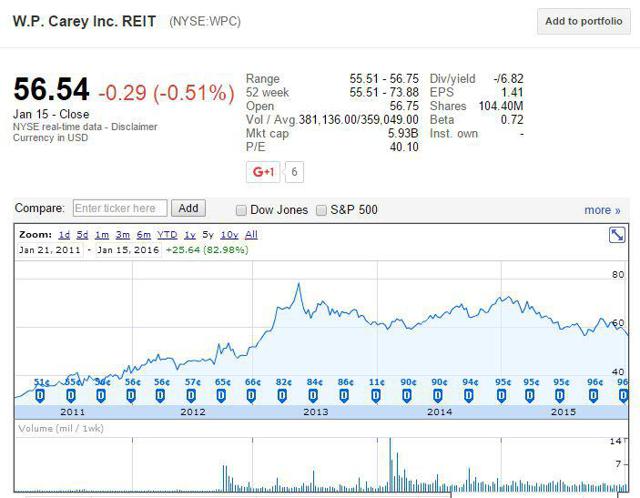 Courtesy of Google Finance
Actually, let me start with valuation, since that is the change that has caused me to write this article. Shares are down from about $63.40 since November, which constitutes a drop of 10.7%. 'Zooming out' a little bit, we can see that shares haven't been this low since early 2013. This is what really caught my eye about the stock. That and, of course, shares now yield a terrific 6.8%.
But just because a stock is down a lot does not always mean that it is a bargain. According to data from FAST Graphs, over the last ten years W.P. Carey has averaged a price to FFO ratio of 12.1 times. Despite coming down a lot, shares of W.P. Carey are still trading at 13.2 times expected, calendar-year 2015 FFO. Overall, though, I still believe that 13.2 times FFO is a fair price for this world-class REIT.
Diversification
W.P. Carey has been around for awhile. It was founded in 1973, and converted into a REIT in the late 90s. The company's aim is to acquire real estate of mission-critical properties operated by companies with investment grade credit ratings. W.P. Carey spans over a variety of industries. Thirty percent of W.P. Carey's revenue comes from office buildings, but there is also significant exposure to manufacturing, distribution and retail. Have a look.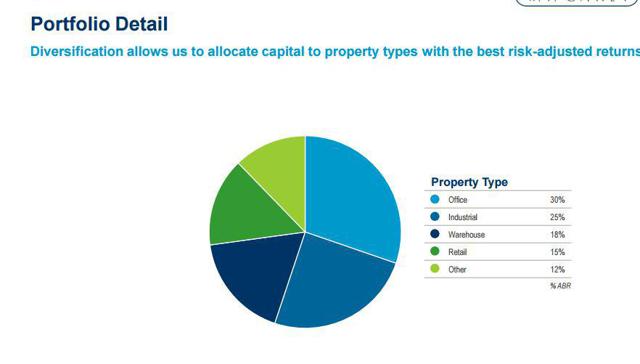 W.P. Carey has a very wide variety of tenants as well. Some of W.P. Carey's tenants include J.M. Smucker (NYSE:SJM), Carrefour (OTCPK:CRRFY), the Paris Traffic Police, Google (NASDAQ:GOOG) (NASDAQ:GOOGL), AMY, leading German DIY hardware franchise, the State of Andalusia, and many others.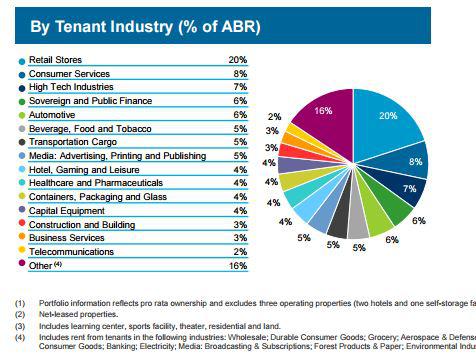 Courtesy of W.P. Carey Investor Relations.
The company's diverse, high-quality asset base goes a long way to mitigate risk. For example, the company has to cut dividends only twice; in 2008 and 2009, and those cuts were rather slight. W.P. Carey's average tenant has a BBB- credit rating, which is the lowest rank of investment grade. Over the last eight years, occupancy has never dropped below 96%. Average occupancy since 2007 is 97.8%. That's an outstanding ratio.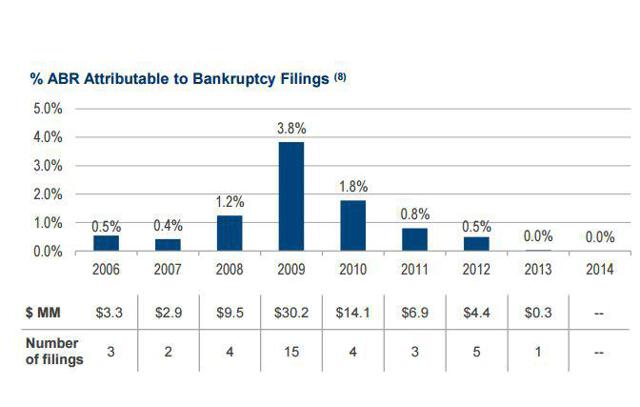 As you can see above, fifteen of W.P. Carey's tenants went bankrupt in 2009, which probably explains why occupancy dipped 2010.
Outside from tenants, what kind of risks are there? Well, debt is about six times EBITDA. While that may sound a little bit high, the company's credit rating is Baa2, well into 'investment grade' rating. In 2016 W.P. Carey has only a $250 million term loan coming due, and a $435 million balance on a revolving loan due in 2018. There is another $1.5 billion in senior notes coming due between 2023 and 2025. The company would be negatively effected if bond rates climbed higher and stayed higher. However, with recent economic softness and a drop in the stock market, rising rates seem less likely a scenario.
Growth potential
Management has yet to give its FFO guidance for 2016. Over the last ten years, however, the company has averaged FFO growth of just over 5%. Dividends, over the last ten years, have increased by 8.4%, compounded. I expect much slower dividend growth going forward, because the dividend-to-FFO ratio is already quite high. For example, over the last four quarters dividends have been 78% of AFFO. I don't believe management wants to push that ratio much higher. Not only that, but street consensus is for 3% FFO growth over the next three years.
Conclusion
W.P. Carey is a world-class REIT. While the dividend ratio is quite high and debt is substantial, those risks are countered by W.P. Carey's diversified, high-quality asset base. With W.P. Carey, you might not get excellent distribution growth going forward, but you will get a 6.8% dividend yield that should grow as fast as inflation at least. W.P. Carey has 'best of breed' occupancy rates and is trading at a reasonable price to earnings ratio. Therefore, I believe this company is a buy right here.
Disclosure: I/we have no positions in any stocks mentioned, and no plans to initiate any positions within the next 72 hours.
I wrote this article myself, and it expresses my own opinions. I am not receiving compensation for it (other than from Seeking Alpha). I have no business relationship with any company whose stock is mentioned in this article.