It surely isn't a lot of fun to watch stocks these days. U.S. stock market indices have been falling off a cliff in 2016, inflicting heavy losses on shareholders. The Dow Jones Industrial Average closed down ~400 points on Friday which only served to increase investors' anxiety levels and nurtured a deteriorating attitude towards stocks. Crude oil prices fell below $30 last week, reaching 12-year lows on the back of high crude oil inventories and Iranian crude oil exports waiting to return to international energy markets.
Business development companies also sold off sharply in 2016. Of all the BDCs moving lower in 2016, Prospect Capital (NASDAQ:PSEC) has been a loss leader. In the first two weeks of the new year, Prospect Capital's stock has crashed 15% (!). Prospect Capital now sells for less then $6. Unreal.
Reasons for the market meltdown
One reason why BDCs, and Prospect Capital in particular, have sold off in 2016 is that investors are concerned over rising loan default rates in the leveraged energy sector. This concern was easy to debunk by recognizing that Prospect Capital only has low loan exposure to the energy industry. As a result, any fallout from the energy price crisis for business development companies including Prospect Capital is very likely contained. Put differently, any potential energy price-related loan defaults are more than priced into Prospect Capital's stock at this point in time.
The second reason why BDCs have been on sale relates to investors rebalancing their portfolios and selling stocks for 'lower-risk' investments.
Investors ditch stocks ... which makes it a good time to buy
Investors have become fearful of stocks, and skeptical of the wider outlook for capital growth in 2016. With few exceptions, stocks have sold off across the board with all sectors from banks to technology to energy seeing cringeworthy losses. BDCs are not the only ones taking a beating right now. And that might just make it a good time to buy them.
In another article I penned last week on the outlook for stocks in 2016, I contended that investors have forgotten how to deal with market corrections in light of a major, multi-period bull market.
Corrections, on the other hand, are opening up buying windows. There is no question that the stock market crash in early 2016 has hurt investor sentiment, but there can be no doubt that Prospect Capital has been thrown into the bargain bin either.
On Friday, Prospect Capital's stock slumped ~1.7% and drifted below $6.00. Last week, Prospect Capital booked a loss of ~13.6%. On the flip side, Prospect Capital's equity valuation is nothing short of foolish.
Prospect Capital's net asset value discount, thanks to the stock market meltdown, has widened to ~41% (!) last week. You read that right: Prospect Capital can now be bought for 59 cents on the dollar, or ~5.7x annualized first quarter NII. That's a real bargain right there, and PSEC is now oversold, too.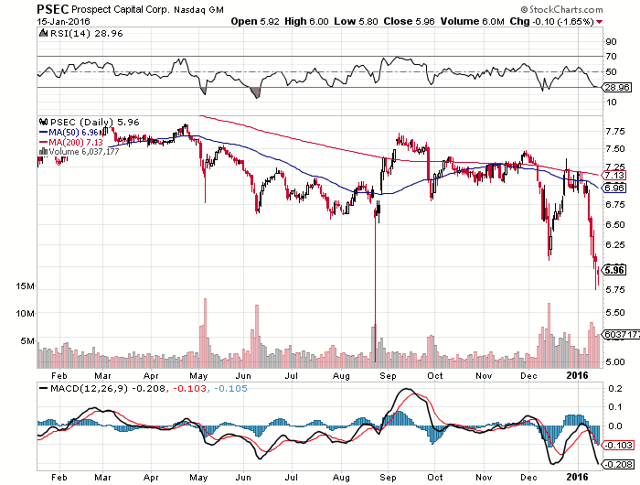 Source: StockCharts.com
Can Prospect Capital could go any lower?
It sure can. If U.S. stock market indices extend their correction, all stocks have the potential to move lower, including those of business development companies. But that is speculation, and beside the point.
Fact of the matter is that Prospect Capital is in the bargain bin, independent of what one might think about its management: Based on Friday's closing price and Prospect Capital's latest reported net asset value of $10.17/share, the company's valuation has totally been removed from reality.
Your Takeaway
Prospect Capital is even cheaper today than in December when insiders loaded up the truck on PSEC with multi-million dollar purchases. PSEC is oversold and has effectively become a 59 cent dollar. At this point in time, investors are pricing unrealistically high loan default rates into Prospect Capital's shares. If Prospect Capital's next quarterly earnings reveal a stable NAV and NII, all the reasons to sell PSEC into this weakness go straight out the door. PSEC is a steal at $6.
Disclosure: I am/we are long PSEC.
I wrote this article myself, and it expresses my own opinions. I am not receiving compensation for it (other than from Seeking Alpha). I have no business relationship with any company whose stock is mentioned in this article.