I believe Merrimack Pharmaceuticals (NASDAQ:MACK) is currently significantly undervalued. Onivyde was approved by the FDA in October. That proves that the Merrimack platform can provide the kind of cancer-cure generation that investors (including me) expect of companies like Juno Therapeutics (NASDAQ:JUNO).
As I write MACK is priced at $6.07 per share, giving it a market cap of $702 million (small cap). Juno, in contrast, has a market cap of $4 billion, despite being at least a couple of years distant from its first FDA approval. Like almost all biotechnology stocks both have been very volatile this last year, and sank since January 1, so their current prices do not fairly reflect their long-term potentials. MACK had a 52-week low of $5.79 on January 11, after having reached a 52 week high of $13.84 on April 27, 2015.
The Merrimack cancer platform is much simpler than Juno's [See Juno Therapeutics: Celgene Partnership and CAR-T Pipeline Value for a description of Juno's platform]. However, it seems to be effective and offers some advantages over at least the current generation of CAR-T, notably getting effectively delivered to solid tumors.
Onivyde
Onivyde was approved on October 22, 2015 for metastatic pancreatic cancer following the failure of gemcitabine. This is a pretty good label from the FDA for a first cancer drug approval. It is the only FDA-approved therapy for patients with metastatic cancer of the pancreas when the disease has progressed following administration of gemcitabine. It is the nature of pancreatic cancer that gemcitabine usually provides only a delay in the progression of the cancer.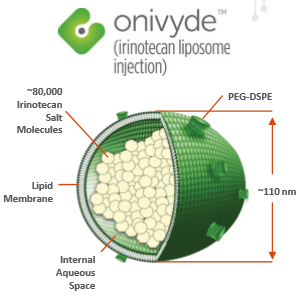 Merrimack retained the rights to Onivyde in the U.S. and had a sales staff of about 50 assembled when the FDA approval came through. I would not expect too much revenue in Q4, especially if stocking by distributors is excluded, for the usual reasons. Doctors need to be educated and insurers are usually slow to approve reimbursement for new therapies. CEO Robert Mulroy, speaking at the J. P. Morgan conference on January 12, said the launch is going as planned.
In the U.S. pancreatic cancer strikes about 45,000 people a year, and about 40,000 die of it, mostly within a year of diagnosis. The main reason most diagnosed patients would not eventually receive Onivyde would be death while on prior therapies. I don't have a specific number that would survive and fall under the Onivyde label, but it is likely to be substantial. Merrimack's estimate is given in this slide: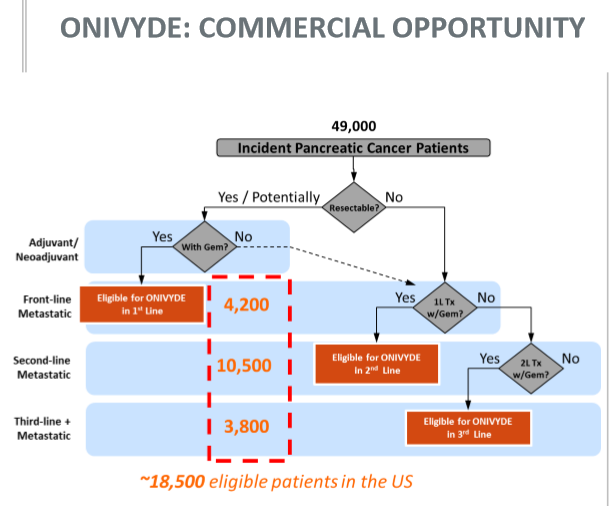 Outside the U.S. Baxalta has purchased the rights and responsibility to get regulatory approval. Baxalta is being bought by Shire. Robert Mulroy reported that talks with both companies have indicated they are still committed to Onivyde.
Onivyde has a unique mechanism of action. It is irinotecan liposome, a nano technology capsule of a chemotherapy. The capsule has a molecule on its surface that guides the package to tumors to be released. Whereas irinotecan is fairly toxic to the body's healthy cells, in Onivyde it is concentrated on the cancer. This may not be as elegant as engineering a T cell to attack a cancer, but it works well enough for FDA approval.
Merrimack estimates the cost of Onivyde therapy will average $43,000 per patient. So it should generate $43 million per 1000 patients.
Onivyde label expansion
Onivyde is also in a trial to move it up to a frontline pancreatic therapy that could be used before gemcitabine. Phase 2 results should be available in the first half of 2017.
Onivyde should work on other types of cancer, and so is in trials for three other cancers: glioma (brain cancer), pediatric sarcoma, and breast cancer. These are all Phase 1 trials with data likely before the end of 2016. Positive results that lead to Phase 2 trials should increase analyst expectations of future FDA approvals and enhanced profits.
MM-302
MM-302 is in a Phase 2 trial for third line, HER2+, breast cancer. The design is similar to Onivyde, but the surface molecules are designed to target cells expressing HER2. The payload is doxorubicin. Doxorubicin has been in use since the 1960s, the novelty is concentrating it at the cancer cells, avoiding general toxicity while hopefully generating more success at destroying the cancer. Data should be available in 2017, and accelerated approval is possible.
The final candidate that could have data in 2017 is MM-141, which is being tested in pancreatic cancer that expresses the IGF-1R and ErbB3 molecules. It is an antibody that is bispecific, meaning it looks for two targets instead of one.
In 2018 there could be data from MM-121, a more typical monoclonal antibody that attaches to cells expressing ErbB3. It is being tested in second-line NSCLC (non-small cell lung cancer).
Cash position
At the end of Q3 Merrimack had just $62 million in cash. The cash used in operations was $42 million in the quarter, but $38 million in new cash was raised in the quarter.
On December 22 a $175 million senior secured note placement was announced. With milestone payments expected from Baxalta, revenue ramping from Onivyde, and the new cash, Merrimack should be able to operate on current cash until at least 2017. Failure to ramp Onivyde revenue would be the only reason to worry about cash.
So why is Merrimack undervalued?
Right now a lot of biotechnology medicines stocks are undervalued because of the irrational sell-off we have seen in 2016. But even against that background I see MACK as both undervalued and likely to increase significantly in value during 2016 and 2017.
Within biotech there is competition for investor dollars. Choices range from Gilead (NASDAQ:GILD), which at this moment's price of $91.57 offers a dividend of 1.85% and earnings at 11.7%, to a multitude of companies with no product revenue, but pipelines that could generate future revenue (the same position that MACK was in until its first approval in October).
Some of the negative impressions of Merrimack come from the idea that its therapies are not as novel as the immune therapies in many competitor's pipelines.
Time will tell. I'm not going to worry about Q4 2015 revenue for Onivyde. But pay special attention when Q1 2016 revenue gets reported. I believe that since Onivyde is approved, since pancreatic cancer is deadly, and for the approved subset of patients there will be no other option (until some other novel drug gets approved with that label), that revenue will ramp substantially in 2016. If I am right, I'll be looking for a strong global launch when the appropriate approvals come in.
Add to the revenue ramp the possibility of up to 3 successful Phase 1 trial results, and even sell-side analysts will have to change their projections for MACK. I'm not going to put a number on Onvyde 2016 revenue at this time. I already own MACK, so I'll just wait for Merrimack to report the actual numbers as they come in.
Later in 2016 the focus will shift to 2017, when we could see Phase 2 data from MM-302, MM-141, and Onivyde for the front-line pancreatic setting. All that data should encourage investors to take a serious look at future (post 2017) revenue streams.
I am willing to go out on a limb and say I expect to see Merrimack go over $10 a share in 2016, and substantially higher if Onivyde for pancreatic cancer starts to look like a blockbuster. The downside would be if Onivyde and other trials fail to follow up on early success. Note also that as a small-cap stock Merrimack has the usual short-term caveats of such stocks. I believe, based on what I said above, that there is a high likelihood that Merrimack is headed towards becoming a successful, commercial stage, mid-cap pharmaceutical company.
Disclosure: I am/we are long MACK, GILD, JUNO.
I wrote this article myself, and it expresses my own opinions. I am not receiving compensation for it (other than from Seeking Alpha). I have no business relationship with any company whose stock is mentioned in this article.