Authors: Charlie Ouyang, Ph.D., Silvan Tuerkcan, Ph.D., and Grace Xiaolu Yang
Celldex targets glioblastoma multiforme with a novel peptide vaccine
Celldex (NASDAQ: CLDX), an immuno-oncology company, has 5 drug candidates in 12 active programs. Rindopepimut (RINTEGA), a peptide vaccine for EGFRvIII expressing glioblastoma multiforme (GBM), is the star in this pipeline with a Phase II trial (ReACT) and a Phase III trial (ACT IV) for recurrent and front-line GBM, respectively. Given the lethality of disease, there's a dire need for treatments more effective than the current standard of care which includes resection, radiation, and temozolomide for front-line GBM and bevacizumab (Avastin) for recurrent GBM. In general, this type of cancer has been difficult to treat due to anatomical location, extreme heterogeneity, and concomitant medication that limits the effectiveness of treatments (Guan et al., PLoS ONE 2014) .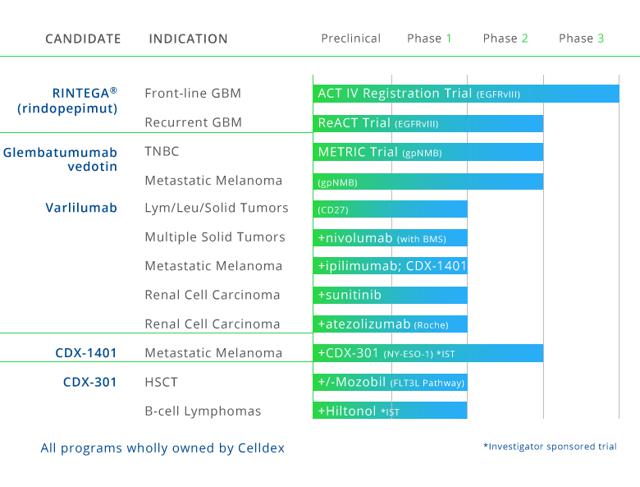 (Source)
The EGFRvIII deletion mutation is a hallmark in the classical subtype of GBM, which represents 20-30% of all subtypes, and is present to some extent in 60-70% of GBM patients. The lack of EGFVRvIII expression in normal tissue makes this an attractive target in terms of specificity. In the GBM immunotherapy space, Celldex has taken the relatively simple and cost-effective approach of a peptide vaccine consisting of the EGFRvIII-specific peptide sequence conjugated to the Keyhole limpet hemocyanin - a large metalloprotein derived from an aquatic snail, whereas Northwest Bio (NASDAQ: OTC:NWBO) and Immunocellular (NYSEMKT: IMUC) have opted for an approach using dendritic cells ex vivo.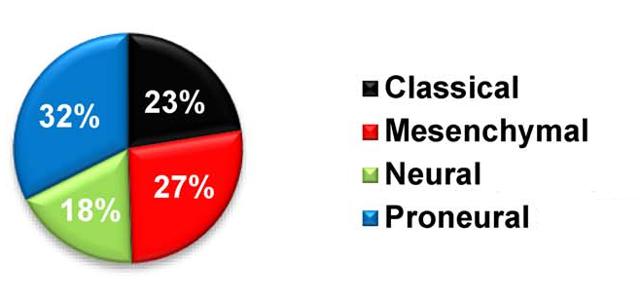 Phase I and II data dating back to 2009 suggest that rindo is safe and well-tolerated - inflammatory or autoimmune reactions in the CNS have not been an issue in these trials, and in general GBM vaccines have been shown to be safe. The data also suggest the peptide vaccine is doing its job in eliciting a specific immune response in the brain and eliminating EGFRvIII-expressing tumor cells as was evidenced by the lack of EGFRvIII expression in re-resected tumors following treatment.
Unfortunately, though rindo takes a step in the right direction, the extreme heterogeneity seen in GBM means that targeting EGFRvIII alone may not be enough to prevent immunologic escape in these tumors. Multipeptide-specific vaccines have the potential to create a more robust immune response to GBM tumor cells, a point that is being investigated in ongoing trials with IMA950. In addition, the immune system is suppressed by chemotherapy and steroids, and without bevacizumab which is thought to improve EGFRvIII-specific immune response, it remains to be seen whether the patients in the ACT IV trial can mount a similar immune response as seen in the recurrent GBM trials which included bevacizumab.
Beyond efficacy, there is a potential supplier risk in the long term. Rindopepimut contains as component KLH (keyhole limpet hemocyanin), a protein found only in a species of aquatic snail native to the coasts of Southern California and too complex to synthesize. While efforts are underway to scale up KLH production, current worldwide usage of this animal is already at around 5% of the total supply and the success of KLH-based vaccine trials is expected to increase demand by several orders of magnitude (Source).
FDA likely to approve on positive ACT IV (Phase III) data but trial success a major unknown
Breakthrough therapy designation was awarded in February 2015 on promising data from Phase II studies in both indications, and history has been relatively kind to BTD drug candidates - as of September 2015 CDER has approved 23 drugs of 88 with the designation, and given that this is a recent designation the ultimate approval rate of the current BTDs will continue to climb. This rate is in contrast to the 10-20% approval rate from Phase I over all drug candidates.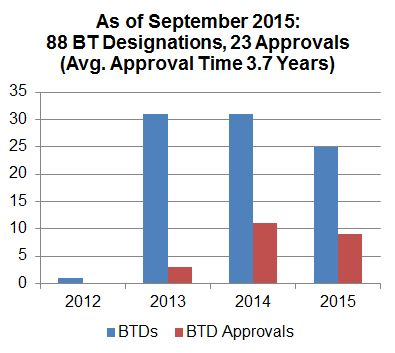 In an August conference call, Celldex reported that the FDA indicated that the ReACT data would not be sufficient to support a BLA application, citing the small trial size. This spooked investors and lead to a 25% drop in the stock price, erasing the gains in February from the BTD announcement. While this result was largely inevitable due to the trial design, the important consequence is that timely approval of RINTEGA will hinge on the readout from ACT IV in 2016. If the data are positive, it would be fair to say that the CDER is likely to approve a BLA and potentially for both indications at the same time.
To assess the likelihood of ACT IV panning out, it helps to consider the results from ReACT presented at the November Society of Neuro-Oncology meeting:
The crude rate PFS6 endpoint of a 1-sided p-value of 0.2 was met (p = 0.1163).
Looking at the entire curve of mortality, there was a fairly large difference in the p-values for PFS (Kaplan-Meier method) between expert review (p = 0.22) and investigator assessment (p = 0.07) in the ITT population.
Overall survival at 24 months was 0% for the control arm vs. 25% for the treatment arm.
The hazard ratio for OS was 0.53 with a p-value of 0.0137 in the ITT population.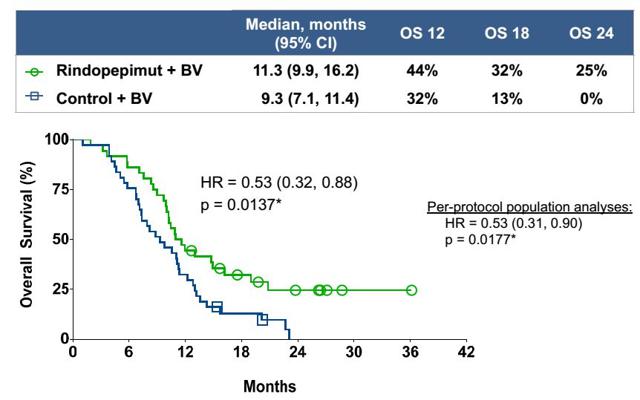 (Reardon D et al. SNO 2015 Conference Presentation)
After noting that OS is the primary endpoint for the ACT IV, a reasonable comparison to make is between the OS achieved in the ReACT trial vs. the OS endpoint requirements for ACT IV. In the August conference call, it was revealed that a hazard ratio of 0.65 in the upcoming readout would be required to have a good chance of meeting the p-value of 0.018 or better.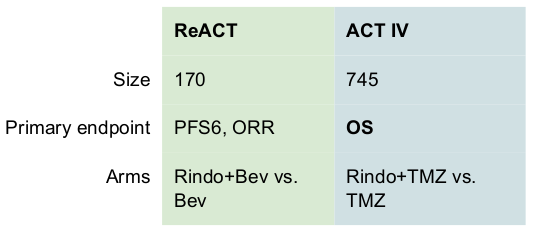 (ReACT and ACT IV data from clinicaltrials.gov)
Without any interim data from ACT IV, we can only speculate on the chance of ACT IV meeting this endpoint when using data from previous trials as a basis for comparison. The fact that the DMSB, upon viewing interim data in June 2015, recommended to continue the trial as planned suggests the results up to that point were not significantly off track. The ReACT OS data comprise 36 months of data, and overall survival analysis for GBM patients performed by Guan et al. in PLoS ONE 2014 suggest that in general OS does drop more than a few percentage points from 36 months to 48 months in classical GBM. However, it's important to note the relatively small size of the ReACT trial and any potential differences like survivorship bias in the recurrent versus front-line GBM patients. The ACT III Phase II trial for front-line GBM was even smaller, and the trend for this line of trials (ACTIVATE (n = 18), ACT II (n = 22), ACT III (n = 65)) has been a slight decrease in survival at 48 months.
RINTEGA to potentially enter a $1B market with low resistance for reimbursement
Reimbursement of the drug is more involved because it requires prior patient population screening for EGFRvIII. The lead indication will then be administered to EGFRvIII positive GBM patients as a front-line treatment. The current standard of care is surgery with radiation therapy and chemotherapy. There are only 4 drugs approved by the U.S. Food and Drug Administration (FDA) for malignant brain tumors, including Avastin for recurrent GBM. However, they do not offer a significant increase in overall survival (OS). This means that any new drug that can increase OS will face low resistance for reimbursement.
GBM is a rapidly progressing and almost universally fatal brain tumor that affects approximately 15,000 new individuals each year in the US. The incidence rate is similar worldwide. The average total healthcare costs for 6 months of treatment were $106,896, ranging from $79,099 for patients who received neither temozolomide (Temodar) nor radiation to $138,767 for those who received both therapies2. If patients fail treatment they may elect to add bevacizumab (Avastin) to their treatment at a cost of $10,000 per month, however clinical trials have failed to show significant improvement in outcomes due to bevacizumab.
Thus we estimate the price of a possible treatment with RINTEGA in front-line GBM patients to be at least as expensive as bevacizumab and at and take the cost of the entire treatment as an upper bound ($18.000 per month). This gives an estimated market size of $600M if the reimbursement is based on avastin and $1.08B if the reimbursement is based on replacing the standard of care. Additionally, there are 7000 refractory patients annually in the US, which translates to a $250-$450M market size for RINTEGA use in refractory GBM.
Celldex leads AbbVie (NYSE: ABBV) and Kite (NASDAQ: KITE) in EGFRvIII-targeting for GBM, Northwest Biotherapeutics main competitor within indication
Direct competition includes drugs that target the exact same mechanism of action in the same indication as Celldex's RINTEGA. Two larger companies are currently developing an immunotherapy drug based on the EGFRvIII receptor. AbbVie's 9ABT-414 anti-EGFR monolclonal antibody drug conjugate is in Phase I/II, while Kite Pharma's EGFRvIII CAR technology for GBM is currently in Phase II. Both companies have market capitalization of $93B and $3.1B, respectively and larger pipelines and commercialization experience than Celldex. However, Celldex is closest to market with RINTEGA for front-line GBM treatment. The orphan drug designation along with breakthrough therapy designation will also give RINTEGA advantages over competitors when it is marketed.
Indirect competitors of the Celldex's RINTEGA drug for GBM include several companies that develop drugs ranging from immunotherapy to antibody drug conjugates. Immunocellular's ICT-107 immunotherapy, recently failed a Phase III endpoint, in newly diagnosed GBM and requires a new Phase III trial. The company's market capitalization is $38M and the company only has one drug for front-line and recurrent GBM in the pipeline. DelMar Pharmaceutical's VAL-083 chemotherapy is in development for refractory GBM in Phase II and front-line GBM in Phase I. The company's market capitalization is $50M and is also working on NSCLC and ovarian cancer in preclinical trials. Agenus Inc explores the use of heat shock proteins and the immune system in a Phase II for GBM (new & recurrent). Median progression free survival is 17 month (146% increase) and 60% increase in OS. Agenus Inc's market capitalization is $392.87M and their pipeline includes Phase III trials for malaria, melanoma, shingles, and a Phase II Alzheimer's indication. The most serious competitor to watch at the moment is Northwest Biotherapeutics ($487M market cap), whose DCVax immunotherapy for GBM using activated dendritic cells is in Phase III trials.
Celldex has a large pipeline that is likely to determine its long term value
Celldex has two indications that are targeted at large markets. Triple negative breast cancer and metastatic melanoma. Both indications are currently in Phase II development and present substantial alternative revenue streams for Celldex. The performance of these Phase II programs will certainly impact the value of Celldex in the near future.
The risk of Celldex's outsourced manufacturing
Celldex has limited experience in commercial manufacturing. It relies on contract manufacturing organizations (CMOs) to produce drug products for RINTEGA and glembatumumab vedotin for both clinical studies and future commercial supplies (10-K). It also relies on CMOs for filling, packaging, storage and shipping of drug products. In order to build its own commercial manufacturing facility, Celldex would require substantial funds and significant additional personnel and comply with extensive cGMP regulations. Celldex's manufacturing facility would also need to be licensed by the FDA for the commercial production of drug candidates. Celldex currently relies on SAFC, a division of the Sigma Aldrich Corporation, to manufacture RINTEGA; Biosyn and Ambiopharm to supply starting materials for RINTEGA manufacturing; Sanofi to supply GM-CSF with commercial quality for the RINTEGA program; and Lonza, AG to make the CR-011 antibody. In cases of manufacture failures or problems at these contract manufacturers, Celldex would suffer from delays in the commercial launch of RINTEGA and other clinical programs. At this point of time, Celldex intends to use its money to accelerate development of its product candidates rather than diverting resources to enhance its own manufacturing capabilities.
Management has experience in commercialization but not in late stage clinical trials
Celldex's management has a vision to transform Celldex into a fully integrated commercial- stage biotechnology company (10-K). Celldex may seek commercialization partnerships for some drug products, including lead candidate RINTEGA for commercialization outside of North America and Europe, glembatumumab vedotin and varlilumab, while it plans to commercialize RINTEGA in North America and Europe by itself.
In order to execute this vision, Celldex has begun to build up key components for commercialization focusing on the potential launch of RINTEGA and organizational expansion (10-K). Over the next several years, it expects to grow significantly in employee number and the scope of commercial operations, particularly in drug development, regulatory affairs and sales and marketing. It is assembling a commercial team with experience in marketing, sales, distribution and reimbursement. This expansion of commercial capabilities can be both an opportunity and a risk, as any inability to manage growth could disrupt its operations.
As a critical step of its growth strategy, Celldex promoted Dr. Rick Wright to the position of Chief Commercial Officer in August 2015. Dr. Wright has 25 years of industry experience with the commercialization of six successful drug therapies including therapeutics for orphan diseases. In this role, he is responsible for developing a global business strategy and building the commercial organization necessary to commercialize RINTEGA and Celldex's drug candidate pipeline. The focus is currently on RINTEGA.
On a different note, the management team seems to lack significant experience in completing Phase III clinical trials and obtaining regulatory approval for a drug candidate. The team may be inexperienced to manage multiple clinical trials for various drug candidates simultaneously. The lack of experience can undermine the management of recent and future late stage clinical trials as they are more complex and time-consuming than early stage trials. In late stage (Phase III) trials, the company needs to recruit up to several thousand patients in up to several hundred sites potentially in multiple countries (10-K). Therefore, the project management required to lead such an extensive program is significantly more demanding than early stage trials.
To mitigate this risk, Celldex has been using third parties to plan, conduct and monitor clinical trials (10-K). Celldex itself is responsible for project management and medical monitoring for some programs and relies on third parties for the rest of the activities in clinical development. The third parties who Celldex currently collaborates with include Novella Clinical for the ACT IV study and PPD Development, LLC for the METRIC study. Using third parties adds additional risks to product development if they fail to perform as required.
Celldex has sufficient cash through 2017
Celldex has $304.61M in cash, cash equivalents and marketable securities as of September 30, 2015 (10-Q). With a current monthly burn rate of $9.5M ($85.1M for the first nine months in 2015), the total cash can last more than 2 years. However, Celldex would need more cash in 2016 due to expensive advanced programs such as RINTEGA, glembatumumab vedotin and varlilumab. Celldex will also incur higher expenses due to the expansion of commercial personnel while it plans and prepares for potential product launch. The management believes the existing capital can fund planned operations at least through 2017, after the Phase III RINTEGA ACT IV study is completed (10-Q).
If liquidity is negatively impacted by the RINTEGA program or the expansion of commercial operations, additional capital may be needed. Celldex reported a revenue of $3.7M for the first nine months in 2015 (10-Q). This includes a clinical trial collaboration in 2014 with Bristol-Myers Squibb (NYSE:BMS) when BMS made a one-time payment of $5.0M; it also includes $4.8M research and development services for Rockefeller University with a 3-year term. Celldex doesn't have product revenue; the current revenue from product development and licensing agreements and grants will not be sufficient to meet the liquidity needs. Celldex may need to engage in further capital raising activities including the issuance of debt or stock. If Celldex is unable to raise the necessary funds, it may have to delay or discontinue the development of one or more programs.
Conclusion
Celldex's market cap is about $1.5B as of December 15th, 2016. Based on Celldex's clinical and management risks and potentials for addressing an unmet need in GBM treatment as well as a large pipeline, we believe the company to be fairly valued. Key dates to watch for are: Rintega ACT IV study second interim analysis in early 2016 and final data release from ACT IV study at the end of 2016.
Disclosure
The opinions expressed in this article are the authors' own, and no compensation was received for this content. At the time of this writing all authors are long CLDX.
Disclosure: I/we have no positions in any stocks mentioned, and no plans to initiate any positions within the next 72 hours.
I wrote this article myself, and it expresses my own opinions. I am not receiving compensation for it (other than from Seeking Alpha). I have no business relationship with any company whose stock is mentioned in this article.
Editor's Note: This article covers one or more stocks trading at less than $1 per share and/or with less than a $100 million market cap. Please be aware of the risks associated with these stocks.