From a long-term technical perspective, the China market is still in a slightly bullish mode. It might not feel like it to individual investors on the mainland but 2015 was a positive year. The market rose 5.63%.
But compared to 18 months ago, the numbers at the end of the year were even more positive. Up 71.85%.
But it's the weekend after the second full week in January. And though you probably didn't think it could happen when the ball dropped, the world has seen practically a year's worth of declines in the space of these past two weeks.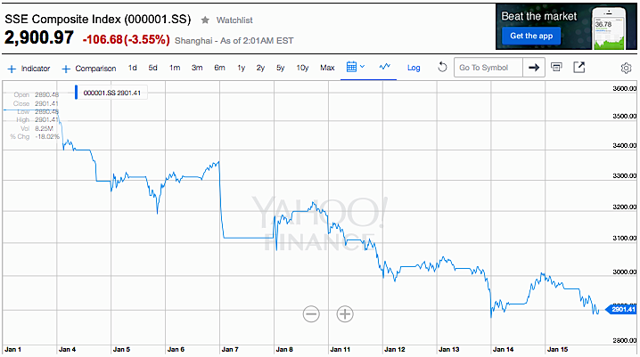 China enters the weekend at 2900.97, down 18% in a little over eight trading days. Remember those circuit breakers? They were 200 points ago.
The American S&P 500 index shed its cumbersome 2,000 level for good on January 6 and is now down 8.46% in 2016.
The American and Chinese markets sit just slightly above their 52-week intraday lows, absolutely critical levels in sustaining any kind of stability. If they plunge through those points with any kind of meaningful momentum, and the action these past couple days has been anything but meaningless, the markets will be in full polar bear plunge mode.
But take heart! All is not lost! First, the market could miraculously, through some MLK Day miracle, find inspiration for a rally on Tuesday and never see these levels again. It's possible. Second, with regard to China, even at this weekend's levels, the market is still up 41.5% since July 1, 2014.
The next level of meaningful support for the China market is 2300, where it consolidated for two months in September-October 2014. If the Shanghai Composite settles in around that level again, that still represents a 12.2% absolute return over two years, which as you know is not bad.
In short, the sky is not falling yet. Not even close.
Let's remind ourselves about how this whole China bull market frenzy got started in the first place. On Monday, November 17, 2014, Mainland China's stock market was opened to foreign investors for the first time in the New China era. The mechanism that enabled this opening was called the Shanghai-Hong Kong Stock Connect.
By mid-afternoon on that first day, the daily limit for foreign investment, approximately $2 billion in net flows into Shanghai, was used up. The Chinese market had tapped into an ocean of capital seeking out speculative growth stories. The daily investment limits began an orderly and systematic march upwards until the foreign funds were finally satiated. The astounding short-term returns in the six-week period immediately after the Connect drew in gobs of undereducated retail investors. Thus, the China Bull Market of 2015 began in earnest.
Against the backdrop of rapidly decelerating Chinese GDP growth figures, the whole experience was absolutely surreal. In fact, I'm not even sure it did happen. With a few hundred points decline in the Shanghai Composite, perhaps even as soon as next week, the Second Great China Bull Market might as well not have ever happened. At 2486, the market would be flat after the Connect.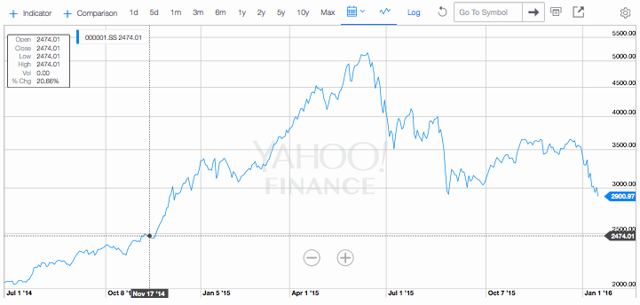 That's not that far from here. And maybe that's for the best. Why would anyone expect the Chinese market to be much better now than it was then? China's economy has only gotten worse. There are no signs of the manufacturing malaise letting up anytime soon. The yuan is in freefall.
But you can see how a couple of positive weeks strung together around a landmark financial event, in a country with a closed capital account and limited personal investment opportunities, could propel 100 million Chinese investors toward irrational exuberance. I guess.
Other than that, this market doesn't deserve the 2900 level that it's at right now.
I fully expect the Shanghai Stock Exchange to test its pre-Hong Kong-Shanghai Stock Connect levels. After all, the post-Connect gains are largely a mirage.
2500 is a reasonable support.
But on the opening day of the Connect, Reuters quoted a local trader saying, "The run-up to the launch saw a strong market rally, partly on expectations of an increase in fund flows from the scheme." Better move that support level a little bit lower.
2300 is not out of the question.
Nor is 2000.
But then I think we'll find some buyers. Hopefully even long before that.
The simple fact is that the secular growth trend in China is still intact, at least in certain verticals.
E-commerce. Education. Travel.
These sectors should continue to buck the perpetual slowdown of some of the more traditional sectors of the Chinese economy (steel, construction) that drive the Manufacturing PMI index. The monthly release of this number regularly puts the scare in markets as it has declined each of the past so many months. Any reading under 50 indicates an economy in contraction.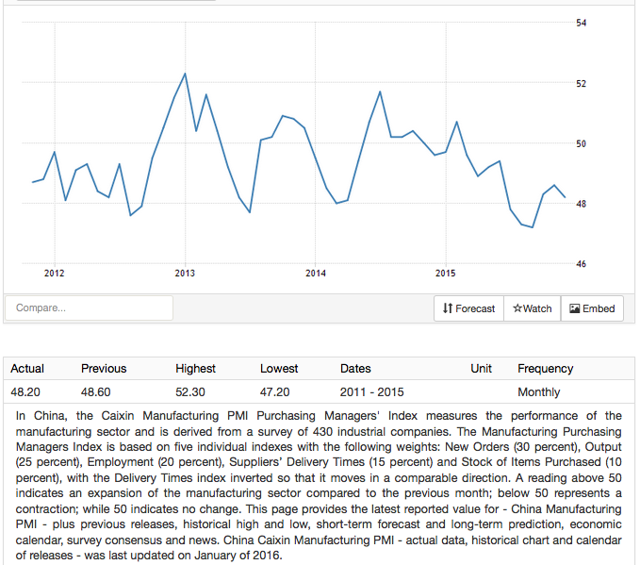 But what's the playbook here? Doesn't it call for a manufacturing slowdown prior to transitioning to a billion-consumer digital platform economy? I thought that's what was going on. Oh yeah, it is.
Plus, that PMI chart, even with the most recent result that contributed to the early January market declines, doesn't look that much out of the ordinary. Yet.
With three years of tenacious support from 2012 to 2014, at a time when foreign capital was effectively banned from the domestic markets, the Chinese market put in a very significant bottom at the 2000 level.
Moreover, though Premier Li Keqiang admits that the country's GDP figures are "man-made," we can still quite easily expect that whatever actual growth rate there really is will still outpace that of America. For his part, Li sounds upbeat before the release of the official GDP figures on Tuesday, January 19.
Let's do a little experiment. If we take the lowest estimate out there of 4% Chinese GDP growth and the World Bank prediction of 2.5% for the US, what's the difference in how fast it would take for these economies to double? According to the good old Rule of 72, the difference is between 18 and 28.8 years. That's still quite a difference. If the Chinese economy enters a prolonged streak of 4% annual increases in its GDP, all this little market crash would have accomplished was to delay the inevitable ascension of the Chinese economy to No. 1 GDP status by a few years. And peeved a whole lot of iShares China Large-Cap ETF (NYSEARCA:FXI) investors.
Say 2033 instead of 2025. Big deal.
Another reason not to worry about China in the long term is that this market is actually quite undervalued. For this measurement, we can look at the World Bank data on market capitalization of listed domestic companies. For the purpose of comparison, the data is presented as a percentage of each country's GDP. The data series on China goes back to 2003. In this period, the highest the ratio ever was 127.1% during the First China Bull Market in 2007. At the end of 2014, the last year available in the current dataset, and also representing a stock market level roughly equivalent to today's level in China, that ratio was only 58%.
What was the United States at the end of 2014 for comparison? That would be 151.2%. Most reasonable financial analysts agree that a 1:1 ratio on this metric is a rational relationship. The logic being that the collection of companies that comprise a particular economy ought to have a valuation roughly equivalent to the size of the economy that they generate. From this perspective, it would seem that the US market meltdown presents a much more frothy scenario.
So that's your preview for the upcoming critical week in the Chinese markets, and also for the next 20 years. It seems inevitable that momentum shall carry both the US and China markets below critical support levels in the next week. Though I've provided the levels I think you need to pay attention to in the near term (2500, 2300, 2000), from a long-term perspective none of the current noise should mean that much.
China in 2036 will be a much different country with an economy worth about $20 trillion at least.
I like those odds long-term.
Disclosure: I/we have no positions in any stocks mentioned, and no plans to initiate any positions within the next 72 hours.
I wrote this article myself, and it expresses my own opinions. I am not receiving compensation for it (other than from Seeking Alpha). I have no business relationship with any company whose stock is mentioned in this article.