Introduction
Two weeks ago, I published an article where I described Netflix's (NASDAQ:NFLX) perspectives in Russia and stated that a successful and well-prepared start can attract more than 2M subscribers and $200M in revenues over the next five years. I highly recommend reading that article before starting this one in order to understand my point of view.
Before writing this article, I tried to find out information about the first reaction of Russian users on Netflix's launch. I was absolutely sure that there would be both positive and negative comments. Imagine my surprise when I saw only skeptical and negative comments. In Diagram 1 you can see a screen from the users' comments and their translation:
Diagram 1

Source: VK.com
According to these comments, I made several conclusions:
First - The price is about $8-12 per month. I expected the same or less.
Second - Netflix has not translated its website into Russia and has not provided both translation for the movies and subtitles, and has not upload content popular in Russia.
Third - Despite the high price, some people see it reasonable, if the content is good.
Moreover, I tried to test the service by myself. I'm going to write about my personal experience of it. Looking ahead, it was not pleasant, and most of the negative comments are understandable. I do think that the CES 2016 haste was unnecessary because a strong and well-prepared start would have been much more effective on this local market.
Now I'm going to share some additional statistics that may help you arrive to a conclusion about the possible market niche the company can take in the local market and, secondly, share my experience of exploring the Russian version of Netflix's website.
Some Statistics To Start With
As I said in my last article, the Russian market is currently not in the best shape for Netflix's expansion. People's incomes have dropped dramatically both in the local currency and the USD terms, and they cannot afford paying such a high price for content that has already been published on torrent sites. However, I also stated that there is a market niche in Russia which mainly consists of above-average earners who have been watching Netflix through VPN for many years.
Let me lay out some facts about these people:
They represent about 20 % of the total population of Russia, or about 35M people. This part consists of people, whose annual income is above $24K. This is how I derived this number: according to WorldBank's statistics, Russia's top 20% of population owned 48.3% of the total national income in 2013. The 20% share represents 28M people, while 48.3% of the total national income was approximately $1,750B. Hence, the average income per the top 20% earner is ~$30,000 a year. However, the ruble devaluation in 2014 and 2015 led to a decrease in income in USD terms, so the current average income is somewhere between $20,000-25,000 per year.
According to Levada Center research, only 11% of Russians speak English. However, English is spoken by 22% of people aged 18-24 years and 17% of people between 25-39 years old (see Diagram 2). As per my experience, people of this age represent the biggest part of the top-20% earners. The Russian Statistics Bureau states that there are about 15M people aged 18-24 years and ~36M people aged 25-39 years. Hence, there are about 3.3M of young people and 6.1M men and women in their 20s and 30s who speak English. This totals 9.4M people overall in this category.
According to Nevafilm Research, about 55% of people watch movies in the Internet. I do not want to cook the statistics, so I will use this number for those people who may potentially become Netflix customers. Consequently, the total market niche is about 5.2M people.
We derived the total potential of Netflix's market niche to be approximately 5.2M people. However, this number can increase to 9M+ people as people are becoming increasingly familiar with the Internet. This figure definitely depends on the usability of the service and the quality of the translated content.
Diagram 2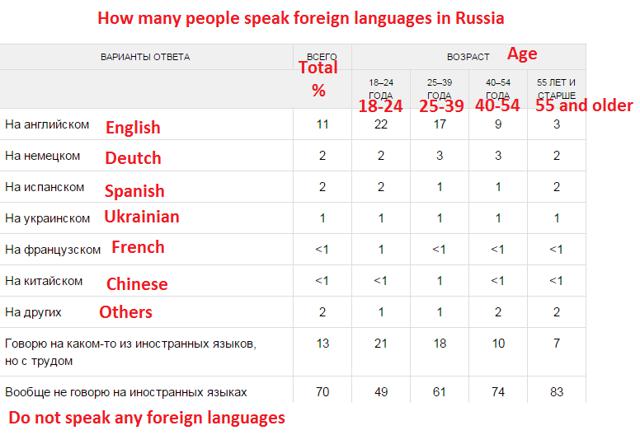 Source: Levada Center Research
First Look at the Website
In order to achieve the above-mentioned market share, Netflix had to enter the local market successfully. However, as I mentioned before, the company was too much in a hurry. The first negative thing I encountered was that the website had not been translated into Russian at all - neither the home page, nor the other pages, as Diagram 3 shows. I have counted not more than 500 words on the home page, including the tabs. Assuming that it costs about 2 cents to translate a word, was it too expensive to spend only $10 and make the website user-friendly to 80% of Russians? This was my first thought.
Diagram 3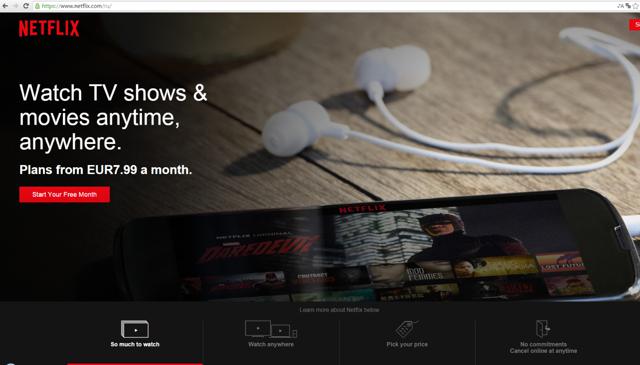 Source: Netflix
However, the design was quite attractive and the advertising offered a free month, so I tried to sign up. I chose a Standard plan (again, all information is in English) and then proceeded to the payment details (see Diagram 4). As I forecasted, the subscription price would not be much different from the one in the US. However, I also expected that it would be lower because most Russians cannot afford spending more than 2% of their monthly income on this service.
Diagram 4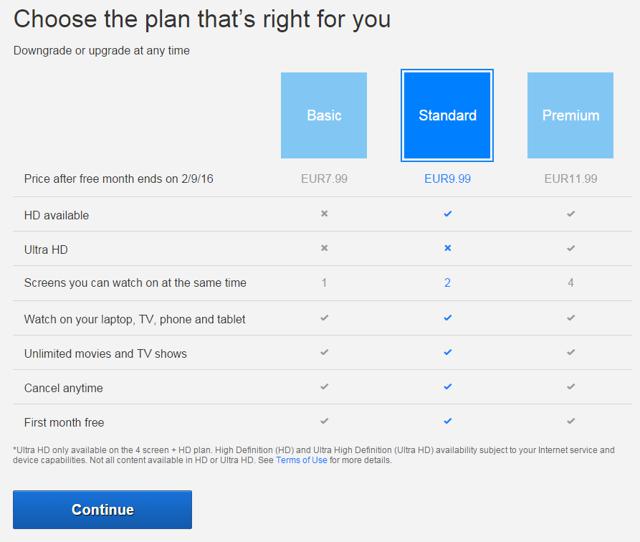 Source: Netflix
Providing Credit Card Details For Monthly Charges - Not a Good Idea for Russians
In one of the comments to my latest Netflix article, I said that Russians do not like providing personal data if they do not see it is worth doing. I guess that people who have not exited the site at the home page would close it at the payment page (see Diagram 5).
Diagram 5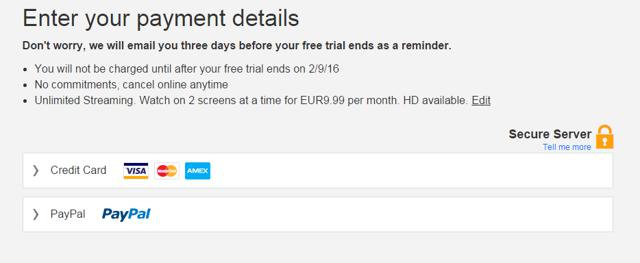 Source: Netflix
After going through several windows with my payment details (2 or 3, it is really too much for a Russian who has the opportunity to watch free movies using a torrent website), I found myself in a situation where I had to choose the devices I would use for Netflix. I was really surprised (in a good way) that in Russia you can choose the same features as in the US or Canada. This was probably the only pleasant thing on the website that Russian users can find - convenient usage of different devices to watch movies and TV series (see Diagram 6).
Diagram 6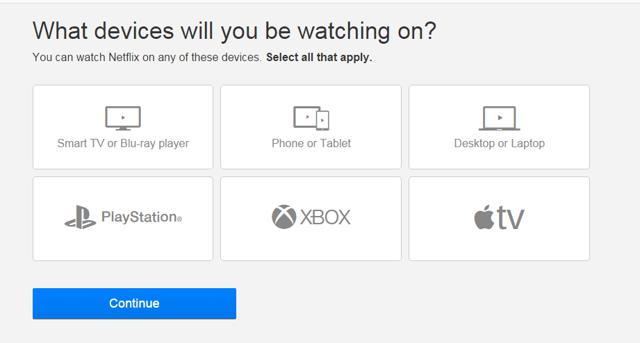 Source: Netflix
Final Step - Testing The Service
After completing the process, I expected to enjoy a good variety of content that Netflix provides in the excellent quality. However, I had to say "goodbye" to the company after I encountered the following:
First - A disgusting search menu. Here you can find a GIF picture where I recorded the process of scrolling the window. I had stars in my eyes after doing it. Anyway, it is a subjective point for me, and now I will provide more objective ones.
Second - Most movies are available only in English. Moreover, no movies are available in Russian. I really tried hard, trust me.
Third - Most subtitles are in English, too! Look at Diagram 7 where I opened the Matrix. I do not really understand the special significance of providing movies in English with English subtitles, except for the educational purposes. However, I do not think most people watch Netflix for improving their English. Netflix does not provide a choice for Russian speakers - see Diagram 8.
Diagram 7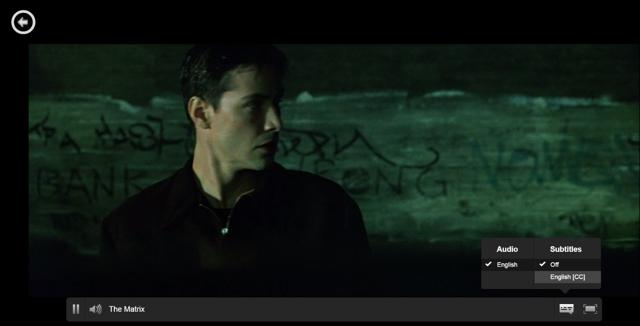 Source: Netflix
Diagram 8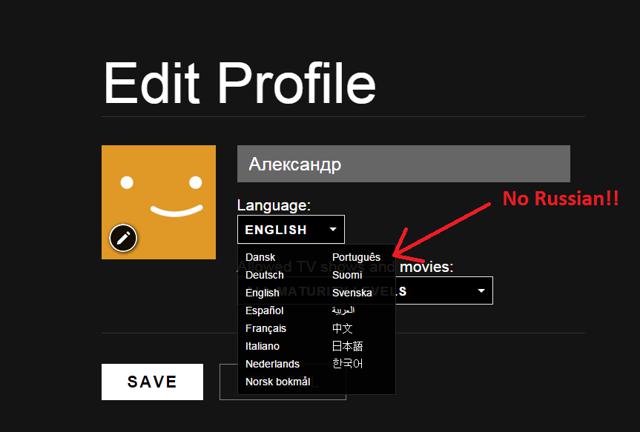 Source: Netflix
Finally - There are no Russian movies or TV series in the system. I tried to find a famous Russian film called "Ivan Vasilievich Changes His Profession" (an old Soviet movies popular till this day - it is really a culture thing) and one of the most popular TV series called "The Kitchen." As you can see from Diagrams 9 and 10, I have not found anything. The same is with other famous movies and TV series I tried to find.
Diagram 9

Source: Netflix
Diagram 10

Source: Netflix
Moreover, I discovered that a lot of US-made films are not present on Netflix. For example, Interstellar, which was in the movie theatres all over the world more than a year ago. Or Sin City 2. Or the other movies, which can easily be found in an excellent quality on Ivi or many torrent sites.
Look at Diagram 11. It's a print screen of one of famous Russian torrent sites with the Interstellar movie page. The movie one cannot watch on Netflix or should pay for watching in Ivi can be easily downloaded in one click in any quality one wants (DVD9, BD, Blu-ray with 2K, etc.)!
Diagram 11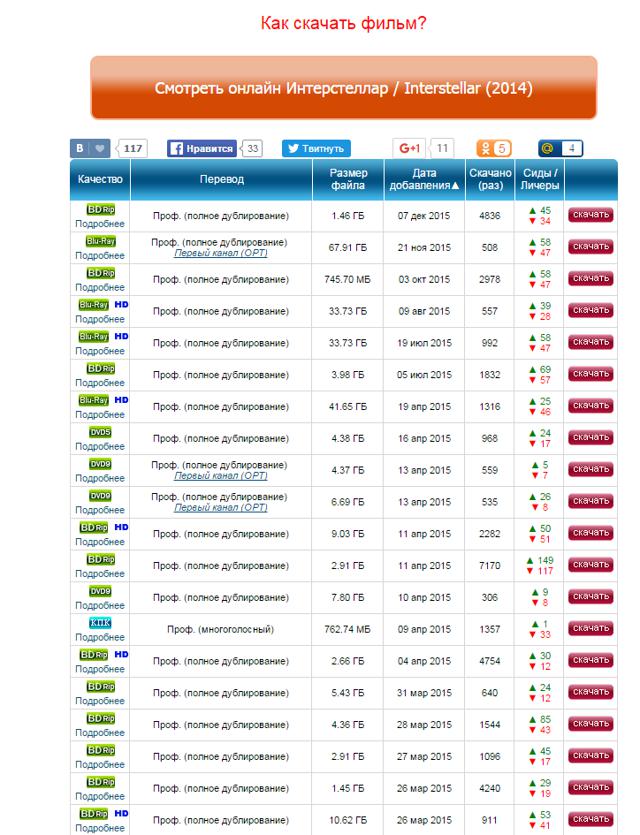 Source: Russian Famous Torrent Site
Conclusion
After doing this qualitative analysis, I want to summarize all the pros and cons I mentioned before and make a conclusion about Netflix's perspectives in Russia.
Pros of Netflix in Russia:
- Price is OK
- High quality of content (but not the variety)
- Availability of different devices to watch the content on (Smart-TV, Apple-TV, PCs, Xbox, etc.)
Cons of Netflix in Russia:
- A horrible Home page
- A long and frightening procedure, including the linking of a credit card to a Netflix account
- A disgusting main menu
- No translation into Russian
- No Russian subtitles
- No popular Russian content
- A lot of American and other movies and TV series are unavailable, while the torrent sites and Russian competitors have them
I see more drawbacks than advantages for Netflix in Russia. Hence, I conclude that until Netflix fixes its mistakes and provides an excellent value for a reasonable price, the service does not have a future in Russia or the CIS. The market niche does exist, as I mentioned in my latest article. The only way to capture share in it is to be more rational and intelligent.
Thanks for reading!
P.S. This article is 90% qualitative analysis and my personal opinion. If you like number-crunching, you can read another article of mine on Netflix.
Disclosure: I/we have no positions in any stocks mentioned, and no plans to initiate any positions within the next 72 hours.
I wrote this article myself, and it expresses my own opinions. I am not receiving compensation for it (other than from Seeking Alpha). I have no business relationship with any company whose stock is mentioned in this article.