This article discusses my approach to investing in business development companies ("BDCs"). My yield on cost is likely much higher than most due to usually buying when others a fearful. This takes a certain amount of patience as well as having a precise target list of BDCs that are likely to do much better during rising interest and/or default rates. Higher-quality BDCs have carefully built their portfolios and balance sheets to withstand various credit and economic cycles.
General Market Volatility:
As mentioned in my "January Newsletter", I closely watch the S&P 500 Volatility Index (VIX) and usually only make BDC purchases when it is above 20. It is currently well above this level and I have been starting to purchase additional shares of select BDCs.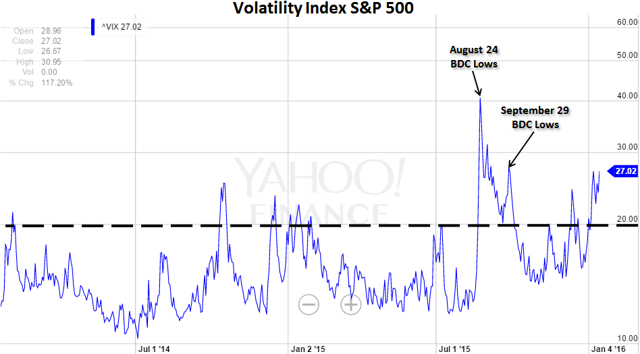 Fear & Greed Index:
Investors are often driven by two emotions: fear and greed. Too much fear can sink stocks or individual sectors well below where they should be. VIX is only one indicator when assessing investor mentality.
CNN Money Fear & Greed Index: "We look at 7 indicators: For each indicator, we look at how far they've veered from their average relative to how far they normally veer. We look at each on a scale from 0 - 100. The higher the reading, the greedier investors are being, and 50 is neutral."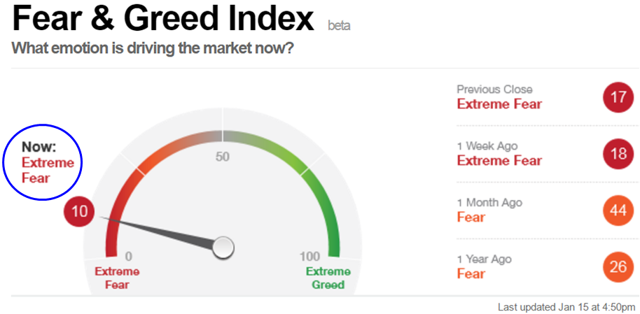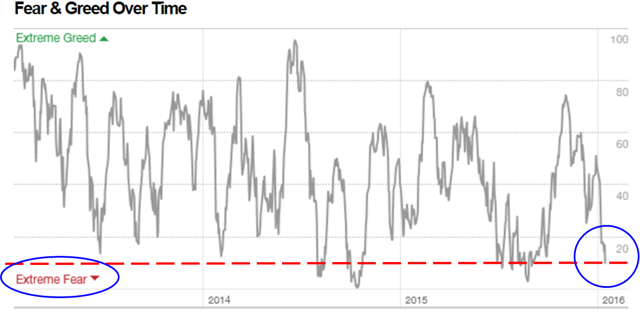 Relative High-Yield Performance:
The last 12-months has been tough on higher yield investments including mREITs, MLPs, bond funds and BDCs, for many reasons including higher yield expectations from investors potentially from interest rate and credit cycle concerns, oil prices, and general market volatility.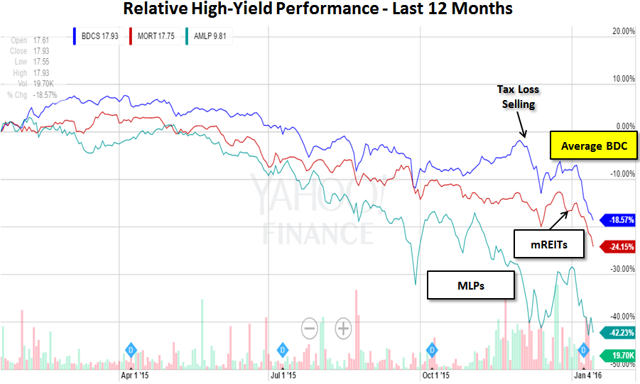 BDCs have performed relatively better than the others for a few reasons including a positive Q3 2015 earnings season. More importantly, many companies reported higher investment yields and the potential for a strong Q4, including portfolio growth and pricing and there is also a good chance that BDCs will report a strong Q4 that could lead to a sustained rally in 2016.
The Opportunity:
Currently, the average BDC is yielding almost 14% in dividends and trading at 25% discount to book value. This should be seen as ridiculous and an opportunity for investors as even a worst case scenario is already priced in for many of these companies.

Important: Many of the BDCs that continue to trade at lower net asset value ("NAV") per share multiples are likely to experience upcoming credit issues leading to dividend cuts and NAV per share declines.
BDCs trading at 40% to 50% discounts to NAV:
There was a wide range for performance for BDCs in 2015 and there are many BDCs trading at large discounts to NAV per share, giving them much higher yields. TICC Capital (NASDAQ:TICC) is likely going to cut its dividend to match net investment income ("NII") similar to KCAP Financial (NASDAQ:KCAP) that announced the following on December 16, 2015:
"The Board of Directors of KCAP Financial, Inc. approved a cash distribution for the fourth quarter of 2015 of $0.15 per share of common stock, down from the previous level of $0.21 per share, in order to better align the quarterly distribution with net investment income."
PennantPark Investment (NASDAQ:PNNT), Gladstone Capital (NASDAQ:GLAD) and Apollo Investment (NASDAQ:AINV) have higher oil exposure and BDCs such as Medley Capital (NYSE:MCC), Prospect Capital (NASDAQ:PSEC), Full Circle Capital (FULL), Fifth Street Senior Floating Rate (NASDAQ:FSFR) and Fifth Street Finance (NYSE:FSC) have perceived management trust issues likely due to fee structures, dividend cuts and/or declining NAV per share.
Other higher yielding BDCs:
Newtek Business Services (NASDAQ:NEWT) does not cover its dividend with recurring NII and THL Credit (NASDAQ:TCRD) and Triangle Capital (NYSE:TCAP) have higher risk portfolios with subordinated positions. Hercules Technology Growth Capital (NASDAQ:HTGC), Horizon Technology Finance (NASDAQ:HRZN) and TriplePoint Venture Growth (NYSE:TPVG) had issues with the SEC and unfunded commitments that has been mostly cleared up.
As mentioned in many articles, bifurcation in the BDC sector is a continuing trend, especially as investors are becoming aware that not all BDCs are created equal and it mostly comes down to management. I am happy to pay a relative premium for companies that will likely have higher and more predictable returns as well as management and fee agreements that look out for shareholders best interest. I wait for general market pullbacks such as these to buy these BDCs at lower prices.
That said, there are some lower priced and higher yielding BDCs already discussed that I would consider to be higher quality.
Lower yielding BDCs:
Clearly BDCs such as Golub Capital BDC (NASDAQ:GBDC), Goldman Sachs BDC (NYSE:GSBD), Main Street Capital (NYSE:MAIN), BlackRock Capital Investment (NASDAQ:BKCC), PennantPark Floating Rate Capital (NASDAQ:PFLT), Solar Capital (NASDAQ:SLRC), Solar Senior Capital (NASDAQ:SUNS), TCP Capital (NASDAQ:TCPC), TPG Specialty Lending (NYSE:TSLX), FS Investment Corp (NYSE:FSIC) and Ares Capital (NASDAQ:ARCC) trade at higher-than-average multiples giving them lower-than-average yields. But still, many of these currently have 10% or higher yields, trading at a discount to NAV and we are likely to see continued volatility.
When will BDCs begin to rally?
In my opinion, BDCs are oversold for many reasons and were already trading at healthy discounts before the recent general market downturn. There is a good chance that the Fed will delay further rate increases and investors will be looking for yield as well as undervalued sectors that have a better chance of outperforming the S&P 500. Additionally, I believe that when BDCs report results in two weeks, many of them will beat earnings estimates and have strong dividend coverage. This could result in a rally for BDC pricing. If you are interested in more information on BDCs including my free monthly newsletter, current positions and potential buys, individual dividend coverage potential, rankings (risk, return, pricing, dividend potential), target pricing charts and valuations, and suggest BDC portfolios, please see my "BDC Research Page" and for information on specific BDC pricing, total returns, operating expenses and dividend coverage, please visit my "BDC Pages".
Personal note: I have updated my positions to reflect changes in my holdings, but please keep in mind that some of the positions are very small and mostly for research purposes.
Disclosure: I am/we are long ABDC, AINV, ARCC, BKCC, FDUS, FSC, FSFR, FSIC, GAIN, GARS, GBDC, GLAD, GSBD, HTGC, MAIN, MCC, MRCC, NMFC, PFLT, PNNT, PSEC, TCAP, TCPC, TICC, TPVG, TSLX.
I wrote this article myself, and it expresses my own opinions. I am not receiving compensation for it (other than from Seeking Alpha). I have no business relationship with any company whose stock is mentioned in this article.
Editor's Note: This article covers one or more stocks trading at less than $1 per share and/or with less than a $100 million market cap. Please be aware of the risks associated with these stocks.