For over a century, electric utilities in the US have more or less implemented the same business model of centralized generation. While these utilities have remained virtually unopposed in the electricity market, new energy technologies are beginning to seriously threaten the dominance of such utilities. As centralization is rapidly becoming less vital in the role of energy generation, centralized utilities are witnessing massive competitive headwinds for the first time in history.
Given that distributed technologies (most notably photovoltaics) have only recently become cost-effective with the help of subsidies, centralized energy generation in the form of coal plants, natural gas plants, etc., has historically been the only viable model. The recent rise of distributed generation technologies have started to become a major problem for companies like Edison International (NYSE:EIX), Pacific Gas & Electric (NYSE:PCG), Public Service Enterprise Group (NYSE:PEG), and Southern Company (NYSE:SO).
Major electric utilities appear to be extremely aware of the threat that distributed generation poses. These companies' growing concerns are reflected in their disproportionate efforts to slow down or altogether stop distributed generation's growth. The recent battle in Nevada between NV Energy and rooftop solar companies like SolarCity (SCTY) and Vivint Solar (NYSE:VSLR) highlights the increasingly caustic relationship between centralized and decentralized energy generation companies. Given the enormous threat posed by distributed energy technologies, electric utilities have far more downside.
The recent battle between NV Energy and rooftop solar is indicative of the growing tensions in the electricity generation industry. In fact, Nevada solar customers are now filing a class-action lawsuit against the utility in response to reduced rooftop solar incentives.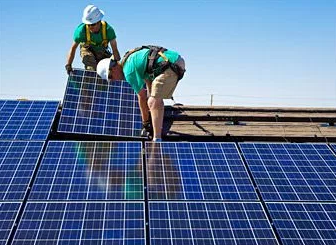 Source: Fortune
The Utilities Are Already Too Late
Centralized energy generation still accounts for the overwhelming majority of energy generation in the US. In fact, distributed solar (the most popular form of distributed energy generation) accounts for less than 1% of electricity generation in the country. Given such information, it seems as if the electric utility industry has more than enough time to stifle distributed generation's growth. Unfortunately for these utilities, it is likely too late to make any noticeable dent in distributed generation's long-term growth trajectory in the US.
While distributed generation currently accounts for a tiny fraction of total electricity generation in the US, distributed technologies like solar are likely only a few years away from grid parity in the vast majority of the US without subsidies. While solar technologies are predominantly used for large-scale plants in the US (utility-scale solar does not represent a threat to utilities), solar is increasingly being used for distributed generation purposes. Given the advantages of decentralized generation (reduced transmission/distribution costs, increased grid stability/resilience, etc.), solar's transition to distributed energy generation is only natural.
The current penetration level of distributed solar understates the potential of such technology. Given that distributed solar companies like SolarCity offer electricity rates that are already cost competitive with those of local utilities for tens of millions of households across the US, the industry's >1% penetration figure will almost certainly balloon at a rapid rate. In fact, the US residential solar industry continues to grow at approximately 70% YOY rates.
Despite the enormous advancements being made in photovoltaics, solar technology is still nowhere near its full potential. In fact, industry experts are becoming increasingly optimistic that emerging solar technologies like perovskite will enable a new generation of far more cost-effective modules to appear. Distributed generation technologies clearly still have massive room for improvement, which means that electric utilities like Edison International have huge challenges ahead of them.
Electric Utility Wins On the Policy Front Are Overstated
While anti-distributed generation efforts such as those displayed by NV Energy will cause near-term disruptions in distributed energy's growth, they will likely do little to derail the industry. What's more, the most successful anti-distributed generation cases thus far [led by the likes of Salt River Project, Hawaiian Electric (NYSE:HE), and NV Energy] have been associated with uncommon circumstances. This makes such utility victories against distributed generation far less meaningful.
Even if the electric utilities start to become massively successful in increasing grid usage fees for distributed energy customers, energy storage technologies should make these customers far less dependent upon the utilities. With the likes of Tesla (NASDAQ:TSLA) pouring in billions of dollars to develop energy storage technologies, these technologies will likely become cost-effective for the majority of distributed generation systems sooner than expected. In fact, such energy storage technologies are already economical in areas with unusually utility electricity rates. For instance, many customers can already disconnect from their local utilities in regions like Hawaii given the presence of cost-effective batteries.
Conclusion
Major US electric utilities like Edison International or Public Service Enterprise Group will have an increasingly hard time suppressing distributed generation's growth. While distributed generation companies like SolarCity have experienced an increasing number of headwinds as of late, the general growth trend of distributed generation is still incredibly strong. Electric utilities will likely lose market share at an accelerated rate moving forward, making these companies poor investment choices.
Electric utilities are traditionally known for their generous dividends. The utilities' record of higher-than-average dividend yields have largely resulted from their historically low risk and stable business models. As electric utilities provide a relatively inelastic commodity and have monopoly characteristics due to high levels of regulation, this reduces the riskiness and volatility of their revenues. Unfortunately for dividend investors, the electric utilities will likely become much higher risk given the emergence of distributed solar and subsequent changes in regulation. As a result, utility dividends have a high probability of becoming less attractive moving forward. While an outright utility death spiral may not occur, the utility industry is certainly facing an unprecedented threat in the form of distributed generation technologies.
Disclosure: I am/we are long SCTY.
I wrote this article myself, and it expresses my own opinions. I am not receiving compensation for it (other than from Seeking Alpha). I have no business relationship with any company whose stock is mentioned in this article.