U.S. Bancorp (NYSE:USB) has been one of my least favorite names in a sector (the financials) that I've been bullish on for a long time. Back in October I detailed some reasons why USB was making good progress but also why I thought at the time that it still had further to fall. USB is certainly one of the best run banks in the entire country as measured in a variety of ways. And with the recent selloff, perhaps USB has finally become cheap enough to flip me to the bullish side.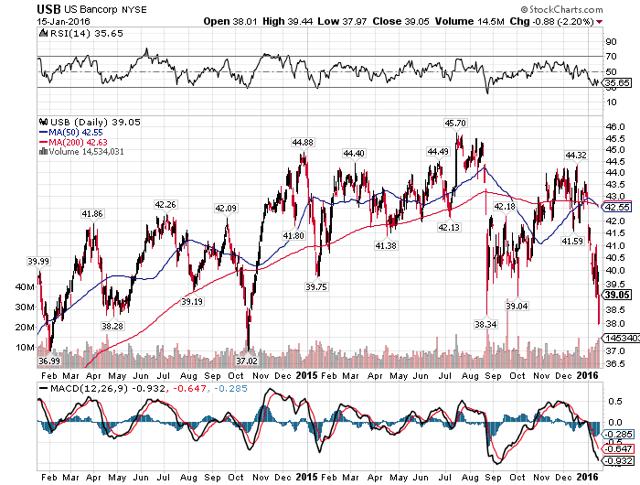 USB's Q4 report came in with a beat on the top and bottom lines. But to be honest, bank earnings are so convoluted because of accounting rules that don't always make sense that revenue and earnings with respect to expectations can sometimes be less than comparable. For that reason, when looking at bank earnings, I prefer to dig straight into the metrics instead so we'll start there.
My focus in the past and why I was more bearish on USB was that the company sported some pretty average growth metrics while simultaneously owning a premium valuation for a bank. Indeed, USB has often traded on par with gold standard Wells Fargo (NYSE:WFC) or even in excess of that bank's valuation, something I had a very hard time reconciling. USB is not Wells Fargo but now that the market has taken no prisoners with its most recent selloff, its valuation is far less egregious than it once was and that gives me hope.
USB's Q4 was really quite terrific in a variety of ways. And given the terrible environment for banks of late, it's all the more impressive. Growth in comparable average total loans came in at 4.2%. And while there are big banks growing their loan books more quickly than that, 4.2% is still solid. USB is an old school bank that takes in deposits and lends (imagine that) for the majority of its revenue, and the fact that it is focusing on growing the loan book is going to be a primary driver of revenue growth.
The way it's achieving this growth is through rapid expansion in both its commercial and auto loan books. USB posted 9% and 13% growth, respectively, in those two categories in Q4 Y/Y, helping to push the total loan book higher. USB, like a lot of other banks, has been focusing loan growth efforts on commercial and auto loans for some time now as other areas like mortgages have slowed down. I expect we'll continue to see the same focus on growing the commercial and loan books for the foreseeable future until the housing market becomes more favorable for lenders.
Average total deposits rose almost 7% Y/Y as low cost deposits rose more than 11%. Given the way cost of funding flows through the income statement we should see NIM rise gradually over 2016 as USB continues to gather deposits, and in particular low-cost ones as it has been doing. Again, this is a very positive sign of momentum heading into 2016 as USB is gathering lots of deposits at very low costs.
Speaking of NIM, USB sports a fairly robust level just over 3% and has been for several quarters now. Other large banks have seen their NIM continue to drift downward in 2015 but USB's has been steady. I said after Q3 that USB's NIM had found a bottom and it seems that is the case given that Q4 was once again roughly flat. That means that - in conjunction with the low cost deposits it owns - USB's NIM should move higher in 2016 as the Fed continues to raise rates. That will be good for net interest income as the loan book won't necessarily need to grow for the company to produce strong earnings growth.
The company's credit metrics deteriorated in Q4 and while I never want to see that, it is normal for this year's Q4 because the epic decline in energy prices has cost nearly all big banks. USB had about 1.2% of its total loans in energy at the end of the year so its exposure is certainly manageable. We also saw it take some hefty provisions for losses in Q4 in comparison to last year's Q4 but the amounts, again, are manageable. I'm not concerned about USB's credit quality - it is just hitting a rough patch this quarter like everyone else. While USB isn't the gold standard in credit metrics like Wells Fargo, it is still very strong - strong enough that a couple of weak quarters due to energy won't deter me.
My main problem with USB has always been its valuation. But at this point, it is trading for just 10.6 times forward earnings instead of the 12 to 14 it has in the past. Its book value of just $23 also means it is very expensive on a P/B basis, but it always has been and always will be because of its industry-leading ROA level in excess of 1.4%. USB is probably the best in the business at taking assets and earning money from them and that is still true today. But with the current selloff making the stock a lot cheaper, it is finally at a more pedestrian valuation, one where I'm willing to put some money to work. USB is a premium name and will always trade at a premium valuation to its peers (save WFC). And while that is still true, you rarely get the chance to own USB for under 11 times forward earnings. I think the carnage on Wall Street has presented a unique opportunity to own a very strong franchise in USB and for the first time ever I'm bullish on USB at $39.
Disclosure: I/we have no positions in any stocks mentioned, but may initiate a long position in USB over the next 72 hours.
I wrote this article myself, and it expresses my own opinions. I am not receiving compensation for it (other than from Seeking Alpha). I have no business relationship with any company whose stock is mentioned in this article.