Welcome, my weary brethren! After a start to the year like we have had I am reminded of Shakespeare's St. Crispin's Day speech, I am sure you all know this excerpt. "We few, we happy few, we band of brothers; For he today that sheds his blood with me shall be my brother." Whether it be the Battle of Agincourt in 1415 or the Great Stock Market Opening of 2016 we can all take joy in knowing that our hardships and suffering will not be in vain. Even though the bloodshed may be just beginning, we are now better prepared to suffer through it. Everyone is fearful, it is almost time to be greedy; Audentes Fortuna luvat, fortune helps those daring. I have decided on my first two purchases for 2016, and will discuss my reasoning and the fundamentals of the companies.
The horrible start to the year has given me an opportunity to take a good long look at my portfolio. I don't plan on selling anything, as the companies I purchased were purchased for a reason and those reasons still make sense. My portfolio has weaknesses which I hope to address with my next two purchases of Starbucks and Altria.
Having witnessed first hand the remarkable power of coffee and cigarettes the decision to invest in both was rather easy. In 2011 and 2012 I was on vacation in Afghanistan in a rather remote location cutoff from everything but the essentials. When my compatriots got in touch with their family back home they would request, above all else, good coffee and cigarettes/dip. The power wasn't witnessed until those commodities ran out, the lack of nicotine and caffeine would turn mild mannered adults into completely unbalanced and rage-filled psychopaths. Even in the most inhospitable conditions these two things were worth everything, often traded for ten times their value like in some post-apocalyptic marketplace ran by those such as myself who didn't drink coffee (I have since seen the error in my ways and enjoy a cup every morning) or enjoy nicotine. While emotions helped me zero in on coffee and cigarettes I used fundamentals to pick Starbucks and Altria.
Altria Group (NYSE:MO) is the parent company of Philip Morris USA, US Smokeless Tobacco Company, John Middleton, Ste. Michelle Wine Estates, Nu Mark and finally Philip Morris Capital Corp...it should also be mentioned they hold a large position in SABMiller. They are a well diversified company with iconic brands and a huge moat they've grown through acquisitions and FDA regulations. A great article recently on SA addressed the FDA and MO relationship. In 2008 they spun-off from Philip Morris and assumed the US market while newly created Philip Morris International got the overseas markets. Here in the good 'ol US of A they do well for themselves and pay their shareholders a 3.9% yield broken down quarterly into $.565 cash payments. What makes Altria a favorite among dividend investors is their regular and substantial raises handed out yearly, the most recent being almost 9%, which more than covers inflation. Their last quarter they earned $.78 each share giving us $2.66 TTM EPS. Paying $2.17/annual and earning $2.66 we get an 81.5% payout ratio for the dividend, giving us a cushion should earnings fall slightly. Their balance sheet contains $1.9B in cash with $12.9B in long term debt and $3M in short term debt. The debt is well structured, the soonest a bond comes to maturity is 2018 and the latest is 2044, from 2027 to 2038 they have no bonds issued. The FCF sits at $5.7B for the TTM period and gives MO a lot of flexibility to pay down debt, pay the dividend, and buy back shares which they regularly do, buying back $788M in shares the last twelve months thereby reducing the dividend payout amount each quarter in 2015. Their performance over the last decade shows great performance compared to the S&P and incredible gains in recent years.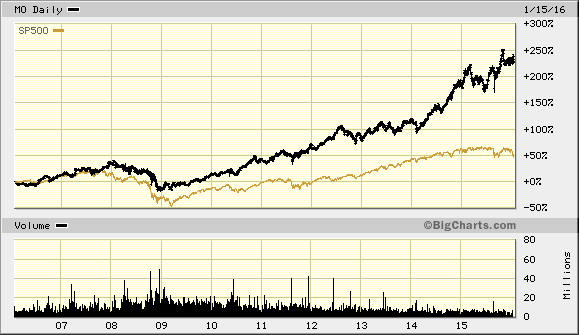 The company has solid fundamentals and experienced management, giving long-term investors a solid pick even in volatile times, they won't be going anywhere and will be there to welcome me into my retirement in 25-30 years. This will be one of those companies I will probably forget that I own, and I'm okay with that.
Starbucks (NASDAQ:SBUX) owns and operates over 10,000 stores across the globe, with over 7,000 here in the United States. They also sell Teavana, Tazo, Seattle's Best Coffee, Evolution Fresh, La Boulange and Ethos. As a dividend focused investor that focuses on value and yield this pick bucks the trend for me. They trade at a forward P/E of 26-27, which many consider expensive, and their dividend yield is just 1.15%, not something to be overly excited about. What draws me into Starbucks as a young retirement focused investor is their future growth prospects. Their five-year growth is estimated at 17%, and their agressive expansion in China could drive that higher. The dividend growth is also highly appealing, they've increased it 36% over the last five years and currently only pay out 35% leaving room to run. With a low beta of .83 and very little short interest at just .68%, my portfolio could use the strength and growth potential. The balance sheet is great, with $4.3B in cash and just $2.3B in long term debt they're well positioned to seize on growth and acquisition opportunities. Their TTM FCF of $2.4B could cover their long term debt with enough left over for a nice dinner. The ROE is at a remarkable 49.7% showing the great management team that I am buying into here. This is another company that has been outperforming the S&P recently.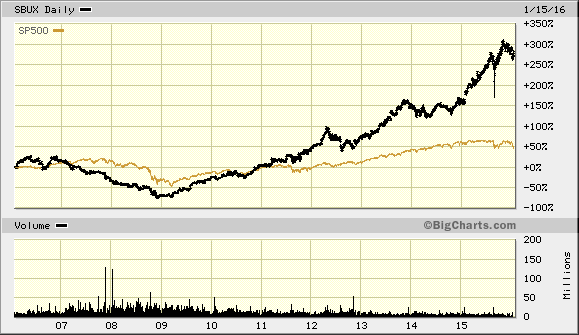 Despite all the positives with this investment I still feel this is riskier for me. I often times have to remind myself that I am young and that I can and should take some risks. While dividend champions and aristocrats are great for any type of investor I feel it is important for me to identify and invest in the future dividend champions and companies with a really bright future. Starbucks gives me that, and I'm looking forward to adding it to my portfolio.
While the market continues to implode and people race for the exits I'll just sit here and wait for my buy orders to execute. I've put in a limit of $55.50 for SBUX and $56 for MO. I may adjust my SBUX order because they report earnings on the 21st and there is usually a rise in price following earnings, still thinking this one out. I'm sure many will feel with patience I could get them for less, maybe I could and maybe I couldn't, those are the prices I'm okay with paying. I'm not smart enough to call a bottom of the market and I'm not going to sweat another buck or two per share so if it hits it hits. I have a lot of time before I have to start worrying about my portfolio so instead of watching the price and trying to save a few pennies here and there I'll devote my time to finding my next purchase. I'm curious to see what other readers here on SA are keeping their eyes on to purchase and look forward to the comments and feedback. As always, good luck to you all and thanks for reading!
Disclosure: I/we have no positions in any stocks mentioned, but may initiate a long position in SBUX, MO over the next 72 hours.
I wrote this article myself, and it expresses my own opinions. I am not receiving compensation for it (other than from Seeking Alpha). I have no business relationship with any company whose stock is mentioned in this article.