Platinum Group Metals, Ltd. (NYSEMKT:PLG)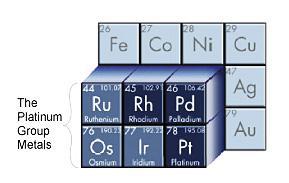 This article is an update of my previous article on Platinum Group Metal on October 25, 2014.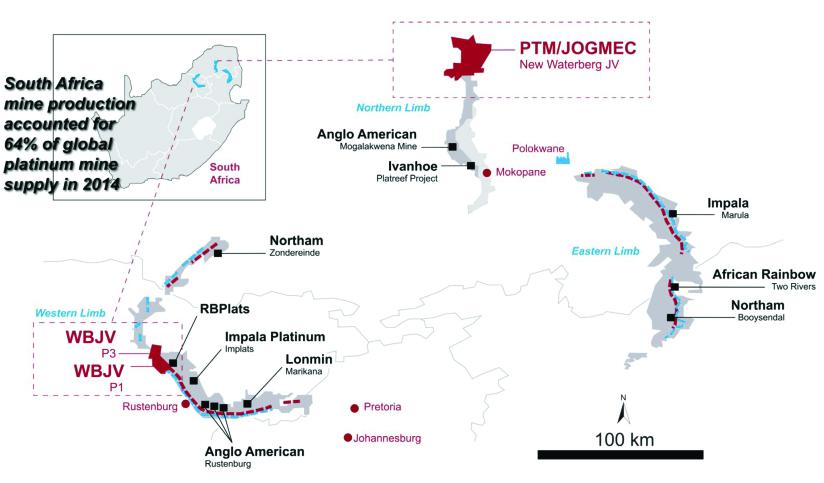 Platinum Group Metals released its first-quarter 2016 results on January 14, 2016.
Hot commissioning of the Project 1 plant is now underway and platinum and palladium concentrate production is set to commence in the weeks ahead. Hot commissioning was rescheduled from mid-December to January 2016 to mitigate operational risks associated with the annual Christmas holiday season in South Africa. Underground development is ongoing and stoping is commencing. Development and stoping rates will need to increase from current levels to meet ramp up plans.

First concentrate production at Project 1 is now scheduled for late January 2016 or early February, 2016 with first concentrate deliveries to Anglo platinum scheduled for February, 2016.
From the 6K filing on January 14, 2016.
| | | |
| --- | --- | --- |
| | November 31,2015 | August 31,2015 |
| Cash and Cash equivalent in $ million | 80.784 | 39.082 |
| Total current assets in $ million | 87.041 | 49.484 |
| Total assets in $ million | 525.864 | 498.342 |
| Total Liabilities in $ million | 92.557 | 24.996 |
| Total shareholder' equity in $ million | 433.307 | 473.346 |
| Net LPS in $ million | 0.71 | - |
| Loan Payable value in $ million | 74.643* | - |
| Common shares outstanding basic and diluted in million | 775,914,708 | 768,943,030 |
*Both loans are carried at amortized cost with the Sprott Facility having an effective interest rate of 13% while the Liberty Facility has an effective interest rate of 23%.
The shares outstanding has increased significantly in 2015 after PLG announced that it has closed its public offering on 12/21/14, and issued 214,800,000 common shares (the "Shares") at a price of US$0.53 per Share, for aggregate gross proceeds of US$113,844,000. The Shares include 7,200,000 common shares issued pursuant to an over-allotment option.
Important issue:
The Company currently has limited financial resources and no operating revenues. The Company's ability to continue operations in the normal course of business in the foreseeable future is dependent upon, among other things, the Company establishing positive cash flow from production at Project 1.

The Company has experienced delays in the rate of underground development and stoping into key mining areas at Project 1, which the Company's engineers and mining personnel are working to mitigate.

In addition, current global market prices for the metals to be produced at Project 1 have recently been highly volatile and trending downward. Unexpected costs, problems, lower metal prices or further delays could severely impact the Company's production revenue and its ability to produce the tonnage at Project 1 required to maintain positive working capital and meet its covenants under the Sprott Facility and the LMM Facility.
Commentary:
Again, I will be focusing on the Project 1, and will not comment on the New Waterberg, which is totally secondary, as we speak.
To simplify for the new investors, PLG owns partially now 2 distinct projects:
1 - 82.9% of the working interest of the Western Bushveld Joint Venture ("WBJV"), Project 1. This is the company's flagship.
2 - 58.65% of the working interest of the New Waterberg JV.
A few important topics regarding WBJV:
Platinum and Palladium price are depressed and put pressure on PLG right now.
The Project 1 is experiencing delays in the rate of underground development, which is a definitive negative news, if the situation is not resolved soon.
Shares outstanding increased from 551.3 million -- After the share offering on close on December 31,2014 for 214.8 million shares -- to now 775.9 million since 1Q'15.
The covenants under the Sprott Facility and the LMM Facility at risk due to low metals price.
The price of the metals is of a paramount importance for a start-up mine like PLG. Platinum and Palladium have been dropping in 2015 to record low levels, and the situation is still uncertain for 2016.
HSBC, however, estimated on December 22, 2015, that the price of Platinum and Palladium will improve in 2016:
The bank on Tuesday listed an average platinum forecast of $1,005 an ounce for 2016 and $1,195 for 2017. Palladium is seen averaging $655 next year and $760 in 2017. These averages are above current prices although they reflect downward revisions to HSBC's previous 2016 forecasts.
Adding that the price of the metals are, now, below costs:
With platinum prices now below production costs, restructuring and capex (capital-expenditure) cuts by South African producers should, over time, reduce supply growth," HSBC said. "More immediate catalysts include our expectations that ETF (exchange-traded-fund) buying will turn positive and a potential rise in auto demand.
The Palladium market is seen as more favorable in 2016.
HSBC projected a supply deficit in the platinum market for fifth straight year, calling for demand to outpace supply by 227,000 ounces in 2016. The expected 2016 supply deficit for palladium was listed at 703,000 ounces.

Analysts said they foresee a platinum trading range in 2016 of $815 to $1,105 an ounce. Their forecast range for palladium is $555 to $720.
Conclusion, it seems that 2016 will see a slow improvement of the price of palladium and platinum, from the actual depressed level, which is encouraging for PLG.
However, the actual price of platinum ($830/ Oz) and the price of palladium ($495/ Oz), are still a subject of strong concern.
The company indicated that it "has experienced delays in the rate of underground development and stopping into key mining areas at Project 1, which the Company's engineers and mining personnel are working to mitigate."
This is another subject of concern, and I am hopeful this delay will be rapidly mitigated. The company doesn't need to aggravate the situation at the moment.
Conclusion:
PLG is entering a very important year, and will move soon from a project to a producing mine, with a tangible production rate. Until now, it is quite difficult to conclude with any accuracy what production the mine will achieve per quarter starting 2Q'16.
Production is expected to be a ramp-up at 116K-185K 4E Oz through 2017, and 250k 4E Oz after that.
PLG is now trading at $0.118 and has been dropping for a long period, at an alarming rate, due in part to the depressed metals price and a huge recent increase in shares outstanding.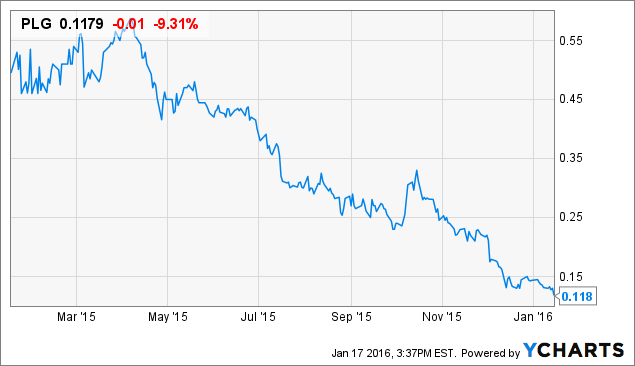 Assuming a better price environment in 2016, and a production as scheduled, I believe PLG will be able to reach the 0.40's in the second quarter 2016 and eventually trade above 0.80, end of 2016. However, it is a risky investment and I recommend to allocate only a small amount of cash.
On a final note, further deterioration of the PPS may force the company to adopt a reverse split to stay listed, which will put even more pressure on the stock.
Disclosure: I/we have no positions in any stocks mentioned, and no plans to initiate any positions within the next 72 hours.
I wrote this article myself, and it expresses my own opinions. I am not receiving compensation for it (other than from Seeking Alpha). I have no business relationship with any company whose stock is mentioned in this article.
Additional disclosure: I trade PLG
Editor's Note: This article covers one or more stocks trading at less than $1 per share and/or with less than a $100 million market cap. Please be aware of the risks associated with these stocks.