This REIT Review is on Franklin Street Properties Corporation (NYSEMKT:FSP), a publicly traded REIT that owns and operates a portfolio of quality office properties in major U.S. markets.
Property Information
As of Q3 2015, FSP owned and operated 36 office properties containing 9.6 million rentable sq. ft. FSP also manages nine sponsored REITs and held five promissory notes secured by real estate mortgages. FSP's office properties are primarily located in the five core markets of Atlanta, Dallas, Denver, Houston and Minneapolis. Portfolio occupancy was 88% and average rent per sq. ft. was $26.81 for Q3 2015. The yoy NOI decreased 6.7% for Q3 2015.
Major Events
FSP sold an office property located in Plano, Texas on February 23, 2015 at a $1.5 million gain, an office property located in Eden Prairie, Minnesota on March 31, 2015 at a $9.0 million gain and an office property located in Charlotte, North Carolina on May 13, 2015 at a $0.9 million gain.
Corporate Data
FSP went public in 2005, is incorporated in Maryland and is located in Wakefield, MA. FSP's debt is rated Baa3 by Moody's.
Management
George J. Carter, 67, President and CEO
Mr. Carter has been a director since 2002 and is responsible for all aspects of the business of FSP, with special emphasis on the evaluation, acquisition and structuring of real estate investments. Prior to the conversion of Franklin Street Partners Limited Partnership into FSP in 2002, Mr. Carter was President of the general partner of the Partnership and was responsible for all aspects of the business of the Partnership and its affiliates. From 1992 through 1996 he was President of Boston Financial Securities, Inc. Prior to joining Boston Financial, Mr. Carter was owner and developer of Gloucester Dry Dock, a commercial shipyard in Gloucester, Massachusetts. From 1979 to 1988, Mr. Carter served as Managing Director in charge of marketing at First Winthrop Corporation, a national real estate and investment banking firm headquartered in Boston, Massachusetts. Prior to that, Mr. Carter held a number of positions in the brokerage industry, including positions with Merrill Lynch & Co. and Loeb Rhodes & Co. Mr. Carter is a graduate of the University of Miami (B.S.). Mr. Carter's son, Scott H. Carter, serves as Executive Vice President, General Counsel and Assistant Secretary of FSP and Mr. Carter's other son, Jeffrey B. Carter, serves as Executive Vice President and Chief Investment Officer of FSP.
Jeffery B. Carter, 44, EVP and CIO
Mr. Carter was appointed to this position in February 2012. Previously, Mr. Carter served as Senior Vice President and Director of Acquisitions of FSP from 2005 to 2012 and as Vice President - Acquisitions from 2003 to 2005. Mr. Carter is primarily responsible for developing and implementing FSP's investment strategy, including coordination of acquisitions and dispositions. Prior to joining FSP, Mr. Carter worked in Trust Administration for Northern Trust Bank in Miami, Florida. Mr. Carter is a graduate of Arizona State University (B.A.) and The George Washington University (M.A.).
John G. Demeritt, 55, EVP and CFO
Mr. Demeritt has been Chief Financial Officer since March 2005. Mr. Demeritt previously served as Senior Vice President, Finance and Principal Accounting Officer since September 2004. Prior to September 2004, Mr. Demeritt was a Manager with Caturano & Company, an independent accounting firm, where he focused on Sarbanes Oxley compliance. Previously, from March 2002 to March 2004 Mr. Demeritt provided consulting services to public and private companies. During 2001 and 2002, Mr. Demeritt was Vice President of Financial Planning & Analysis at Cabot Industrial Trust, a publicly traded real estate investment trust, which was acquired by CalWest in December 2001. From October 1995 to December 2000, Mr. Demeritt was Controller and Officer of The Meditrust Companies, a publicly traded real estate investment trust (formerly known as the La Quinta Companies, which was then acquired by the Blackstone Group), where Mr. Demeritt was involved with a number of merger and financing transactions. From 1986 to 1995, Mr. Demeritt had financial and accounting responsibilities at three other public companies, and was previously associated with Laventhol & Horwath, an independent accounting firm from 1983 to 1986. Mr. Demeritt is a Certified Public Accountant and holds a Bachelor of Science degree from Babson College.
Ownership
| | | |
| --- | --- | --- |
| Top Institutional Holders: | Shares | % |
| Vanguard Specialized REIT Index | 6,460,424 | 6.45 |
| Blackrock Fund Advisors | 5,201,185 | 5.19 |
| Fuller and Thaler Asset Management, Inc. | 4,253,758 | 4.25 |
| Undiscovered Managers Behavioral Value Fund | 3,877,232 | 3.87 |
| Forward Management LLC | 3,849,400 | 3.84 |
Ownership Breakdown

% of Shares Held by All Insider and 5% Owners

9%

% of Shares Held by Institutional & Mutual Fund Owners

73%

Number of Institutions Holding Shares

202
All amounts above per Yahoo Finance
Financial Analysis and Valuation
Select financial data for FSP as of the Q3 2015 10Q and supplemental information
(in millions where applicable):
| | |
| --- | --- |
| Financial Data | |
| Real Estate Assets, Gross | $1,899 |
| Total Assets | $1,926 |
| Property Debt (weighted average interest rate of approximately 2.4 %) | $920 |
| Common Stockholders' Equity | $934 |
| Revenue | $182 |
| Net Income | $19 |
| Net Income Per Share | $.20 |
| Cash Flow from Operations | $72 |
| Unsecured/Secured Credit Facility ($500 million with $300 million used) | $200 |
| Market Capitalization | $986 |
| Property Debt to: | |
| Gross Real Estate Assets | 48% |
| Market Capitalization | 93% |
| Enterprise Value | 48% |
| Dividend and Yield ($.76/sh.) | 7.7% |
| | |
| --- | --- |
| Valuation Methodology | |
| Q3 2015 Revenue Annualized | $248 |
| Less: Q3 2015 Operating Expenses Annualized (excluding depreciation, amortization, interest expense and less G&A expenses) | 116 |
| Annualized Net Operating Income 2015 | 132 |
| Projected Inflation Rate at 3.5% | x1.035 |
| Projected Forward NOI for Next Year | $137 |
| Projected Average Cap Rate | 7.5% |
| Projected Value of Real Estate Assets | 1,827 |
| Add: Net Operating Working Capital (at book value) | 150 |
| Investment in Non-Consolidated REITs (at book value) | 77 |
| Related Party Mortgage Loan Receivables (at book value) | 93 |
| Total Projected Asset Value of Company | 2,147 |
| Total Debt Per Above | (920) |
| Projected Net Asset Value of the Company | $1,227 |
| Common Shares Outstanding-100M Shares | |
| Projected NAV Per Share | $12 |
| Market Price Per Share on 1/15/16 | $9 |
| Premium (Discount) to NAV | (25%) |
Financial Metrics
The gross real estate assets, property debt, revenues, net income, funds from operations, return on invested capital and dividends per share for the years 2010 through Q3 2015 are shown in the table below:
(millions except per share amounts)

2010

2011

2012

2013

2014

Q3 2015

Gross Real Estate Assets

$1,074

$1,245

$1,396

$1,870

$1,868

$1,899

Property Debt

$283

$449

$616

$926

$888

$920

Revenues

$117

$139

$161

$213

$249

$182

Net Income

$22

$43

$7

$19

$13

$19

Funds from Operations (FFO)

$66

$66

$71

$80

$100

$112

$79

Return on Invested Capital (1)

4.3%

4.4%

4.7%

4.7%

5.5%

NA

Dividends Paid Per Share

$.76

$.76

$.76

$.76

$.76

$.57(2)
(1)This is the ratio of cash provided by operations divided by stockholder's equity plus property debt, less cash and measures the return the REIT is earning on its invested capital.
(2)Dividend is currently $.19 per quarter.
The total return of FSP year to date and through five years is show in the chart below per NAREIT:
| | | | | |
| --- | --- | --- | --- | --- |
| FSP Total Return | YTD (11/15) | 1-Yr | 3-yr | 5-Yr |
| | -9.21% | -7.32% | 2.74% | 2.13% |
As shown above, our net asset value per share for FSP is $12/sh., compared to a market price of $9/sh. Current average cap rates for office properties per our industry experience and CBRE's Cap Rate Survey are in the 5% to 8% range, depending on the location, occupancy, quality and age of the property. We have used an average cap rate of 7.5% due to FSP's portfolio being primarily well-located Class A/B suburban office properties.
Valuation Analysis
FSP's strengths, concerns and recommendation are as follows:
Strengths:
Solid portfolio of Class B office assets.
Investment grade credit rating.
Attractive stock price at $9/sh. and 9X FFO.
Attractive dividend yield of 7.7%.
Concerns:
Dividend at $.76/sh. has been the same since 2009 and cash flow from operations for Q3-15 was $72M versus $57M in dividend payments to shareholders, which provides excess cash flow for a dividend increase.
Management's strategy of repositioning the portfolio by selling high cap rate and high occupancy suburban assets and reinvesting the proceeds into low cap rate and low occupancy value-added urban assets.
Minimal growth in revenue and FFO since 2012.
Recommendations:
FSP is a small capitalization REIT with a Class B portfolio of office properties and our recommendations are as follows:
FSP needs to increase the stock dividend as it has been the same since 2009.
FSP is too small to be a public company and should be taken private or sold with its large discount to NAV.
We like the reasonable valuation of FSP, however, are skeptical of their repositioning program as they are reinvesting into high priced urban office assets at the peak of the market and at compressed cap rates, while the trend of urban office occupancy is beginning to reverse, as rent increases have hit ceiling levels in many markets. Therefore, we are not recommending the purchase of the stock, even though the valuation and dividend are attractive.
When a REIT changes its investment strategy, that is a signal that the exiting strategy is flawed or the implementation was poor. There is nothing wrong with owning suburban office buildings, if they are purchased at proper risk adjusted cap rates, the acquisitions are underwritten properly and they are in the best locations. Many suburban office buildings are 75% to 90% leased and will never get to a 95% stabilized lease level due to slower suburban job growth. However, many investors believe they can increase the occupancy to the 95% level and underwrite the acquisition as such and overpay for the asset.
A five-year price chart of FSP is shown below: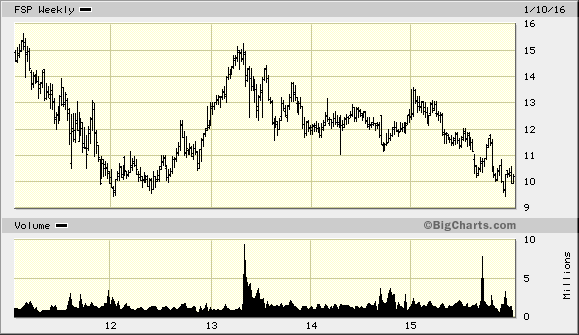 Disclosure: I am/we are long VARIOUS REITS IN AN ETF.
I wrote this article myself, and it expresses my own opinions. I am not receiving compensation for it (other than from Seeking Alpha). I have no business relationship with any company whose stock is mentioned in this article.
Additional disclosure: I have been a long time contributor to SA but am having more and more difficulty downloading my articles. It appears there are conflicts with Windows 10 and I even have issues with Chrome and Mozilla. Also, I can't get the colors, tables, etc. to download. Please advise on any suggestions.