Introduction
This pullback is presenting many great opportunities in the market to buy some of those names that have been overpriced since 2012 or 2013. I recently wrote an article on Tiffany & Co (NYSE:TIF) highlighting its potential for a >10% CAGR. It was the lowest page view article that I have ever written for Seeking Alpha. This tells me that there are not a lot of people who are interested in the stock and thus it might be an under-the-radar opportunity. Following up on that success, I am going to pick another little-followed dividend stock: VF Corporation (NYSE:VFC).
I like to think of VF Corporation as the P&G (NYSE:PG) of clothes. They have over 30 brands with 5 brands that have annual revenues greater than $1 billion (North Face, Vans, Timberland, Wrangler, and Lee). These 5 brands make up the majority of revenue from the organization. They participate in a diverse range of products, which gives the company some of its resilience in various markets. That being said, that opens it up to significant competition from just about everywhere -- Nike, Patagonia, Levi and many others.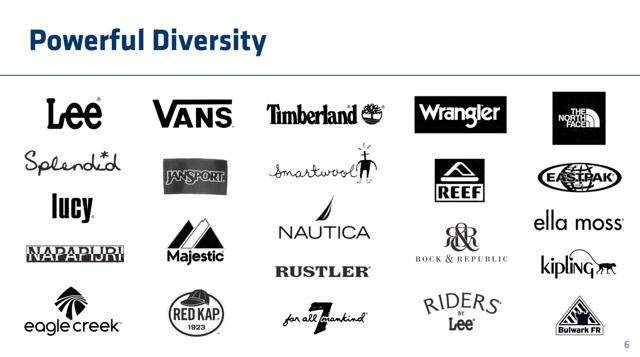 17 x 17 Plan
In 2013 the company set a goal of $17B in revenue by 2017. They also called for an expansion of margin (gross) 300 basis points to 49.5%. This change in margin is primarily driven by the company building direct to consumer relationships as opposed to wholesale sales. To do this, there is a required expansion of storefront locations. The company expects to deliver over 50% growth in store count from 2012 to 2017 to a total of 1,775 stores.
The 17 by 17 plan, as it was called, is now at a point where we can assess the forecasting ability of the organization.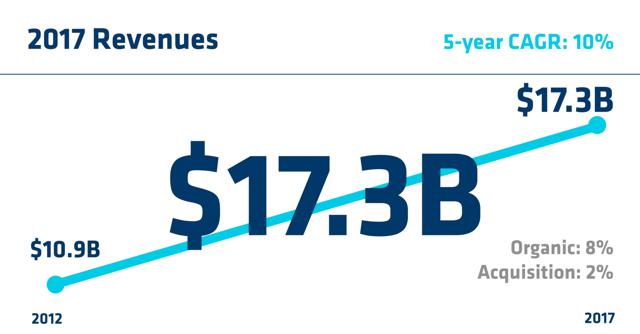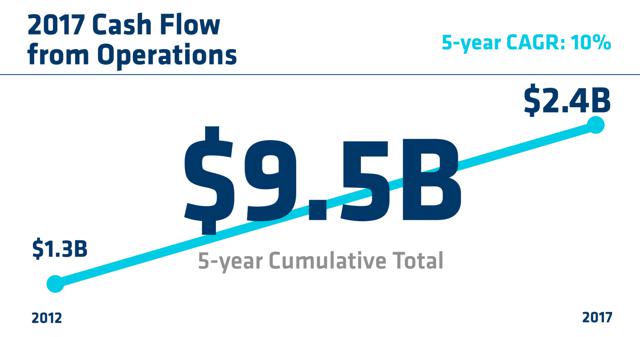 The company calls for a $17B and $2.4B by 2017. In the LTM, the revenue hit $12.5B and Cash flow from Operations hit $999M. This CF from Ops is a downturn from the 2014 total of $1.6B. CF from operations took hits in 3 areas: change in receivables (-$185M), change in inventory (-263M) and change in working capital (-$392M). The first two can be noted as seasonality issues as the reporting is for Q3 -- before the holiday push. Digging into the largest of the 3, working capital, this is a measure of current assets vs. current liabilities. So what is the deal? Current Assets in the LTM are up about $800M to $4.9B. That is good news. Current liabilities went from $1.6B to $2.7B… ahhh! That is not good.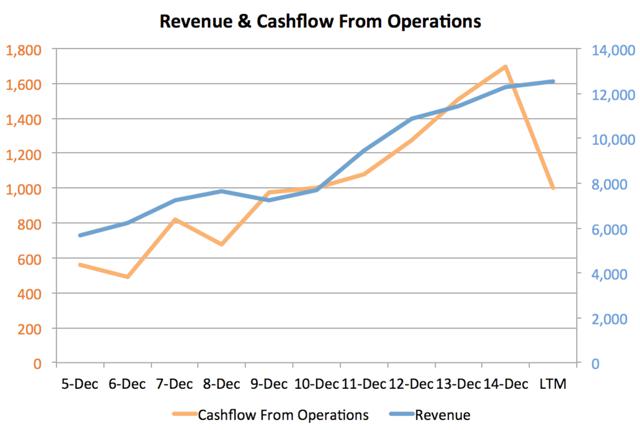 The culprit is short-term debt payments. These are the portions of debt that are due in the next 12 months. It went from $26M in 2014 to LTM of $1.2B. So the company owes some money. What does the 10Q say about this? I am glad you asked! Specifically, it says, "due to commercial paper borrowings used to support seasonal working capital requirements, share repurchases and a $250.0 million discretionary pension contribution in the first quarter of 2015."
We know the company is going to need to borrow money and as long as it is investing it wisely and has a good credit rating then I do not care too much on short-term changes. So, are those both true? First, the S&P credit rating is A. The morning star credit rating is A (and for those interested it gets rated a "wide" economic moat from MS). Second, I want to make sure the company can earn a return on the money it borrows. For this, I use Joel Greenblatt's measure of Return on Capital.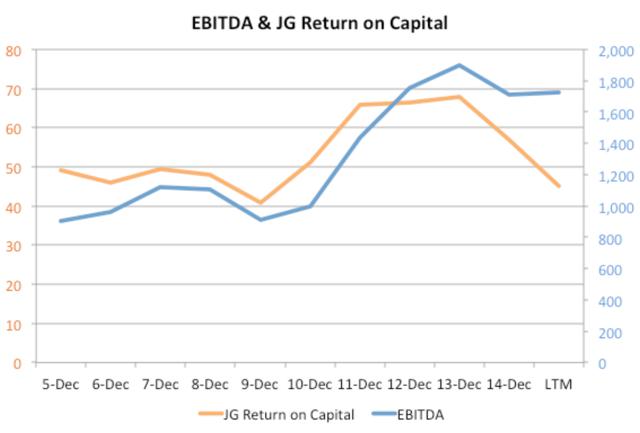 The JG Return on Capital in the LTM is suffering from a decline that came in Dec 2014. Once we get updated numbers, I would expect to see this pop up a little bit. Either way, the company is >40 on this measure and that is good enough for me.
Going back to the original point, can the company hit the 17 x 17 goal? The company would need an 11% CAGR on revenue and a 12% CAGR on cash flow from operations. That is going to be a tough one at their size. I think a more realistic target is 10% CAGR on revenue and CF from operations leading to $16.3B revenue and $2.2B.
Why do I suggest those growth numbers? I take them from roughly from the company itself. Below are charts on how the top 5 brands will perform over the next few years from the 17x 17 presentation.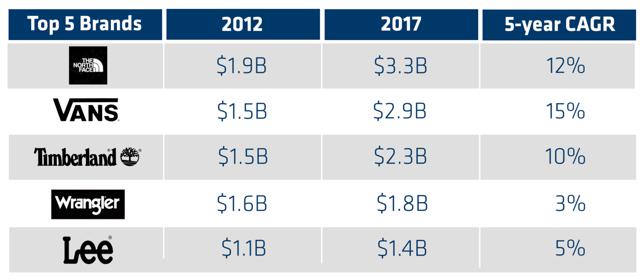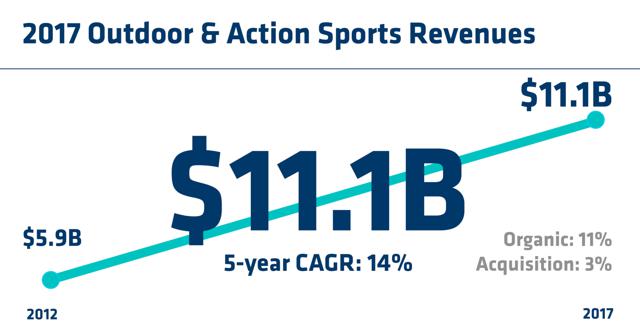 Going back to the 10Q, the company states:
"Global revenues for Outdoor & Action Sports increased 5% in the first nine months of 2015 compared with 2014, reflecting 13% operational growth (emphasis added by author) partially offset by a negative 8% impact from foreign currency. Revenues in the Americas region increased 13% in the first nine months of 2015, reflecting a 2% negative impact from foreign currency. Revenues in the Asia Pacific region increased 14% in the first nine months of 2015 despite a 4% negative impact from foreign currency. European revenues declined 10% in the first nine months of 2015, reflecting an 18% negative impact from foreign currency."
The headwinds associated with the largest growth category seem to be coming from Europe and currency. But, outside of that, the company is not growing the revenue as fast as it needs to meet its goal. How can it make up the gap? Acquisition performance better than expected. Until something gets announced, we are a bit in the dark on what position it will play in the 17x17 plan. This is a priority as will be noted below in the use of cash section. For now, I am comfortable with my revenue estimate.
Shareholder-Friendly?
As a dividend investor, I am interested in the dividend. What is the company's use of all this cash it generates? Well, 40% payout ratio and share buybacks.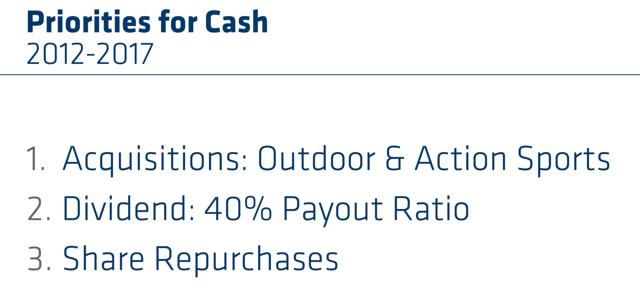 Where do we sit on the dividend right now? For FY2014 it was sitting a little high at 47%. For LTM data, it is still high at around 53%. The payment was raised for December from 32 cents to 37 cents -- good for a 15% raise. Based on this, the company expects to earn $3.70 cents per share. Either way, the dividend is well covered and I am not concerned about it being cut.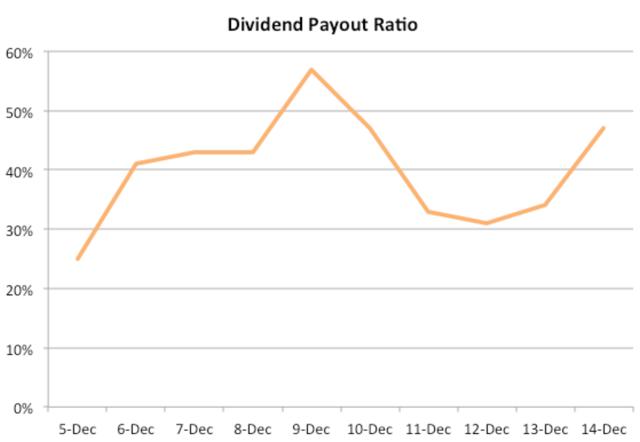 What about the second part -- share buybacks? Well, the company is doing them technically. Over the past 10 years, they have shrunk 15M shares or a huge CAGR of -0.3%. The company has an authorization to purchase 30M shares between Q3 2015 and FY2017. This would drop the total shares outstanding 6%. It is not going to make a huge difference. The reason that I call it out is that it means that as an investor we should focus on the growth of the company and not financial engineering through buybacks to generate a return.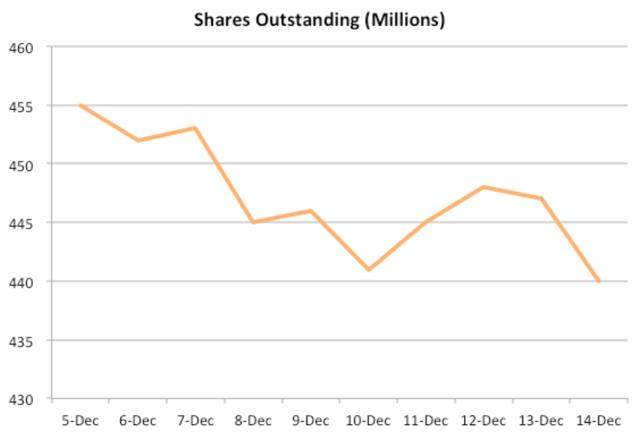 The last thing I want to highlight is around the Store Openings. As I mentioned above, they needed to open 600 stores or roughly expand 50% from 2012 to 2017. This gets to a total of 1775 stores. As of Q3 end, the company was operating 1,480. This leaves 295 to be opened by 2017. For comparison, the company opened 60 stores in Q3 2015. The company needs to open 37 stores a quarter to meet the goal -- this seems realistic.
Risk
It is worth noting that Morgan Stanley (NYSE:MS) recently downgraded the company with a 12-month price target of $58 from the price target of $66. Their reason? It looks like there are some concerns about big brands North Face and Timberland. These two are in the same space that I noted above as slowing and not meeting the 17x17 goal. As always, analysts are a little all over the place. A handful of ratings:
$90 Buy
$79 Buy
$57 Under perform
$72 Overweight
CNN Money has a great summary chart on each stock for analyst recommendations for the next 12 months. You can see, it is a little all over the place. For reference, my comparable forecast as detailed below in the next 12 months would be $62, which is under the median analyst target of $75.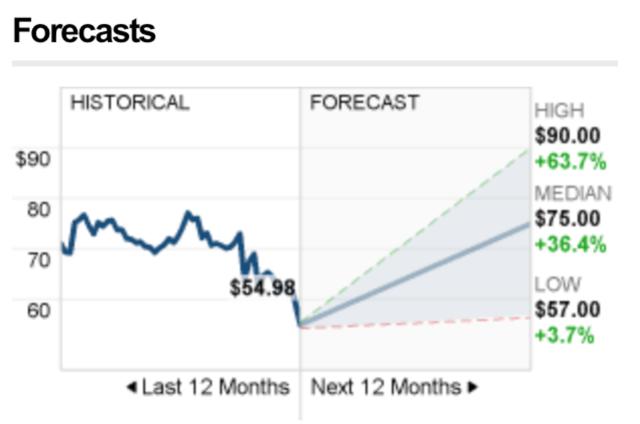 The Company Overview
So where does this leave us on the company? It has a plan that I do not think it can meet without some very strong acquisitions. That is a possibility, but that is an unknown. From what I see right now, I am seeing something in the neighborhood of $16.3B in revenue. In addition, the company will buy back shares to just over 410M. I will give the company the benefit of the doubt that it will be able to improve gross margin to 49.5%. That seems like a realistic goal from today's 48.5%. This should translate into a net margin of 9.3%. Thus, doing the math, this means my estimate for EPS in 2017 is $3.70 per share with a dividend at 40% of 1.48.
The Stock
So now that I have my estimate for 2017, I can take a look at what the stock is doing. It currently trades for $54.98 with EPS of 2.41 for a P/E of 22.8. That is a little rich for me. For those of you using FG, there are some different numbers out there -- EPS of $3.16E and a P/E around 17. My guess is FG is using operating earnings per share as opposed to Earnings Per Share, which is based on net earnings per share. Using my numbers, the long term average P/E is 19. This results in a price target in 2017 of $70.30. At the current price of $55, that is good for a CAGR of 13%. That is pretty good.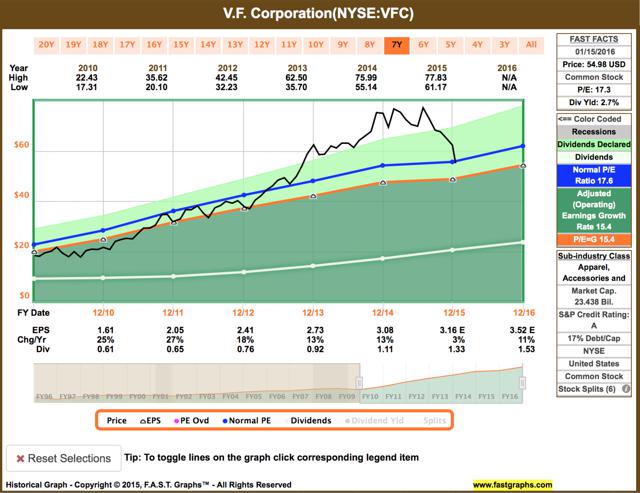 For the dividend, it is currently sitting at $1.48 per share. My estimate for 2017 was also $1.48 based on the 40% target. The current dividend is paying out slightly more than 60% of EPS. Realistically, VFC is going to keep its 43-year streak alive. Shrinking the payout ratio on my EPS to 50% will give a dividend of $1.85 or $0.46 per quarter. This would result in a CAGR of 12.% with a yield of 2.5%, which is in line with history.
In addition to my analysis, fellow author Passive Income Pursuits wrote an article a few months ago on the company. He writes, "V.F. Corporation is a solid company that dividend growth investors should be proud to own. The dividend is safe and given the expected growth in operations, the dividend should grow at a 10%+ rate. My biggest concern with V.F. Corporation from an investment standpoint is the current valuation." Note, at the time of his writing, shares were trading around the $66 range as opposed to today's $55. He continues, "If you purchase at the ideal entry price of $53.60, the annualized return would jump to 11.3%." His commentary was based on the next 12 months. I am calling for a slightly more aggressive result, but he concludes various results based on various valuations methods such as: Discounting Earnings, Gordon Growth, and Dividend Discount.
Conclusion
To me, this seems like a reasonable bet at this point. For a younger dividend growth investor looking for above-average market return, VFC is setup for success over the next 2 years. The company has an aggressive plan to expand its footprint as well as grow through acquisition.
I would target an entry point under $55. I would expect a 2.7% dividend yield growing at 11% CAGR. In addition, I think it is reasonable to expect share price appreciation north of 10%. Note, this is going to be a little bit of catching the falling knife. In the short term, things could continue to go south as the market hates retail and the market hates itself. The trend is your friend and right now the trend is negative. If you are putting capital to work, this is a good place to do it.
The only outstanding concern for me is the aggressive P/E ratio. As long as the company can continue to generate this aggressive level of growth, then it will maintain its P/E. If it stumbles for more than a quarter or two, we could see some P/E compression.
Disclosure: I/we have no positions in any stocks mentioned, but may initiate a long position in TIF, VFC over the next 72 hours.
I wrote this article myself, and it expresses my own opinions. I am not receiving compensation for it (other than from Seeking Alpha). I have no business relationship with any company whose stock is mentioned in this article.
Additional disclosure: I am also long MS. I am long PG through index funds.