On January 14, Noble Corp (NYSE:NE) released the Company's January Fleet Status Report. Perhaps the best news for NE shareholders was no news.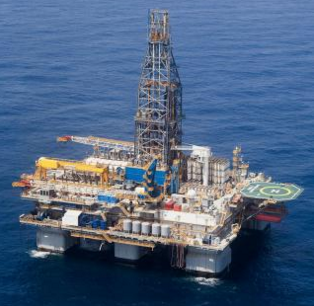 Last month, Shell (NYSE:RDS.A) terminated, for convenience, the contract on the Noble Discoverer. The older rig was previously contracted at a dayrate of $369K through December 2016. That rig is being transported to Singapore where it will be (OTCQB:WARM) stacked.
NE continues to suggest price concessions to Saudi Aramco, similar to those made in 2015, will also be forthcoming for 2016. Saudi Arabia, which aggressively started the current downward slide in oil prices, has signaled it may take Saudi Aramco public. Saudi Armco has been estimated to have a value in the tens of trillions. Having a public vehicle will allow Saudi Arabia to fund budget deficits for years (by selling off small chunks of Saudi Aramco, much like taking change from a piggy bank). From NE's perspective, it is facing a sophisticated counter-party that is highly motivated to extract maximum concessions in today's environment. Four jackups (two older and two newer) are likely to be impacted. The 2015 dayrates for the older rigs (Noble Joe Beall and Noble Gene House) were $65K, while the dayrates for the newer rigs (Noble Scott Marks and Noble Roger Lewis) were $169K.
Lastly, NE notes that the Noble Sam Croft and Noble Tom Madden are under contract with Freeport-McMoRan (NYSE:FCX) until the second half of 2017. The Company is signaling FCX that it is willing to play ball with respect to win-win contract changes, but will not accept a unilateral offer or non-reimbursed contract cancellation.
As discussed in Noble Corp.- On the Cusp of Capitulation, Which Will Present a Buying Opportunity, the perspective from the offshore drilling industry has deteriorated recently, but stock prices, though down are not down enough. It is my belief that there has been too much emphasis placed on who will survive (basically all of the large underwater drillers, with the possible exception of Seadrill (NYSE:SDRL)) and not enough on the time to recovery and what recovery may look like. A world, assuming an oil price recovery, with cautious E&P firms and lots of capacity (due to the significant reductions in stacking costs) is likely to be a pretty ugly place (floater rates, even if demand returns, are not likely to see dayrates of $400 until a lot of supply is absorbed). The Company's Fleet Status Report does not even pretend to hint at good news. Though NE is down significantly (down 1/3 in the last month!), the enterprise value of the Company (and most drillers) does not really reflect the current realities of the market.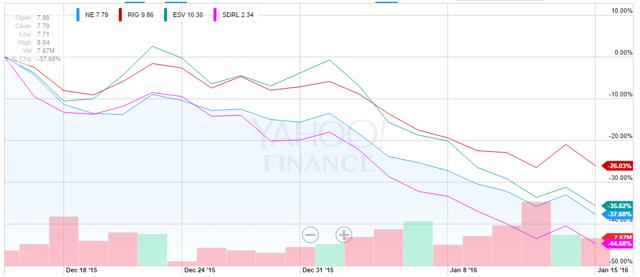 Source: Yahoo!
Therefore, while I will once again reiterate that NE should survive, I do not think the current stock price is attractive given today's set of facts.
With respect to NE specifically, I expect huge asset write-downs and (hopefully) a dividend suspension when earnings are announced February 4. By that time, prices may have capitulated, presenting a long-term buying opportunity (either buy for the long term, or buy a 5% position each month).
Disclosure: I am/we are long SDRL.
I wrote this article myself, and it expresses my own opinions. I am not receiving compensation for it (other than from Seeking Alpha). I have no business relationship with any company whose stock is mentioned in this article.