In Howard Marks' book, The Most Important Thing, the billionaire and co-founder of Oaktree Capital said,
You're unlikely to succeed for long if you haven't dealt explicitly with risk.
I find this sentence to be one of the most powerful sentences in the book, in that managing risk is arguably one of the most essential attributes for any investor. If you haven't read Marks' book yet, I suggest you do (see link HERE) since "it's the investors job to intelligently bear risk for profit. Doing it well is what separates the best from the rest."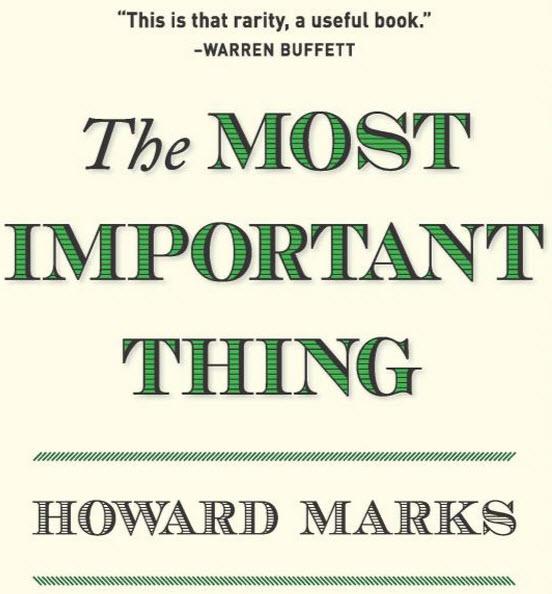 One REIT that I have been studying for just over a year is STORE Capital (NYSE:STOR). I have not invested in the company yet, but I have initiated research and a BUY recommendation.
Although I'm not an investor in STOR, Howard Marks has skin in the game. Actually, STOR was capitalized with around $1 billion from Oaktree Capital Management, LP and the private equity firm now holds around 49% in shares of STOR.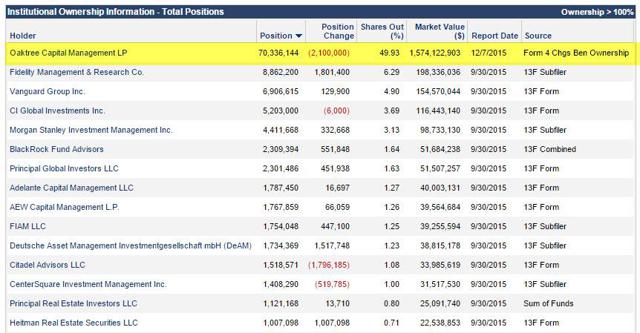 As Marks wrote, "successful investors manage to acquire that necessary trace of wisdom that Ben Graham calls for" so I thought it would be fitting to take a closer look at STOR to determine whether or not there is a satisfactory "margin of safety" in which an intelligent investor can become an "outstanding investor" or as Marks explained, be "distinguished at least for their ability to control risk is they are for generating return."
STORE Has Been Public For Over A Year
Back in November 2014, STORE Capital listed around 27,500,000 shares at an expected price range of $17-19 per unit; the lead underwriters were Credit Suisse Securities, Goldman Sachs, and Morgan Stanley LLC. Since the IPO, shares have generated a Total Return of 27.55%.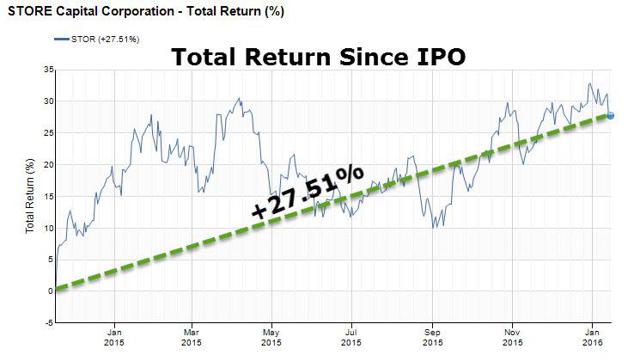 As you can see below, STOR has performed better than the leading Net Lease peers (since November 2014):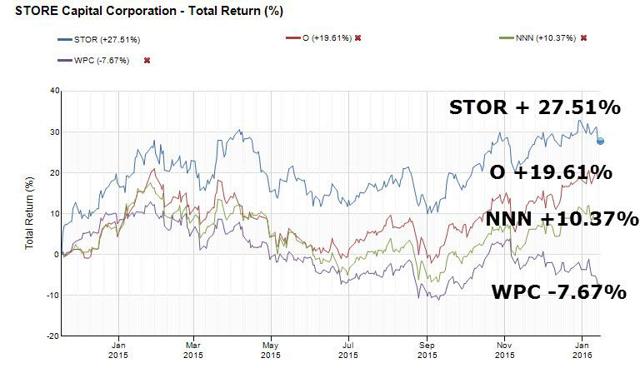 Although STORE has been public for just over a year, the company's senior management team (led by CEO Chris Volk) has a 35-year track record and during that period the leadership group has invested in over $12 billion and over 8,000 properties. This experienced leadership team has guided the formation (and ultimate sale) of two NYSE-listed REITs: Franchise Finance Corporation of America and Spirit Realty (NYSE:SRC), previously Spirit Finance.

As evidenced by the snapshot below, STORE's leadership team has consistently outperformed the peers (based on annualized Total Returns of Franchise Finance Corp.):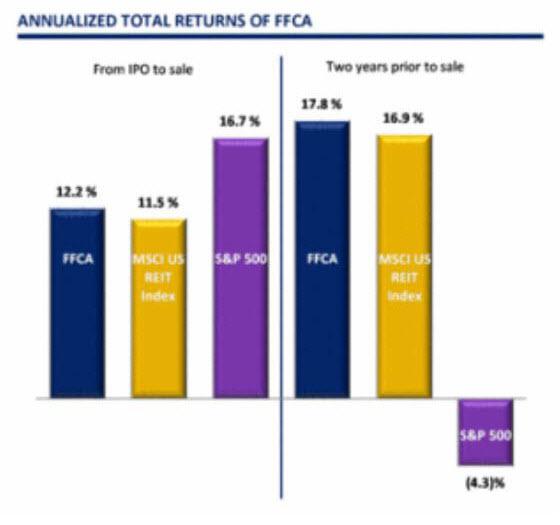 …and based on annualized Total Returns of Spirit Finance: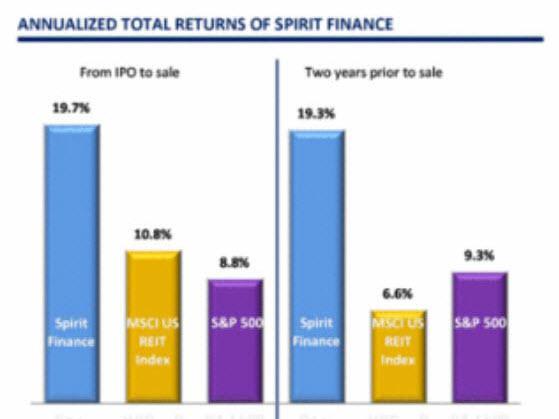 As I said, Franchise Finance Corp. and Spirit Realty were both built by STOR's current management team and while these two companies (FFCA and SRC) are net lease enterprises, it's clear that STOR learned some valuable lessons from their past experiences.
FFCA was formed in 1994 and the company paid out 100% of AFFO, in addition SRC listed in 2004 and at that time the company paid out 100% of AFFO. Around two-thirds of FCA's portfolio had NO rental increased and SRC has rent increases of around 1.5%.
So while STOR may be a fairly new REIT, the management team has gained valuable experience that has equipped them for the future. In the words of Howard Marks,
You're unlikely to succeed for long if you haven't dealt explicitly with risk.
A REIT Differentiated By Growth
Really successful companies build their strategies on a few vivid forms of hardy differentiation. While FFCA and SRC were respectable REITs, STOR appears to be a much stronger enterprise given its sharper forms of differentiation.
Last week STOR's management team hosted an Investor Day conference in Scottsdale, AZ and the company provided five key verticals that include acquisitions, underwriting, closing, servicing, and treasury. STOR's management team felt that the company invests in unique properties and its underwriting and closing process are differentiated from the typical Net Lease REIT.
STOR provided a framework as to how AFFO (Adjusted Funds from Operations) growth will look over 5 years. Management provided the key building blocks to project future earnings growth. The variable include initial cap rate, debt costs, AFFO payout ratio, and rent escalators. STOR's model is built as a simple one that assumes there are no tenant defaults, no amortization etc.

Now, as you can see below, STOR's model illustrates the most important variable for AFFO growth: (1) rent growth (1.75% for STOR) and, (2) payout ratio (70%). As I said above, FFCA and SRC were both launched with a payout ratio of 100%. Clearly, the management team has learned a few lessons in risk management and the chart below suggests that STOR has built a much more resilient platform that generates stable and predictable AFFO growth.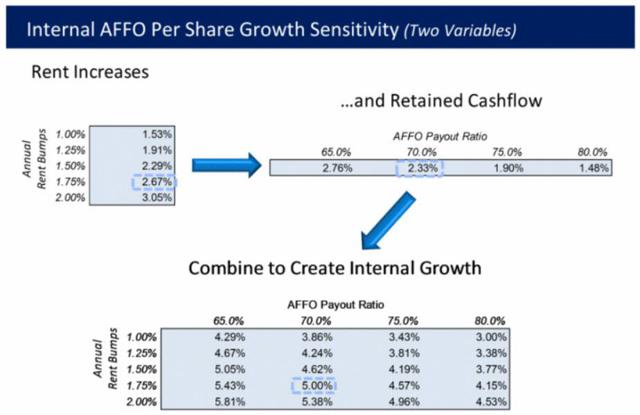 How does STOR's payout ratio compare with other Net Lease REIT peers?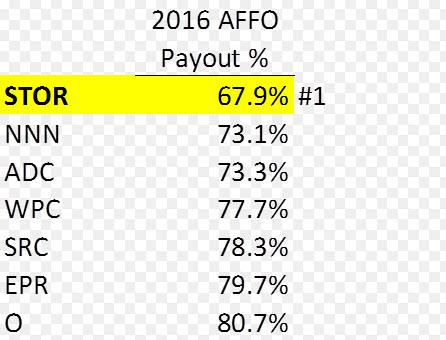 Since the last recession investors have witnessed a few REITs with higher risk payout ratios. I have often referred to these companies as "sucker yields" and those who have owned shares in VEREIT (NYSE:VER) - formerly ARCP - or Wheeler Real Estate (NASDAQ:WHLR) can vouch for the "too good to be true" sentiment.
My point: Payout ratios are important and STOR is clearly focused on managing risk, not financial engineering. The low payout ratio is sound element of risk management and STOR has arguably one of the highest internal growth rates of any Net Lease REIT.
Also, worth noting, STOR is one of the few Net Lease REITs that provides quarterly rent escalator updates. I'm always looking for REITs that provide high levels of transparency and STOR delivers in that category.
The next charts provide the importance of cash retention. The chart illustrates that reinvested proceeds contribute 2.33% growth (46.6% of internal growth) and the rent bumps contribute 2.67% growth (53.4% growth). Simply said, this chart shows where STOR's mix of internal growth comes from: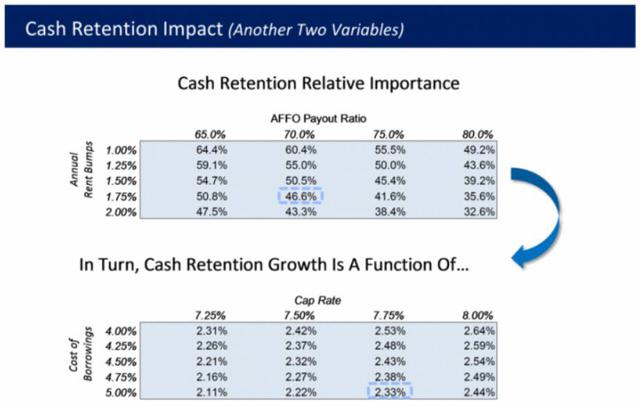 The next chart illustrates STOR's first four (above mentioned) variables and adds another six: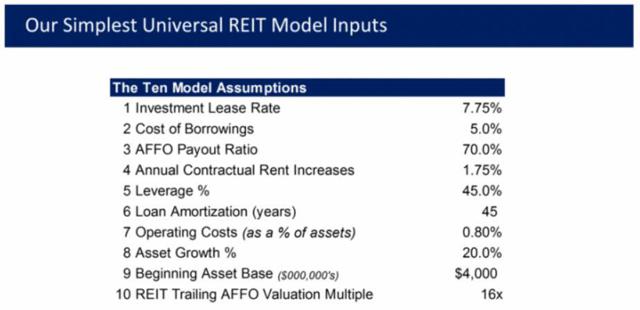 All of these variables are consistent with the company's guidance. An annual 20% increase in asset base at an initial cap rate of 7.7% could result in an additional 3.2% of annual growth. The asset base could grow to over $10 billion. (STOR has $2.8 billion in assets in 2014 and $4 billion at the end of 2015).
So using these growth components (noted above) you can see (below) that STOR's potential AFFO growth is over 8% - both internal and external growth could result in annual AFFO growth of 8.2%.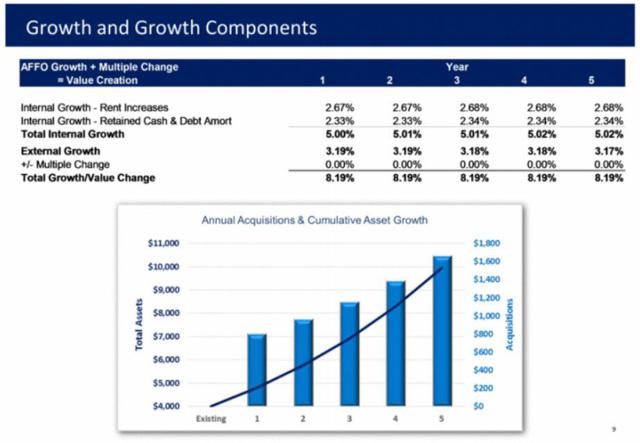 Here's a snapshot comparing STOR's projected AFFO growth in 2016 compared with the peer group: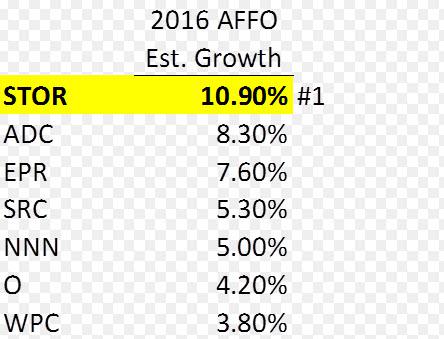 STOR has maintained conservative debt ratios, here's how the company's debt compares with the peer group:

So while STOR generates the highest overall growth it also maintains modest net-debt-preferred/EBITDA at a conservative 6.0x and fixed charge coverage of 3.1x. As you can see below, secured debt should drop from 41% of total assets to 30% in 2020 and secured debt and unsecured debt should cross over in 2017.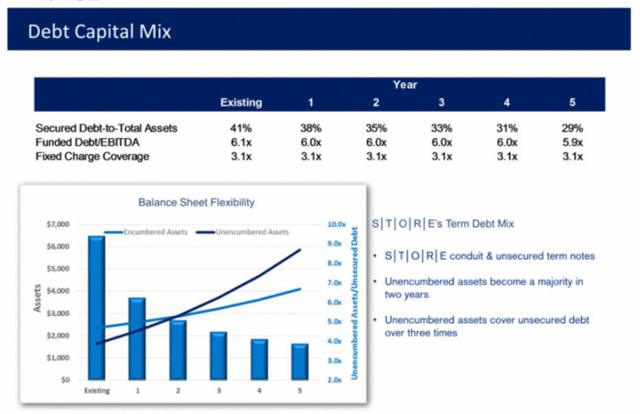 I like STOR's "red light / green light" chart below. It's a useful tool for any Net Lease REIT as it provides a picture of "when to invest" and "when not to invest". You can see in 2009 (shaded in yellow), O and NNN dropped below the 10x AFFO multiples.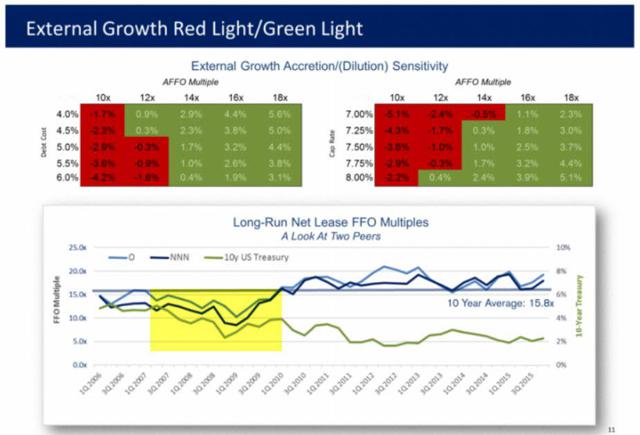 The last chart (provided an STOR's investor conference last week) validates the strength of the differentiated REIT model. Holding the multiple constant, 8.2% AFFO growth coupled with a 70% dividend payout, equates to an annual average return of 13.8% (the highest of most every REIT).
Growing the midpoint of 2016 AFFO guidance of $1.61 per share by an 8.2% CAGR through 2020 results in AFFO of over $2.20 per share. Using a trailing 12-month AFFO multiple of 16x, STOR's share price could fetch $35 per share at year-end 2020 with an annualized dividend of $1.55 (43% higher than the current annual payout).

Now May Be As Good As Ever
In previous Seeking Alpha articles, I have suggested that I would wait on a 5% dividend yield before I placed an order. I have come close on a few occasions, fearful of a market retreat and a broader Net Lease pullback.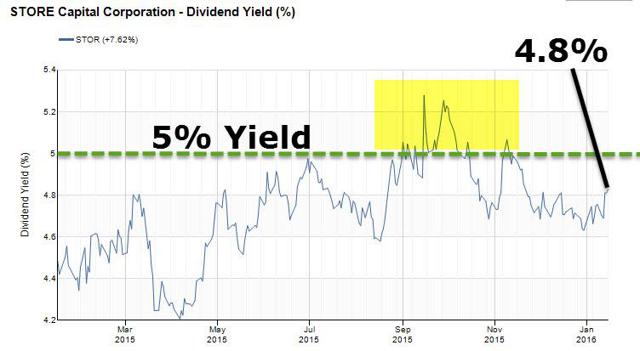 Here's how STOR's dividend yield compares with the broader Net Lease peer group:

More important than the actual dividend yield though is dividend growth. Here's how STOR's dividend growth in 2015 compares with the peer group: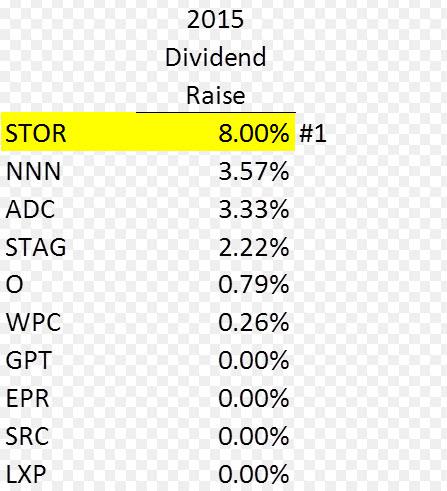 On Friday Realty Income (NYSE:O) announced an increase in its monthly cash dividend of 19.85 cents per common share, up 5% from the previous payout of 19.1 cents apiece. On an annualized basis, the dividend equates to $2.382 per common share, up from the current annual rate of $2.292 apiece.
STOR is primed for a dividend increase and I suspect the company will grow its dividend by at least 5% in 2016, and more likely higher. In other words, I anticipate I will be compensated by at least 5% when STOR increases its dividend in 2016.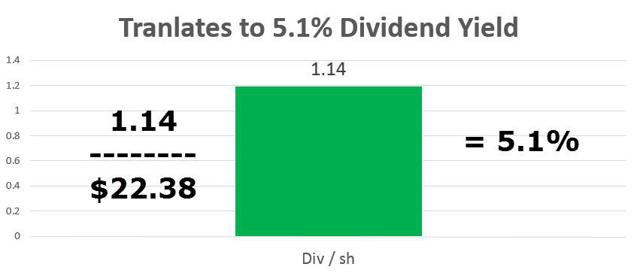 Here's how STOR compares (below) based on 2016 P/AFFO multiples: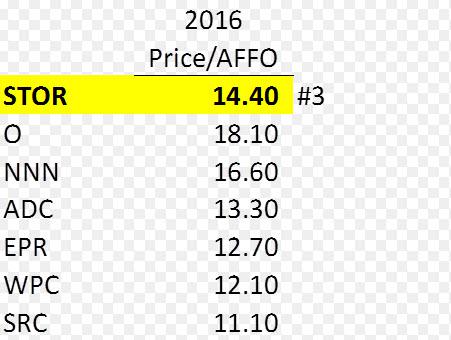 While STOR was the #3 Net Lease REIT in 2015 I believe the company could hit #1 in 2016: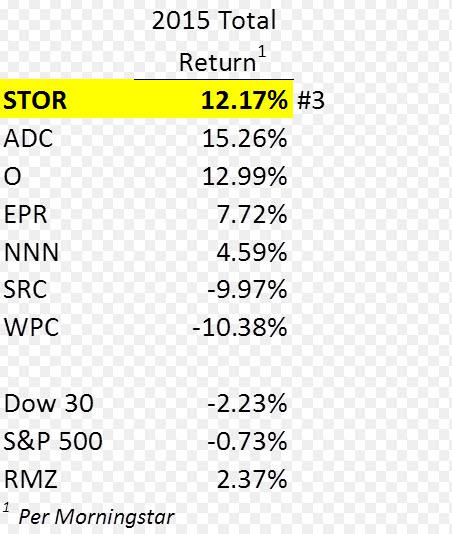 My Target Price for STOR is $26.25 for 2017 that reflects AFFO per share of $1.75 and a multiple of 15x.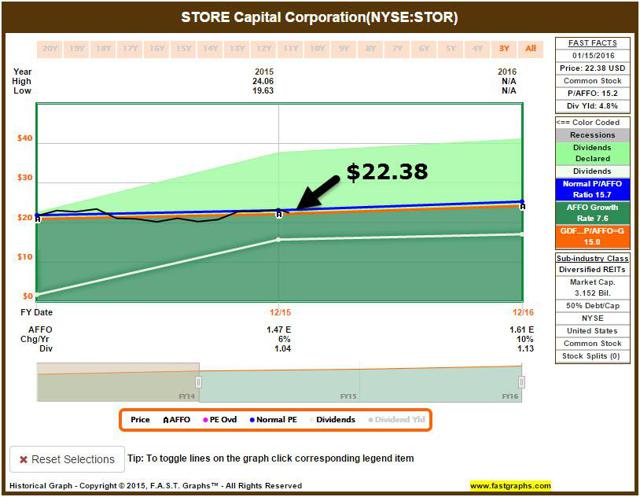 In closing, Howard Marks said, "risk assessment is an essential element in the investment process. I consider STOR to be a disciplined REIT that offers compelling risk adjusted returns. As Marks said, "it's the investor's job to intelligently bear risk for profit. Doing it well is what separates the best from the rest." I find STOR's WACC favorable and the company's investment spreads (8.15% - 6.26% = 189 basis points) attractive, especially given the above average (1.75%) annual rent escalators.
In my upcoming newsletter I will be providing a WACC comparison rating profitability for all Net Lease REITs. For more information, click HERE.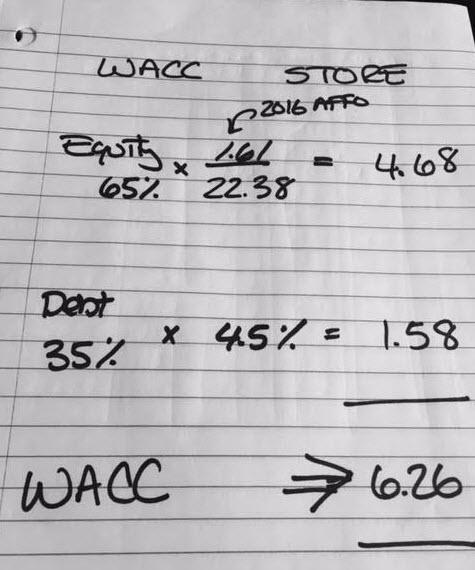 Author's Note: I'm a Wall Street writer, and that means that I am not always right with my predictions or recommendations. That also applies to my grammar. Please excuse any typos, and I assure you that I will do my best to correct any errors if they are overlooked.
Finally, this article is free, and my sole purpose for writing it is to assist with my research (I am the editor of a newsletter, Forbes Real Estate Investor), while also providing a forum for second-level thinking. If you have not followed me, please take 5 seconds and click my name above (top of the page).
The only guarantee that I will give you is that I will uncover each and every rock I can in an effort to find satisfactory investments that "upon thorough analysis promises safety of principal and satisfactory return. Operations not meeting these requirements are speculative." (Ben Graham)
Sources: SNL Financial and STOR Investor Presentation.
Disclaimer: This article is intended to provide information to interested parties. As I have no knowledge of individual investor circumstances, goals, and/or portfolio concentration or diversification, readers are expected to complete their own due diligence before purchasing any stocks mentioned or recommended.
Disclosure: I am/we are long O, DLR, VTR, HTA , STAG, GPT, ROIC, HCN, OHI, LXP, KIM, WPC, DOC, EXR, MYCC, BX, TCO, SKT, UBA, STWD, CONE, BRX, CLDT, HST, APTS, FPI, CORR, NHI, CCP, WSR, CTRE, WPG, KRG, SNR, LADR.
I wrote this article myself, and it expresses my own opinions. I am not receiving compensation for it (other than from Seeking Alpha). I have no business relationship with any company whose stock is mentioned in this article.