Regions Financial (NYSE:RF) has been a very interesting stock to cover in the past couple of years. The company was decimated by the financial crisis and shares have failed to reclaim even half of their pre-crisis highs in the time since. RF continues its rebuilding effort and back in July, I said the company's turnaround was progressing but also that the risk/reward on RF was high. I still believe that is true but after the last couple of weeks have pushed shares down to just $8, I think the equation is skewed far more towards the reward side than risk at this point. In addition, a very strong Q4 report has me quite optimistic about RF's 2016.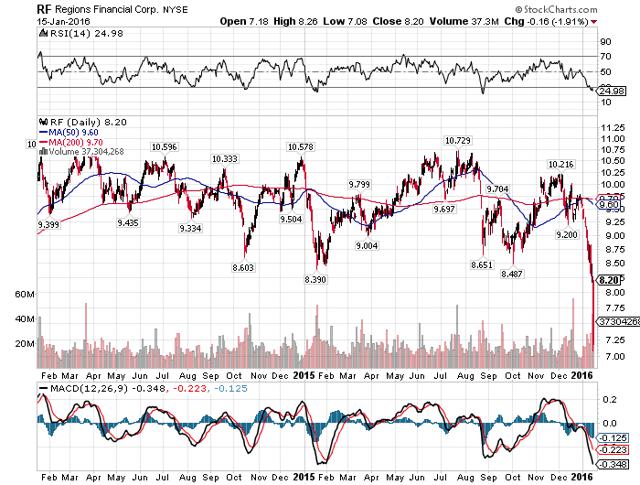 Regions has continued to do the right things to create a turnaround in not only its fundamentals but its stock as well. RF has been relegated to the proverbial penalty box since it crashed a few years ago as investors haven't bought into the turnaround story just yet. However, with continued terrific earnings reports and a credible turnaround plan that is already bearing fruit, the time when that happens should be approaching. And with RF at multi-year lows, the opportunity right now is substantial.
Regions is one of the very few large banks growing revenue at this point as the environment for lenders has been, let's say, hostile in the last few quarters. Nonetheless, Regions managed to post nearly 5% total revenue growth in Q4, the best result I've seen so far in this young earnings season. This is nothing new for RF but investors continue to discount the stock as though it is average or worse; RF is anything but average.
RF's strong revenue growth came from both interest and noninterest income gains. Net interest income rose 2% as NIM came in at 3.08%, right near where its regional competitors are seeing their respective NIMs at this point. This was down nine bps against last year's Q4 and while I don't like NIM falling, it is expected. Remember that rates continued to fall in 2015 so spreads followed suit; this is something we should see some improvement on in 2016 for RF and most any other bank as the Fed makes good on its promises.
RF had this to say about a reclassification of some leases that impacted both NIM and its loan book growth during Q4:
During the fourth quarter, Regions corrected the accounting for certain leases which had previously been included in loans. These leases had been classified as capital leases but were subsequently determined to be operating leases. The cumulative effect on pre-tax income lowered net interest income and other financing income $15 million and reduced the net interest margin by 5 basis points in the quarter. The adjustment resulted in a reclassification of these leases out of loans into other earning assets totaling approximately $834 million at the end of the quarter.
The company's NIM without this adjustment would have been five bps higher and its net interest income would have risen 4% instead of 2%. While the reclassification is certainly proper it should also be noted that on an ongoing, adjusted basis, RF's net interest income numbers were much better than the headline would suggest. And with this being a one-time adjustment, this headwind for NIM and NII growth won't exist in 2016.
RF also saw very strong noninterest income growth as that number flew higher by 8% on a reported basis and 9% on an adjusted basis. Wealth management, capital markets and mortgage income were among the standouts that produced the strong growth but it was fairly widespread. RF's major noninterest income categories are booming and have been for some time, something that bodes very well for RF's revenue generation in 2016.
RF posted these growth numbers by growing its loan book by about 5%, very strong growth indeed. Major banks have been diverging of late with some aggressively pursuing loan growth while others wait for higher rates. RF is certainly in the former group as it continues to build its loan book and with rates moving higher in 2016, I suspect that trend will accelerate somewhat as long as credit is extended prudently. To finance this loan growth RF has also been collecting deposits with that number growing at a rate of 4% overall and 5% for the low-cost variety. That keeps RF's loan-to-deposit ratio in line and keeps it from overextending itself to make new loans, potentially lengthening the runway for growth in the coming years as it takes in more deposits.
On the expense side, RF continues great work it has been doing for some time. Noninterest expenses were flat on an adjusted basis, continuing the expense reduction goals RF has been pursuing for years. Its plan to eliminate $300 million in core expenses should help bring its very high efficiency ratio in the low 60s back in line with its peers. This is RF's best source of earnings growth potential in the next few years as it does more with less and grows its loan book with flat or lower expenses. RF's high efficiency ratio that has been a nuisance for the past few years is now a great opportunity to increase profit margins.
On the credit front, RF also continues to improve with its net charge offs declining 6% to just 0.38% of average loans. Credit metrics across the industry are excellent and RF is certainly participating there as well so no concerns on its ability to lend prudently.
But with the recent decline in the share price, RF isn't just a capital growth story, it continues to return almost all of its earnings to shareholders. The company return $621 million in 2015 in share repurchases and $304 million in dividends. Its yield is now close to three percent and the buyback is good for almost six percent of the float. I expect that RF will have a similar buyback this year, fueling EPS growth again in 2016.
With analysts expecting just 9.1% EPS growth this year and RF trading for 8.5 times forward earnings, there is a lot of room for estimates to move up and the valuation to improve. RF is certainly in the lower tier of regional bank valuations as it trades more like a TBTF than a regional. But it is growing very quickly and its share repurchases should get us more than half of the way to the company's EPS growth estimate for this year irrespective of any loan book growth or margin improvements from lower costs. In other words, there are a lot of levers to pull for EPS growth and RF is fully taking advantage of all of them. I think RF's ultimate 2016 EPS will be much higher than what analysts are estimating and with RF trading for a trough valuation, there is a lot of upside potential for 2016.
Disclosure: I am/we are long RF.
I wrote this article myself, and it expresses my own opinions. I am not receiving compensation for it (other than from Seeking Alpha). I have no business relationship with any company whose stock is mentioned in this article.