For a brief moment on January 15, 2016, the S&P 500 (NYSEARCA:SPY) looked ready to extend the sell-off that ended with the August Angst of 2015. At 1858, the index was trading marginally lower than the lows from the August flash crash and the next day's confirming close. That move would have marked a new 15-month closing low. Instead, the S&P 500 managed to bounce back and cling to support.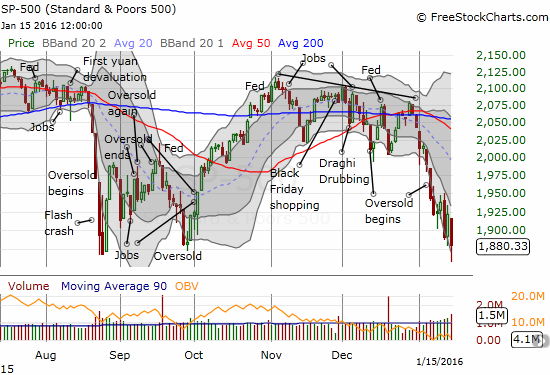 The S&P 500 continues down a slide marked by the lower-Bollinger Bands (BB). Buyers just barely nudged the index off a new 15-month low.
Source: FreeStockCharts.com
The big question hanging over the market now is whether this correction (10%+ loss from last all-time high) will finally begin a march to a bear market (20%+ loss from last all-time high). In early September, I modified the model of another Seeking Alpha author to demonstrate how to use the 200-day moving average (DMA) of the S&P 500 as one tool for assessing the prospects for this kind of sell-off. I created a "warning ratio" that measures how much of the total sell-off between all-time highs occurred the first time the market lost its momentum after an all-time high. Since 1987, the 200DMA signal's warning ratio has triggered at one of two extremes: either most of the sell-off had already occurred at the time momentum ended or a substantial sell-off followed the signal. Between 1950 and 1987 there was a healthy mix of conditions. So while there is a direct relationship between the end of momentum following an all-time high and sell-offs, the signal itself is not as predictive as I would like for building a formal trading model. (Please refer to "How The S&P 500's Current Breakdown Increases The Odds Of Further Selling" for more technical details on this signal and its use).
The last two sell-offs following all-time highs started in 2000 and 2007. The 200DMA signal gave ample warning of further selling in both cases. The two periods are connected in that the market finally re-achieved a new all-time high in May, 2007 only to peak again in just 4 more months. This time around, the market has enjoyed over two years of fresh all-time highs. Thus, I assuming the market has more latent momentum than it had going into the 2007 peak. This assumption also makes sense given the massive amount of stimulus that has gone into the U.S. (and global) economy since the financial crisis of 2008 and 2009. I conclude from this assumption that, like 2000 and 2008, the 200DMA signal has provided ample warning of a larger sell-off ahead before the S&P 500 hits its next all-time high. While this guesstimate cannot provide specifics on timing, I believe it is reasonable to assume that the process will unfold over "considerable" time given financial markets now exist in an era of very active and interventionist central banks.
For some clues on timing, I first review a chart that should concern anyone who suspects that rate hikes from the Federal Reserve cause/seed recessions: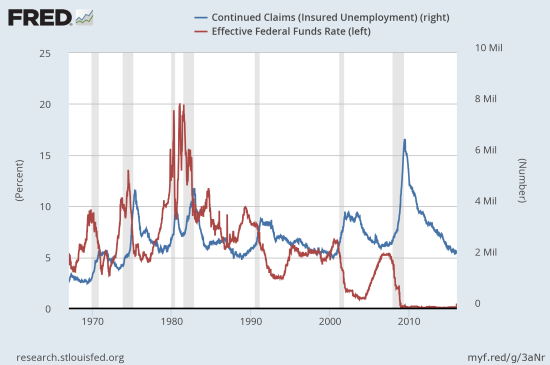 The path of the effective Fed funds rate versus continued claims over the past 50 years. Note the timing of recessions coinciding with lows of claims and rate hiking cycles.
Source: US. Employment and Training Administration, Continued Claims (Insured Unemployment) [CCSA], retrieved from FRED, Federal Reserve Bank of St. Louis, January 18, 2016; and Board of Governors of the Federal Reserve System (US), Effective Federal Funds Rate [FF], retrieved from FRED, Federal Reserve Bank of St. Louis, January 18, 2016.
Two main features stand out from this chart. First, each recession since at least 1970 has started with continued claims (insured unemployment) at or near its lows for the cycle. Second, each recession begins with the Fed in the middle of or near the end of a rate-hiking cycle - regardless of the nominal level of rates. Low claim levels reflect a strong job market. A strong job market helps convince the Federal Reserve that rate hikes are warranted. The brief 1990 and 2001 recessions offer interesting nuances in that the Fed was particularly proactive in responding to economic conditions with rate cuts just ahead of the official start of recessions. In both cases, rate cuts began soon after claims bottomed.
The Federal Reserve hiked rates in December, 2015 for the first time since 2006. Conventional wisdom at the time projected out four more tiny hikes for 2016. That expectation is slowly but surely receding. After James Bullard of the St. Louis Federal Reserve hinted that his expectations for inflation had moderated, the market moved out its expectation for the next rate hike from April to June. Another day and another descent into extreme oversold trading conditions and the market further pushed this expectation out to the edge of July, 2016.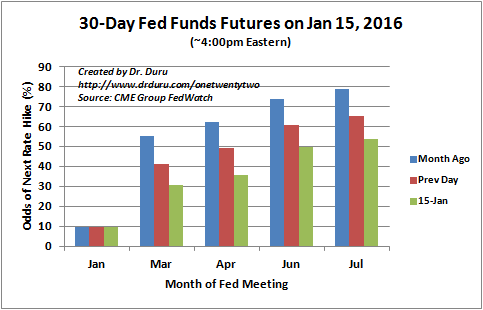 The odds of the next rate hike have dropped to 49.8% for June and 53.5% for July.
Source: CME Group FedWatch
Assuming the Federal Reserve will continue to follow the market's expectations in an effort to avoid surprises to financial markets, then it seems reasonable given all the above data to expect a recession is not in the cards for this year. I am even doubtful a recession is in the cards for 2017, but I am not yet willing to make such bets.
Another interesting aspect of recession panic is the media coverage once journalists sniff out the growing anxiety. On January 18, 2016, CNBC published the results of its latest Fed Survey. An accompanying article came with the ominous title "US recession probability at highest levels since fall 2011: Survey." Never mind that a recession did not occur in 2011 although the market sold-off at the time as if a recession were on the way. It turns out that a small minority of respondents expect an imminent recession: 28.8%. Furthermore, it turns out that one signal of recessions is not flashing a warning signal:
"One fairly reliable recession indicator, the spread between the 2-year and 10-year bonds has weakened just about to its lowest level since the last recession. But it tends to signal recession at zero… So at 118 basis points, it's softer, but not soft enough to signal recession."
A quote from RDQ Economics nicely sums up the situation:
"…there is too much pessimism about the U.S. economy and recession fears are overblown. However, we see little on the economic data calendar that will challenge this pessimism in the next few weeks."
In other words, an imminent recession is unlikely, but no catalysts are coming on the horizon to rescue market sentiment. On-going recession panic in financial markets will continue rearing its ugly head in the form of selling pressure on stocks (interrupted with the occasional and sometimes sharp relief rally bounces). This scenario takes me back full circle to the aforementioned 200DMA signal. If/once the S&P 500 breaks support from the August Angst, I will assume that the next significant wave of selling has begun. Regardless, I am still anticipating the biggest move ahead to come in the form of a rally out of oversold conditions in the coming week or so.
Be careful out there!
Disclosure: I am/we are long SSO.
I wrote this article myself, and it expresses my own opinions. I am not receiving compensation for it (other than from Seeking Alpha). I have no business relationship with any company whose stock is mentioned in this article.