As many of you will be aware, I've been very bearish on the Australian dollar (NYSEARCA:FXA) for some time now. It's been almost two weeks since I last spoke about the expected decline of the Australian dollar versus the U.S. dollar and things have really started to pick up now… at last.

At that point in time it was being very resistant to declining despite the fact that the U.S. had started to raise rates - this was expected to be the kicker that sent it down to new lows. Well, as it turned out there were several factors, previously unexpected, that came into play toward the end of 2015 that created buying pressure and are suspected to have stopped the decline right there in its tracks. With those factors out of the way I felt the Australian dollar was set to go lower and finally it has.
When I last wrote about the Australian dollar it was priced at 72.07 U.S. cents, but at the time of writing it has dropped down 5 percent to 68.41 U.S. cents, helped in part by China's devaluation of the yuan this week. The question now is whether or not it will drop even further from here.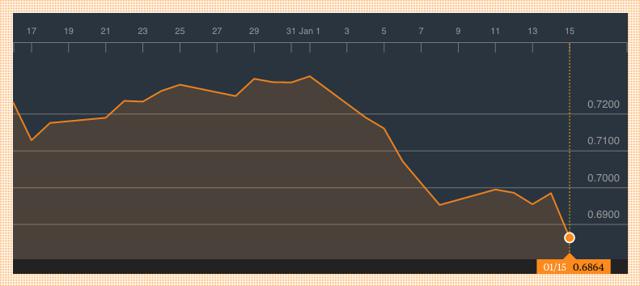 Source: Bloomberg
I still hold firm to my opinion that it will find its way down to 65 US cents and believe it is set to reach this level within the first quarter of 2016. The view of further depreciation of the AUD is still supported by many of Australia's biggest banks.
In the last two days Australia's largest bank the Commonwealth Bank (OTCPK:CBAUF) has reiterated its forecast for a drop to 65 cents by the end of March. The catalyst for its forecast rests on its belief that the Fed will raise interest rates again in March, June, and September this year.
In its most recent weekly economic report Westpac (NYSE:WBK), which is a little less bearish, stated that it still believes the Australian dollar will drop to 66 US cents by June 2016 as you can see on the table below.

Source: Westpac Weekly
In the week ahead there are certainly some events that could affect the Australian dollar - most notably the China Q4 real GDP figures. The market is expecting China to announce real GDP of 6.9%.
I expect anything on the lower side of the 6.9% market forecast to take the AUD lower, but anything above 6.9% could send it higher due to Australia's reliance to a certain extent on the Chinese economy for exports.
The trend is your friend is often one of the first things taught to beginners when they step into the world of trading FX, and it certainly is your friend with the AUD/USD pair. If the AUD does indeed stay friendly with the trend, I believe it has a high probability of falling down to the 65 U.S. cent level in March this year.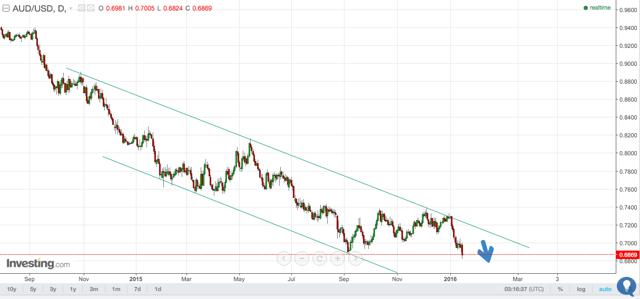 Source: Investing.com
Conclusion
If you did start shorting the AUD all the way back in December when I first suggested doing so at 73.3 U.S. cents you'd be looking at a 6.6% gain now, and while the majority of the gains have passed by, there is still an opportunity to get in on the action.
A drop from where we are now (68.41 U.S. cents) to the 65 U.S. cents target would still provide a 5% return for traders which is not to be sniffed at. Market sentiment is generally very bearish on the AUD, furthering my confidence that by the end of March we will see it drop down as planned.
Disclosure: I/we have no positions in any stocks mentioned, and no plans to initiate any positions within the next 72 hours.
I wrote this article myself, and it expresses my own opinions. I am not receiving compensation for it (other than from Seeking Alpha). I have no business relationship with any company whose stock is mentioned in this article.