Citigroup's (NYSE:C) fourth quarter earnings release certainly rattled investors and the market. CLSA's Mike Mayo, a recently-converted Citi bull, summed it all up quite well in the Q&A:
Hi. I think I heard the positive comments about 2015. You had an ROA of 94 basis points, an ROTCE of 9.2%, efficiency of 57% and your tangible book is up to $61. I don't think anybody cares today and that leads to my question.
He then continued probing:
And I mean, your stocks down 7%, the whole market is down a whole lot. But even if it's a low number it can't hurt too much more from here. So how much in oil and gas loans do you have and what are the reserves taken against that?
In my view, Citi's management has handled forward guidance and disclosure quite badly in recent times - inadvertently adding to confusion and uncertainty. In these turbulent times, Mr Market is not in a forgiving mood - hence, the stock was badly punished on Friday.
I am quite sure Citi's management is lamenting over the weekend and may adjust the tone in the fixed income call (but more on that later).
Forward guidance provided by CFO
On the 9th of December, Citi's CFO, John Gerspach provided the following guidance for the 4th quarter of 2015:
- year-over-year revenue growth in TTS, private bank, securities services and M&A
- FICC and Equities revenue down 15-20% depending on outcomes of the Fed's December meeting
- A repositioning charge of approximately $300 million
- A reserve build of $300-$400 million in respect of oil exposure
- Citi Holdings having a busy quarter ending up pre-tax profit of $500-$700 million on account of the sale of Japan retail, OneMain and redemption of expensive debt
But what didn't come through in the December guidance?
There were several unexpected surprises in the earnings report:
Significant revenue headwinds and reserve build in EM consumer. Whereas Mr Gerspach was completely silent on Consumer in the abovementioned guidance.
The reserve build now includes additional various other "macro" provisions in the neighborhood of $350 million
Citi Holdings pre-tax profit ballooned unexpectedly to $1.3 billion
Typical 4th quarter sandbagging?
My take on proceedings is quite simple - Citi's management realised subsequent to 9th of December that actual gains in Holdings are substantially higher than initially expected. It provided Citi with an opportunity to incur some additional provisions in 2015 (in lieu of 2016) and still come within expectations on a FY2015 basis.
We all know there is an element of subjectivity when it comes to reserve builds (especially of the general 'macro' kind).
However, Citi's management completely misjudged the market's reaction.
Citi's gross miscalculation
Mr Corbat found out the hard way January 2016 is far from an ideal time to surprise the market - especially so on a day where all major indexes are down more than 2%.
It is also somewhat odd that the EM revenue slowdown was not flagged out earlier - typically, Citi's CFO provides guidance on the Global Consumer Bank (GCB) revenues and credit exposures late in the quarter - this time, John Gerspach was unusually silent. It seems misleading to me to highlight the positives on the Corporate Banking businesses but not disclose the revenue headwinds with EM Consumer. I sense many other analysts felt the same.
It appears that Citi's management did a very poor job of guiding the market and they very well know it now. I suspect a reassuring tone and further useful disclosures will be provided in the upcoming fixed income call.
How bad was Citi's performance in the 4th quarter?
I actually think it was a decent performance given external macro pressures. The headwinds in EM Consumer were primarily to do with investment sales and all other metrics such as loan and deposit growth were heading in the right direction.
Investment Sales is directly correlated to EM share market performance - which was mixed in 2015 with a strong first half and a rather dismal performance in the second half.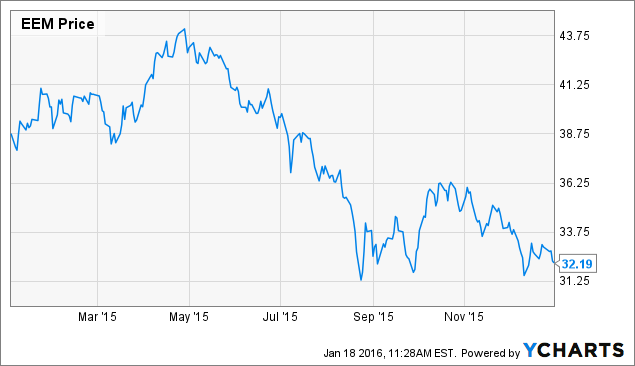 The following extract is from Citi's 4Q'2015 earnings supplement:

As can be seen from above, Citi's Investment Sales dropped significantly from the first half in line with stock market performance. Citi has very little control over this outcome - however, CFO should have called this out clearly in guidance.
Otherwise, all other metrics above seem to be heading in the right direction.
What about reserves build?
As discussed in my previous articles on Citi's exposure to Oil and China - Citi's portfolio is certainly robust. Nothing has changed in this respect. It is part and parcel of banking business to incur some credit losses as the cycle turns and especially where a major commodity declines by two thirds in such a short time.
Again, Citi clearly botched the communication piece in this regard - in this volatile market environment, Mr Market will shoot you down and ask questions later.
Final thoughts
I am currently reassessing my position in Citi. There are certainly macro risks brewing that are impossible to predict with any accuracy - for example, what is the likelihood that the U.S. will find itself in a recession in 2016?
More importantly, the next few months are especially crucial for Citi investors - specifically, CCAR 2016 outcomes, in my view, will reveal whether the stock is indeed a deep value buy or a value trap.
If it is the latter, I suspect more dramatic actions will be required, such as new management with a mandate to further shrink the franchise and realize shareholder value.
In my next article, I will explain the importance of CCAR 2016 for Citi and describe the likely outcomes.
I cover U.S., European, Asian, Canadian and Australian large-cap banks, identifying long and short opportunities. If interested in the topic, feel free to add me as a "real-time follower" or message me if interested in a specific banking name.
Disclosure: I am/we are long C.
I wrote this article myself, and it expresses my own opinions. I am not receiving compensation for it (other than from Seeking Alpha). I have no business relationship with any company whose stock is mentioned in this article.