General Electric (NYSE:GE) is scheduled to release Q4 and full-year 2015 earnings results on Friday, January 22, 2016 (before the bell). Per Yahoo! Finance, the consensus estimate for Q4 2015 earnings is $0.49/share on revenue of $35.99 billion. For comparison purposes, the company reported earnings of $0.56/share for Q4 2014. However, it is important to note that throughout 2015 General Electric sold a large portion of its GE Capital assets that greatly contributed to the Q4 2014 earnings, so the lower anticipated earnings for the current period should not necessarily cause investors to be concerned. Long-term investors should first step back and take into consideration the big picture.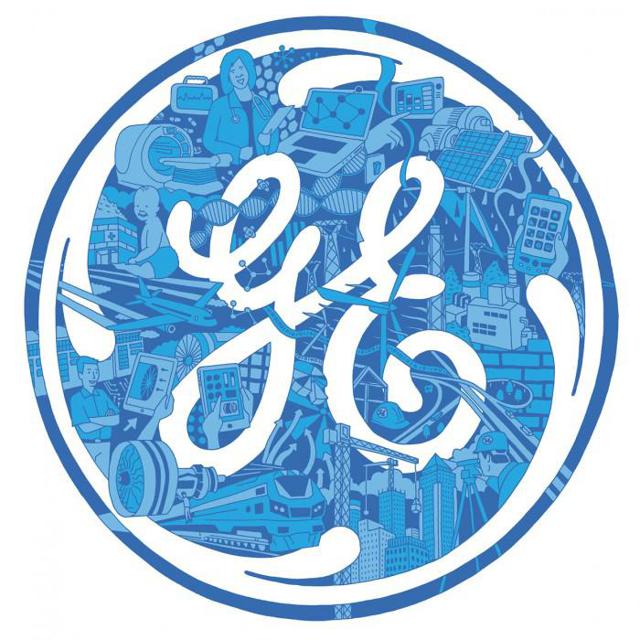 In thinking about the upcoming earnings, I took a deeper dive into the Q4 2014 earnings results and reviewed GE's track record as it relates to earnings expectations.
A Tough Comp - Q4 2014 Earnings
The last three months of each year is usually a strong quarter for General Electric, and the fourth quarter of 2014 was no exception. The company beat earnings expectations by reporting EPS of $0.56, which was helped by a 23% YoY increase in industrial EPS.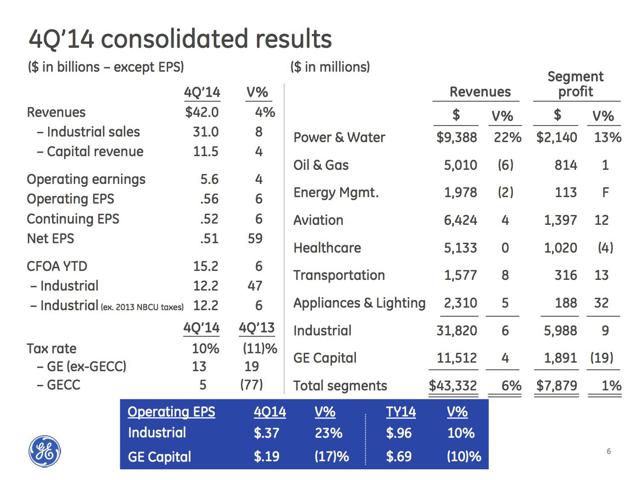 (Source: Q4 2014 Earnings Presentation)
What has changed with the company since these stellar quarterly results were reported? To start, General Electric has significantly reduced its exposure to the financing business and this will impact the Q4 2015 results. In 2015, the company sold financing assets that greatly contributed to the prior quarter's results (as noted in the slide, ~42% of fiscal-year 2014 EPS came from GE Capital), so General Electric's consolidated revenue and earnings will indeed decline without these assets.
Another important factor to consider is the negative impact to earnings that General Electric has had to deal with since the downturn in the oil and gas industry. This factor has contributed to lower industrial revenue and earnings since mid-2014. For example, at Q3 2015 the oil and gas segment's revenue and earnings were down 16% and 12%, respectively.
These two factors alone may cause investors some concern when General Electric reports Q4 2015 results, but let's not forget that these are short-term impacts. General Electric is set to buy back a large amount of shares to contend with the lost revenue/earnings from the GE Capital asset sales, and the oil and gas industry will eventually recover (see this article for my thoughts on how a recovery in the oil and gas industry will be a long-term catalyst for shares of GE).
Earnings Expectations Vs. Results
Based on the results from the last eight quarters, General Electric has been able to meet or beat earnings in seven of the eight quarters.
| | | | | |
| --- | --- | --- | --- | --- |
| | EPS Estimate | EPS Actual | Surprise ($) | Surprise (%) |
| Q4 2013 | $0.53 | $0.53 | $0.00 | 0% |
| Q1 2014 | $0.32 | $0.33 | $0.01 | 3% |
| Q2 2014 | $0.39 | $0.39 | $0.00 | 0% |
| Q3 2014 | $0.37 | $0.38 | $0.01 | 3% |
| Q4 2014 | $0.55 | $0.56 | $0.01 | 2% |
| Q1 2015 | $0.30 | $0.20 | $(0.10) | (33)% |
| Q2 2015 | $0.28 | $0.31 | $0.03 | 11% |
| Q3 2015 | $0.26 | $0.29 | $0.03 | 12% |
(Source: Table created by WG Investment Research, and data obtained from Fidelity.com)
Other than the quarterly results in fiscal 2015, the earnings have been pretty much in line with estimates. I should note that the Q1 2015 earnings were impacted by General Electric's plan to largely exit the financing business, and as a result the company took significant one-time charges. The review of this data, coupled with the fact that management recently reaffirmed the full-year 2015 EPS estimates, leads me to believe that Q4 2015 earnings will be in line with estimates.
Bottom Line
The Q4 2015 earnings results will not make or break the long-term investment thesis for General Electric, but an earnings beat will go a long way in improving investor sentiment in a company that has some serious headwinds to battle over the next few quarters (i.e., a strong dollar, global concerns, a challenging commodity environment, operational execution, etc.).
Currently, GE shares are fairly valued based on both trailing and estimated 2016 earnings. As such, the stock is a hold. However, long-term investors looking to start a new position in General Electric should consider accumulating shares on any dips as the company has the proper plans in place to create a tremendous amount of shareholder value through 2018.
Full Disclosure: GE shares will face downward pressure if the broader market sell off continues, but if this happens the dips should be considered a buying opportunity for investors with a long-term perspective.
If you found this article to be informative and would like to hear more about this company or any other company that I analyze, please consider hitting the "Follow" button above.
Disclaimer: This article is not a recommendation to buy or sell any stock mentioned. These are only my personal opinions. Every investor must do his/her own due diligence before making any investment decision.
Disclosure: I am/we are long GE.
I wrote this article myself, and it expresses my own opinions. I am not receiving compensation for it (other than from Seeking Alpha). I have no business relationship with any company whose stock is mentioned in this article.