In the latest Commitment of Traders report ((NYSE:COT)), we saw a large drop in speculative short positions and a moderate rise in speculative long positions. This shouldn't have been a surprise for investors as stock markets across the globe tumbled and gold gained some semblance of its "safe-haven" role during this fall. While the drop in speculative shorts was welcomed by the bulls, we're still in historically bearish sentiment territory when it comes to overall positions.
Additionally, we were surprised when we took a look at the speculative positioning in a non-precious metal - copper. We will get a little more into this but before that let us give investors a quick overview into the COT report for those who are not familiar with it.
About the COT Report
The COT report is issued by the CFTC every Friday, to provide market participants a breakdown of each Tuesday's open interest for markets in which 20 or more traders hold positions equal to or above the reporting levels established by the CFTC. In plain English, this is a report that shows what positions major traders are taking in a number of financial and commodity markets.
Though there is never one report or tool that can give you certainty about where prices are headed in the future, the COT report does allow the small investor a way to see what larger traders are doing and to possibly position himself accordingly. For example, if there is a large managed money short interest in gold, that is often an indicator that a rally may be coming because the market is overly pessimistic and saturated with shorts - so you may want to take a long position.
The big disadvantage to the COT report is that it is issued on Friday but only contains Tuesday's data - so there is a three day lag between the report and the actual positioning of traders. This is an eternity by short-term investing standards, and by the time the new report is issued it has already missed a large amount of trading activity.
There are many different ways to read the COT report, and there are many analysts that focus specifically on this report (we are not one of them) so we won't claim to be the exports on it. What we focus on in this report is the "Managed Money" positions and total open interest as it gives us an idea of how much interest there is in the gold market and how the short-term players are positioned.
This Week's Gold COT Report
This week's report shows speculative traders once again cutting their short positions for a second straight week and subsequently taking gold positioning to about an even ratio between longs and shorts.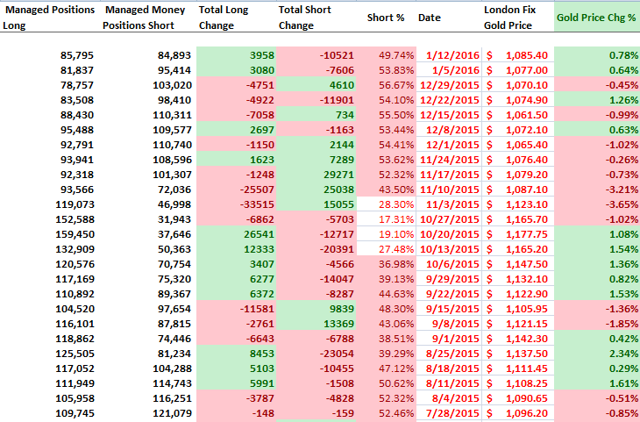 With this large short covering of around 18,000 contracts over the past two weeks, the gold price has only managed to increase $15, so bulls have to be a bit disappointed that the gold price didn't rise further. Part of this may be related to the weak efforts by speculative longs as their positions only increased by around 8,000 contracts over the past two weeks - much smaller than they have increased historically with large short covering.
Overall we are still at elevated levels of short interest (at least historically) with speculative shorts making up 49.7% of the outstanding positions. For comparison the average has been around 38% short over the past year, 30% over the past two years, and around 22% over the past five years.
What this tells us is that gold seems to be at a crossroads here as speculative long and short positions are around even and there is little conviction in the market.
Everybody Knows You Make Money Selling Copper
One surprising thing about this latest COT report had nothing to do with gold, but rather, had to do with the extremely bearish positioning in copper.

Source: CFTC
Anybody familiar with the COT report will know we usually see producers and merchants being net short of their commodity, while speculative (represented in this report by "Managed Money" traders) tend to be net long with much bigger fluctuations in their positioning. The reason why we see producers net short the majority of the time is because they are already net long via their production, and thus use the commodity future markets to hedge their production or to lock-in a price.
What we see here is that speculative are EXTREMELY bearish on copper with over 60,000 short contracts outstanding and further adding to their positions as copper crossed below $2.00/lb. On the other hand producers are actually net long - which is also extremely rare.
While this is not the first time that we've seen this, what it does tell us is that there are a lot of speculative traders betting on further declines in copper, and we imagine almost all industrial metals. While we don't see a strong bullish argument for industrial commodities, we are a bit concerned at the large short positions in them. The market is on one side of the boat here and for the last 3-4 years speculative traders have made money shorting almost any commodity - could we see a turnaround in commodities simply based on the massive short positioning? We would not be surprised.
What Does This Mean For Investors?
It seems gold is at a crossroads based on the latest COT report, with no conviction by the bulls or bears. This shouldn't be so surprising considering how viciously markets have tumbled and how this has probably shell-shocked investors. We have a suspicion that we'll see some action from monetary officials as the ECB and Federal Reserve both meet in the next few weeks, and we do not think they will ignore the bearish sentiment in markets.
But the biggest surprise for us in this report had to do with the extremely bearish sentiment in copper. There is a lot of speculative money betting on further declines in the copper price, and while there is logic in this argument as the global economies struggle, it certainly isn't a lonely position and the crowd is fully involved. Copper companies like Freeport-McMoRan (NYSE:FCX) or Southern Copper (NYSE:SCCO) could benefit if there is any short covering or positive news in the copper market.
As for gold investors, it remains to be seen how speculative traders will react and move the gold surprise to further gains or down to the $1000 ounce level. We believe that there is much more to the recent market fall than a simple vicious correction, and thus governments will begin stimulating markets once again. Thus we continue to believe that building or holding positions here in physical gold and the gold ETF's (SPDR Gold Shares (NYSEARCA:GLD), PHYS, CEF) is the prudent move. Additionally, the miners that have been underperforming gold over the last few months may offer investors considerable leverage to any rise in the gold price. Investors looking for this leverage may want to consider evaluating gold miners such as Goldcorp (NYSE:GG), Agnico-Eagle (NYSE:AEM), Newmont (NYSE:NEM), or even some of the explorers and silver miners such as Tahoe Resources (NYSE:TAHO) (we're not suggesting these companies specifically - only suggesting them for further investor research).
Disclosure: I am/we are long SGOL, TAHO.
I wrote this article myself, and it expresses my own opinions. I am not receiving compensation for it (other than from Seeking Alpha). I have no business relationship with any company whose stock is mentioned in this article.