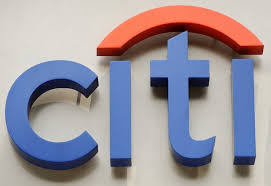 I've been a long time bull on financial giant Citi (NYSE:C), citing its continued turnaround progress in recent years as well as it is unbelievably low valuation with respect to its TBTF peers. The company's shares have been pummeled of late as the entire market has been crushed but financials are getting special attention from bears, it seems. Citi's Q4 earnings report did nothing but intensify the selling despite the fact that the company's earnings and revenue beat estimates. In this article I'll take a look at Citi following Q4 earnings with the stock price at multi-year lows to see what all the fuss is about.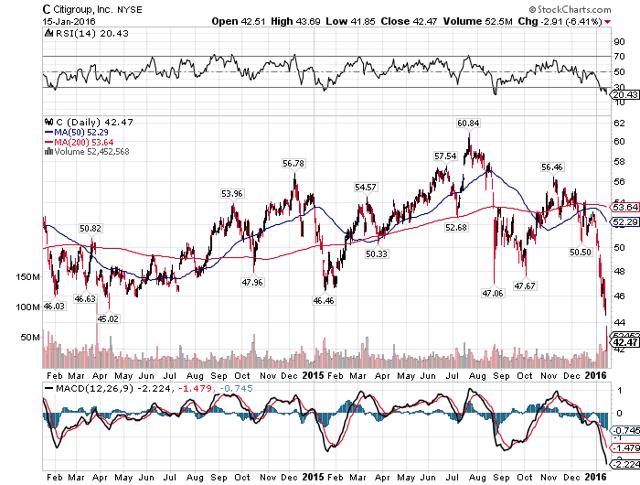 Citigroup, like Bank of America or any number of smaller banks, has been a turnaround story since the crisis ended. The enormous losses of that period brought Citi to its knees and since that time, Citi has been more focused on building a sustainable business than necessarily maximizing profits. It has been the proverbial whipping boy among the big banks among investors for as long as I can remember as it trades at a significant discount to its peers despite the fact that the companies' performances aren't all that different. In fact, in many ways, Citi offers relative value against mainstays Wells Fargo and JPMorgan but trades at an enormous discount anyway.
While Citi's headline revenue and profit numbers were certainly quite good, if we strip out its 'bad bank', Citi Holdings, the picture is far less rosy. Citi's headline 4% revenue increase was entirely due to Citi Holdings as the core Citi business produced a 2% loss of revenue. This isn't all that surprising considering how difficult the banking environment was in 2015 but still, when all of your revenue growth comes from businesses you're winding down, that can be construed as concerning. From my perspective, I expected core revenue to be flat to slightly down and while 2% is a little more than I wanted to see, it's not catastrophic by any means. And on the bright side, the fact that Holdings is producing so much revenue and profit at this point should be celebrated, not a reason to sell the stock.
Remember when Holdings was the black eye of Citi and everyone was waiting for the time when Holdings would get out of the way and stop losing money? We're there now but it seems no one wants the stock anyway. Holdings is still part of Citi and while I would prefer that the core business be producing the gains, it's all the same when you roll it up to the consolidated company. I think the noise around the core business declining slightly is way overblown.
The reason is because Citi has right-sized its business in the last few years and because of that, it can profitably operate with a lower revenue level. Of course, higher is better but even if 2016 is tough, Citi is in good shape to make lots of money once again. The reason is because its efficiency ratio for the core business is just 57%, a strong number in this environment for a money center bank. Citi continues to ensure it spends money prudently and that means it can weather the storm in terms of revenue generation and still create lots of profit. As revenue begins to really move higher in the coming years, Citi's efficiency ratio could easily drop into the low 50s, creating lots of additional EPS upside potential on higher operating margins. Investors seem to forget that we are at trough levels of revenue in the banking world at present and that Citi made over $17 billion in 2015 anyway; imagine what it can do when things improve.
In addition to prudent operating expenditures, Citi also continues to lend intelligently as well. Its allowance for loan losses is just 2.06% of total loans now, down from 2.5% of loans at the end of last year. That's a tremendous result and something we've been seeing across the TBTF banks for a while now as stricter lending standards have led to excellent credit metrics. Citi hasn't found the bottom yet on its credits losses and that is tremendous news for 2016's earnings prospects. Gone are the days when Citi was taking multi-billion dollar write downs on a regular basis as a result of poor decision making; this is a very well managed bank through and through.
Speaking of earnings prospects, analysts have set a very low bar for 2016. Revenue is expected to fall and EPS is slated to grow in the mid-single digits, very attainable numbers indeed. The stock is trading for just 7.5 times 2016's projected EPS and under 7 times next year's earnings. The whole banking sector is cheap right now but Citi is setting the bar even lower in terms of valuation because sentiment is so poor. It is also now trading for just 70% of its tangible book value as that metric rose another 7% in 2015. Investors continue to punish Citi despite the fact that it is doing exactly what a bank is supposed to do - grow its tangible book value over time. At its current valuation, it is not only very cheap on an earnings basis but also for the fact that you can buy $1 of value for 70 cents.
What catalysts could arise to get Citi out of its slump? The company's buyback continues to retire lots of stock with the company buying back $1.8 billion worth of shares in Q4 alone. With CCAR season coming up quickly, investors will be keenly watching what the Fed approves for Citi to do in terms of capital returns this year. If Citi gets authorization for a big dividend and/or a large buyback once more, we could see some excitement around the stock. In addition, the combination of the worldwide selloff in stocks and the fact that sentiment is so low on banks in general is not helping, but those things won't last forever. At some point Citi will come into favor and if you're a long term holder, it is hard not to be tempted to pick up shares at 70% of tangible book value.
Overall I think Citi's Q4 was decent but not great, more or less in line with what I expected we'd see. Holdings is a big tailwind for earnings at this point instead of a black hole and that is great news but we need to see the core business begin to move higher. Citi's restructuring effort is largely complete so now it is time for the company to show the wait was worth it. I can't help but pick up shares here at 70% of tangible book value because Citi does not deserve to priced like it is going out of business. This company just made $17+ billion in one year and the future looks even brighter.
Disclosure: I am/we are long C.
I wrote this article myself, and it expresses my own opinions. I am not receiving compensation for it (other than from Seeking Alpha). I have no business relationship with any company whose stock is mentioned in this article.