Mega-bank Wells Fargo (NYSE:WFC) has long been the darling of investors in the financial sector and with good reason; this is perhaps the strongest, best run TBTF bank in these United States. The company's management team has always been one that I have deep respect for and indeed, it was their collective focus on safe, stable assets prior to the financial crisis that allowed WFC to skate through unscathed and become stronger. That reputation has led WFC to trade at a significant premium to its other TBTF brethren and while it still has that distinction, following the recent rout on Wall Street and Q4 earnings that failed to excite, WFC is trading at a valuation that is rarely seen.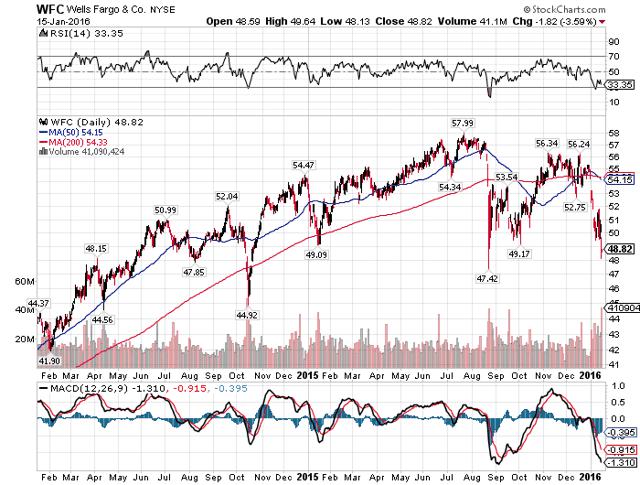 Q4 saw Wells' revenue and earnings roughly flat against the comparable quarter in 2014 as flat has become the new 'up' in banking. Many other banks that have reported so far in the young earnings season have proven that much out as growth has been quite elusive indeed. The fact that Wells was flat is actually a decent sign on the revenue side considering how tough the environment for banking in general is right now.
As you'd expect, Q4 was a bit of a mixed bag for Wells despite the fact that it has proven the ability to do more with less in recent years. While revenue was flat, Wells saw its loan book grow by about 7% in Q4 against the same period in 2014 as it has been looking to expand credit offerings of late. Seven percent growth in the loan book is quite high considering it takes $60+ billion in net new loans to get there so this is a concerted effort to grow the book, not a coincidence.
Keen observers will note that if the loan book grew so much but revenue was flat, the return on those assets must have been lower and indeed, that is very much the case. ROA declined 9bps to 1.27% in Q4, certainly not an insignificant amount. There are many things that impact ROA but net interest margin was likely chief among them, with that number ceding 12bps to 2.92%. Along with Citi, that level of NIM is actually quite good among the large banks as WFC has continued to lead in that area. I suspect we'll see NIM rise in 2016 as the Fed makes good on its projected path of rate hikes and Wells' deposit base sees little of the increases while the loan book benefits. In short, I think we've likely seen the bottom in full-year NIM for Wells and that is certainly bullish long term.
On the cost side, Wells made a significant improvement in Q4 with its efficiency ratio that came in at just 57.4% against 59% in last year's Q4. Efficiency ratios in the high 50s are - unfortunately - the gold standard in banking these days but the fact that Wells was able to shrink its efficiency ratio markedly while experiencing flat revenue is a very good sign. Wells continues to spend prudently and that discipline is allowing it to maintain its profit levels despite a weak environment.
It goes without saying at this point that Wells' credit metrics are world class and that is certainly not changing; its net charge offs averaged just 0.36% of loans in Q4, roughly flat with last year's comparable quarter. Credit is something Wells is best of breed at executing and nothing is going to change there. It is also important to note that Wells' exposure to energy is pretty minimal, meaning if the feared wave of bankruptcies in that space comes to fruition, the negative impact to WFC's earnings should be easy to absorb.
Turning to expectations, analysts are looking for just 5.8% EPS growth in 2016 on a similar amount of sales growth. While that level of sales growth may be tough to come by, I think the company's 2015 shows it can beat that EPS estimate for this year. WFC has reduced its average diluted common shares outstanding by about 2% in 2015, a number it should easily match this year after the CCAR results are announced in a couple of months. The fact that Wells is so profitable and produces so much excess capital means a large buyback is once again a slam dunk. That will bring down the share count again and get us about a third of the way towards projected EPS growth in 2016.
That leaves margin growth and revenue to produce about 4% of EPS growth and I think Wells has a great shot at hitting those numbers. With rates already on the rise and Wells having the ability to raise rates on its lending without meaningful increases in its cost of funding, we should see NIM and ROA move higher in 2016 against 2015's numbers. Even a small amount of margin increase such as ROA going maybe 5 bps higher should go a long way towards WFC hitting its earnings goals. The company's focus on costs will allow the additional revenue to largely flow through to the bottom line and that means it won't take much in the way of margin increases or outright growth in the loan book to create that level of earnings growth. In short, I think analysts are far too pessimistic and are potentially pricing in a recession that has no signs of occurring just yet. I'm not saying we won't have a recession but being able to buy Wells Fargo with a recession already priced in is an enviable and rare place to be.
Wells has been trading for 12 to 13 times forward earnings in the past but is now at just 10.2 times 2017's earnings. And given that I believe its actual earnings level for 2016 and 2017 is going to be higher than forecast, its 'real' forward PE is likely in the high-9 range. It has been a long time since Wells was this cheap and if you believe we are not facing a recession in the US, this represents perhaps the best time to buy Wells Fargo in the last several years. I, for one, am taking advantage of the panic and picking up a premium franchise at a pedestrian price.
Disclosure: I am/we are long WFC.
I wrote this article myself, and it expresses my own opinions. I am not receiving compensation for it (other than from Seeking Alpha). I have no business relationship with any company whose stock is mentioned in this article.