To say that camera maker GoPro (NASDAQ:GPRO) needs some good news these days is an understatement. The stock represents a prime example of a bubble that has burst and given the continuous slide to $11, it seems there is still no end in sight. I've been bullish on GPRO of late because I think this is a real company with real earnings and a real market for its products; this isn't a case where the company is going out of business. However, that is exactly how the stock is trading and one way that GPRO could help is by repurchasing some of its own stock.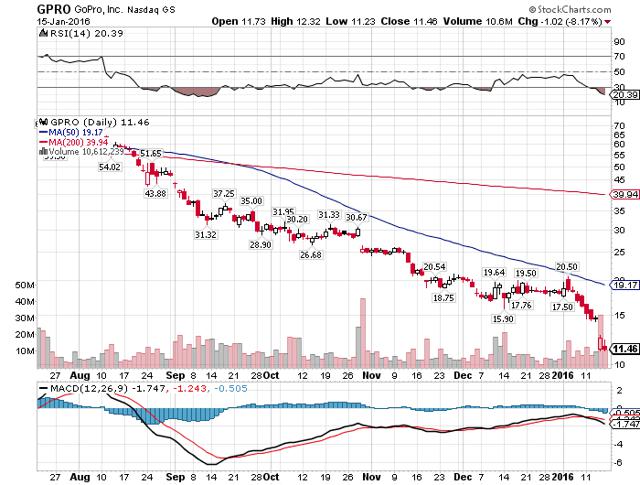 As a note, I'll reference financial data from Morningstar and other notes from the company's Q4 press release.
GPRO has the unique situation of a stock that is getting absolutely pummeled at the very point that its profits and FCF seem to only be growing. That is why I believe that right now, there is an extreme disconnect between what the numbers say and what investors are forecasting for GPRO and if it has the will to do so, it should use that disconnect to retire a bunch of shares as quickly as possible.
GPRO closed Friday at $11.46, giving it a market cap of $1.58 billion. At the end of the fourth quarter (two weeks ago) the company also had $475 million in cash and equivalents per the press release linked above. Part of this came from the IPO but part of it is just because GPRO produces a lot of FCF in normal operation of the business and that is where the opportunity lies.
In the twelve months that include Q4 2014 and the first three quarters of 2015 (we don't have FCF data for Q4 2015 yet) GPRO produced $143 million in FCF and when Q4 2015 is included in that dataset, replacing Q4 2014, the total will almost undoubtedly be much higher. More impressively, GPRO has managed to do this while building inventory positions significantly - in some cases, a little too significantly - an action that removes cash from operating cash flows, thereby reducing FCF. It's really quite remarkable just how much cash GPRO churns out and given the sorry state of the stock at this point, I think it is high time management used it instead of just piling it up.
GPRO is a very capex-light business meaning it can spend $5 to $10 million per quarter on capex without missing a beat. And with about 10% of revenue turning into operating cash flow, the fact that capex is so low allows for a tremendous FCF yield on its revenue. And at $143 million in FCF in the last twelve months, GPRO is now trading at just 11 times its FCF. That, without the almost certainly positive impact of 2015's Q4 in relation to 2014's comparable quarter. The point is that GPRO produces way more cash than it needs but thus far, hasn't done anything with it.
On the other side of the balance sheet GPRO has nothing that would derail significant spending on buybacks. It has no long term debt and its trade payables are roughly matched by its own receivables and inventory. In other words, GPRO has no constraints of any reasonable size on the use of its cash.
So what could GPRO reasonably do? The first thing it needs to do is decide how much to buy back. With its $475 million of basically unencumbered cash and with the generation of another $150 million annually, it can easily afford to announce a $500 million buyback. That number is huge and represents better than 31% of the current float but it can easily be done. GPRO could use, say, $300 million of its current cash pile and then create the balance over a year or two with its FCF. That would put zero stress on the company's balance sheet and in the process, would buy back stock it sold just a year and a half ago at much higher prices. In addition, its EPS would soar from current estimates for 2016 and beyond as massive amounts of shares were repurchased. I've scarcely seen a company with so much extra cash and FCF with such a low valuation that decided not to do anything about it. What is GPRO's plan for its extra cash? Let it continue piling up? It should use it to drastically reduce the share count and essentially call a bottom in the stock for investors.
Indeed, I expect that if GPRO were to announce a buyback it would send the stock flying higher, particularly if the announcement were large. We may not see $500 million but GPRO's financing is flexible enough it can essentially dictate the terms. Heck, if it wanted to take on some debt, GPRO could buy back enough stock to take the company private again. Not saying that would happen but the point stands; it really could afford to buy stock on that level.
Given all of this, I simply hope that management is thinking about this already and that some type of help is coming to shareholders. GPRO has declined at a rate unlike most other stocks in the US since its bubble burst but GPRO has the means to put an end to the panic selling. Here's to hoping it does just that. But even if no buyback comes, holders of the stock can take solace in the fact that the company is so productive in creating cash, an enviable position for such a new company and one that will surely serve it well over the long term.
Disclosure: I am/we are long GPRO.
I wrote this article myself, and it expresses my own opinions. I am not receiving compensation for it (other than from Seeking Alpha). I have no business relationship with any company whose stock is mentioned in this article.