Shoe retailer Finish Line (NASDAQ:FINL) is a name that I've been very cautious on in the past. The company's fundamentals - I've argued - didn't support the high valuation it sported for much of 2015 but in the latter months of last year, the stock came crashing back down to earth. Back in July, with the stock trading for $28, I presented several reasons why I thought FINL was expensive but chief among them were demand and margins. As we have subsequently seen in the company's Q3 results, those factors were indeed reasons to sell the stock and we now see shares languishing in the $17 area. But with this new valuation, is FINL cheap enough to own?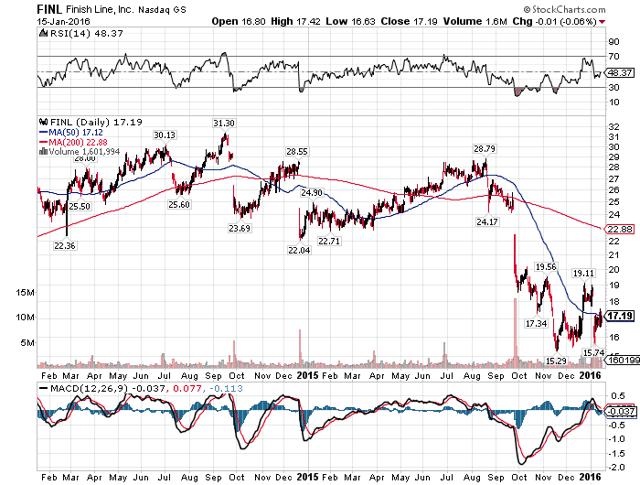 FINL's FQ3 results were ugly any way you look at them. The headline numbers for revenue and earnings were just shocking, missing estimates by enormous margins. The company's FQ3 really couldn't have gone any worse from what it seems as it managed to fall much more quickly than I even anticipated. I thought FINL looked weak in the summer but this was a full-on meltdown and the stock was deservedly pummeled.
FINL's total sales fell 3.5% during FQ3 as the company's comp sales plummeted 5.8%, a terrible result by any measure. I warned of weakening demand back in July but it seems there was more at work here than just weak demand; FINL said a supply chain issue caused it to miss sales estimates. Apparently when FINL implemented its new warehouse and order management system, things didn't go quite as planned and it caused major disruptions in the supply chain. That's bad news but it happens often when retailers - particularly smaller ones - try to implement major system upgrades. FINL's just happened to come at a time when it wasn't exactly seeing tremendous demand that could make up for it and the results speak for themselves. For what it's worth, FINL says its comps through December were excellent so there's that. But keep in mind one good month is not a trend.
Perhaps more disturbing than the company's lost sales is its continuous loss of margins. This has been the main focus of my cautiousness in the past as FINL's margins have been weakening for some time; weak margins are not just a 2015 story. Indeed, we saw even more of it in FQ3 as gross margins plummeted once again. After posting just 28.23% gross margins in last year's comparable quarter, FINL managed to cede more than 5% of its gross margins as that number fell to 23.17% in FQ3. That is beyond what anyone was forecasting and while management is surely quick to blame the supply chain issue, that is certainly not the only problem FINL has. Margins have been weakening for years and the supply chain is not FINL's only issue. FQ4 and fiscal 2017 will be interesting to watch in terms of what FINL can do to improve margins because it desperately needs it.
There is a lot of uncertainty surrounding FINL right now with its top line and gross margin issues but the company also added a new CEO to the mix. There really isn't a lot the company can do right now to make things worse as it posted a horrendous FQ3 and is transitioning its CEO but one thing it can do to stem the tide of declines is utilize its huge buyback authorization.
The company's current authorization has 4.3 million shares remaining on it, good for more than 9% of the current float. That's a powerful tailwind for EPS going forward and considering the shellacking the stock has taken, hopefully management is out there buying stock right now. This is the single biggest positive for FINL right now and to be honest, that's not a good thing. One should never buy a stock solely for the buyback but right now, that is all FINL has going for it.
Lastly, the company's plan to close roughly one-quarter of its current stores throws yet another substantial variable into the mix. FINL clearly has some stores it needs to close because its fundamentals continue to decline. And while the closings may ultimately benefit the company's operating margins by seeing less dead inventory and less to spend on SG&A, it will also undoubtedly shrink the top line. While the eventual state of the company may be more profitable, we also know it will be smaller. Just how small remains to be seen but given the state of flux FINL is in right now, that is the last thing the company needs.
Overall FINL certainly looks cheap at 10 times forward earnings but keep in mind that it has had a very hard time hitting earnings estimates of late. FQ4 will be absolutely critical because if it misses its lowered guidance, the stock will crater. FINL has zero credibility with investors right now and that means it has to hit the numbers it provided. And to be honest, I don't think FINL is cheap at 10 times forward earnings; it has earned a lower multiple than that through its terrible performance and enormous variables surrounding future earnings. FINL has no reason to go higher anytime soon and in fact, I think the bias is ultimately lower from here. The only positive to speak of is the buyback but that is not a reason to buy a stock; sales and margins will continue to shrink FINL and will take the stock with it.
Disclosure: I/we have no positions in any stocks mentioned, but may initiate a short position in FINL over the next 72 hours.
I wrote this article myself, and it expresses my own opinions. I am not receiving compensation for it (other than from Seeking Alpha). I have no business relationship with any company whose stock is mentioned in this article.