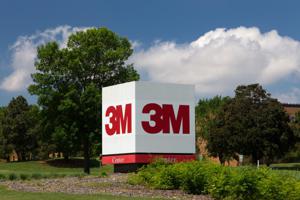 3M (NYSE:MMM) is among the biggest industrial and diversified technology companies. The recent economic uncertainty, which began around the start of the second half of 2013, has crushed a number of entire industries, along with the companies that serve them. This latest volatility has entirely altered the business dynamics of many well established companies.
The International Monetary Fund reduced its outlook twice during fiscal 2015 due to diminishing growth from emerging markets. The Chinese markets have plunged and Europeans are struggling to generate any measurable growth. Along with a sluggish economy, we have been witnessing a major slump in oil and gas prices. After hovering in the range of $50 per barrel, oil prices are now trading at their lowest levels in the past twelve years. This situation has squeezed cash flows and forced many companies to save cash for their own survival.
In addition, the entire mining and agricultural sectors have been facing significant headwinds. This volatility has erased billion of dollars from the market and reduced demand for companies whose business models have significant exposure to these embattled industries. For instance, Emerson Electric (NYSE:EMR) and Dover Corporation (NYSE:DOV) are falling at high double digit rates because their revenue bases are mainly dependent on oil and gas activities. 3M is also feeling the pressure of the business environment and the energy sector, but not to a serious extent.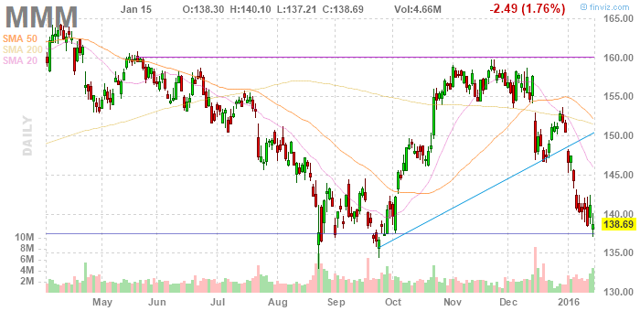 3M has a diversified business model with an extensive footprint, which allows it to generate respectable growth. Its only risk is the strengthening of the dollar against other currencies. 3M's share price has not experienced nearly the drop suffered by many other companies in the past twelve months. The company's stock declined only in response to the mid-2015 crash in Chinese equities. The latest dip in its share price is caused by fears of a plunge in the Chinese stock market.
In the latest trading session, the Dow Jones Industrial Average intraday dropped over 536 points to a near 15-month low. The broader Standard & Poor's 500 index fell by 42 points, or 2.2%, after touching its lowest level since August. Nevertheless, I view the dip in 3M's share price as a buying opportunity because I'm seeing no major threat to its business model nor to its revenue base. The company's end markets are not depressed and its future fundamentals are not threatened thanks to its limited exposure to the struggling energy sector.
In the third quarter of 2015, 3M generated earnings growth of 3.5%, up to $2.05 per share, versus the third quarter of 2014. Its sales declined by 5.25%, down to $7.7 billion, solely due to negative currency translations of 7.4%. In fact, organic local-currency sales increased by 1.2% relative to the third quarter of last year. Each of its business segments have generated respectable organic growth in local currencies, which is a clear indicator that 3M's end markets are not depressed. In FQ3, organic local-currency sales grew by 3.7% in Health Care, 5% in Consumer, 0.2% in Industrial, and 2.9% in Safety and Graphics, with only Electronics and Energy declining, by 2.8%.
Its strategy of investing in high-growth, high-margin business is allowing it to offset the negative trend in its sales growth. The company generated an operating margin growth of 0.9 percentage points, bringing it up to 24.3%. In addition to this factor, 3M's continued focus on reducing its outstanding shares has allowed it to convert negative sales growth into positive earnings growth of 3.5% in the latest quarter. This is a very strong performance, in my estimation, from any company in such a depressed market environment.
In addition, the company's cash flows are strong enough to simultaneously invest in growth opportunities while returning considerable cash to investors. Moreover, 3M is not operating in a capital-intensive industry, which further enhances its cash position. In FQ3, it generated operating cash flows of $1.6B when its capital expenditure stood at around only $354 million. Therefore, the company now has momentous free cash flows of $1.3B with which to pay dividends of only $635 million in each quarter.
In Conclusion
I suggest investors to take a position in 3M due to its diversified business model and strong end markets. Other than the strengthening of dollar, which is always short-term in nature, the company's business model is facing no other threat. Its dividend growth is safe and its cash generation is strong. Its strategy of investing in high-margin areas is fueling its support-to-earnings ratio when sales growth is negative. Its share price plunged recently, only due to market fears, so I believe this dip now presents an interesting buying opportunity for long-term investors.
Disclosure: I/we have no positions in any stocks mentioned, and no plans to initiate any positions within the next 72 hours.
I wrote this article myself, and it expresses my own opinions. I am not receiving compensation for it (other than from Seeking Alpha). I have no business relationship with any company whose stock is mentioned in this article.