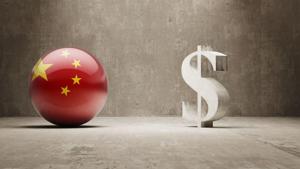 The U.S. equity futures are up more than significantly as the GDP read from the Peoples Bank of China (PBoC) came in as expected overnight. China's economy grew 6.8 percent in the fourth quarter of last year, with growth for the full year coming in at 6.9 percent. GDP for the quarter was expected to come in at 6.8 percent on-year, down from the third quarter's 6.9 percent, according to a Reuters poll, which also found economists expected full-year growth at 6.9 percent, down from 2014's 7.3 percent. With the GDP results coming out of China, Asian markets were also higher over night. While crude oil is still in negative territory for the year and may continue to drop in the coming days, investors are breathing a sigh of relief after the Chinese economic was not worse than hoped.
With all that being said, U.S. investors may be breathing only a momentary sigh of relief overnight and Tuesday that dissipates as earnings come into focus. What U.S. equities and investors are facing as earnings season comes into full swing is nothing short of abysmal. If the worst multi-week sell-off in years wasn't bad enough, take a look at the chart below.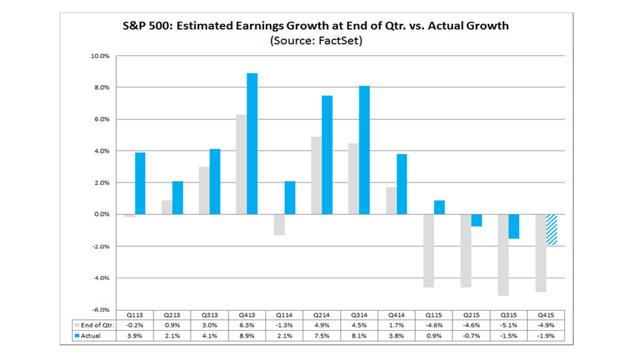 That's right investors; what you see before you is the potential for 4 straight quarters of declining earnings results. Maybe that is just part of the reason that over the past three weeks, both the S&P 500 and the Dow industrials have declined 8.9%, and the Nasdaq has fallen 11.1 percent. It's definitively a very ugly start to the new year for equities. First-quarter earnings for the S&P 500 are expected to decline from the year-ago period by 0.6%, compared with estimated growth of 0.9% at the beginning of the quarter, according to FactSet data. Now let's take a look at some of the notable earnings to be released this week.
Notable earnings reports this week
Report date

Company/ticker (FactSet EPS / revenue estimate)

Mon., Jan 18

U.S. markets closed for holiday

Tues., Jan. 19

Weds., Jan. 20

Goldman Sachs (NYSE:GS)($3.57 / $7.09 billion)

Thurs., Jan. 21

Verizon (88 cents / $34.11 billion)
American Express ($1.13 / $8.4 billion)
Travelers ($2.66 / $5.93 billion)
Starbucks Corp. (NASDAQ:SBUX) (45 cents / $5.4 billion)
Union Pacific Corp. (NYSE:UNP) ($1.42 / $5.45 billion)

Fri., Jan. 22

General Electric (NYSE:GE) (49 cents / $36 billion)
Schlumberger (NYSE:SLB) (63 cents / $7.79 billion)
If the underperforming Nasdaq Composite Index is going to rebound in the near-term it is going to need some help from former high-flyers like Netflix and Starbucks. Both are set to report earnings this week and if their recent post earnings history trading pattern holds true, it will be a wash with Netflix going lower and Starbucks stuck in neutral.
Getting back to the woeful situation with crude oil now. With most every bearish call one could issue over the last several months, J. P Morgan (NYSE:JPM) was left out of the dialogue. But as of January 18th the firm became the most bearish on Wall Street as it pertains to crude oil forecasted prices.
In a report published on Monday, the bank's commodity research team led by David Martin, dramatically slashed its outlook for both crude and Brent saying the oversupply in the market will keep prices from bouncing back until late this year. Its new forecast calls for crude to average $31.50 a barrel in 2016, down from $48.88 expected previously, and for Brent to trade around $31.25 a barrel, down from $51.50.
As Iranian sanctions have now been lifted, the country has greater freedom to sell its oil into the market which only serves to add more to the over supplied marketplace. Demand is not getting any better for the black gold so it is anybody's guess where a bottom for crude prices will be found. The following chart examples the forecast by some of the biggest banking institutions for the black gold.
Bank

Forecast for WTI crude in 2016

J.P. Morgan

$31.50

Barclays

$37

Morgan Stanley

$47.50

Bank of America Merrill Lynch

$45

Goldman Sachs

$40*

Citi

$47.75

Moody's

$40

UBS

$40

* Forecast for midyear, not 2016 average
There's nothing like a market route to start of the New Year. It tends to catch fire and especially fuel the fear trade. Notable Societe General bear Albert Edwards is back to his usual commentary, striking fear in the heart of investors. He released a note on Wednesday in response to the recent currency devaluations by the People's Bank of China. This depreciation, with reports last week that it's far from over, is a result of an asset price bubble that the U.S. central bank helped to create, according to Edwards.
"Quantitative easing in the U.S. may not have done much to boost U.S. growth, but it certainly inflated global asset prices into the stratosphere," he said in the note Wednesday.

"If I am right, the S&P would fall to 550 (points), a 75 percent decline from the recent 2,100 peak. That obviously will be a catastrophe for the economy via the wealth effect and all the Fed's QE hard work will turn (to) dust."
Sounds like Edwards understands the economics of QE and its adverse affects, but given that the state of the U.S. economy is not directly tied to China's state of economic condition or its monetary troubles, I would suggest investors take the offering with the grain of salt. It's not to say that his economic understanding is inaccurate, but forecasting economic stresses and their impending affects on stock markets can be somewhat futile and hope filled.
Not everyone is as bearish as Edwards though. Bob Parker, a senior advisor for investment strategy and research at Credit Suisse told CNBC Tuesday that investors should be poised for a rally in February, after equities find a base later this month.
"The key question is, is this a correction or the start of a major bear market? My argument is it's very similar replay to what we had last August and September. This is a major nasty correction, (but) we're now a large way through that correction," he added."
In time we will see who gets the call right, Mr. Parker or Mr. Edwards. As for now, investors might be wise to exercise caution, as the market is full of uncertainty. Generally, the market moves based on sentiment and with sentiment as low as it is presently, the time to buy may not be as one hunts for a bottom, but as markets begin to show signs of rebounding.
Disclosure: I/we have no positions in any stocks mentioned, and no plans to initiate any positions within the next 72 hours.
I wrote this article myself, and it expresses my own opinions. I am not receiving compensation for it (other than from Seeking Alpha). I have no business relationship with any company whose stock is mentioned in this article.