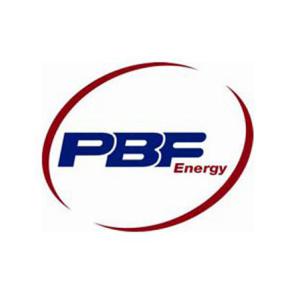 Independent refiner PBF Energy's (NYSE:PBF) shares had an excellent 2015, increasing in price by roughly 40% during the year despite the presence of substantial turmoil in the broader markets. In an August article on the company I wrote that, while the company faced a number of headwinds, an improved operating environment meant that even conservative investors could consider it to be an attractive long investment opportunity in the event that its share price fell to $25. The following month its share price fell below $26 before subsequently increasing by 62% as crude prices tested their earlier lows. While the company's share price has since retreated to $35 on negative headlines and market volatility, its operating environment continues to remain attractive. This article re-evaluates PBF Energy as a potential long investment opportunity in light of these developments.
Q3 earnings report
PBF Energy's Q3 earnings report provided a number of indications as to how its Q4 earnings report will look when released next month. The third quarter saw crude prices resume falling after rebounding strongly in the second quarter. Refiners generally recognize higher crack spreads when crude prices decline sharply due to price lag between crude and finished product prices and higher demand by drivers for refined fuels. This crack spread strength occurs even as revenues fall due to the presence of lower prices.
Q3 was no exception for PBF Energy, which reported revenue of $3.2 billion, down by 39% YoY but beating the analyst consensus estimate by $290 million. The revenue decline was driven by a 50% reduction to the average price of crude during the quarter compared to the previous year, while production also fell by 5% over the same period due to a refinery outage. Cost of sales fell by 40% YoY, however, as energy prices moved uniformly lower.
The company's operating income fell to $90.1 million from $284.1 million YoY. Net income fell to $42.8 million from $141 million over the same period as a result, causing diluted EPS to decline to $0.49 from $1.60, a result that was partially mitigated by a 6% reduction to the number of shares outstanding. The relatively poor GAAP result for the most recent quarter was driven by the aforementioned decline to the price of crude, which caused PBF Energy to take a $124.6 million non-cash inventory adjustment charge. The company's adjusted net income excluding special items rose to $169.4 million from $155.6 million in the previous year, resulting in an adjusted diluted EPS of $1.85, up from $1.60 and beating the analyst consensus estimate by $0.31.
Multiple notable developments that investors can expect to have been replicated during Q4 contributed to the adjusted earnings beat. The Brent and WTI crude crack spreads rose by 25% and 44% YoY, respectively, as crude prices fell at a faster pace than refined product prices. This discrepancy only increased during Q4 as Brent and WTI prices fell by 23% and 17%, respectively, while the RBOB price only declined by 7%. PBF Energy has long lagged behind its peers since its high exposure to the East Coast refining market and Brent crude rather than WTI prevented it from taking advantage of the large WTI crack spreads of years past. This situation appears to have reversed to the company's benefit in the second half of 2015, however.
The second development, which contributed to the fact that Brent prices fell at a faster rate than WTI prices in Q4, was the decision by the U.S. Congress at the end of the year to repeal the ban on crude exports that has been in place since the 1970s. Reports of work on the repeal surfaced during the summer, causing the WTI-Brent crude price differential to shrink and ultimately disappear. WTI prices increased relative to Brent prices in response, eliminating a factor that has contributed to PBF Energy's poor performance relative to its Mid-Continent peers over the last few years.
PBF Energy has worked to reduce its exposure to the East Coast refining market by acquiring refineries that utilize a greater share of inland crudes. Following its earlier acquisition of the Chalmette refinery in Louisiana, the company announced its purchase of the 149.5 barrel per day [bpd] Torrance, CA refinery from ExxonMobil (NYSE:XOM) for $537 million. The Torrance refinery, which supplies roughly 10% of California's gasoline, has been shut down since early 2015 following a severe fire. PBF Energy's management stated during the Q3 earnings call that the acquisition will not close until the refinery is ready to be restarted, an event that is now not expected to occur until Q2 2016 due to unexpectedly slow repairs.
The company raised $344 million via an equity offering following the end of Q3 to help finance its most recent acquisitions. At first glance the offering appeared to be oddly timed in that it occurred in the midst of a share buyback authorization that has been in place since 2014. Even the combined buyback and equity offering have been to the company's benefit, however, due to the prices involved with both. The buyback has involved the repurchase of 6.1 million shares at an average share price of $24.92, near the company's all-time low. The offering, on the other hand, saw 11.5 million shares sold at an average share price of $31/share, representing a net trading gain to PBF Energy of $32.8 million. While there is still $149 million remaining under the buyback authorization, the company's management indicated during the earnings call that it does not intend to make any additional purchases during 2016, a decision likely impacted by the company's relatively high share price at present.
Outlook for Q4 earnings and beyond
The continued existence of many of the factors that contributed to PBF Energy's strong Q3 earnings report will likely result in a solid Q4 earnings report next month as well. In addition to the presence of even lower crude prices during the most recent quarter, which will have a positive impact on refining margins, the presence of very warm weather in November and December across most of the U.S. supported refined product prices. The return of normal winter weather and the inability of crude prices to fall much further now that they are under $30/bbl means that margins are likely to stabilize and even compress in Q1, although not before providing the company with consecutive quarters of good operating cash flows.
Management's decision to diversify its operations will provide the company with improved operating conditions long after the current refining environment weakens. The company's management was quite vocal in expressing its concerns in the lead-up to the export ban repeal that the move will place East Coast refineries at a competitive disadvantage to those in the Mid-Continent and Europe. The antiquated and protectionist Jones Act requires coastal shipping between American ports to carry the U.S. flag and have been constructed in the U.S. One result of this requirement is to make it more expensive to ship crude from the Gulf Coast to the East Coast than to Europe. Since Europe uses less gasoline than the U.S., it is more cost-effective to ship the Gulf crude to Europe and then return the resulting gasoline to the East Coast than it is to just ship the Gulf crude to East Coast refineries.
Concerns over the Jones Act's impacts on refiners are overblown in the short term for two reasons. First, European refiners are already awash in cheap crude, making it unlikely that they will begin importing Gulf crude anytime soon; Central and South American refineries are considered to be more likely destinations instead. More importantly, however, the act repealing the export ban included a provision allowing refiners to apply an existing manufacturing tax deduction to 75% of their crude transportation costs, effectively passing the higher costs created by the Jones Act from refiners to U.S. taxpayers. This provision, which doesn't expire until the end of 2021, is expected to provide $1.9 billion in benefits to refiners over the next decade (assuming that it is extended through at least 2025). Meanwhile, PBF Energy's new exposure to the Gulf and West Coast refining markets will further minimize its downside under the Jones Act by increasing its access to inland crude.
Most of the developments that occurred in the second half of 2015 were positive for PBF Energy. Late November saw the arrival of a potentially large negative development, however, in the form of an unexpected boost to the U.S. revised Renewable Fuel Standard [RFS2] by the Environmental Protection Agency [EPA]. Refiners are required under the RFS2 to blend volumes of biofuel (primarily ethanol) determined by their market share into their refined fuels. Many refiners, PBF Energy included, have historically opted to purchase Renewable Identification Numbers [RIN], which compliance credits, equal to their blending requirement from third parties rather than perform their own blending. Early on RINs were virtually worthless, imposing minimal costs on those refiners opting to purchase RINs rather than blend. RIN prices soared in 2013, however (see figure), and PBF Energy (among other refiners) began to incur steep costs. A large lobbying effort in Congress and the EPA caused RIN prices to quickly fall again, although they have remained volatile in the subsequent two years.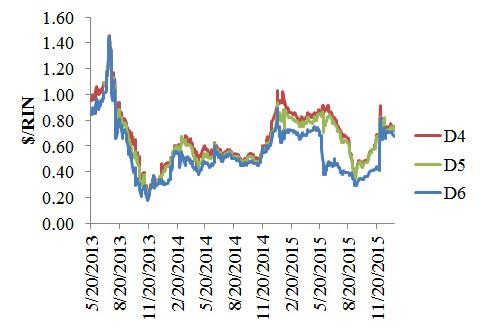 Source: EcoEngineers (2016).
In November the EPA surprised the market by establishing a blending volume for 2016 that was higher than had been anticipated. RIN prices spiked in response and have remained high since despite having settled a bit. PBF Energy's Q3 earnings report was unique in that it didn't mention its RIN costs for the quarter, a number that has been a mainstay of its quarterly reports since 2013. Its RIN costs in the previous quarter were not inconsequential at $36.1 million and, while RIN prices did approach a 2-year low during Q3, their absence from that quarter's report was notable.
Investors will want to watch the Q4 earnings report closely for any mention of RINs since this will indicate whether or not the company has finally taken steps to minimize its RIN exposure. If it hasn't then investors should expect to see them absorb a greater share of the company's income than before for two reasons. First, RIN prices are unlikely to return to their previous lows since, whereas the EPA's previous mandate volumes were simply proposed, the most recent number is final. Second, PBF Energy will be the fourth-largest independent refiner in the U.S. after it closes on its acquisitions in Louisiana and California, meaning that its blending obligation under the RFS2 will also increase. RIN prices move independently from refining margins, and on at least one occasion in the past PBF Energy attributed a negative quarterly EPS result to high RIN prices.
Conclusion
PBF Energy's share price has solidly outperformed the S&P 500 since the end of Q3 as it has leveraged an attractive operating environment to reduce its exposure to the Brent-dominated East Coast market by acquiring refineries in the Gulf and West Coast markets. A well-timed equity offering has allowed the company to make the acquisitions without weakening a mediocre balance sheet while the return of falling energy prices has insulated its refining margins despite the recent repeal of the U.S. ban on exports of crude. Investors can expect solid earnings in 2016 despite the inevitable margin compression as its new refining capacity comes online.
I do not consider PBF Energy to be an attractive long investment opportunity at this time, however, although current shareholders may wish to insulate themselves from turmoil in the broader markets by remaining in their positions. The company's share price is only trading at a modest 7.7x its forward FY 2016 estimate earnings, reflecting an expectation of strong earnings in the year ahead. Questions about the company's exposure to RIN prices and the timeline of the closing on the Torrance acquisition make this estimate uncertain, however. I would prefer to see the company's shares trading at 6x its estimated FY 2016 earnings, or $27/share, before buying shares to compensate investors for these risks. That said, I am encouraged by the steps taken by the company's management in recent quarters, and would consider its shares to be attractive at the right price.
Disclosure: I/we have no positions in any stocks mentioned, but may initiate a long position in PBF over the next 72 hours.
I wrote this article myself, and it expresses my own opinions. I am not receiving compensation for it (other than from Seeking Alpha). I have no business relationship with any company whose stock is mentioned in this article.