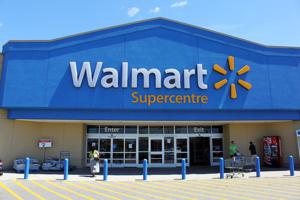 In 1998, Wal-Mart (NYSE:WMT) became the most profitable retailer and has enjoyed a strong run to this point. However, with recent news that Wal-Mart is taking a significant step backwards in the United States, an investor has to wonder if the domestic retailer's rough road is just beginning. There are many reasons to believe it's just beginning-an evolving retail environment with many new entrants, a current strategy that leaves the retail giant stuck in between strategies, and a not so encouraging U.S. economy outlook. However, with a dividend yield of approximately 3% and current share prices nearing 52-week lows, the question is-Is Wal-Mart a good long-term investment and a viable candidate to be a bounce back success story in 2016?
The retail environment is clearly continuing to evolve from what it was when Wal-Mart was the most profitable retailer in 1998. Online entrants such as Amazon (NASDAQ:AMZN) and the overall increase in e-commerce, dollar store entrants such as Family Dollar (NYSE:FDO), and wholesale distributors such as Costco (NASDAQ:COST) and BJ's have made it increasingly difficult for Wal-Mart to maintain the overall retail supremacy it once had. Wal-Mart admitted that its recent effort to reignited growth through smaller store formats was a mistake and is now closing each of its 102 Wal Mart Express stores. Instead of focusing resources on these smaller stores, the company is pouring money into its e-commerce platform. This appears to be a safe bet, but there is going to be a lot of competition in the e-commerce space that I'm fearful that Wal-Mart won't be able to overcome.
As discussed above, Wal-Mart is losing in the wholesale to Costco and BJ's. In the most recent quarter, management announced that sales were down 2.2% year-over-year despite relatively flat traffic. This compared to Costco's most recent quarter where it announced a sales increase of 1.3% year-over-year. Additionally, on the dollar store front, Family Dollar announced a sales increase of 2.6% year-over-year. Furthermore, in the e-commerce space, Amazon reported a sales increase of 23%.
What do these numbers tell us about Wal-Mart who reported a 1.6% decline in total sales and more specifically, a 10% increase in e-commerce sales? The company is struggling to keep up with competitors, which is likely to continue unless the company makes a change in strategy. Its wholesale segment, Sam's Club, has fallen behind, its main stores are lagging behind dollar stores and losing customers to online shopping, and lastly, its e-commerce platform is well behind online focused retailers.
This all comes amidst a not very encouraging domestic and international economy. There are many factors going against U.S. retailers, who posted the weakest year since 2009, including tepid global demand, rising interest rates, and stagnated wages. With retail sales posting an annual gain of only 2.1%, it shows that Americans aren't spending, but instead are saving the money due to the uncertain future. As interest rates rise, the Chinese market and upcoming presidential election weigh on the consumer, it is unlikely that there is going to be an unexpected bump for the retail sector.
Despite all of the odds against Wal-Mart, there are definitely positives to owning the stock. First and foremost, the company is huge and has terrific customer awareness and community connections. Given this brand recognition and customer base, the company has a large loyal group of customers to push its e-commerce platform onto. Although it may be difficult to steal customers away from rival platforms such as Netflix, it is imperative that Wal-Mart maintains this customer base.
Secondly, the stock appears to be significantly undervalued compared to the overall market. Currently, Wal-Mart's PE ratio sits at 13.20 compared to the current S&P 500 PE ratio of 19.81. When investors are faced with uncertainty, many find cover in undervalued assets with respectable dividend yields, which certainly makes a case to buy Wal-Mart heading into 2016. Additionally, McDonald's provides a great example of a beaten down company that retooled and posted an impressive 2016-maybe Wal-Mart will follow this same script for 2016.
Based on this analysis, I think Wal-Mart has a place in two types of investor portfolios-(1) an investor comfortable with risk and a short term outlook using the dogs of the Dow strategy, or (2) a risk adverse investor looking to milk the cash cow and enjoy the dividend yield. Given the company's large footprint and brand awareness, it is not going anywhere for the foreseeable future and remains a safe investment. However, with the current retail landscape, I believe Wal-Mart is struggling to find a niche to dominate. Formerly, the company dominated everything when it came to retail, but with wholesale distributors, discount stores, and e-commerce focused platforms-the company really does not have one arena where it currently excels.
Disclosure: I/we have no positions in any stocks mentioned, and no plans to initiate any positions within the next 72 hours.
I wrote this article myself, and it expresses my own opinions. I am not receiving compensation for it (other than from Seeking Alpha). I have no business relationship with any company whose stock is mentioned in this article.