If anyone would look at risk-adjusted performances in the world of investable equities, Novo Nordisk (NYSE:NVO) sits right on top. This Danish pharmaceutical company has shown remarkable performance over the last few decades. There won't be many people who will deny this.
"Novo Nordisk A/S"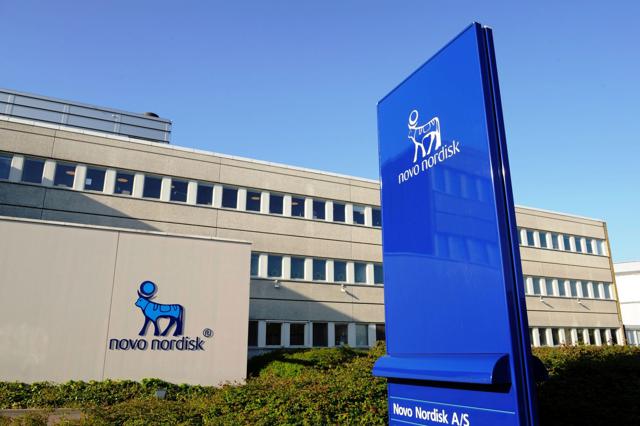 I've discussed the long-thesis of this firm not too long ago in this article which covered management and Novo's position in the insulin industry. Moreover, I focused on the strength of its fundamentals, which were undeniable outstanding.
This article discusses the risks involved with Novo Nordisk. I do this to temper investment euphoria, a common trap when discussing equities such as Novo Nordisk. In the pharmaceutical world, stocks are not just driven by fundamentals, other factors should also be looked at.
Novo Nordisk: Cold Chain Management + relationships with hospitals and doctors.
One topic which is often overlooked when evaluating the insulin industry is cold chain management. Cold chain management is vital in many industries, but particularly in the transportation of vaccines, insulin and blood. Managing the cold chain requires keeping a product within a particular temperature range throughout the supply chain. This presents many challenges for pharmaceutical companies, government health agencies, transportation providers, and health care practitioners.
Moreover, Novo Nordisk (with Eli Lilly and Sanofi) has built up relations with doctors and hospitals over decades which gives it a specific advantage over smaller players in the obesity/diabetes industry.
This is perfectly explained by David Lau in a Youtube-interview. Start watching after 6 minutes where David will explain the specific advantages of Novo Nordisk and it's competitors in this particular industry.
I realize that patients prefer oral medication over needles and it is likely this will be an important move in the future. Recently Novo Nordisk partnered up with Emisphere (NYSEMKT:EMI), in order to work on a oral diabetes pill. I consider that a partnership which will allow Novo Nordisk to eventually profit from both ways.
Novo Nordisk: Ability to resist a financial meltdown?
Investors hate to lose money. When a recession is looming, investors take a good look at their portfolio and wonder: "will my portfolio fare well? Will I be the exception? How will Novo Nordisk do?"
To analyze this, we can only evaluate historical performance. For example during the mortgage crash, NVO's volatility performed on par (or dare I say better?) in contrast to some other well-known international stocks as shown underneath: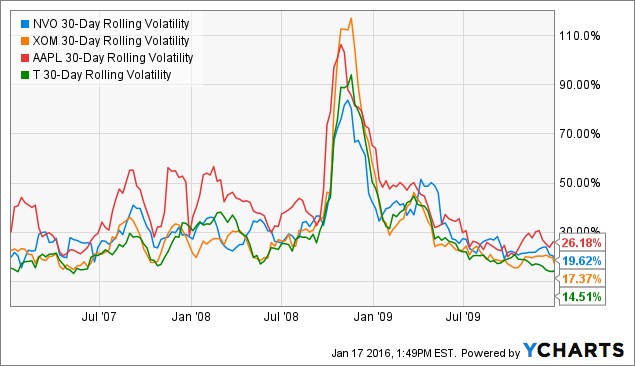 In the midst of this crash, NVO showed remarkable resilience as is shown underneath: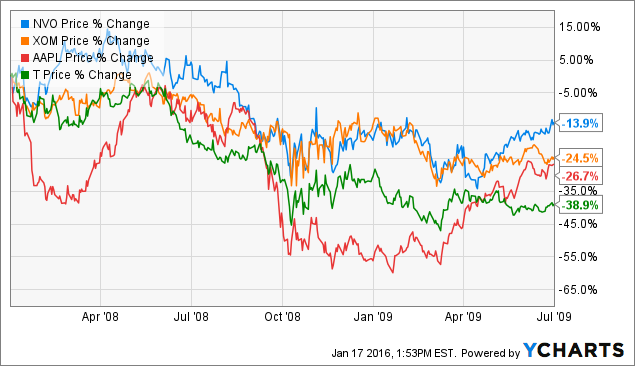 Comparing this with other pharmaceuticals such as Eli Lilly (NYSE:LLY), NVO also performed as a top contender: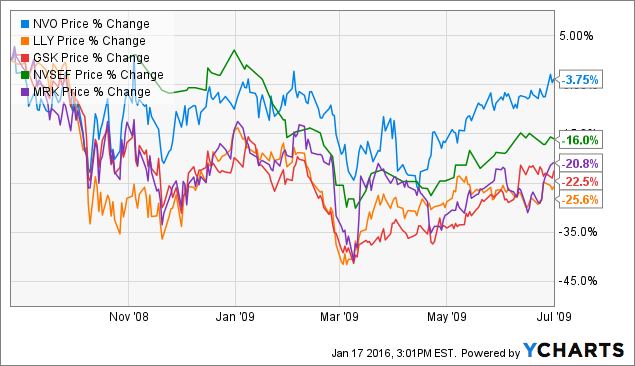 Nevertheless, it has dropped significantly year-to-date: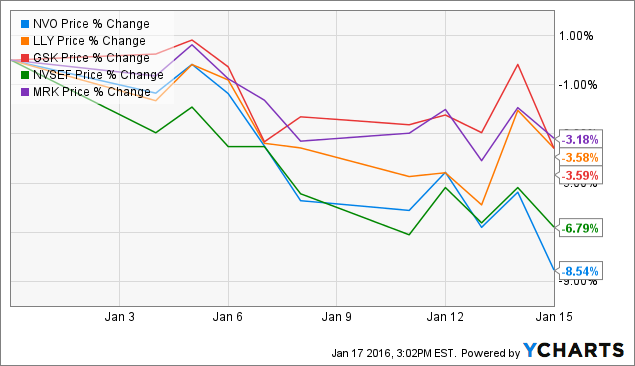 The graph above shows that NVO and its competitors moved relatively in line with each other. This simply indicates a sell-of on pharmaceuticals, rather than a specific loss in 1 firm in contrast to others.
Are obesity rates reaching a plateau?
In the last few years some articles in the news pointed towards a possible plateau in obesity rates in the United States and other developed countries. Having read through some of them, I have to conclude that I find a number of remarks a bit far-fetched:
"The slowdown in new cases may mean the epidemic can be avoided"
As said by Ann Albright, director of the CDC's division of diabetes translation. Avoided is not correct wording in my opinion. Especially as that articles discusses a potential plateau while it takes notice of higher percentage of diabetes among certain ethnic minorities and people with lesser education.
I personally believe we are likely to hit a recession in the coming years and I have yet to see any signs of certain economic recovery for the poor in the US (or abroad). In conjunction with academic research which points often to the relation between poverty and diabetes, and I tend to believe we are far from any kind of diabetes plateau as I believe the population who are considered poor, will unfortunately grow.
Novo Nordisk: Exposure America
Novo Nordisk has a large exposure to North America: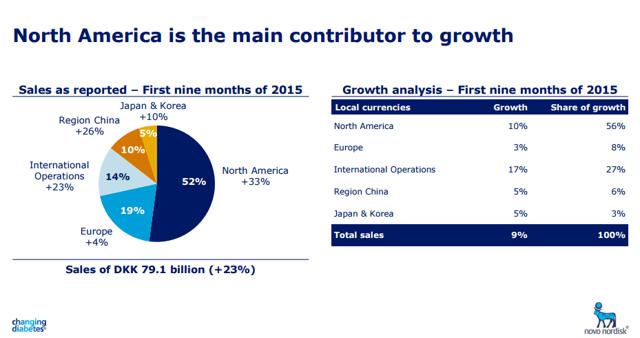 Source: Novo Nordisk investor day
Besides having a significant reliance on America, it's also worth noticing that the firm is relying significantly on some of its products in contrast to other segments/products of the firm: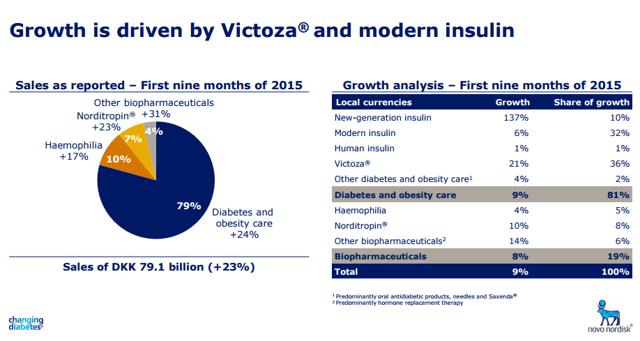 Source: Novo Nordisk investor day
The firm will publish some important results on Tresiba & Victoza before H1 2016. Other than that the firm has enough in the pipeline for at least to 2017: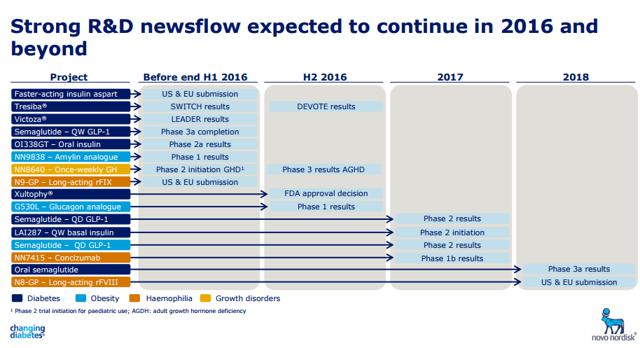 Source: Novo Nordisk investor day
There are other authors on Seeking Alpha giving important information concerning the business of Novo Nordisk, such as Spencer Osborne posting updates on sales of Saxenda and information about the pipeline of Novo Nordisk done by PLM Investments. Those articles are not specifically an investment thesis (no one would buy NVO on the basis of 100m revenue on Saxenda yearly), but give a different insight on the Novo Nordisk which helps create an overall picture of Novo Nordisk.
One point which should not be ignored is Novo Nordisk's presence in China.
Patents - Is this considered risk or not?
In a world ruled by pharmaceuticals, patents are king. Length, conditions, it all matters. Novo Nordisk is no different.
For example in 2013, the food and drug administration (FDA) requested more info on cardiovascular data for Tresiba. Devote, a clinical trial setup by Novo Nordisk, was born. Tresiba got accepted in the US on the 25th of September 2015. Such a delay can cause significant financial issues.
This is the current list of patents for Novo Nordisk. Additional information in regards any patent can be found at USPTO. Filling in the patent number would yield a copy of the document, for example for the drug Levemir.
Novo Nordisk has patent protection, but there is no reason why competitors can't come out with a generic version of the drug.
M&A: Lack of acquisition, a good move or not?
Even though good is a purely subjective matter, the last few years the pharmaceutical industry has been looking for potential mergers and acquisitions all across the globe. Yet, Novo Nordisk didn't really participate in this field besides some bits and perks. For example a few months ago the firm acquired Calibrium and MB2.
Normally an incentive in the pharmaceutical industry to buy or merge would be to save costs, acquire a gold mine (or a lemon), growth horizontally (same business) or vertically (acquire a new cash flow stream). Nevertheless, before one criticizes Novo Nordisk on its M&A policy, one should realize that they could be considered having a dominant position in the diabetes industry. Therefore, anti-trust regulators might be critical in regards of any move from the Danish firm.
Fundamental Comparison
From a diabetes perspective, Novo Nordisk is the only pure long and diversified investment among investable equities in this sector. Yet, from a diversified view, Novo Nordisk could be compared to other large (more diversified) pharmaceuticals such as Eli Lilly and Sanofi.
P/E
When looking at it from a price/earnings ratio, as everyone can see, Novo Nordisk is more heavily priced in contrast to these peers.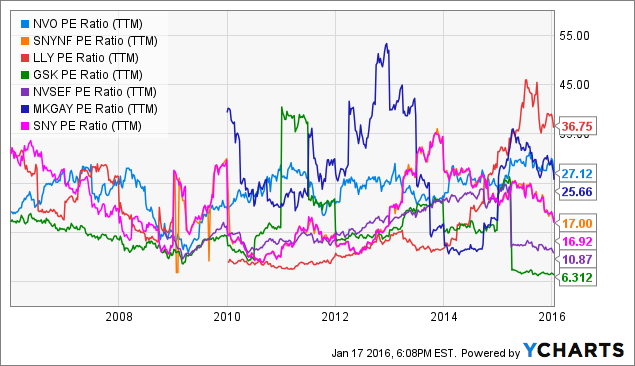 ROE
Fundamentals often hover all over the place, sometimes very volatile giving a wrong indication to many. However, sometimes indicators clearly point towards a strong trend which gives the indication that management has some sense of control over it. Return on equity is such an indicator: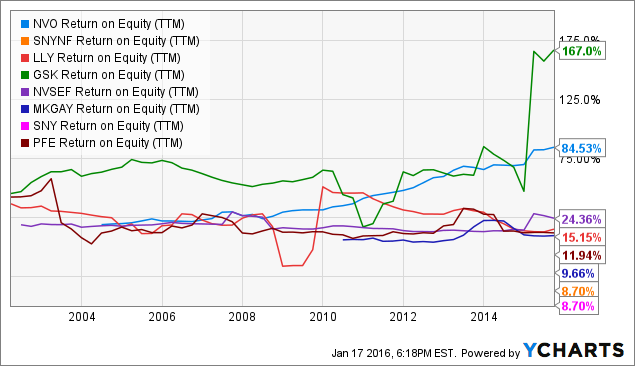 The clear light blue line indicates the impressive run NVO has shown over the last 15 years.
The most sold prescription drugs
Prescription drugs carry large amount of money. The list of best-sellers (worldwide) can be found here. There are quite a few drugs from Novo Nordisk on this list.
Prescription drugs drive earnings. There clearly is a positive correlation between higher earnings and share price: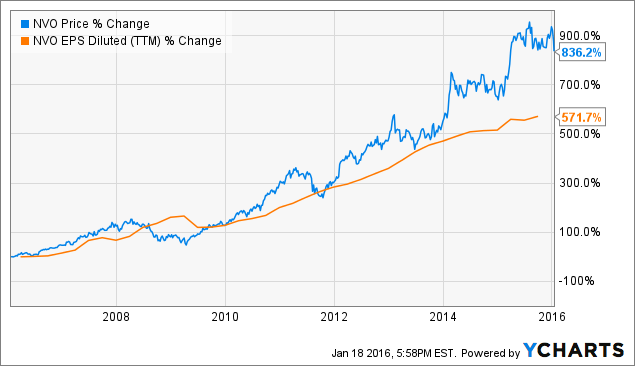 One can argue that earnings have been slowing down in contrast to share price. As there seems a certain divergence between the orange and blue line.
Yet from a revenue/inventory perspective, Novo Nordisk is clearly using its cash pile better and better: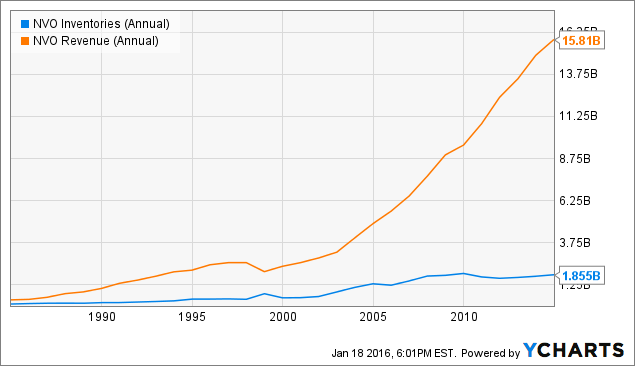 In the land of diabetes, many are active...
Investing in stocks is not for everybody. Some tend to linger and wait for other firms in the obesity space to take off, unfortunately they have been disappointed.
Firms such as Arena (NASDAQ:ARNA), Orexigen (NASDAQ:OREX), Vivus (NASDAQ:VVUS) have let investors in the cold over the last few years: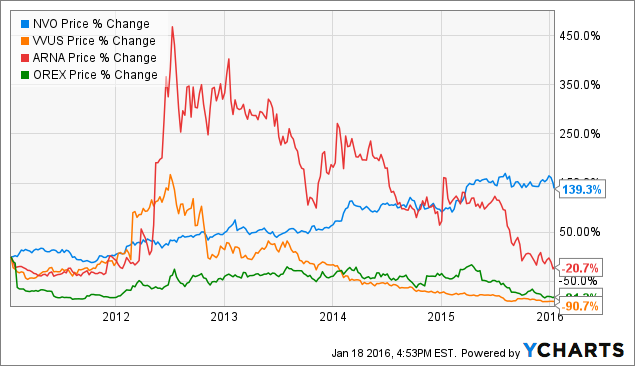 As investor, certainty is important. Large cap stocks, such as Novo Nordisk are likely to move less as smaller players. This is important as if one would lose 50% in 1 year due to unforeseen movements, it will take this person 10% gain for 18 years in a row to break even with someone who would only have to obtain 5% per year. As we all know, 5% return is much more easily and realistically to obtain than 10% on an annual basis.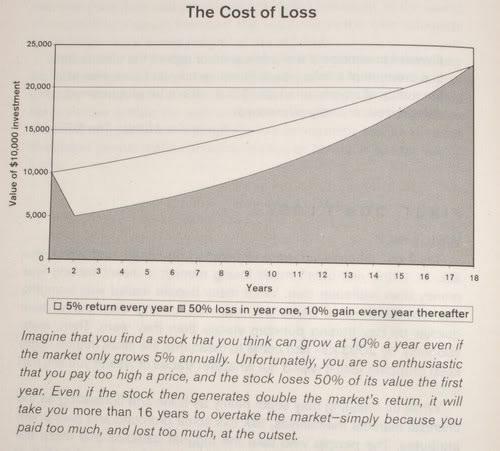 Summary
Novo Nordisk is sitting on a demographic gold mine. And not just 1 gold mine, plenty, scattered across the entire world. But even strongholds like Novo Nordisk do not come without risk.
Overvaluation
Novo Nordisk is slightly overvalued in comparison to its peers, but I believe this is based on the better fundamental metrics (low debt, high cash and constructive growth) in contrast to its peers. All this really comes back to how much risk is an investor willing to take, as it's clear that investors are willing to take more risks with Novo Nordisk than for example other pharmaceutical stocks. This is purely behavioral finance, people have a tendency to vote for winners rather than losers. Carhart (1997) offers further information on this topic.
Patents
Patents, as with every pharmaceutical, are always an issue. Nevertheless, I believe this can only slow Novo Nordisk, but not block its progress. The barriers to enter this industry with new bio-similar products would be confronted by a patent history going back decades. Novo Nordisk has a strong moat.
Exposure
The firm has a large (dare I say, too large?) exposure to America. Whether or not diabetes will plateau in these countries, I believe on average the population suffering from diabetes will increase. Furthermore it also has a strong dependence on just a few products. This could be worrying, yet the firm is working on other cash flow streams (such as haemophilia), nevertheless these cash flow streams will not be as substantial.
Politics
I don't believe politics or medical care reform has a (significant) impact on Novo Nordisk's business. This as the firm has a stellar reputation, distribution network and its Saxenda license proves that they can sell many licenses in a small period of time even though competition is incredible with cheaper products.
With all things being equal, Novo Nordisk is a great investment with an easy to understand investment thesis. In this article I tried to shed a different light on the risks involved with Novo Nordisk, this as it's too easy to just look at the fundamentals of the firm alone. No one should make the mistake of investing too many eggs in one basket (even though it's a trap I fell in many times). Financial discipline is a key word when it comes to Novo Nordisk. If the past is a significant variable to forecast the future, everyone should be fine with holding Novo Nordisk. NVO's strength is resilience and low volatility. The moment this is out the window (or any of the other sketched scenario's will turn against NVO) i'll be out.
Disclaimer: This article provides opinions and information, but does not contain recommendations or personal investment advice to any specific person for any particular purpose. To the best of my knowledge, all information in this article is accurate, reliable, and has been obtained from public sources. Do your own research or obtain suitable personal advice. You are responsible for your own investment decisions. This information is not a recommendation or solicitation to buy or sell securities, nor am I a registered investment advisor.
Disclosure: I am/we are long NVO.
I wrote this article myself, and it expresses my own opinions. I am not receiving compensation for it (other than from Seeking Alpha). I have no business relationship with any company whose stock is mentioned in this article.