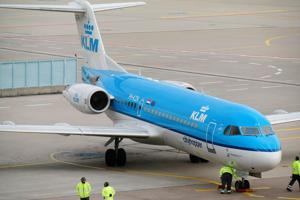 When the management of the Air France-KLM Group (OTC:AFRAF) announced severe job cuts for this year - the airline planned to reduce its workforce by more than 4,000 jobs in total - it had to face violent outbreaks from its staff. EXPATICA speaks of "chaotic scenes" and ripped shirts of some executives by "angry staff". To me this is a good indicator for how intense the austerity program really is for the airline's workers. Strikes and disputed labor conditions aren't new to European airlines. Germany's Lufthansa AG experienced several mid- and long-term strikes in 2015. Yet, Lufthansa managed to operate profitably. Air France-KLM however is not only struggling with its workers and with its competitors but also with a not-so-good balance sheet.
Travel site Skift recently calculated the numbers that are alarming to many investors. Whereas the market capitalization of Lufthansa is $7.64 billion and that of the IAG Group (British Airways, Iberia) is $18 billion, Air France-KLM has the smallest market capitalization of just $2.5 billion. This is a factor that is already well understood by most investors. When it comes to stock performance, Air France-KLM ranks third again with a loss of 12% whereas Lufthansa's stock gained 5.3% despite harsh strikes in 2015 and IAG even appreciated by 26% last year. This reporting by Skift is in line with the quick ratio of these three airline groups calculated from the data of Q3. IAG has the best QR of 0.8, LH comes second with 0.73 and Air France-KLM comes last with a ratio of only 0.64.
One year of stock depreciation is not necessarily an alarming sign for an investor with a long-term investment horizon, especially when the airline is in the midst of a restructuring. But what seems to me to be truly alarming is that the airline at least partially reversed its austerity plan following the violent reaction to it. Originally, the airline planned to reduce its workforce by 2,900 workers and then again by 2,000 workers in a second phase. In addition, the airline intended to reduce its fleet by nine aircraft. Now that the second phase is cancelled, the airline is still going to reduce its workforce by 2,900 workers. Yet, instead of getting rid of 9 airliners, Air France-KLM accepted to add two long haul aircraft each year between 2017 and 2020, as EXPATICA reported.
It remains to be seen if increasing capacity will work out in a contracting market for the airline group. Even though the capacity increase won't be initiated before 2017, Air France-KLM will have to face fierce competition from Ryanair and the Gulf airlines. Due to its competitors the airline might even loose its #2 position of Europe's largest airline groups. Just recently IAG passed Air France-KLM taking the #1 position (which is based on passengers and flown miles) for itself.
It also remains to be seen what the year 2016 will bring, but it is no secret that the Paris tragedy has negatively affected the company. So far the airline reported that decreasing ticket sales since the attack have cost the company $76 million so far as the Wall Street Journal reported and according to Skift, compared to the German airline, "[the] French carrier already trails 20 percent behind Lufthansa in sales".
In any case investors should buckle up as there is likely to be rough air ahead this year.
Disclosure: I/we have no positions in any stocks mentioned, and no plans to initiate any positions within the next 72 hours.
I wrote this article myself, and it expresses my own opinions. I am not receiving compensation for it (other than from Seeking Alpha). I have no business relationship with any company whose stock is mentioned in this article.
Editor's Note: This article discusses one or more securities that do not trade on a major U.S. exchange. Please be aware of the risks associated with these stocks.