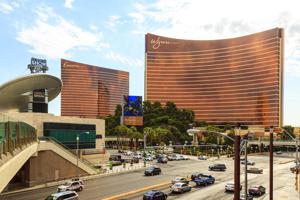 Investors in Wynn Resorts (NASDAQ:WYNN) started 2016 on a good note, following a terrible performance in 2015, a year in which shares lost two thirds of their value. Shares did bounce last week on the back of a somewhat comforting outlook for the fourth quarter, as some form of optimism might be building surrounding the stock in recent weeks.
While shares remain risky given the debt load and exposure to China, there are some bright spots. A great deal of bad news has been priced in already as the opening of the Wynn Palace in Macau will greatly enhance EBITDA, and thereby reduce relative leverage ratios.
That means that long term investors with a high tolerance for risk could place a bet on the company. For those who are not comfortable with the exposure to China, it is possible to bet on Wynn Las Vegas. This can be done by buying Wynn, while shorting Wynn Macau which actually has a listing on US markets as well.
In this way, investors can ¨isolate¨ their investment in Las Vegas, although it should be said that this stand-alone valuation has jumped significantly last Friday following the comforting comments for the fourth quarter.
Fourth Quarter Update
Shares of Wynn jumped by nearly 15% on what has been a dismal day for the overall stock market last week. This followed the release of preliminary results for the fourth quarter.
The company now sees revenues for the operations in Macau come in at $552 to $560 million, a 27% drop compared to last year. The good news is that the operations are expected to remain profitable, with GAAP earnings seen at $75-$83 million, based on adjusted EBITDA of $156-$164 million.
The operations in Vegas are anticipated to show modest growth. Revenues of $387-$395 million are seen up by nearly 4% at the midpoint of the guidance, not making up for the shortfall in Macau. Operating earnings are seen up as well at $56-$64 million, with adjusted EBITDA seen at $123 to $131 million.
Based on the overall guidance, the decline in revenues is anticipated to slow down to just 16%, after total revenues were down by 27% on an annual basis in the third quarter. This reveals that the company is seeing a real stabilization as comparisons with last year become easier as well of course.
How Good Is The Guidance?
It is no surprise to see revenues in Macau continue to remain under pressure, thereby heavily pressuring the shares of Wynn given its large exposure towards that area, expansion plans into Macau and the leveraged balance sheet.
Based on the guidance, revenues are seen at roughly $947 million, down on a sequential basis from the $996 million reported in the third quarter. The guidance now calls for quarterly operating income of $139 million, down from nearly $153 million reported in the third quarter. While operating earnings and margins continue to remain under pressure, the good news is that they still outpace the quarterly interest bill of roughly $75 million by a margin of nearly 2 times.
Other good news is that the company has plenty of liquidity at hand as the corporation holds $2.1 billion in cash and equivalents. Total debt stands at $8.7 billion which includes $1.9 billion in parent company debt, for an overall net debt load of $6.6 billion.
This remains very sizable of course as adjusted EBITDA is falling below $300 million in the fourth quarter of 2015. At an annual rate of $1.2 billion, this translates into a leverage ratio of roughly 5.5 times.
The bad news is that cash outflows are expected to continue. This follows continued investments into the Wynn Palace in Macau. So far this project has cost the company some $3.1 billion, as another $1 billion needs to be invested in order to complete the property. This $1 billion investment alone exceeds the annual depreciation charges of $300-$400 million by a comfortable margin.
Given the lack of earnings, and the $200 million dividend payout (at $0.50 per quarter), the debt load could easily surpass the $7 billion mark throughout this year. The good news is that much of this money is only due to be returned in 2020 or later.
The good news is that when the Wynn Palace will open later into this year, Wynn anticipates that its hotel room, casino and retail space in Macau will nearly triple! If that is realistic, this project alone could add some $1.2 billion to EBITDA. As a result, EBITDA could roughly double to $2.4 billion, reducing the leverage ratio to 3 times which is much more manageable, even as absolute debt levels continue to increase.
The Market Acts And Is Relieved
The market is happy despite the continued woes in Macau as revenue declines are flattening and adjusted EBITDA metrics are holding up relatively well. The other god news is that the Wynn Palace is set to come online this year, boosting the size of the operations, and thereby making the leverage ratios much more manageable.
Other good news is the cut in the dividend which has been announced last year. Wynn can become more healthy from a financial point of view by limiting these cash outflows in this harsh environment. The final comforting sign is that Steve Wynn himself bought one million shares in December, when shares were trading in the $60s, upping his stake to more than 11 million shares.
At $58 per share, Wynn´s equity is now valued at roughly $6 billion, as the entire business is valued at $12.5 billion after taking into account the net debt load. While the debt load is high and the valuation is not really exciting, based on annualized adjusted EBITDA of $1.2 billion, there are some comments to made surrounding this number. This includes that Macau Palace could double this EBITDA number, as an upswing in the cycle could leave far move upside to this number going forwards.
Given the long maturities of the debt load, the reduced dividend, increase in EBITDA from Macau, and potential industry stabilization, it seems that the company can survive this turmoil.
For that reason, shares might be worthwhile, for those having a higher tolerance for risk. In essence, Wynn has never been bigger as it has been today following completion in Macau, as a revival traffic and gambling can create spectacular growth in the future in a business model which has real operating leverage. It should be said that an investment is fairly risky.
Given the real steady performance of Wynn in Las Vegas, it is possible for investors to isolate the impact from Wynn Macau if they would like to make a bet at home. As Wynn Resorts holds 72.2% of Wynn Macau (OTCPK:WYNMY), investors could hold a short position in Wynn Macau alongside their long position in Wynn Resorts. They could sell 3.7 shares of Wynn Macau for every share they own in Wynn Resorts, thereby making a net investment of roughly $23 based on Friday´s levels.
A word of caution for those looking to play this spread: while shares of Wynn jumped 13% on Friday following the upbeat comments for the fourth quarter, the US listing of Wynn Macau traded nearly unchanged! This makes this play quite a bit more expensive overnight.
Disclosure: I/we have no positions in any stocks mentioned, and no plans to initiate any positions within the next 72 hours.
I wrote this article myself, and it expresses my own opinions. I am not receiving compensation for it (other than from Seeking Alpha). I have no business relationship with any company whose stock is mentioned in this article.
Editor's Note: This article discusses one or more securities that do not trade on a major U.S. exchange. Please be aware of the risks associated with these stocks.