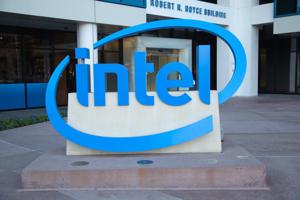 Last week, I provided some quick thoughts on why I believe shares of Intel (NASDAQ:INTC) were declining right after earnings. It seemed as if Q1 and 2016 guidance was a little light, considering the addition of Altera revenues. Additionally, GAAP guidance for the bottom line seemed well below expectations when considering acquisition expenses. Since my article was published before we received the conference call transcript, I'm back with some further color on the earnings report. Interestingly enough, Intel management seemed very conservative with some of its projections, which is the opposite of what we've seen in recent years.
Let's start with what CEO Brian Krzanich said about revenues for the newly-acquired Altera segment:
Just to be totally transparent, the revenue number for Altera in Q1 is on the order of $400 million, so you can kind of do the math from there.

I will give you kind of in total what we expect for Altera. It is a little north of $1.6 billion in terms of revenue.
Intel is working on a 53-week fiscal year, with an extra work week coming during Q1. As I've discussed previously, this will increase revenues a bit for the quarter and year, making the company's growth look a little more impressive than it really is. However, let's take a look at what analysts were expecting for Altera.

Source: Yahoo! Finance
The screen shot above was taken on Monday. Since Intel completed the Altera deal in late December, we've seen some slight estimate reductions for Q4 2015 and Q1 2016. The full year 2016 average has come down from $1.81 billion. However, the CEO comments above don't show as much follow through from the acquisition as compared to what analysts were looking for from Altera as a whole, especially when considering the extra week.
When you subtract out the Altera segment, Q1 guidance was weak. Ex-Altera, management called for about $13.7 billion for Q1. On the day Intel completed the acquisition, analysts were looking for $13.73 billion, and that average rose to $13.86 billion by the time the Q4 report came in. On the call, management cited caution regarding China, early in 2016, as a reason why its forecast was not higher.
Additionally, the fact that Intel kept the "mid-single digit" phrase as part of its revenue growth forecast for all of 2016 seemed a bit worrisome. When looking at this year, management is calling for revenue growth in the mid-to-high single digits. Intel had $55.355 billion in total revenue for 2015. We know that the extra week and the Altera acquisition will help somewhere in the order of $2.5 to $2.8 billion, or roughly 4.5% to 5.0% of 2015's total.
Some may wonder why Intel kept the mid-single digit part of its forecast. This year, PC shipments are forecast to not be as weak as they were in 2015. Intel also will have growth coming from the Data Center Group and Internet of Things segments. So why not just say "high single digits" for the 2016 revenue growth forecast? Well, I think management may have learned a lesson. Take a look at the following table, comparing Intel's yearly guidance versus its actual. For example, the 2012 forecast came at the Q4 2011 report.

Source: Intel
In three of the past four years, management was overly optimistic with its initial guidance. This caused a number of forecast reductions throughout the year(s). Taking out the two benefits to 2016, this year's guidance would be "flat to low single digits", which I think at this point would seem achievable. If things go well, maybe we only get the "high single digits" phrasing sometime this year. If things don't work out, then management can at least say that "mid single digits" was part of its original guidance.
I also wanted to revisit Intel because of Friday's trading. When I submitted my prior article for publication Thursday afternoon, shares were down about 3% in after-hours trading. Add the overall market drop and shares finished down 9.1%, the first sub-$30 close since October 1, 2015. Back in December, I was skeptical of further upside as I thought Intel was worth in the mid $30s. If you add in slightly weak guidance, I would say low to mid $30s is a respectable target, so I do see some upside. Analysts are even more optimistic, with mean and median targets in the mid to high $30s. Additionally, investors are now getting a dividend yield of 3.50% on an annual basis thanks to the dividend raise, about 70 basis points more than a 30-Year Treasury.
In the end, management's color on the conference call did seem a bit more conservative than numerical guidance suggested. With some fears of a slowing China, plus a recent history of being too optimistic, management seemed to change its tune. While things can obviously change, investors are hoping that this conservatism sets up for a guidance raise at some point in 2016. Add in the stock's fall on Friday, and a decent dividend yield, and I think Intel is worth another look.
Disclosure: I/we have no positions in any stocks mentioned, and no plans to initiate any positions within the next 72 hours.
I wrote this article myself, and it expresses my own opinions. I am not receiving compensation for it (other than from Seeking Alpha). I have no business relationship with any company whose stock is mentioned in this article.
Additional disclosure: Investors are always reminded that before making any investment, you should do your own proper due diligence on any name directly or indirectly mentioned in this article. Investors should also consider seeking advice from a broker or financial adviser before making any investment decisions. Any material in this article should be considered general information, and not relied on as a formal investment recommendation.