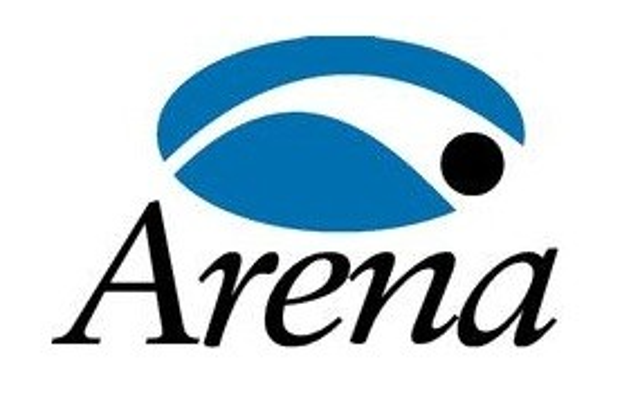 Arena Pharmaceuticals (NASDAQ:ARNA) is in a much different situation this year in terms of the prospects for Belviq than they were a year ago. A year ago the marketing partner Eisai was advertising and had committed to a strong marketing campaign. This year Eisai has stopped television ads, and seems to indicate that it is willing to wait until the results of a post approval clinical trial are complete two years from now to really push Belviq.
The start to 2016 saw first week scripts at about 9,900. This was up from the previous week which had a holiday impact, but well off pace of delivering a number anywhere close to what could be considered exciting.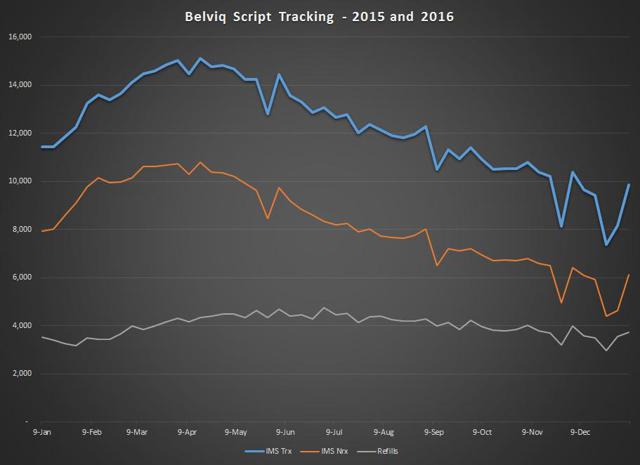 Chart Source - Spencer Osborne
On a quarter over quarter basis the story is what we have now come to expect. Belviq sales are already 9.57% lower than we saw in Q4. In fairness, weight loss season is upon us, so there should be little trouble in erasing that deficit and climbing to a level that is better than the 127,000 scripts we saw in Q4.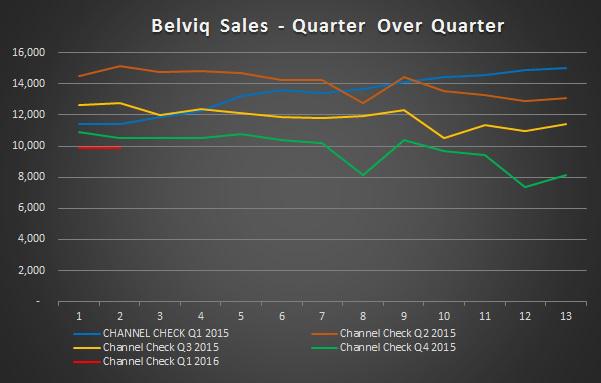 Chart Source - Spencer Osborne
On a year over year basis I am anticipating some ugly comparisons for Q1. Q1 of 2015 had sales rep support, advertising support, and a less established competitor in Contrave from Orexigen (NASDAQ:OREX). One saving grace for Belviq is the insurance formulary shake-up in 2016 that has major insurers like CVS Caremark excluding competitor Qsymia from Vivus (NASDAQ:VVUS). With this move, some scripts may be up for grabs. Unfortunately, for Arena investors, I do not see Eisai being aggressive in trying to pick up converts. In my opinion, Orexigen's partner Takeda is making the biggest sales push and thus should grab many scripts. Belviq seems to have less side effects than Contrave, so there will be some converts to Belviq, but in my opinion Belviq may have to be the third try, and that is a more difficult position to be in. One thing investors will want to pay attention to early on with 2016 sales is whether the trajectory can, at a minimum stay above that of 2014 (two years ago).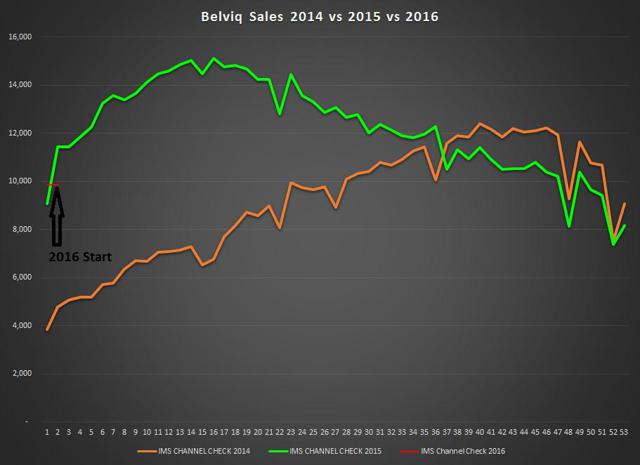 Chart Source - Spencer Osborne
From a market share perspective, Belviq starts off 2016 at about 28.65% of the U.S. branded anti-obesity pill sector. A year ago Belviq started off 2014 at 40%. As you can imagine, with the entrance of a third player (Contrave), market share would be more difficult. The main issue I see is that Belviq and Qsymia have both ceded share to Contrave in a big way, and neither Belviq or Qsymia are getting at least a third of the market. I anticipate that Belviq will continue to lose share to Contrave in Q1 of 2016 unless Orexigen's partner (Takeda) pulls the plug on its sales force.
I am seeing a similar response from Arena and Vivus investors about this segment that I find a bit concerning. It seems popular for some investors to find any possible silver lining while totally ignoring the big picture dynamic of what is happening. The big picture for Belviq is that the marketing partner has essentially stopped marketing the drug at levels it once did. Sales reps have been trimmed substantially. The popular "excuse" argument of the day seems to be that Belviq and Qsymia reps are "outselling" Contrave reps by a wide margin on a "sales-per-rep" basis. The problem with this thinking is that it ignores the bottom line. Should these companies trim to 1 rep and give her credit for all 9,000 scripts? Even Contrave investors are developing an "excuse" metric as 2016 unfolds. Theirs is the "revenue per script" metric. They feel it will come from broader insurance coverage, but reality is that sales for all of these drugs are lower than needed, even for Contrave which sells 50% more scripts than Belviq.
What the street is looking for from any of these companies is improvement in the bottom line. Cutting back sales reps (which will result in "more sales per rep") is not a strategy that Arena investors should be excited about. When Eisai cuts back sales reps it helps the bottom line of Eisai. It does not help the bottom line of Arena. This is due to the structure of the deal. I have long stated that the Arena and Eisai deal is not structured properly for Belviq to be a success with the mediocre sales we are seeing. Unless that dynamic changes, sales will be troubled. This forces the street to discount Belviq substantially in terms of value to the company. It places any potential value on a pipeline that is not mature, and not fully funded.
There may be opportunity in Arena stock in 2016, but it comes with a level of risk. Those on the sidelines playing the big dips we have seen in this stock carry the advantage. In my opinion Belviq in 2016 is more about its ability to hold a line more-so than deliver growth. Stay Tuned!
Disclosure: I am/we are long ARNA, OREX.
I wrote this article myself, and it expresses my own opinions. I am not receiving compensation for it (other than from Seeking Alpha). I have no business relationship with any company whose stock is mentioned in this article.
Additional disclosure: I have no position in vivus