There is more risk in BP Plc (NYSE:BP) than in Exxon (NYSE:XOM), which is my favorite integrated oil producer, but there a few good reasons why the shares of the former deserve attention around these levels.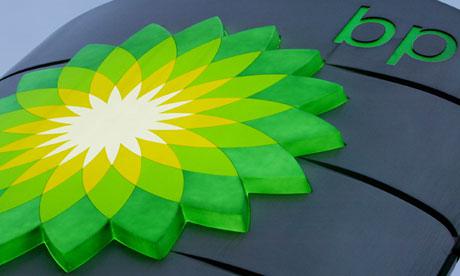 (Source: theguardian.com)
Fair Value
BP stock currently trades below fair value based on a price to book value of 0.88x, but it's also an appealing equity investment based on a more conservative trading metric, price to tangible book value, which stands at about 1.4x. The ADR is set to open at around $30 today as China records the lowest growth rate in GDP for 25 years.
"China's economy grew at its weakest pace in a quarter of a century last year, raising hopes Beijing would cushion the slowdown with more stimulus policies, which in turn prompted a rally on the country's rollercoaster share markets," Reuters reported today.
Brent rose, but I am not interested in short-term trends for oil prices.
Moreover, I do not know how much investors care about whether data from China is reliable or not - investors just need a confidence boost, and today they got just that.
I am more interested in a possible crisis in the Middle East than in any random or reliable numbers from China.
Balance Sheet
The first thing you ought to remember is that BP's net leverage is manageable, and is likely to hover around 1x in 2015.
Its asset base looks reassuring, particularly when you consider that its current assets amount to about 91% of its market cap, as the table below indicates.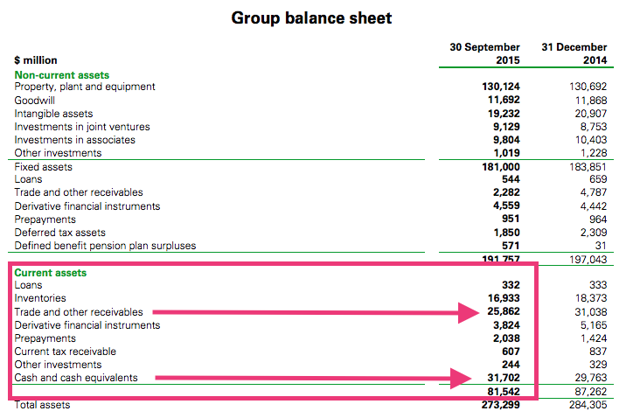 (Source: BP report, third quarter and nine months 2015, edited by the author)
Asset write-downs are an obvious risk, but they are not going to impact cash flows, so that should be treated a secondary issue at this critical economic juncture.
The problem with BP is that its operating cash flow guidance has been tweaked down in recent quarters but any incremental fall in cash flows may not be enough to offset the fall in heavy investment.
So What?
Its relentless cost-cutting continues and as long as its cost of debt remains around these levels - well, I am not worried. Furthermore, additional divestment will likely ensue.
The cash flow statements of BP are presented below, where you'll find all the details about economic losses, operating cash flow, capex, debt and dividends.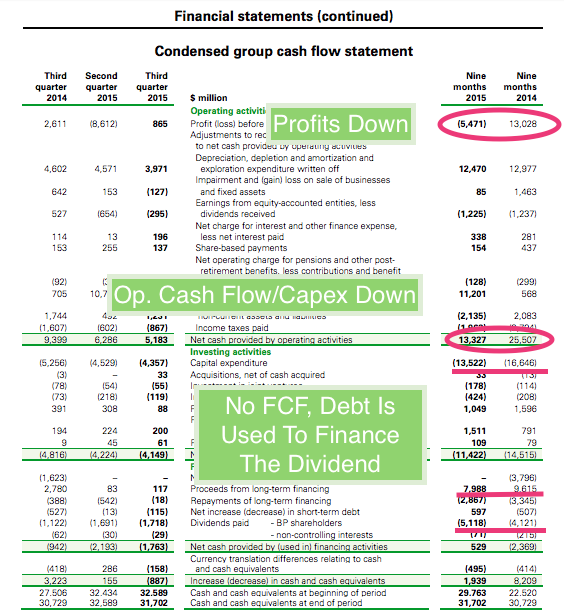 (Source: BP report, third quarter and nine months 2015, edited by the author)
Expectations
Management has done a great job in managing expectations over the years, and although there are risks weighing on its valuation - additional provisions related to the Gulf of Mexico oil spill, for example - most of the downside is priced into its stock right now, in my view.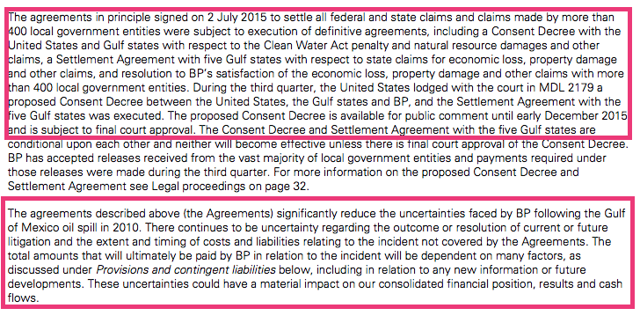 (Source: BP report, third quarter and nine months 2015, edited by the author)
In its latest trading update, BP said that it had recorded provisions for "the Gulf of Mexico oil spill in relation to environmental expenditure, litigation and claims, and Clean Water Act penalties."
Changes in each class of provision during the third quarter and nine months are shown in the table below.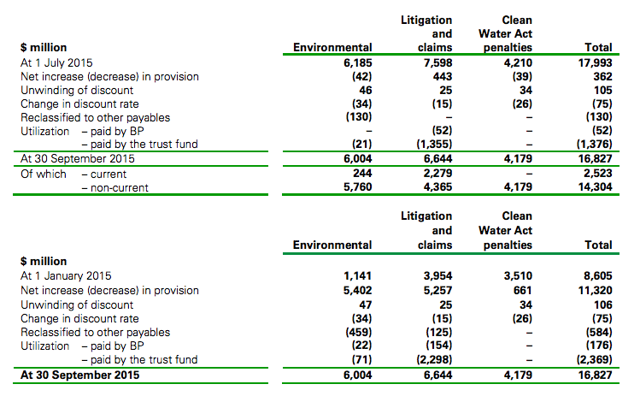 (Source: BP report, third quarter and nine months 2015)
BP knows what it is doing.
Bottom
Oil prices may be about to bottom out, BP's boss recently argued. Even if he is completely wrong, management has shown that is willing to undertake swift action, and I believe that even a dividend cut will not affect BP's depressed equity valuation around these levels.
A speculative trade perhaps, BP stock could be a very nice addition to a properly diversified portfolio. Incidentally, its forward yield (8.2%) says a lot about what kind of risk/reward investment you'd be making.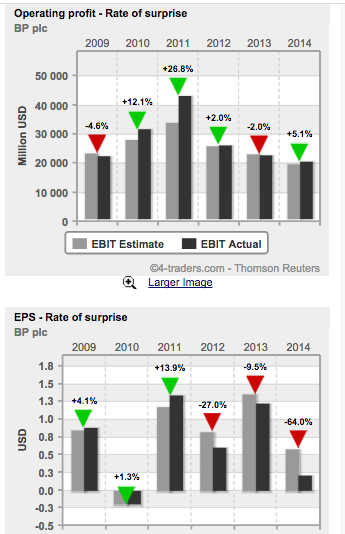 (Source: 4-traders.com)
Its full-year results are due on 2 February - the chart above shows the rate of surprise for EBIT and earnings per share since 2009. The former is by far the most important metric to look at these days.
Iran
International sanctions against Iran were lifted over the weekend, which means more supply of oil and, inevitably, more downward pressure on oil prices.
The table below, which was published by The New York Times before the embargo began, should help you understand why I am more interested in Iran and in its trade partners than in any other data released this week.
China is Iran's largest oil client.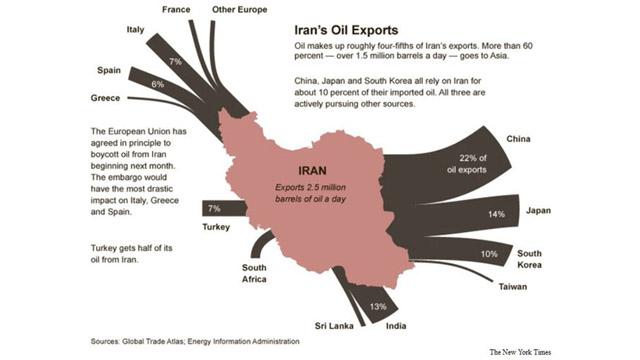 (Source: The New York Times)
One of the problems, as you might know, is that Iran will now produce more oil at a time when the oil industry actually needs less oil production in order to shore up oil prices and upstream profits.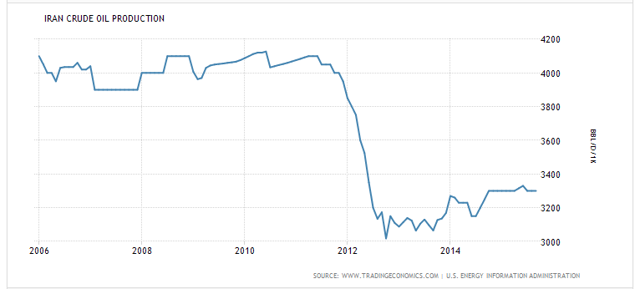 (Source: tradingeconomics.com)
Recent trends for Iranian oil production are shown in the table below.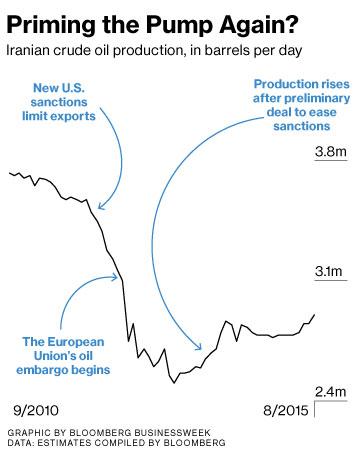 (Source: Bloomberg)
Nerves
There is tension in the Middle East, particularly between Iran and Saudi Arabia - "Pakistan PM launches bid to defuse Saudi-Iran row" aljazeera.com wrote on Monday.
The table below clearly indicates why there are problems there.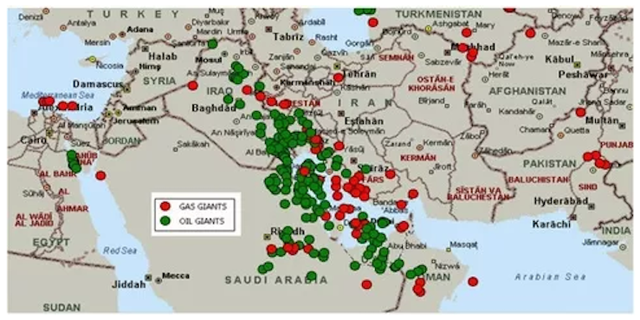 (Source: quora.com)
You might be entitled to think that a war could be around the corner - if so, you could ask yourself:
How likely is a war between Iran and Saudi Arabia?
If this did happen, what would be the result?
Here you'll find an interesting discussion on this hot topic.
In truth, another question is what the oil majors will do to offset weakness in their upstream operations, where billions of dollars of earnings have evaporated since mid-2014?
At the end of last year, Bloomberg wrote:
"The world is awash in crude, but big oil companies are lining up to develop new fields in Iran even as they slash spending and abandon exploration elsewhere. One thing explains this paradox: cost."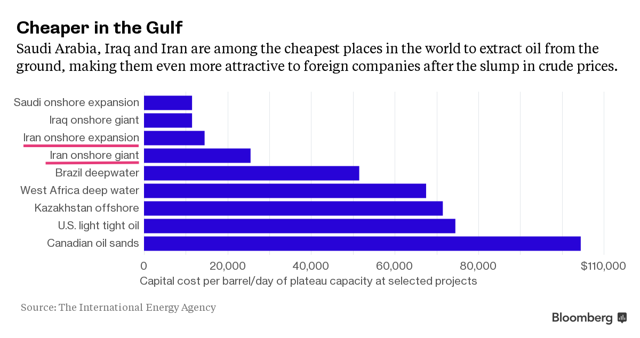 (Source: bloomberg.com, edited by the author)
This is a pretty important point with regard to the capital allocation strategy of all the major oil producers, regardless of the outlook for supply and demand.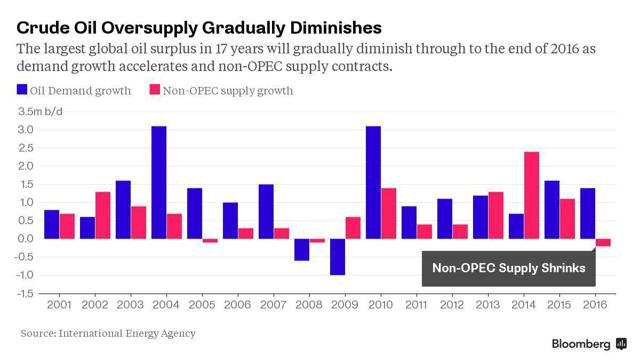 (Source: bloomberg.com)
Up And Down
As far as Iran is concerned, another key element is to determine how long it will take to restore production anywhere close to historic levels, and recent examples show that investors might have overreacted to the news released over the weekend.
In a world where we might have to get used to lower oil prices, I wouldn't want to short oil around these levels.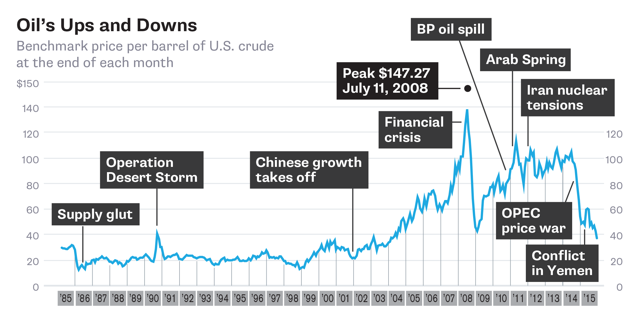 (Source; Bloombergview.com)
Which brings me to one interesting point:
"The U.S. premium over Brent hit its highest level since 2010 on Monday as Iran's oil will be exported to Brent-priced Europe and Asia while regulations still restrict it from going to the United States."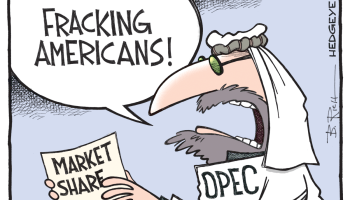 (epinula.com)
Value
Guess what?
In this context, pockets of value can be found in the aerospace and defense (A&D) industry.
The note below was produced by Royal Bank of Canada earlier this week.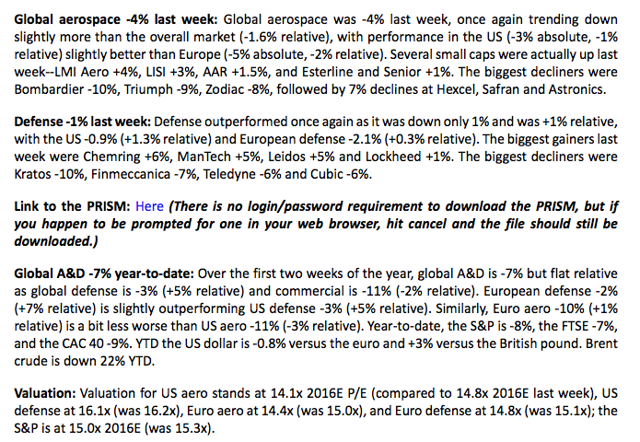 (Royal Bank of Canada, equity research, 18 January)
As far as equity risk and trends are concerned, you'll find below all the trading multiples of the companies operating in the A&D space.

(Royal Bank of Canada, equity research, 18 January)
Leveraged Loans
On Friday, Reuters reported:
"Leveraged loan pricing is rising in the U.S. as the first big deals of the year including a $2.525 billion buyout loan for retailer Petco Animal Supplies Holdings edge out into a turbulent market."
That indicates more risk in the leveraged loan trade, which renders the sale of a loan package in the secondary market more difficult to execute for the banks leading the syndicate.
Reuters added that falling oil prices are "dragging equities lower and complicating efforts by embattled banks" to sell a multibillion-dollar overhang of loans that were delayed from 2015.
Just like 2008, the loan book of banks might soon come under the spotlight if the market turns south.
Debt
The chart below shows part of the problem for equity investors.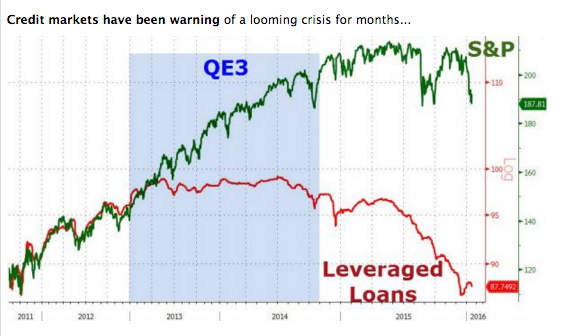 (Source: Zero Hedge)
Meanwhile, the following chart shows US leveraged finance volumes for both HY bonds and loans since the end of 2015.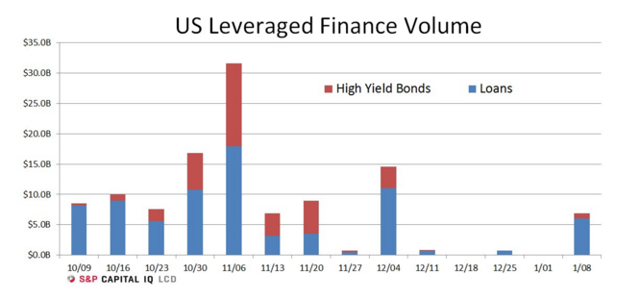 (Source: Forbes)
If it looks bad, you should consider that the leveraged loan market is sending mixed signals across the Western world.
In Europe some DCM bankers have told me that high leverage and liquidity are not a problem at all in a leveraged market where many traditional lenders have been replaced by funds over the years.
"Wall Street banks are predicting that collateralized loan obligations, the biggest buyers of leveraged loans, will lose even more steam, as the market declines for a second year," Bloomberg reported in November, when forecasts for CLOs in the U.S. stood at up to $80bn.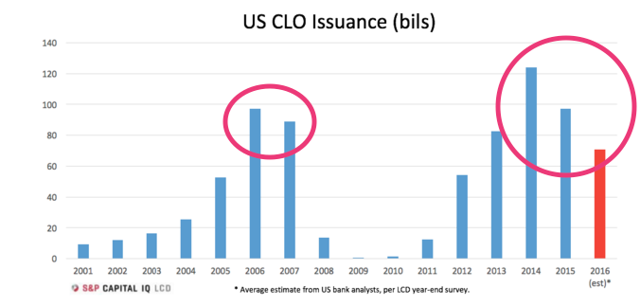 (Source: Forbes, edited by the author)
This comes at a time when press reports indicate that European CLO issuance is expected to reach a high of €18bn in 2016.
Europe might be the usual laggard, as I recently argued, and is also characterized by less sophisticated debt markets, but then projected CLO levels in the U.S. clearly indicate that a stock market crash is not around the corner, and that equity investors and leveraged loan bankers should just adapt to more volatile trading conditions.
Disclosure: I/we have no positions in any stocks mentioned, and no plans to initiate any positions within the next 72 hours.
I wrote this article myself, and it expresses my own opinions. I am not receiving compensation for it (other than from Seeking Alpha). I have no business relationship with any company whose stock is mentioned in this article.