Introduction:
In the space of a little over two weeks, it appears that the world has turned over in terms of the consensus outlook for growth and economic activity. I have no intention of joining that debate. There are plenty of seasoned and intelligent commentators who have varying points of view as to what is in store for both the global economy and the stock market over the course of the coming weeks and months and years. I think my value add to such a discussion would be pretty minimal.
But that said, even in commenting on the enterprise IT space in terms of the companies and their likely relative performance, one simply has to acknowledge that one wears different clothes when it's snowing outside than when the weather is warm and sunny or when there is a heat wave. If the barometer now reads stormy some of the picks I have presented are going to languish at best and not produce pretty performance, relative or any other way. When investors decide they want to become risk adverse, enterprise software names are not the first place that they look to find investment opportunities. Even the larger supposedly more stable names will be found to have unpleasant downside potential. As to the smaller names, regardless of their business performance, investors will tend to run away as fast as they can and the only performance to be had amongst that cohort of companies will come in the event that some might be acquired.
I have no belief that we are approaching a scenario that is a reprise of 2008. I imagine that there are some financial institutions who have a raft of bad loans in the energy space but the interrelated web of complex derivative transactions in the mortgage markets that marked the debacle of that year seems to be absent. At least I hope that is the case. But if we are to have either a meltdown or simply a bumpy ride that winds up going nowhere, it behooves investors to rethink their strategy both overall, and particularly in the enterprise IT space for as long as they feel that such a period is going to last.
In general, I think that it is hard to find names in the enterprise IT space that are really good investments in the midst of what is either a market correction or a reaction to an impending recession. It is hard to remember at this point, but in the dark, dim days at the end of 2008, Oracle (NYSE:ORCL) shares sold for less than $17, Cisco (NASDAQ:CSCO) shares were less than $15 and Cognizant (NASDAQ:CTSH) shares were less than $8, representing peak to trough declines of 32% in 9 months, 55% in 16 months and 67% in 23 months, respectively. And two of these three companies, Oracle and Cisco, were already mature and were nowhere close to their all-time highs when they made their descents in 2008.
During the stock market meltdown of 2008 there were simply no really decent places to hide to withstand the debacle within the enterprise software space unless one was fortunate enough own shares in companies that were acquired by either private equity funds or by strategic acquirers, always a random event and one that was far rarer than has recently been the case. Even the subject of this article,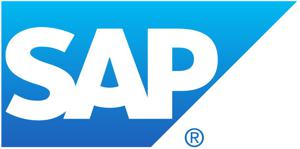 SAP (NYSE:SAP), which actually stands for Systems, Applications and Products in Data Processing, experienced a share price decline of 45% from June 2008 to a February 2009 low.
That being said, SAP shares do pay a dividend with a modest yield of 1.53% with a payout ratio of 43%. The company generates healthy cash flow that is modestly greater than its reported non-IFRS EPS (IFRS is the abbreviation in use for what is the equivalent of non-GAAP financial reporting that is in use in the EU). SAP is headquartered in Walldorf, Germany, and uses European accounting standards and its reports are almost all based on non-IFRS metrics Similar to American companies that reconcile between GAAP and non-GAAP, SAP reports a reconciliation between IFRS and non-IFRS measures. I should also point out that as a European company, SAP reports results in Euros and not dollars. Most analysts simply convert Euros to dollars at current exchange rates.
In the last year as the Euro has declined vis-à-vis the dollar, reported percentage changes have been enhanced for the company although not to such an extent that would change my conclusions or comparisons. For example, SAP has just reported that in the quarter that ended 12/31/15 it achieved a 16% increase in total revenues denominated in Euros along with a 15% growth in software license revenues denominated the same way. In constant currency, growth rates would have been 11% for both software and total revenues.
By comparison, in its last reported quarter, Oracle reported a 6% decline in total revenues and an 18% decline in software license revenues. In constant currency, total revenues were flat and software license declined by "just" 12%. The performance gap is smaller in terms of constant currency, to be sure, but just not that much smaller as to change any conclusions for me.
SAP has reported consistently reasonable revenue growth over the years, albeit some of it through strategic acquisitions. Non-IFRS P/E based on current analyst estimates for the current year 2016 is a bit greater than 18X. EV/S, again based on 2016 estimates, is about 4.5X. Obviously there are far "cheaper" dividend stocks or value stocks than SAP. But it represents a middle ground within the software investment universe.
Investment Thesis:
SAP is the largest European-based software vendor with a dominant market position in the market for enterprise applications in central and eastern Europe and it also enjoys a leading market position within the Asia/Pacific region in that category. It is rapidly improving its market position in the US although I think it is probable that Oracle remains the largest application vendor in this country, but no longer by an overwhelming margin. Overall, with about $22 billion in annual revenues, SAP is the world's third largest software vendor and is clearly the most rapidly growing of that triad.
Simply put, my investment thesis is that among the three largest software vendors, SAP will continue to outgrow the other two in terms of revenues by a significant and underappreciated margin and that over time, there is a significant upside potential to increase profitability. I believe the company to be effectively run and for a company of its size it has proven to be nimble and willing to take the chances that are necessary to maintain and enhance its position. As I wrote, SAP may not have the classical metrics of a value name. It does, however, have metrics that recommend it to investors looking for GARP characteristics and it certainly has the opportunity to accelerate its growth if it continues to execute, particularly with its relatively new HANA Cloud offering.
SAP announced a substantial upside surprise in terms of both revenues and EPS from prior projections and from company guidance on January 11, 2016, in stark contrast to the earnings release of Oracle in mid-December. For the full year, the company had 18% revenue growth and more than doubled its cloud bookings. What was particularly significant to many, including this observer, was that unlike Oracle, SAP was able to almost double its cloud revenues and bookings while still achieving double-digit growth in license revenues although operating margins did fall by more than 200 basis points due to lower gross margins on cloud revenues. Management was reasonably conservative regarding full-year 2016 guidance which restrained share price performance in the wake of the preliminary earnings announcement and which has set up the opportunity for the company to substantially exceed estimates as was the case last year or to achieve what now appears to be conservative estimates should the world slither into a recession.
There are many factors accounting for SAP's performance vis-a-vis Oracle. Of course one important factor is that SAP, for the most part, is not lumbered with a major business selling data bases and data integration tools. SAP does have an in-memory database appliance, HANA, but that is a relatively small revenue contributor with relatively new technology and is not under attack from new open source technologies such as Hadoop. If nothing else, Oracle has about one-third of its revenues coming from a product segment whose long-term revenue outlook, at best, is flat and which is most probably declining. It's really hard to run a decent race if one of your feet is encased in cement and tethered to the ground.
I think another factor that has distinguished the two companies for many years is that SAP has chosen to reinvest at far greater rates than Oracle. SAP has non-IFRS operating margins of about 36% and Oracle has non-GAAP operating margins of 41% and that 41% includes the lingering drag from the Sun acquisition. Both companies are suffering from margin drag that is the product of the transition to a cloud-based business model. But I imagine that the effect is about the same for both vendors. It is particularly hard to tell the specifics of margins when companies like these are consolidating significant acquisitions and when they are in the midst of extensive transitions to a new business model. That being said, however, I do not think that the difference represents some magic efficiency on the part of Oracle. I do think it represents a conscious decision by SAP management to invest proportionately more of its revenues into a variety of activities that have led to better user satisfaction.
Another factor, I believe, is that SAP has embraced a more aggressive acquisition strategy in recent years. It has proven to be willing to pay rather substantial premiums and valuations to acquire companies that are best of breed applications providers in various business segments so long as their models have been totally based on a cloud business model. Furthermore, it has been willing to spend what has been necessary to integrate the acquired product offerings into the HANA platform. SAP has also adopted a product strategy that promises to allow users more choices and access the best of breed suppliers who can utilize the HANA platform. I also would credit the current management team lead by Bill McDermott with being a bit nimbler and more responsive to the requirements of transitioning to the cloud than Oracle's team has been.
By most standards, SAP has been late to totally embrace the cloud. That being said, along the way, SAP has been willing to spend, and spend lavishly, to acquire some best of breed cloud participants that are market leaders in their niches including companies such as SuccessFactors, Concur and Ariba among others. It has been willing to pay up to insure its market position and that willingness is seemingly paying off in current period operating results.
According to some, the company has done a better job than its principal competitor, Oracle, in what is called "transformational integration." It would be presumptuous on my part to attempt to evaluate such claims - there are many services and consultants who write about these topics. I would suggest that my own reading indicates that the preponderance of those who do write and take positions on the issue would appear to favor SAP's efforts in the field of transformational integration. but to be honest, consultant reports are weasel worded much of the time and rarely are particularly definitive.
Transformational integration offers users open APIs (application programming interfaces) and also includes hundreds of predefined and packaged business process integration adapters. SAP also offers users quite a bit of flexibility for such a large company in terms of putting together offerings that allow its customers to move readily to the "true" cloud or to move to what are characterized by some as hybrid offerings. The newest SAP cloud release allows users to move their existing SAP applications to what it describes as its SAP S/4 HANA that is completely SaaS in terms of its technology or users can elect to use a managed services option where SAP acts as an application hosting provider.
I really have no completely comprehensive or unbiased way of determining whether or not SAP has a significant technological edge on Oracle in terms of its cloud transformation and the ability of its installed base to move to the cloud seamlessly. That being said, however, the latest quarterly reports for both companies going back now for several quarters speak loudly and eloquently to what is happening in the field. SAP is clearly continuing to grow its revenues and Oracle's revenues are either shrinking or stagnating. While the reasons for these trends may not be completely apparent, even in hindsight, the results certainly speak for themselves.
While Oracle has higher operating margins than SAP by about 500 basis points, a forward P/E based on consensus estimates of 12X which is a third below that of SAP and an EV/S of 3.5X thus appearing significantly less expensive statistically, it is my contention that the faster top-line growth that SAP has had and is likely to continue to have, coupled with unrealized but substantial operating margin opportunities the company can achieve as its cloud revenues mature, make its shares the better value. If the stock market continues to pull back it would be naive to believe that SAP will not follow suit. If European economies in particular deteriorate at substantial rates, it is hard to believe that SAP will not feel some significant impact. But SAP has built what appears to this observer to be a winning portfolio of best of breed cloud solutions and it would appear to be further along a more successful cloud transition when compared to Oracle. I think the extra points of P/E and of EV/S are well worth it and that the better product and marketing position that SAP enjoys today make it a better defensive name than many appreciate.
Background:
Although SAP is the third largest software company in the world with revenues approaching $22 billion and an enterprise value of $98 billion, it is not as well-known among American investors as might be expected because it is a European-based company. Despite its size, only 11 American banks carry coverage on the company compared to about 35 analysts publishing estimates for Oracle. Of course, many European brokerages cover the company that are not covered by the Thomson/First Call survey and overall I doubt that the shares are really under followed. I do believe, nonetheless, that the shares and the company are less well known by American investors than other companies of its size and position. I also suspect that the concentration of share ownership in Europe probably has led to what I might describe as a bit of a scarcity premium that is unlikely to abate at any time in the foreseeable future. Europe simply hasn't the size and depth of the tech sector we have here and SAP is one of the few companies in the sector with a leadership position that is of both adequate size for most European institutions and which has achieved significant growth stretching back over an extended period. As a result, it is my belief that European institutions are more attracted to the name in the absence of good, European-based alternatives.
SAP shares are rated a 2.1 by the company's coverage universe in the US, probably just a bit above average in the software world. The mean price target for the next 12 months is around $85 which is just a bit more than 10% higher than current quotations. I tend to take average price targets with more than a small grain of salt as analysts, for the most part, are going to use company guidance in setting their own expectations as opposed to making their own estimates.
Company management is forecasting very modest growth in 2016 suggesting it is either extremely concerned about the global economy or that it is concerned that the transition to cloud will go less well this year than it did in 2015 when it achieved license revenue growth of 11% in constant currency along with cloud revenue growth of 75% on the same basis. I can't speak with any voice of authority regarding the global economy. If growth deteriorates significantly compared to current consensus estimates as some observers are suggesting, then SAP's financial attainment really will be constrained. SAP sells capital goods to large global companies. There has been and will continue to be a significant level of correlation between the performance of all large software vendors such as SAP and growth in the global economy.
On the other hand, if the economy doesn't further deteriorate I would really be surprised to see SAP grow its revenues by less than 5% in constant currency after growing it by 11% in constant currency during 2015. Indeed, if top line growth were going to be depressed by a swing of material consequence to a cloud model, I would be hard put to see how operating margins would expand to the point where the company could grow EPS by greater than 10% which is the current consensus based on the new guidance. SAP's forecasting is not renowned for its accuracy and indeed its forecasting performance this past year was all over the lot and trendless. On a constant currency basis I would expect that SAP would continue to achieve double-digit revenue growth and that earnings growth would be faster than revenue growth. I think the current high estimate for $4.52 for EPS is far more likely to be achieved than the current consensus of $4.18.
SAP was founded in April 1972 by five software engineers who had worked for IBM (NYSE:IBM) and one of its founders Hasso Plattner remains chairman of the enterprise after more than 40 years. Since 2010 the company's CEO has been Bill McDermott. McDermott, a former head of SAP worldwide sales, became Co-CEO with Jim Hagemann Snabe when they were brought in to replace the failed tenure of Leo Apotheker who went onto have an infamous tenure at Hewlett Packard (NYSE:HPQ).
SAP became an important player in the enterprise software space in the early 1990s when it developed its R3 suite of integrated enterprise resource planning (ERP) applications that ran in a "client-server" environment. The company established a presence in North America in the late 1980s in the wake of winning Dow Chemical as a major client. For more than 10 years from that point, SAP was a hyper-growth story rising from insignificance to become essentially either the leading enterprise application player or a close second to arch rival Oracle. Partially as the result of exchange rate fluctuations, the US has become the largest single revenue contributor for SAP with total revenues of just below 1.7 billion Euro in the past quarter, or almost 34% of the company's total, up 41% year over year, obviously influenced significantly by the rise of the dollar against the Euro. Germany, the company's second largest "geo," had revenues of 685 million Euro during the quarter which was year-over-year growth of 7%. It's more than apparent that despite the masking effects of currency on the company's performance, SAP was able to take significant market share from Oracle in Oracle's home market both in Q3 and for all of 2015.
SAP finally rewrote its R3 applications to the Hana platform and what it calls SAP S/4 Hanna was released several months ago. The CEO described the project as a "moonshot" and while I'm not going to attempt to get involved in attempting to describe the specifics of the technology, it was certainly a huge undertaking and surely will define the company's direction in terms of product for years to come. While there are analysts who are forecasting that the adoption of a real cloud offering will spike SAP's top-line growth to 30% or more for a number of years, I would be surprised if that will really happen and I don't think it's necessary for it to happen in order to suggest that SAP will handily outgrow Oracle for the foreseeable future.
SAP has been a hyper acquisitive company for the past 20-plus years although it has made no acquisitions since it spent $8.3 billion buying Concur Technologies which was the leader in web-based travel and expense management in 2014. In all SAP has made no fewer than 59 acquisitions of varying sizes and it would be surprising to me if the company did not make one or more significant acquisitions to cover what it perceives as product holes or to acquire opportunistically in the current year.
About a year ago, rumors circulated that SAP was interested in acquiring Salesforce.com (NYSE:CRM). The rumors were denied at that time and indeed CRM now has a market cap that has about reached the price that was rumored to be what SAP was willing to offer. I think, simply given the math, that it's highly unlikely that SAP would either want to make an offer to acquire CRM or would be in a position to fund such an acquisition if it really wanted to take what would be a complete leap into the dark.
It would be both presumptuous and not feasible to evaluate all of the company's acquisitions. Concur would appear to have been expensive from a financial perspective and certainly SuccessFactors was far from cheap. That being said, SAP's objective was to cover the cost of these and other acquisitions from revenue synergies and to insure that the company got its feet wet in addressing cloud opportunities. At least in the case of SuccessFactors I believe the bet has more than paid off. CEO Bill McDermott is a strong believer in revenue synergies and he has made that strategy pay for this company. To the extent that the equity markets are sloppy this year and the IPO markets refuse to award enterprise software companies with premium valuations, I would expect that SAP would pick up the pace of its acquisition activity.
Just for the record, besides Concur, the company also has bought SeeWhy, which is a company that specializes in what is called behavioral target marketing, Ariba, which is a web based supplier exchange, Sybase, which had been known for both its database engine but more importantly as a vendor of middleware and as a pioneer in the mobile software platform space, SuccessFactors, which was the leading web-based talent management platform, and Business Objects, which was one of the leaders, if not the leader, in the business intelligence space.
With all of those acquisitions there might be temptation to brand SAP a roll-up. But the fact remains the company's technology heartland was R3 and is now S/4 HANA, both internally developed. Interestingly, despite the fact that this is a German company, the largest of SAP's development centers these days is in Bangalore, India, and it has not been slow to leverage opportunities to move what jobs it could from high cost geos such as Germany, in particular, to places such as India over the past decade or so.
Investment Summary:
SAP is a classic GARP story that is apparently experiencing a significant resurgence in growth having significantly over-attained both internal targets and company expectations as detailed in its "pre-earnings" release of January 11, 2016. Despite the significant upside reported, the company's shares did not move greatly because of quite cautious guidance provided by company management coupled with weak equity markets during the past week. The company is significantly outperforming its principal rival, Oracle, both as a stock but also as an operating business, clearly taking significant market share over the past several quarters. In addition, the company recently launched its native cloud platform that some anticipate will further accelerate the company's growth. While SAP is certainly not a deep value story, it does pay a significant dividend and continues to improve its operating and free cash flow metrics.
Given the very modest guidance this company has forecast and the concomitant modest growth expectations of analysts, I think that SAP shares represent a reasonably defensive commitment for investors if 2016 turns out to be a disappointing year in both the real economy and in investment world.
Disclosure: I/we have no positions in any stocks mentioned, and no plans to initiate any positions within the next 72 hours.
I wrote this article myself, and it expresses my own opinions. I am not receiving compensation for it (other than from Seeking Alpha). I have no business relationship with any company whose stock is mentioned in this article.