Some of us who jumped into CSX Corporation (NASDAQ:CSX) last year are frustrated by the recent bearish atmosphere eroding the company's stock price. Our forecasts of continued improved operating efficiency along with decreasing commodity prices turned out to be correct. However, what we misjudged was the force with which the market would react.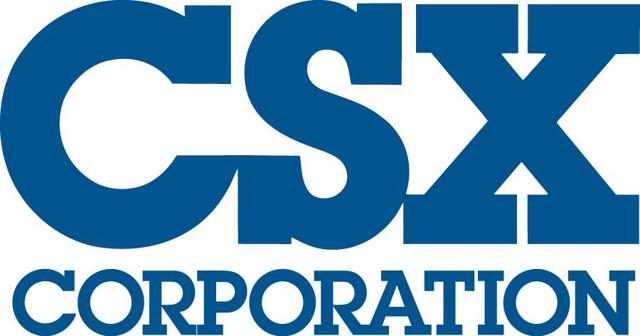 Earlier this week, CSX announced its fourth quarter earnings for the fiscal year of 2015 along with full year results. Despite curtailing expenses by 9% and showing 2% year over year growth in net earnings, the rail-based transportation company saw its stock price hammered to a 52-week low of $22.10 per share on the day following the earnings release. Investors seemed to be more concerned by the company's 7% decline in revenue compared to fiscal 2014.
COAL UP IN SMOKE
To some extent they have a right to be worried. Since coal production continues to be at an all time low thanks to cleaner forms of electricity like natural gas, CSX's revenues have been taking a huge hit as the company recorded $11.8 billion in this year's top line as compared to $12.66 billion recorded in the same period last year. Unfortunately for CSX there's no respite in the coming days. The U.S. government ordered a pause on issuing coal-mining leases on federal land as part of the new executive actions to combat climate change. During this moratorium the government plans to review how coal mining leases are awarded, with a high chance that Washington might make the leases more expensive for coal mining companies.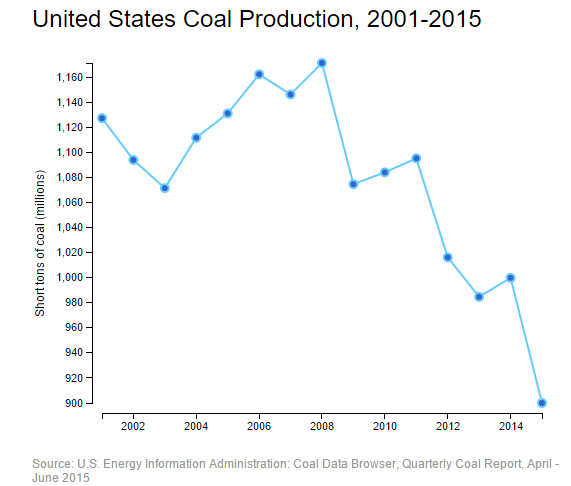 The slump in coal production has had an evident effect on CSX's financial statements over the past few years. Where coal contributed 31.5% of the company's total annual revenues back in 2011, in the latest fiscal year that contribution margin has been brought down to 19.47%. With natural gas increasing its lead over coal each month, and now with the Obama administration proposed climate change rules taking a direct hit at coal production, the outlook for the coal industry in the U.S. is not bright at all. According to the Energy Information Administration (NYSEMKT:EIA) coal production is expected to decrease even this year as well.
THE CRUDE REALITY OF OIL PRICES
Despite the 7% drop in revenue, CSX managed to squeeze out a 2% increase in net earnings which amounted to $1.968 billion or $2.00 per share. This was helped by improved operating ratios, which for the first time in the company's history fell below the 70% mark to 69.7%. The company managed to achieve this feat by actively incorporating cost efficiencies into its operations as well as by reaping the benefits of lower fuel prices and lower volume-related costs.
There's a very good chance fuel prices may continue to drop even further despite briefly having gone down below the $30 per barrel mark earlier this month for the first time in over a decade. International sanctions on Iran were finally lifted; the most notable of these sanctions was the country's ban on oil exports. Crude oil prices may very well stay below the $30 per barrel mark and in the coming months it might even drop to around $15 per barrel. Though this forecast sounds like a catastrophic scenario for the world political and business environment, CSX might actually further enjoy the benefits of lower fuel prices.
SHIFTING ITS WEIGHT
CSX has been trying to shift its focus to intermodal transportation, slowly but steadily. On January 14th the railroad giant announced that it was investing $272 million on an intermodal terminal in Johnston County, North Carolina in an effort to better position itself. As the U.S. economy slowly adjusts to improving economic conditions along with the financial crisis in China, CSX is making sure that when economic activity does speed up in the U.S., it will be there to enjoy the benefits.
However, intermodal still has a long way to go. In 2011 the $1.434 billion generated by intermodal transportation for CSX made up about 12.2% of the total revenues. In fiscal 2015 intermodal revenue climbed to $1.762 billion, increasing its contribution to the top line to 14.91%. It's clearly not a huge jump, but it is a promising sign nonetheless.
CONCLUSION
Over the past year the stock price has fallen by 34% to its current position of $22.74 per share, leaving a P/E ratio of 11.29. As share prices are floating near the 52-week low, the company is paying out dividends of $0.70 per share, an increase of 11% y-o-y, taking dividend yield to a healthy 3.17%.
Even though the drop in the stock price is incredibly frustrating, maintain your composure along with your portfolio; hold onto CSX. The company plans to cut expenses even further in 2016, and knowing their track record it's very likely that the scenario will unfold. In the upcoming year revenues might remain flat, or even slightly decrease. But the company's streamlining efforts will most likely help maintain profits.
Disclosure: I/we have no positions in any stocks mentioned, and no plans to initiate any positions within the next 72 hours.
I wrote this article myself, and it expresses my own opinions. I am not receiving compensation for it (other than from Seeking Alpha). I have no business relationship with any company whose stock is mentioned in this article.