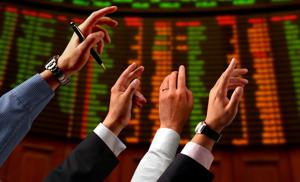 As you probably know, the market is experiencing quite the sell-off. The Dow Jones Industrial Average is below 16,000. Oil refuses to stabilize. The S&P 500 is down 8% year to date. On top of that, the talking heads on television are beginning to discuss the possibility of an economic recession. Good stocks are being sold off right along with the bad ones. Many commentators on TV and SeekingAlpha always talk about buying shares of companies after a 5-10% pullback in stocks, but when a pullback actually occurs, many investors run for the hills. Warren Buffett says that investors should be "greedy when others are fearful". This can be a difficult concept to embrace, especially for investors who are not professionals. I know from personal experience that having the conviction and confidence to keep investing when your portfolio is a sea of red can be a scary proposition. Having a shopping list of companies ready is vital to keeping the emotion out of a broad market sell-off. If you know what prices you are willing to pay for a company, you can be ready when the market gives it to you.
My wife and I are always on the hunt to add to the companies in our portfolio that pay and raise their dividends. We especially like companies that can pay and raise their dividends in both good and bad economic times, as is this a sign that they dominate their sector of the economy. We will use these dividends to cover our expenses in retirement. If we can buy shares of companies that are being overly punished when the market sells off, even better.
Current Portfolio
We hold twenty-three companies in my wife and I's Roth Individual Retirement Accounts (IRAs). We recently discussed the makeup of our portfolio here. Currently, our IRAs consists of the following companies:
AbbVie (NYSE:ABBV), Aflac (NYSE:AFL), Altria (NYSE:MO), Apple (OTC:APPL), AT&T (NYSE:T), Boeing (NYSE:BA), Chevron (NYSE:CVX), Coca-Cola (NYSE:KO), ConocoPhillips (NYSE:COP), CVS Health (NYSE:CVS), General Electric (NYSE:GE), Gilead (NASDAQ:GILD), Johnson & Johnson (NYSE:JNJ), JPMorgan (NYSE:JPM), MasterCard (NYSE:MA), Microsoft (NASDAQ:MSFT), Philip Morris (NYSE:PM), Realty Income (NYSE:O), Southwest Airlines (NYSE:LUV), Starbucks (NASDAQ:SBUX), Target (NYSE:TGT), Ventas (NYSE:VTR) and Verizon (NYSE:VZ).
We hold four companies in two share builder accounts. Details of this account can be seen here. 3M (NYSE:MMM), Procter & Gamble (NYSE:PG), Exxon Mobil (NYSE:XOM) and General Mills (NYSE:GIS). These companies make up our Early Retirement Fund.
Our goal is to have thirty or so stocks in our combined IRAs. Recently, we discussed five stocks that we'd like to add to our portfolio but haven't yet bought. This article can be found here. In addition to keeping an eye on possible new additions to our portfolio, we like to have a shopping list of current holdings ready in case of a broad market sell-off. When the market decides that they are going to "throw the baby out with the bath water" we want to be ready to pounce and add to the positions we feel are being unjustly punished.
Criteria for Stock Purchase
Our portfolio is broken down into three groups of holdings: Core Holdings, Supporting Holdings and Speculative Holdings. The buying criteria for each group of holdings are as follows:
For core holdings, we want companies that:
Have at least 10 consecutive years of dividend growth.
Are considered by S&P Capital/Morningstar to be at least fair value.
Have a dividend yield above 2.0%.
Dominate their sector of the economy.
For supporting holdings, we want companies that:
Have 5 years of dividend growth or 10 years of paying uninterrupted dividends.
Are considered by S&P Capital/Morningstar to be at least 5% undervalued.
Have a dividend yield above 1.0%.
For speculative holdings, we want companies that:
Have recently initiated a dividend.
Or have an average dividend growth rate of at least 10% or higher for the life of the dividend.
Are considered by S&P Capital/Morningstar to be at least 10% undervalued.
Shopping List
Now to the stocks that we want to purchase but haven't had a chance to do so. All yields and fair values are as of 1/15/2016. All dividend growth information is taken from the U.S. Dividend Champions spreadsheet.
Apple (NASDAQ:AAPL)
Sector

Current Yield

# yrs

div growth

5 yrs div

growth rate

Technology

2.14%

4

105%

S&P Capital 12 month price target

S&P Capital Fair Value

Morningstar Fair Value

Our Price Target

$150

$114

$140

$92
Even after declining almost 8% in 2016, Apple is still the world's largest company by market cap. According to S&P Capital, Apple's iPhone sales were responsible for 66% of last year's revenues. While Apple has numerous other products, such as Mac computers, iPads and iTunes Music, one could conclude as the iPhone goes, so goes the company. A big reason the stock has sold off has been news reports that sales of the latest version of the iPhone are not nearly as strong as previous models. Apple reports quarterly earnings after the bell on Monday, January 27th, so we will find out shortly if all of this selling is justified or not.
Lost in the negative short term news regarding Apple is the fact that the company has put up some nice dividend growth numbers. While not yet a dividend Challenger, Apple has grown the dividend from $0.38 a share per quarter in 2012 to $0.52 today. Additionally, the company has almost $200 billion in cash on its balance sheet, though much of this is overseas.
S&P Capital has a twelve-month price target of $150 and current fair value of $114. Morningstar says the company is currently valued at $140. At the closing price of $97.13, Apple is an average of almost 39% undervalued. The selling pressure on Apple may continue for some time, so we are looking at Apple under $92. This would give the company a 2.25% yield as well as make Apple almost 25% undervalued according S&P Capital's fair value estimate. This is the lowest figure amongst our measurements targets. According to our investing guidelines, Apple is considered a speculative position because they lack the dividend growth streak. Once the company has raised dividends five years in a row, they will move to the supporting position category of our portfolio.
Boeing
| | | | |
| --- | --- | --- | --- |
| Sector | Current Yield | # yrs div growth | 5 yrs div growth rate |
| Industrials | 3.47% | 5 | 10.80% |
| S&P Capital 12-month price target | S&P Capital Fair Value | Morningstar Fair Value | Our Price Target |
| $180 | $152 | $156 | $98 |
Boeing manufactures and sells commercial and military aircraft. If you have ever traveled on a commercial airplane, you've more than likely flown on a plane produced by Boeing. Morningstar tells us that the company has a backlog of 5,600 commercial aircraft. Orders can always be canceled, but if Boeing deliverers on this backlog, the company will be able to continue giving shareholders large dividend increases. Boeing raised their dividend 19.8% on December 14th of last year.
Boeing has declined more than 13% since the beginning of the year while the S&P 500 has declined 8%. With a 3.5% dividend yield, a five-year dividend growth average of 10.80% and a dominate market share in the aerospace and defense sector of the economy, we believe Boeing is better than the average stock in the S&P 500 index. We feel the company is being unfairly punished. S&P Capital and Morningstar tend to agree with us. Morningstar says the company's current fair value is $156. S&P Capital says the current fair value is $152 and sees the company trading at $180 twelve months from now. This is good for an average of almost 30% undervalued. Like Apple, the selling pressure on Boeing could continue because of market volatility. We bought Boeing twice in 2015 at an average price of $144, so we are sitting on a 13% decline. This is a situation that would normally test our conviction in the stock, but the dividend yield and growth are exactly what we are looking for. We are looking for a little larger yield before we purchase another batch. Our price target is $117, which would give Boeing a yield of 3.75%.
Starbucks
| | | | |
| --- | --- | --- | --- |
| Sector | Current Yield | # yrs div growth | 3 yrs div growth rate |
| Consumer Discretionary | 1.38% | 6 | 30.50% |
| S&P Capital 12-month price target | S&P Capital Fair Value | Morningstar Fair Value | Our Price Target |
| $68 | $52 | $64 | $55 |
In 2013, I asked my wife what companies she would be interested in purchasing for her IRA. I was attempting to get her more interested in investing and one of the companies she suggested was Starbucks. Not knowing enough about the company and thinking I knew more than she did, I said I thought the company was too expensive. I also felt that the dividend yield wouldn't add too much to our dividends. What I didn't know then is that Starbucks was becoming more than just a coffee company. Starbucks offers sandwiches and bakery items as well as tea. Starbucks has also really embraced the mobile order and pay platform. You can now place an order online or through a mobile device and pick it up without having to wait in line. Being on the forefront of the mobile ordering revolution is likely to drive business to the store. The company is becoming much more than a coffee shop and your local Starbucks is most likely busy throughout the day.
S&P Capital believes they will be able to show 16-18% revenue growth for 2015. The company is also one of the few companies that saw growth in the China/Asia region last quarter. Same store sales were up 6% for this region. Which so much economic news out of China being negative, Starbucks has shown that they can produce real results for that area of the world.
While the dividend yield is on the low end, the company has grown dividends by an average of over 30% each of the last five years. Morningstar believes that the company is positioned to continue growing dividends in the mid-teens for the next decade. That type of dividend growth and company performance makes Starbucks exactly the type of company we want to add to when the market overreacts and sends shares lower. Morningstar says the company is worth $64. S&P Capital says the company is currently worth $52 but sees shares at $68 twelve months from now. This makes the company just over 6% undervalued by our numbers. Because of this, we would like the company to trade a little lower in order to provide us with a higher margin of safety. At $55, only a few points from the Friday close, Starbucks would be undervalued by our numbers by almost 12%.
CVS Health
| | | | |
| --- | --- | --- | --- |
| Sector | Current Yield | # yrs div growth | 5 yrs div growth rate |
| Healthcare | 1.49% | 12 | 32.00% |
| S&P Capital 12-month price target | S&P Capital Fair Value | Morningstar Fair Value | Our Price Target |
| $112 | $116 | $104 | $90 |
CVS Health is one of the largest drug store chains and pharmacy benefit managers in the U.S. As more people become insured under the Affordable Care Act, they will have to go somewhere to fill their prescriptions. CVS is poised to have the opportunity to capture even more market share. In addition, CVS recently purchased Target's pharmacy business. As Target opens new stores, CVS will open a new pharmacy inside of the store. This will only expand their footprint.
CVS Health's dividend is on the lower side, currently under 1.50%, but the company has raised dividends each of the last twelve years. The average dividend growth rate over the last five years is a juicy 32%. That type of dividend growth plus the company's opportunity for increased market share make the stock an attractive purchase. CVS is currently one of our smallest position, so we would like an opportunity to add to the holding.
Morningstar says fair value is $104 while S&P Capital says the company is currently worth $116. Their twelve-month price target is $112. You could take this to mean that S&P Capital sees CVS as currently overvalued. Regardless, the stock is roughly 18% undervalued by our criteria. CVS has lost only about half of what the S&P 500 has lost so far this year. You could read this as the market has more faith in the company then they have in the general market. Because of that, the growth we feel CVS has ahead of it and the dividend track record are reasons we are very interested in buying more shares.
Conclusion
So far this year, the market has been a wild roller coaster. Companies that are performing well are being sold right along with poor performing ones. If you're like us, you've seen a lot of red in your portfolio. It is the type of environment that can make you throw your hands up and feel that investing is rigged against you. But if you have a shopping list of companies that you want to buy, you are more prepared to handle the emotional part of investing and get quality stocks at bargain prices. We all want shares of companies cheaper, now we have to be prepared to act when the market gives them to us. Apple, Boeing, Starbucks and CVS make up our current watch list of stocks we already own. What stocks are you watching?
Disclosure: I am/we are long AAPL, BA, CVS, SBUX.
I wrote this article myself, and it expresses my own opinions. I am not receiving compensation for it (other than from Seeking Alpha). I have no business relationship with any company whose stock is mentioned in this article.
Additional disclosure: We are not professional investors. Please do your own research before making any investment decision.