This article was written by Connor Flood, Nicole Jones and Bernardo Teixeira from the NU Student Value Fund.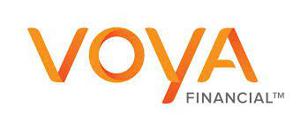 After a not so great 2015, when Voya's (NYSE:VOYA) stock price decreased 16% relative to the S&P 500, we expect that this upcoming year will prove to be better for Voya's shareholders. In this article we take a closer look into one of America's most undervalued retirement firms. Our objective is demonstrate some of the company's key initiatives like "myOrangeMoney", talk about the main idiosyncratic risks this company face, and show our valuation of Voya's intrinsic price.
Thesis Highlights
Improving Digital Platform and Increasing Sales Reach
Management is investing in improved platforms for plan sponsors and retail customers to engender more business. Additionally, their "myOrangeMoney" interactive tool has showed initial success in driving up business. Despite the retirement of Baby Boomers, opportunities remain for this industry as the American populace suffers from being unprepared. As a firm Voya is already a top-five provider of retirement plans, so there are well positioned to take advantage of this need.
Ability to Leverage Strong Fund Performance
Voya's mutual fund products, particularly in fixed income, have been very successful in terms of performance in recent years. This strong track record will help them accumulate investment management AUM, which tends to be a high margin and easily scalable business line.
Management Buying Back Undervalued Shares
Since the firm's inception, Voya has bought back around 17% of its shares outstanding. When you look at their price book of 0.63x versus the broader industry of 1.21x you can infer that there are buying their shares at a steep discount to the firms intrinsic value.
Thesis Risks:
CBVA Block and ING Warrants
Around 10% of VOYA's AUM are closed blocks of businesses that they are no longer writing new policies for but instead are hedging and running off these legacy lines. Their Closed Block Variable Annuity (CBVA) line is a particular risk. Due to this products sensitivity to equity markets, a sharp fall in stock prices could lead to losses to VOYA if their hedges don't protect their value significantly. Additionally, ING (NYSE:ING), their former parent company, still owns about 1/8 of the firms shares with a strike price of $48.25, exercisable on 1/1/2017. This risks obvious dilution in the future and will likely pressure results going forward.
Improving Digital Platform and Increasing Sales Reach
Continuing to make strides towards enhancing their distribution and market reach, Voya seeks to target clients that align with the company's value proposition. The company has been working on furthering their technological capabilities. Two examples of execution on this are the successful roll out of their peer comparison tool and the launch of the "myOrangemoney" platform. The Voya "Step Up to Your Peers" tool allows individuals to benchmark their retirement savings against similar peers. Although the rollout was recent, this comparison tool has led to a 40% increase in contributions in new accounts that had access to that feature. On top of this, in their last earnings call they guided towards increasing their sales and service team in the retirement space by 20%, which should generate new business going forward. Also, they are building out their plan sponsor website, allowing the sponsors to view the retirement readiness of the plans participants.
Retirement solutions business launched an innovative online experience to help their over 5 million retirement customers manage, engage, and interact with their accounts. Serving as the new centerpiece for Voya's retirement plan participant website, the new technology platform myOrangemoney is designed to give participants better access to balance information and inactivity. The new platform aims to shift individuals'' mindsets in how they think about retirement. This fits in perfectly with Voya's mission to help Americans gain control over their financial lives and feel greater emotional and economic security regarding their future.
When users log into their retirement account the first thing they see is a large, centered dollar bill constituting their control center, allowing them to monitor savings and make changes. The first content displayed on myOrangemoney depicts savings as future monthly income. Users also view the progress made in their personal goals, a portion of which will turn orange representing the amount of their desired retirement income that would be achieved based on savings and Social Security estimates. Anything remaining would be white, representing the amount still needed to reach the retirement goal. The goals are created based on a few simply future assumptions each user pre selects and can be changed at any time. Voya provides participants the ability to visualize their retirement through plainly depicting how every action taken today can impact future retirement plans. The tool also connects to the company's new personal financial planning and budgeting dashboard. By linking myOrangemoney to other retirement readiness offerings, the company has created an ecosystem, enabling users to organize and manage all their financial information in one place. Voya has also released a public version of the tool on its website.
Strong Portfolio Performance and Ability to Leverage Funds
Voya's mutual fund family has had a very strong track record of performance, particularly in the fixed income space, with 72%, 85%, and 81% of assets managed by Voya outperforming their benchmark or peer median returns as of Q3 2015 on a 3-year, 5-year, and 10-year basis, respectively. Fixed income assets performed better than 90% of their peers over the 3 & 5 year period. This strong track record should, coupled with Voya's emphasis on cross enterprise initiatives to sell their products across plans that they manage, facilitating more business.
Additionally, they do have target funds, which, as mentioned in the industry overview segment, is a fast growing portion of the investment management industry. However, Voya does not have nearly as strong of a brand and market position as the industry leaders of Vanguard, Fidelity, or T. Rowe Price (NASDAQ:TROW).
Their emphasis on driving investment management growth can help unlock value and increase ROE, as that line of business is particularly attractive on a margin standpoint. Q3 2015 operating margins in investment management were 29.2%. Voya Financial recently announced an agreement with Reinsurance Group of America Inc. to sell an in-force block of 155,000 term life insurance policies via reinsurance. The transaction, expected to close in the fourth quarter, will free up more than $230 million in excess capital and still leave the company with over 950,000 policies worth about $270 billion of life insurance. This news represents a continued shift towards indexed life insurance products which are higher margin and less capital intensive.
Management Buying Back Undervalued Shares
With shares currently trading at 0.6x P/B, shares of Voya are objectively undervalued and in this low interest rate environment, one could make the argument that this is the perfect time for Voya's management to focus on buying back shares. Since their spin off, Voya has repurchased 17% of their shares since the IPO and repurchased $481 million worth of shares in Q3 2015, out of their $9.0 billion market cap. For the rest of the year, they have an additional $100 million authorized, and their strong capital position indicates an ability to continue distributing capital going forward. This is depicted by their current risk based capital ratio of 472%, which stands above their target 425% and their Debt to Capital ratio of 22.2% below their target 25%.
Additionally, ING finally completed its sale of Voya earlier in 2015, so there is less of a threat of dilution or oversupply in the market. However, ING still owns a significant amount of warrants, which we address later.
ING Warrants
As stated previously, ING Group exited its stake in VOYA March 2015 but continues to hold warrants to purchase up to shares of VOYA common stock at exercise price of $48.75. The warrants are not exercisable until January 1, 2017 and expire on May 7, 2023. We examine the full potential effect of the share dilution caused by warrants in our valuation of the security, but this is obviously viewed as a negative due to downward pressure on the stock price and the danger of dilution. This was factored into our valuation.
There are closed blocks of variable annuities (CBVA) and other insurance products that Voya is looking to run off, as they are no longer writing additional policies as the business is unattractive. They use an independent firm to help them evaluate the risk of the CBVA and recommend analytics and hedging positions, which Voya provides. Analysts have cited this as a drag on Voya's financial performance, as roughly 10% of AUM is tied up in this underperforming segment.
Additionally, the CBVA segment can harm the balance sheet of Voya in a market of negative equity returns. The variable annuity products performance is dependent on equity market performance; however, there are minimum surrender values guaranteed by Voya (the insurer), so in a market of falling stock prices Voya will be liable to pick up the difference. This coupled with Voya's exposure to the investment management industry can make them sensitive to markets.
We believe their decision to run off these unprofitable and risky products is a constructive decision in the long run and further exemplifies Voya's de-risking of its balance sheet. We believe that the running off of this block overtime will help unlock value for the firm in the long run.
Valuation:
To calculated our intrinsic value, we used a composite method consisting of 3 components: a regression analysis using comparable, two year-historic P/B, and an excess return model.
Regression
To build our regression, we compiled a data table of Voya and its peers in the insurance and investment management industry. We tested various options until we came to the conclusion that the best way to determine the target price book was to use the independent variables of ROE and ROA. Ultimately this our regression output from excel:
Giving us a formula of: P/B Target = 0.07+11.20(ROE)+11.21(ROA)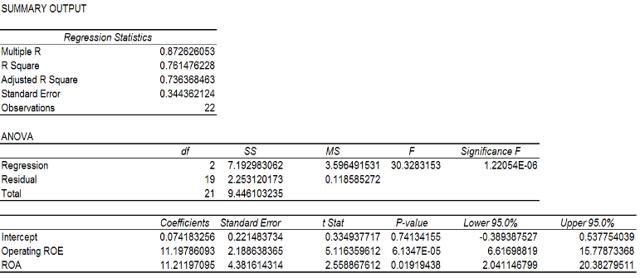 Source: Prepared by the author
We used this formula to calculate the target prices for Voya's peers, which can be found on the next page. The R-squared metrics were fairly high and we found the t-stats to be statistically significant, so we found this to be a credible valuation method.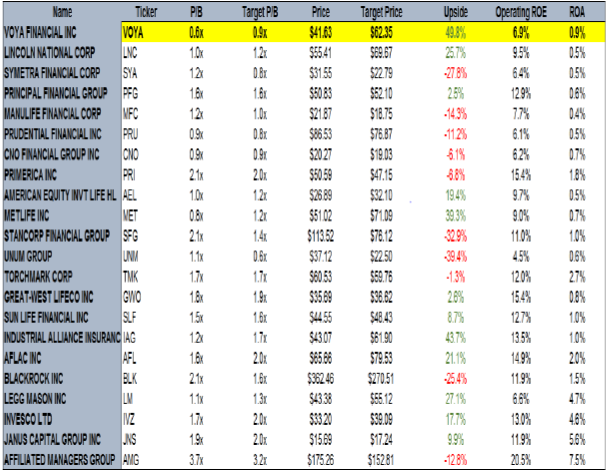 Source: Prepared by the author using public available information
Excess Return Model
Another way to value VOYA is to run an Excess Return Model. Using Aswath Damodaran publicly available excess return excel model we have stipulated VOYA's intrinsic price.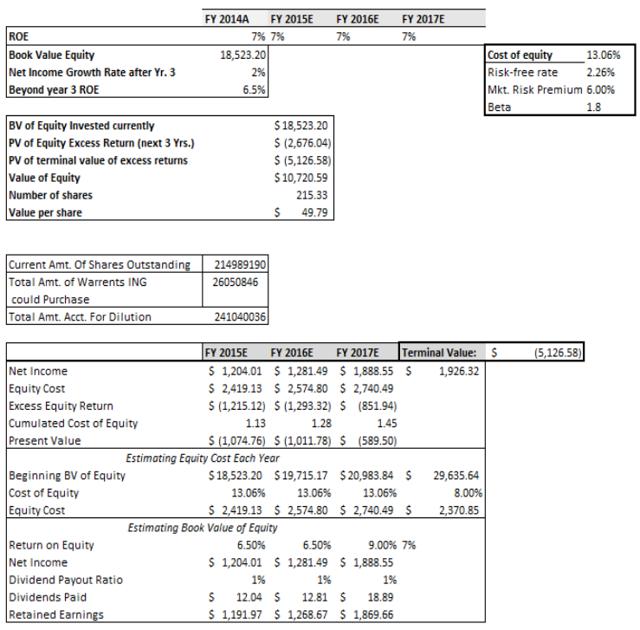 Source: Prepared by the author
We took the two methods and assigned them a percent of the overall valuation, and to be conservative we subtracted the estimated drag of the warrants. To estimate this value, we used a JPMorgan sell-side report that rated this security as a sell, and forecasted a $1-3 per share drag on the security due to warrants. To be further conservative, we came in on the high end. This was already factored into the excess returns calculation, but just to be conservative we wanted to factor it in again. This brought us to a price target of $51.55 and an upside of 64%.
Conclusion
Overall we think that Voya is trading at a significant discount to intrinsic value with most of the downside priced in already, giving us a margin of safety. Although the firm is facing headwinds, we believe they are positioning themselves correctly and streamlining their business by exiting unprofitable businesses and growing in profitable areas, which should unlock a greater valuation.
We believe this cheap valuation stems from its being a spinoff of ING, an underperforming firm. Spin offs can often be cheap due to investors not knowing what to do with their additional shares and just selling them off. That being said, valuing and analyzing companies in this industry is a bit of a black box and valuations require exceptional guesswork. Although AUM growth and returns have been lackluster, we believe management is positioning the business correctly
Disclosure: I/we have no positions in any stocks mentioned, and no plans to initiate any positions within the next 72 hours.
I wrote this article myself, and it expresses my own opinions. I am not receiving compensation for it (other than from Seeking Alpha). I have no business relationship with any company whose stock is mentioned in this article.