Introduction
KBW Premium Yield Equity REIT Portfolio (NYSEARCA:KBWY) is an ETF that tracks the KBW Nasdaq Premium Yield Equity REIT Index. KBWY invests in the small/mid-cap space of the U.S. REIT universe. According to the fund website:
The Index is calculated using a dividend yield weighted methodology that seeks to reflect the performance of approximately 24 to 40 small- and mid-cap equity REITs in the United States. The Fund and the Index are rebalanced and reconstituted quarterly.
With only 24 to 40 stocks, KBWY runs a relatively concentrated portfolio. Additionally, the securities are dividend-weighted, meaning that higher-yielding REITs have a greater weighting in the index. The Top 10 holdings of this ETF are shown in the table below, as well as with their trailing twelve-month [ttm] yields (source: Morningstar).
Stock
Ticker
% Holdings
% Yield
Senior Housing Properties Trust
(NYSE:SNH)
5.28
10.24
New Senior Investment Group Inc
(NYSE:SNR)
4.83
11.90
Gladstone Commercial Corp
(NASDAQ:GOOD)
4.13
11.14
Corrections Corp of America
(NYSE:CXW)
4.05
8.09
Government Properties Income Trust
(NYSE:GOV)
4.03
12.53
Independence Realty Trust Inc
(NYSEMKT:IRT)
3.93
10.32
GEO Group Inc/The
(NYSE:GEO)
3.89
9.57
Whitestone REIT
(NYSE:WSR)
3.85
10.65
WP Glimcher Inc
(NYSE:WPG)
3.71
10.6
Sabra Health Care REIT Inc
(NASDAQ:SBRA)
3.54
8.56
Total Top 10
41.24
As can be seen from the table above, the top 10 holdings of KBWY account for over 41% of the fund, and include a number of well-known, high-yielding small/mid-cap REIT names such as SNH, SNR and GOOD, which are its three largest constituents. However, KBWY does not appear to be a very well-known ETF, with only 675 Seeking Alpha investors having it in their portfolio, compared to over 20,000 for the Vanguard REIT ETF (NYSEARCA:VNQ), which is market-cap weighted and is thus dominated by large-cap REITs.
Note that unlike the fellow IQ US Real Estate Small Cap ETF (NYSEARCA:ROOF), however, KBWY does not include mortgage REITs in its portfolio.
Larger REITs have outperformed
It has been no secret that large-cap stocks have outperformed small-cap stocks over the past two years. Since Jan. 1st, 2014, the SPDR S&P 500 ETF Trust (NYSEARCA:SPY) has recorded a total return performance of 6.84%, compared to a decline of -9.83% for the iShares Russell 2000 Index ETF (NYSEARCA:IWM).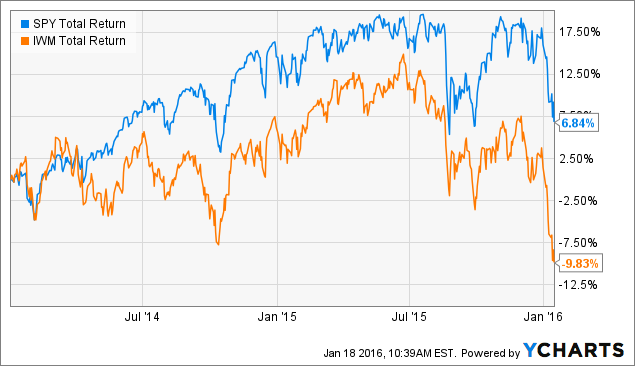 SPY Total Return Price data by YCharts
A similar phenomenon has been playing out in the REIT space. In an Aug. 2015 article entitled "Strange REIT Price Movements And How To Play Them", Seeking Alpha contributor Dane Bowler noted that large-cap REITs were significantly outperforming small-cap REITs year-to-date:
Including dividends, REITs as a whole are actually up on the year with a market cap weighted return of 0.37%. However, a significant majority of REITs are down on the year with a median return of -4.63% and a mean return of -4.23%. How can the index be up when a majority of REITs are way down?

Well, it is because there is a material skew by size. Small cap and micro cap REITs have gotten clobbered this year with all the money diverted into the large cap "blue chip" REITs like Simon Properties (NYSE:SPG) and AvalonBay (NYSE:AVB)...Overall, the correlation between market cap and YTD return is 0.23. Such a correlation is very high for a market factor with no fundamental effect.
Amidst the interest-rate hike jitters over the past year, VNQ has declined by nearly -10%. However, KBWY has performed over twice as poorly, at -21.5%.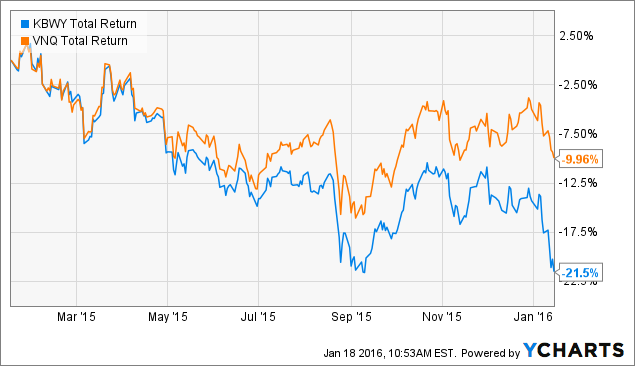 KBWY Total Return Price data by YCharts
Value in smaller-cap REITs
With their relative underperformed, smaller-cap REITs are now much cheaper than larger-cap REITs. According to Morningstar, KBWY bests VNQ across all five value categories.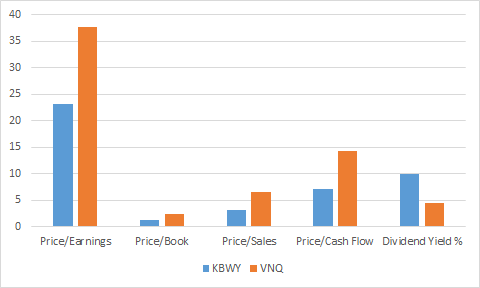 The flip side, however, is that the growth metrics of VNQ are superior to those of KBWY.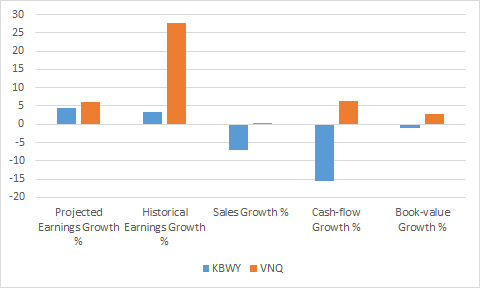 The data are also presented in the table below.
| | | |
| --- | --- | --- |
| | KBWY | VNQ |
| Price/Earnings | 23.13 | 37.67 |
| Price/Book | 1.3 | 2.29 |
| Price/Sales | 3.13 | 6.54 |
| Price/Cash Flow | 7.09 | 14.3 |
| Dividend Yield % | 9.94 | 4.37 |
| Projected Earnings Growth % | 4.38 | 5.99 |
| Historical Earnings Growth % | 3.35 | 27.78 |
| Sales Growth % | -7.07 | 0.3 |
| Cash-flow Growth % | -15.54 | 6.37 |
| Book-value Growth % | -0.94 | 2.91 |
Note, however, that these aggregate statistics by Morningstar may not be all applicable to evaluating REITs. For example, price/FFO is generally a better indicator of REIT value than price/earnings for REITs. Unfortunately, however, P/FFO data is not collated by Morningstar.
Looking up individual REIT P/FFO data reveals numbers that are consistent with the notion that smaller-cap REITs are cheaper than larger-cap REITs. For example, the the largest healthcare REIT in KBWY, SNH, has a P/FFO ratio of 8.37, while the largest healthcare REIT in VNQ, Welltower Inc. (NYSE:HCN), has a P/FFO of 15.50, which is nearly double that of SNH.
Fund data
Relevant data for KBWY and its benchmark VNQ is presented below (source: Morningstar).
| | | |
| --- | --- | --- |
| | KBWY | VNQ |
| Yield [ttm] | 5.71% | 3.37% |
| Expense ratio | 0.35% | 0.15% |
| Inception | Dec. 2010 | Jul. 2002 |
| Assets | $94.88M | $20.8B |
| Avg Vol. | 21K | 4.3M |
| No. holdings | 29 | 151 |
| Annual turnover | 25% | 8% |
| Morningstar star rating | * | *** |
The expense ratio for KBWY is a reasonable 0.35% considering that it invests in the small/mid-cap segment of the REIT universe. The volume of KBWY is around 21K, which is much less than that of VNQ but should still be sufficient for most retail investors.
A Morningstar downgrade
For most of 2015, KBWY had the highest rating from Morningstar - a 5-star rating. However, it has recently been downgraded all the way to the lowest possible rating of 1-star. The reason for this is probably due to its recent underperformance vs. the benchmark (i.e. VNQ). However, the fact that it had a 5-star rating in the first place tells us that it had previously performed well on a total return basis vs. the benchmark. Indeed, plotting a chart of KBWY and VNQ over the past five years reveals that there are significant stretches of time where the small/mid-cap REIT ETF has outperformed, such as between early 2012 to mid 2013.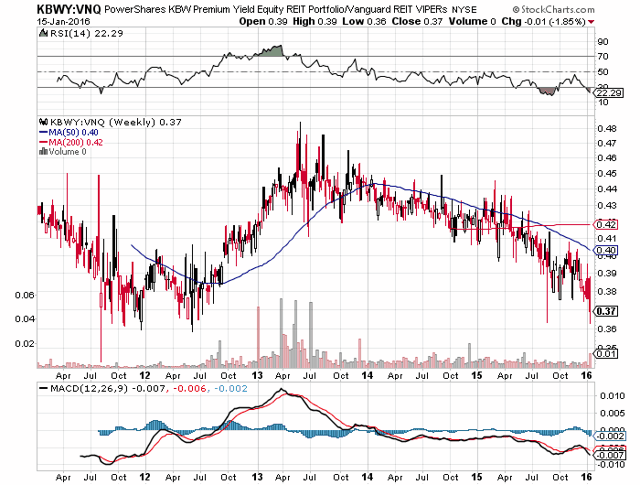 Summary
KBWY is a good way of obtaining relatively low-cost, diversified exposure to the small/mid-cap equity REIT space. KBWY is dividend yield-weighted, meaning that its top holdings are stocked with higher-yielding REITs, some of which currently yield in excess of 10%. This allowed KBWY to offer a dividend yield some 234 basis points higher than that of VNQ on a ttm basis.
However, one drawback of a dividend yield-weighted index is that value "traps" may also be included in the index. Fortunately, only one of KBWY's top 10 holdings, GOOD, is on Seeking Alpha REIT expert Brad Thomas' list of value traps as mentioned in his recent article.
I believe that the woeful recent performance of KBWY vs. both VNQ and the broader market has created a more attractive entry point for this small/mid-cap REIT ETF. Additionally, I would not worry too much about the 5-star-to-1-star downgrade from Morningstar.
Disclosure: I am/we are long KBWY.
I wrote this article myself, and it expresses my own opinions. I am not receiving compensation for it (other than from Seeking Alpha). I have no business relationship with any company whose stock is mentioned in this article.