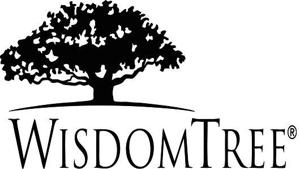 Introduction:
I recently sold all my shares of WisdomTree Investments (NASDAQ:WETF) at the start of the year after they continued to struggle in the last quarter of 2015. According to compilations done by Bloomberg, WETF experienced the highest outflow of funds for one of their ETFs over a 30-day period. This is especially disappointing, since I had bought into WETF in hope of benefiting from the worldwide trend of increased investments into passively managed funds. WETF however, has struggled to compete with the likes of BlackRock (NYSE:BLK) in this area.
Index-tracking funds gain favor in 2015 but the tide is not equal for all
According to data from Morningstar, investors continued to yank money out of actively managed mutual funds in the U.S. in 2015. They pulled $207.3 billion out from funds that rely on a fund manager's ability to pick stocks, and poured $413.8 billion into index funds that attempt to mimic broad indexes in the market -- at a fraction of the cost that their actively managed counterparts charge.
This is all part of a larger ongoing shift worldwide from actively managed funds to low-cost index-tracking funds. It is against this backdrop that I invested into WETF in order to take advantage of the rise in tide.
However, the tide was not equal for all because WETF pursued a different approach from that of usual ETFs. Instead of simply seeking to track a benchmark, WETF has focused on offering currency-hedged ETFs. There was a lot of appeal for currency-hedged products in 2015, due to the constantly growing strength of the dollar which meant that investors looking for international exposure sought to hedge some of their resulting currency risks and fluctuations in order to protect their returns. WETF claimed to be able to know, through technical market signals, when the right time to hedge was.
As a result, due to this added feature, WETF's ETFs have a higher expense ratio than conventional ETFs. And, even amongst its competitors who were also offering currency-hedged ETFs, it had a higher expense ratio of 0.58% versus BlackRock's iShares Currency Hedged MSCI EMU ETF's (NYSEARCA:HEZU) 0.51% and the Deutsche X-trackers MSCI Europe Hedged Equity ETF's (NYSEARCA:DBEU) 0.45%.
Consequently, according to data compiled by Bloomberg, the WisdomTree Europe Hedged Equity ETF (NYSEARCA:HEDJ) saw the largest outflow in December with more than $1.87 billion yanked out by investors (representing about 10% of the fund's AUM). The WisdomTree Japan Hedged Equity ETF (NYSEARCA:DXJ) came in fourth with over $890 million pulled out.
The lesson I have therefore (painfully) learned is that not all index-tracking funds benefit from the general inflow. Fund costs must always be matched with performance and if the performance does not justify the costs, especially in relation to competitor products and plain vanilla index funds, investors will not hesitate to withdraw. In this cautious investing climate, investors can ill afford to have their capital depleted due to such fees, without the ensuing returns.
I expect WETF to face increased competitive pressure from larger service providers such as BlackRock, who are hoping to continue banking on the rise in fund flows into passively-managed funds by increasing their index fund offerings to investors. On the back of this, I expect WETF's fund flow to be affected.
Valuations
I think investors were willing to pay a premium for WETF in 2015 because of the innovative products that they offered to the market. The increasing competition in this field however, has seen large fund outflows from their ETFs.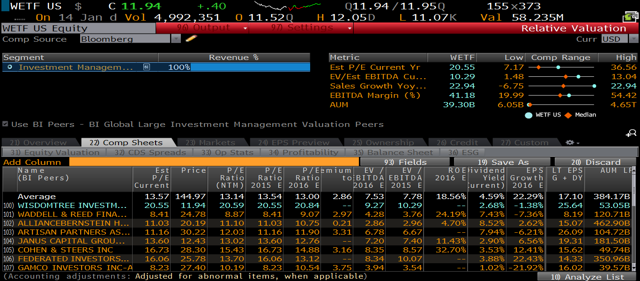 Source: Bloomberg
Based on their closing price on the 14th of January, they are trading at 20.5x of their earnings compared to the overall industry's 13.6x. On a forward basis, the current price is a 20.8x of their expected earnings this year as compared to the industry's 13x. Despite correcting by over 45% since December, I think valuations now are still steep relative to the sector even though they trade only 12x of their free cash flow vs. the sector's 13x. I have sold all my stakes in WETF.
Disclosure: I/we have no positions in any stocks mentioned, and no plans to initiate any positions within the next 72 hours.
I wrote this article myself, and it expresses my own opinions. I am not receiving compensation for it (other than from Seeking Alpha). I have no business relationship with any company whose stock is mentioned in this article.