The recent stock market correction caught investors by surprise. It is somewhat frightening to see the market drop over 10% since the beginning of 2016. But astute investors will take this market move as an opportunity to add to fundamentally solid businesses.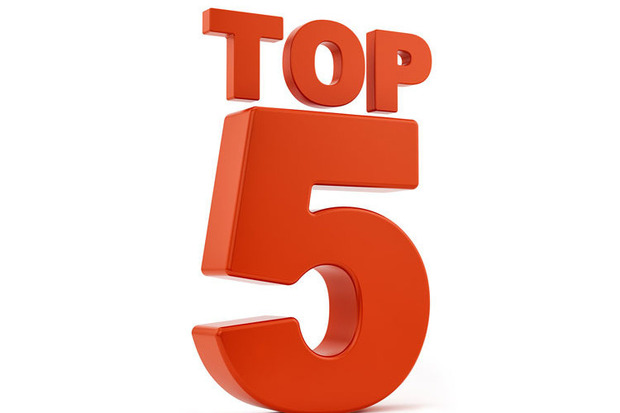 There are a few considerations that are worth mentioning in support of buying stocks when the market is down. First, a stock represents a percent ownership of a company. As a result of buying a common stock, investors are becoming partially owners of a company. Intelligent investors want to own companies that they would be comfortable owning if the stock market shuts down completely. To quote Warren Buffett:
"Only buy something that you'd be perfectly happy to hold if the market shut down for 10 years"
Second, large down markets merely represent that the supply and demand for common stocks are tilted towards the supply. That is, there are more sellers than buyers. That should not make any difference for businesses that are working hard towards increasing their intrinsic value. Therefore, investors should be looking for stocks that are not only trading close to their intrinsic value, but are also likely to increase their intrinsic value over time.
With that in mind, let's get to some businesses that I find solid for further consideration. I will list the businesses in ascending order, from smaller to larger capitalization.
LGI Homes (NASDAQ:LGIH): A homebuilder based in Texas
Homebuilders are pretty simple businesses. They buy land, build homes, and sell them at a marked up price. Some homebuilders also have a financing unit that issues mortgages, LGI does not have a financing unit. LGI is a small cap company, with fast growth rates and good growth outlook.

Fiscal-year 2015 has been another strong year, selling over 3,400 homes. This mark marginally exceeded management guidance, which has been raised in mid-2015 after stronger than expected presence in new markets. LGI was initially an all Texas homebuilder, but that is no longer the case as they have expanded into Florida, Washington, Colorado, Arizona and North Carolina. The diversified market is a long-term plus for LGI.
As stated my previous article, a few other indicators point that LGI Homes should be considered for further research.
LGI is trading at cheap multiples for its growth outlook. LGI is trading at a forward P/E of 8.0x and forward EV/EBITDA 5.9x. These numbers are based on diluted EPS, which are very important considering that they have a convertible bond outstanding.
Good economy and low unemployment levels point out that home sales is not in danger from a recession. In fact, LGI is expanding into 4 out of the 10 most popular cities where millennials are moving into.
The key cities where LGI is expanding to have equal or lower unemployment rates than the national level. Additionally, the case of Texas losing jobs due to oil collapse is overdone since Texas reported a y/y gain of ~179,000 jobs as of November 2015.
The key risks of investing in LGI are that it continues to rely on Texas market (53% of revenue) and it uses a decent amount of financial leverage. Many investors are concerned about the health of Texas job market due to the collapse of oil prices. Although there has been a net gain of jobs in Texas, this remains a concern. The other thing is that LGI uses a decent proportion of debt to finance new land purchases.
Infinera (NASDAQ:INFN): A tech company that enhances the speed of internet
The Internet has evolved into an essential tool for both businesses and consumers. With greater reliance on the Internet, there is a greater need for high-speed Internet. Having high-speed Internet is similar to a highway; the wider the highway, the more cars can be fit all at once. Internet is the same; the higher the bandwidth, the more information can be transported. Infinera is a bandwidth provider.
Infinera offers technology that can transport information at 500 GB/s and 100 GB/s. The attractiveness of Infinera technology is that it can improve Internet speed without the need of deploying large fiber optic infrastructure, which makes it scalable. After a recent acquisition, Infinera expanded its services offering to metro areas. That is, Infinera can help Internet companies deliver high-speed Internet in metro cities.
Infinera is a company that is expected to grow fast, as the demand for Internet is expected to grow exponentially. Infinera's technology is one of the reasons why consumers are able to watch Netflix (NASDAQ:NFLX), interact socially through Facebook (NASDAQ:FB) and Twitter (NYSE:TWTR), take online classes at universities, and more. In fact, Facebook is one of Infinera's customers. The fast growth can be seen in their revenues growth over the past few years.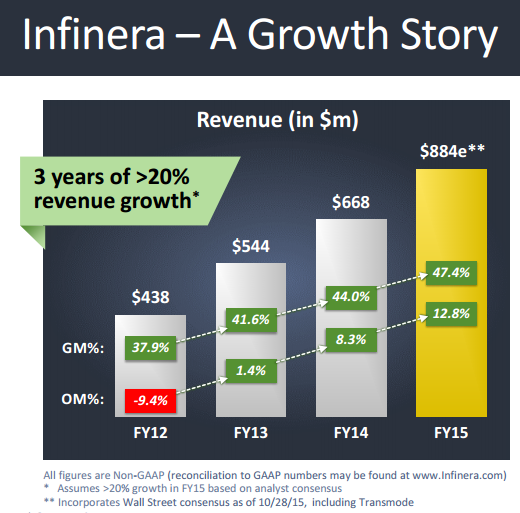 As stated in my previous writing, few other reasons point that INFN should be considered for further research:
Strong cash flow generating ability. As of Q3 2015, Infinera generated free cash flow margin of 13%. This cash generating ability is relatively new for Infinera as they recently broke the profitability curve. Infinera was cash flow negative in 2013.
Infinera has a strong balance sheet and strong liquidity. Approximately 13% of its market cap is held in cash and liquid investments. Furthermore, very minimal debt makes Infinera risk attractive for stockholders.
The key risk with Infinera is that it operates in a fast-growing and dynamic market. Technology advances quickly and Infinera could be outcompeted by its peers. As of this writing, Infinera has the best technology for network transport. But other competitors also have 100GB and 500GB channels.
Casey's General Store (NASDAQ:CASY): a mix of gas stations and supermarket whose competitive advantage is small town America
Casey's business is pretty simple and focused on the Midwest. They own gas stations that also have convenience stores. In addition to convenience stores, Casey's has focused on serving hot food and becoming a casual place to eat. Casey's key markets are Iowa, Illinois and Kansas. Roughly 75% of their stores are located in cities with a population of 20,000 or less.
Investing in Casey's is getting exposure to small town America. While the majority of Casey's business comes from selling gas, the most profitable segments are their groceries and food (>30% margins for groceries and >60% margins for food). Casey's has a competitive advantage in both location and quality. It becomes a one-stop place in small towns that serves high quality food at competitive prices. It is a place where customers can load their gas tank, pick up dinner, and groceries.
Some of the key reasons to consider looking at Casey's are:
It has a long-history of revenue growth and profitability. Over the past 10 years, Casey's has grown to over 1,800 stores across the Midwest. Additionally, Casey's management is shareholder friendly with a long-track record of dividend payments.
Casey's is a (boring) business whose intrinsic value grows over time. Since they started focusing on developing a grocery stores with a restaurant, Casey's profitability has improved. The demand for their products is very consistent. Furthermore, Casey's strategy is to own the real estate where their gas stations and stores are located. This strategy exposes the company to appreciation of real estate. This value is hidden on their balance sheet due to depreciation.
While selling gas is their main business, Casey's benefits from low oil prices. This is because low oil prices result in low gas bills for consumers, which encourages them to go inside Casey's stores to buy groceries or food. Recall that groceries and food are high-margins businesses for Casey's.
As stated in my previous article, the key risk for Casey's is competition. They not only compete with gas stations, but also compete with restaurants and grocery stores. Many grocery stores have realized the potential of offering gas as part of their product mix. For example, Wal-Mart (NYSE:WMT) offers gas stations in many of their super-centers. Additionally, the grocery store and restaurant market are extremely competitive, even in small towns.
Nike (NYSE:NKE): the unquestionable leader in sports clothing in an era that encourages fitness
The retail giant with leadership in sports clothing. What makes Nike good is that it has a very strong brand image that allows them to charge a premium for their products. Nike is more of a marketing company than a clothes manufacturer, since they do not own their factories.
As stated in my previous article, a few reasons to consider Nike after the sell-off are:
Compared to Adidas (OTCQX:ADDDF) and Under Armour (NYSE:UA), Nike has much better operating margins and cash flow margins. Nike not only generates much larger amounts of free cash flows, but also the proportion of revenue that turns into cash are higher than competitors.
Nike has a long history of paying dividends.
Despite its large size, Nike can still be considered for growth due to their expansion into smaller countries and China. The entire fitness industry is experiencing fast growth on the back of the trend towards healthy lifestyle. The initiatives of the Apple (NASDAQ:AAPL) Watch and FitBit (NYSE:FIT) contribute to the trend.
Nike has the largest capital power of all sports companies, and therefore can afford to dress the best athletes. This gives Nike a strong moat in their business.
There is little risk for Nike as they are a very solid company. But the one risk is that its shares might get overvalued by the market. Nike is not cheap, and it is unlikely to be cheap due to their business strength. At current prices, Nike is fairly priced.
Alibaba Holdings (NYSE:BABA): The Internet giant of China - comparable to Amazon (NASDAQ:AMZN), Google (NASDAQ:GOOG) (NASDAQ:GOOGL), and Netflix
The company's mission is to make it easy to do business everywhere. Alibaba started in 1999 by running its online marketplace, where buyers and sellers can meet to do business. Since then, it has grown into a huge conglomerate that includes cloud computing business, financial services, TV business, wholesale business, among others. Today, Alibaba is a conglomerate whose main business is in China. However, Alibaba strives to be a global company as it already does business in other countries.
In a previous article, I stated that the market was not giving Alibaba credit for its conglomerate-like characteristic. Alibaba has grown tremendously through acquisitions, but the market still sees it as an Internet intermediary company (much like eBay). In my opinion, the Alibaba marketplaces are worth ~$62 per share. At the current price, it appears that the market is only giving a value of ~$7 per share to Alibaba's business acquisitions. The price contraction of Alibaba is further magnified by the current Chinese stock market sell-off, which has nothing to do with the fundamentals of Alibaba.
Other key reasons to consider further research into Alibaba are:
While there are fears that China will not grow fast anymore, the key markets where Alibaba has exposure are still growing. As China shifts from a manufacturing economy to a consumer economy, Alibaba will benefit since roughly 80% of its business comes from Chinese retail marketplaces. Investing in Alibaba is gaining direct exposure to Chinese consumer market.
Alibaba recent acquisitions of Yuoku Tudou and SCMP allows the company to reach the consumer from new angles that were non-existent before. First, the acquisition of Yuoku allows Alibaba to participate in China's living room by having exposure as TV content distributor. Second, the acquisition of SCMP allows Alibaba to reach consumer from a newspaper perspective.
Alibaba is a very profitable business with strong margins and high free cash flow generating ability. Additionally, Alibaba is well capitalized to continue a fast expansion either organically or through acquisitions.
There are many risks involved with an investment in Alibaba. First, Alibaba is a Chinese company, and China is ruled by the communist party. While Alibaba has good relations with the Communist party, that kind of politics is always a wild card. Second, Alibaba has been questioned by its accounting practices and its heavy use of Variable Interest Entities. The annual reports of Alibaba are difficult to understand and the ownership of its subsidiaries is difficult to determine. Third, Alibaba is a Chinese business valued in Chinese yuan. Therefore, there is currency risk.
Investor takeaways
When presented with a market sell-off like the one witnessed in the beginning of 2016, there are opportunities to pick up wonderful businesses at cheaper prices. In my opinion, the five businesses presented above are worth taking a closer look at.
Disclosure: I am/we are long BABA.
I wrote this article myself, and it expresses my own opinions. I am not receiving compensation for it (other than from Seeking Alpha). I have no business relationship with any company whose stock is mentioned in this article.