The Dow Jones Industrial Average continued its losing streak on Friday, losing ~400 points on what was one of the worst days of the new year. Energy prices continued to slide in the new year, too, after reports over record crude oil stock pushed energy investors once again over the cliff. Iranian oil supplies, which are expected to come back to international markets shortly as sanctions on the Persian country are lifted, added to the selling pressure in energy names last week.
But lower stock prices in 2016 can (ironically) create winners, too, not only losers. While investors are in the red year-to-date, and while there is a very real chance that U.S. stock market indices dip a little lower over the short haul, lower stock prices are a gift for two groups of investors: Dividend investors who can now go shopping for discounted shares of income vehicles, and companies that planned on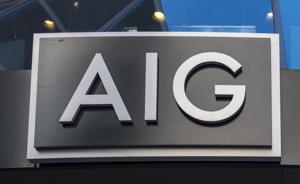 buying back stock.
The second group includes insurance company American International Group, Inc. (NYSE:AIG), which continues to feel the heat from activist investors who are dissatisfied with its lagging stock price. Carl Icahn of Icahn Enterprises and hedge fund manager John Paulson have both pushed American International Group's Chief Executive Officer Peter Hancock in 2015 to break the insurance conglomerate into pieces. The idea: Unlocking value by losing the expensive and burdensome SIFI-regulation, which, by the way, was also the reason why General Electric (NYSE:GE) decided to start selling most of its financial assets in 2015.
Now is the time for AIG to double down on stock buybacks
Stock buybacks have played an important role in American International Group's comeback as an 'investable' company.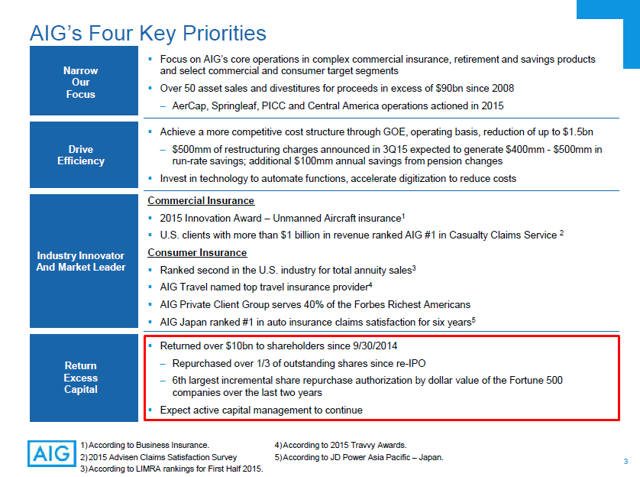 Source: American International Group
In response to the activist assault on the insurance company last year, Hancock said that the company would take its own proposal for unlocking value to shareholders before it will release fourth quarter earnings. In a separate article penned in December, I contended that this proposal could entail an increase in its stock buyback authorization. American International Group has already reacted to Icahn's pressure on the company and announced an additional $3 billion buyback in December.
At the time of press release, December 16, 2015, AIG said that it had purchased ~$9.7 billion (!) of AIG common stock in 2015. That's a stunning figure, but not enough to make a difference for shareholders.
What AIG's Board of Directors needs to do is to declare a significant increase in its share authorization, preferably in excess of $15 billion, when the company announces its strategy and action plan to return American International Group to greener pastures. Right now is a good time for AIG to double down on stock purchases and use its existing authorization to the fullest.
The 'bang for buck' AIG is going to get by buying back stock now is great: The market meltdown on Friday has pushed AIG back into the mid-$50s, meaning that AIG gets a substantial discount by buying back its shares. AIG closed Friday at $56.09, so shares can be bought back for just 71 cents on the dollar. A great bargain for the company, and its shareholders.
Your Takeaway
AIG's management has a promising opportunity at its hand to create wealth instantly. The only thing it needs to do is to use its existing stock buyback authorization and come out as a buyer now that investors are running for the hills. At 71 cents on the dollar, buying back stock by the boatload is about the best decision management can take on behalf of the shareholders.
Disclosure: I am/we are long AIG, GE.
I wrote this article myself, and it expresses my own opinions. I am not receiving compensation for it (other than from Seeking Alpha). I have no business relationship with any company whose stock is mentioned in this article.