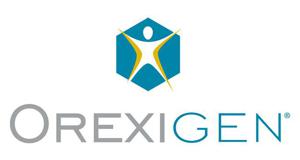 Being in first place in a race may seem to be good, but there are times when it is simply not enough to get anyone excited. Contrave from Orexigen (NASDAQ:OREX) is an example of a race leader that is not really exciting anyone.
An appropriate example of this dynamic may be professional football. Being the leader in the NFL is something that people pay attention to. Being the leader in Arena Football is something that very few pay attention to. Both leagues have professional teams, but one league is raking in money like it is going out of style while the other is scraping by on a shoestring.
Contrave from Orexigen is in a race that is almost irrelevant. Despite selling 50% more scripts than its nearest competitor in the first week of 2016, the numbers are simply unimpressive. Orexigen started off the year with script sales of just over 15,000. In fact, it is closer to outselling both of its competitors combined than either competitor is to catching up with the sales numbers of Contrave. While it seems like a good story, the reality is that sales are much slower than needed. Adding concern to the situation is the trend in new scripts. While indeed total scripts is on the rise, the trend since May of 2015 has been a decline in new scripts. As you can imagine, it takes new scripts to drive refills. If new people are not coming onto the drug, refills will slow at some point.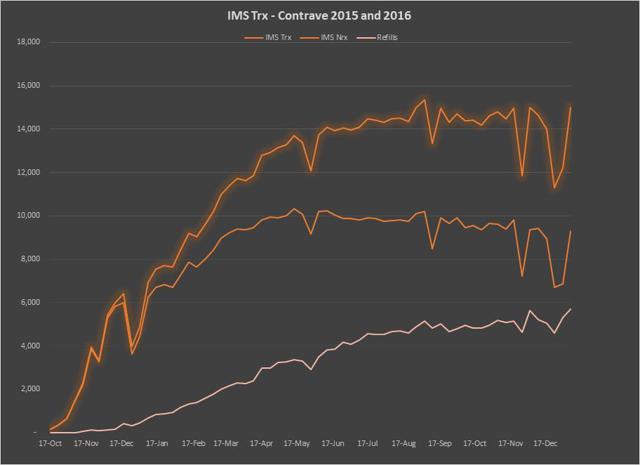 Chart Source - Spencer Osborne
On a quarter over quarter basis things look okay for Contrave. What Orexigen investors need to consider is the history in this sector. Orexigen's marketing partner Takeda is losing money on Contrave. This is a similar dynamic that impacted another drug in the sector, Belviq. Belviq was created by Arena Pharmaceuticals (NASDAQ:ARNA) and partnered with Eisai. There came a point in time when Eisai needed to begin to cut back its losses on Belviq. When that happened, television advertising stopped and sales reps were cut back. This is a situation that could happen with Contrave in 2016 unless sales increase substantially and Takeda starts to see a light at the end of the tunnel. Simply stated, 15,000 scripts a week is not providing a light at the end of the tunnel. Yes, the quarter over quarter numbers will, in a vacuum, look good. The year over year numbers will look impressive as well. What needs to improve are the bottom line numbers.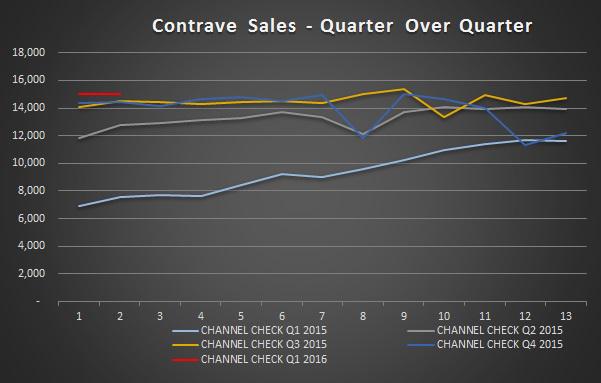 Chart Source - Spencer Osborne
For investors that refuse to see the reality, I will tell you what Orexigen management has said themselves. Management expects "low double digit growth in the sector". For arguments sake let's call "low double digit growth" 20% and assume that Contrave itself will deliver 20% growth. In 2016 sales 664,000 scripts. Growth of 20% would imply sales of 797,000 in 2016. That is growth of 133,000 scripts or 2,554 scripts higher per week. With the cycle of sales throughout the year, scripts would project to a peak of a bit over 20,000 scripts. That number, like Arena football, will simply not excite many people.
Orexigen has also guided that it will increase market share this year. That would seem to indicate that it feels that the drug will see better increases than its peers. In the first week of 2016, Contrave market share was 43.59%. This is the drugs highest market share to date, and indeed is on the right track. The number even looks impressive on the surface. The issue still remains that the size of the "market" is much smaller than needed. In my opinion the biggest factor that Contrave has going for it is the fact that one competitor, Qsymia from Vivus (NASDAQ:VVUS), was removed from a key insurance formulary. This will assist both Belviq and Contrave. In my opinion, Contrave should get the bulk of any converts because it has the largest sales rep presence with doctors.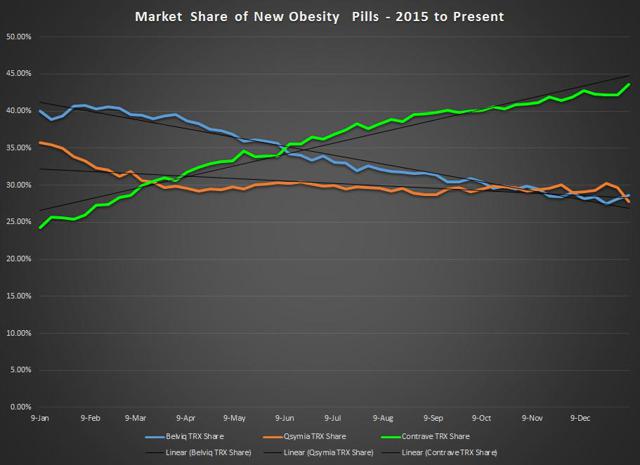 Chart Source - Spencer Osborne
A concerning dynamic I am seeing with some Orexigen investors is the idea that revenue per script alone will change the bottom line. The issue is that some investors are losing sight of the reality that revenue per script needs to increase in conjunction with scripts increasing at a level that can demonstrate a path to profits not just for Orexigen, but the marketing partner Takeda as well. Once again, Orexigen investors can look to the sector and a competitor for guidance. Vivus had a track where increasing revenue per script was the selling point. The problem is that sales were very flat. Simply stated, the revenue per script went up, but sales numbers faltered. The end result was a company that can not really improve the bottom line via sales, and instead tried to prop up the bottom line with cost cutting. The issue with that is self evident. How can you sell a drug unless you market it, and how do you market it when marketing costs have been cut to the bone? Orexigen is not at that stage yet, but investors need to consider the blunt realities of this space, and the lack of consumer, doctor, and patient interest at levels that can deliver profits.
So what is an Orexigen investor to do? The answer is simple. Monitor sales closely and hope that South Korea and Europe can launch with success. Orexigen needs sales volume and the U.S. market alone will not supply it. Even Europe and South Korea may not be enough. Orexigen investors need caution. The U.S. market will not deliver the sales needed, and "low double digit growth" is not a success story in this situation. Stay Tuned!
Disclosure: I am/we are long OREX, ARNA.
I wrote this article myself, and it expresses my own opinions. I am not receiving compensation for it (other than from Seeking Alpha). I have no business relationship with any company whose stock is mentioned in this article.
Additional disclosure: I have no position in Vivus