There has been chatter that the peg between the U.S. dollar and the riyal will soon be broken. Today, one U.S. dollar equals 3.75 riyal and this has been the case for 3 decades.
The reason why Saudi Arabia wants to de-peg against the U.S. dollar is because of its rising deficit. This deficit was ignited due to lower oil prices, which hit $29/barrel last week. Additionally, over the weekend, sanctions on Iran were lifted which could add 1 million barrels per day to the oil supply. Let's not forget that Japan is also restarting its nuclear reactors which could hit oil demand by 100000 barrels per day. Their progress can be followed here.
The following chart from Tradingeconomics shows how the current account (and budget) went into deficit this year (budget deficit is 15% of GDP). This is the first evidence to support why the riyal needs to devalue, because there is a correlation between a country's budget deficit and its real exchange rate. The higher the budget deficit, the lower the exchange rate.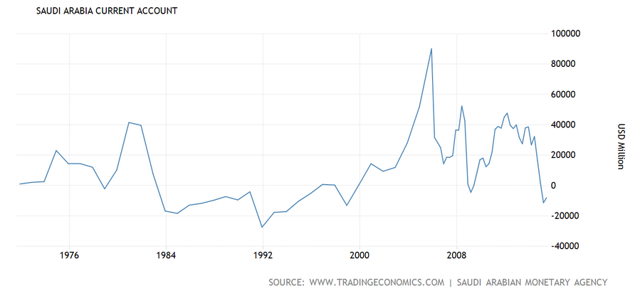 This current account/budget deficit coincided with the drop in oil prices from $100/barrel to $29/barrel in 2015. Saudi Arabia needs oil prices to be in the $100/barrel range for its economy to function properly.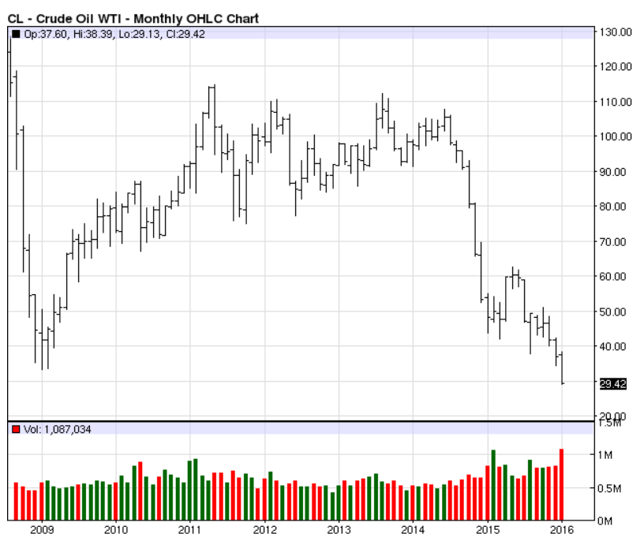 Since 2015, Saudi Arabia has tried to keep the peg by selling its foreign exchange reserves (see chart below from Tradingeconomics). This trend cannot keep going indefinitely, which leads me to believe that the probability of de-pegging is pretty high. History tells us that a currency always devalues when the foreign exchange reserves are getting depleted. This is the second sign of a looming de-pegging event. We are not there yet, but lower oil prices certainly increase the chance of it happening and this is especially the case for a country where oil accounts for 90% of its exports and 40% of its growth. I don't see any reversal in the price of oil, especially due to the lack of growth in China. When looking at this quantitatively, we estimate that when the Brent crude oil price goes below $30/barrel, the drain in foreign exchange reserves could rise to around $18 billion/month or 70 billion riyal per month. That's a very steep decline and simple math predicts that at current oil prices, reserves could be depleted in less than three years.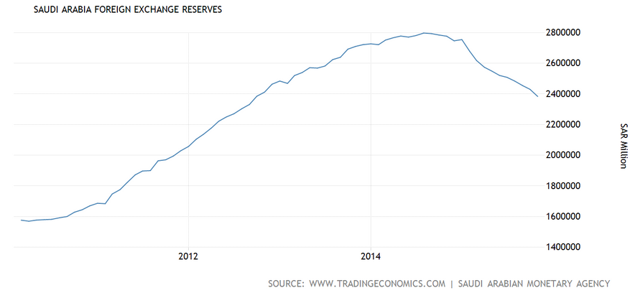 The next question is: "What happens when the riyal is de-pegged from the U.S. dollar?".
First of all, when the de-pegging occurs, the riyal will fall against the U.S. dollar. This is implied by a spike in the Saudi Riyal forwards market. This de-pegging event will need to be cushioned by a rise in interest rate swaps. This is because a de-pegging event will cause investors to abandon the riyal. Capital outflows will occur and as a result, the government will have to increase interest rates to defend its currency. This fear of rising interest rates will trigger investors to buy interest rate swaps at a higher rate.
Second, when the riyal drops against the U.S. dollar, the amount of foreign exchange reserves (see previous chart) will shoot upwards as it is priced in U.S. dollars. It is estimated that the riyal would drop by more than 10% in the event of a de-peg. The forwards market already prices in a 2-3% devaluation in 12 months. A 10% devaluation against the U.S. dollar would almost erase all the losses in foreign exchange reserves incurred in 2015, which is what the Saudi government wants to see. This of course, happens on the back of the savings of the citizens of Saudi Arabia.
Third, the U.S. dollar would surge higher, which will result in a steep drop in commodity prices, especially oil (NYSEARCA:OIL). Crude oil could collapse to $20/barrel in a matter of days. What we see is that Saudi Arabia is exporting its deflation to the U.S., just like China has been doing for the past year by devaluing the yuan against the U.S. dollar. The same happened with Kazakhstan last August, Azerbaijan last December and the Hong Kong dollar has been posting decade lows against the U.S. dollar. So investors can bet on this via the rise in the U.S. dollar (NYSEARCA:UUP) or by shorting oil (NYSEARCA:DTO) and commodities.
Fourth, when commodity prices go lower, the stock market will tank with it. We already saw that January 2016 was the worst performing January month in decades, led by surging credit risk in the energy sector. So investors need to prepare for bankruptcies in this sector. I believe the stock market is entering a bear market and investors can bet on this by shorting the Dow Jones (NYSEARCA:DOG) or shorting oil and gas (NYSEARCA:DDG).
Last but not least, since 2011, we have seen a negative correlation between equities and precious metals. I believe investors should start buying gold (NYSEARCA:GLD) before everyone else piles into it, especially when most of the managed money is short gold at this moment. A significant short squeeze could occur. Also, when gold goes up and oil goes down, gold miners will benefit tremendously from this. A bet on the profitable gold miners (NYSEARCA:GDX) can do wonders on your portfolio. You just need to know which to choose.
Disclosure: I/we have no positions in any stocks mentioned, and no plans to initiate any positions within the next 72 hours.
I wrote this article myself, and it expresses my own opinions. I am not receiving compensation for it (other than from Seeking Alpha). I have no business relationship with any company whose stock is mentioned in this article.