Exactly one month ago, I wrote an article about Cardinal Energy (OTC:CRLFF) where I said that even though I did like the company, it would have to cut its dividend by 2017 the latest as the cash flows would decrease from next year on. The company has reacted faster than I anticipated (which is a positive thing), and has revised its plans for 2016. Time to have another look.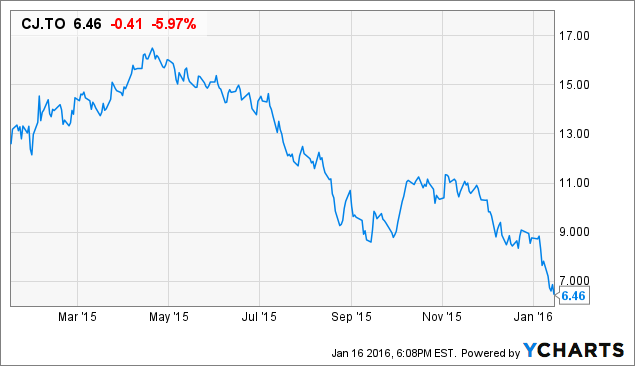 You should definitely take advantage of the company's more liquid listing on the Toronto Stock Exchange, as the average daily volume is in excess of 300,000 shares there. Cardinal trades on the TSX with CJ as its ticker symbol.
The Dividend Cut and Capex Update
Just a few weeks ago, I was warning about a dividend cut at Cardinal Energy as the recent drop in the oil price would put the company's 2017 cash flows in jeopardy. I wasn't particularly worried about Cardinal Energy running into difficulties this year, as I anticipated the existing hedges would reduce the pressure on the operating results as settling the oil hedges at a much higher price than the price of $30/barrel the oil price is currently trading at. So I didn't see a "need" for the dividend to be cut before next year.
But fortunately (and yes, I mean fortunately) the company's management team seems to be thinking two steps ahead. Instead of waiting 2016 out and benefiting from the existing cash flows hitting the treasury, allowing Cardinal to continue its dividend policy, Cardinal's team has already re-thought, re-designed and re-prioritized its capital allocation for this year.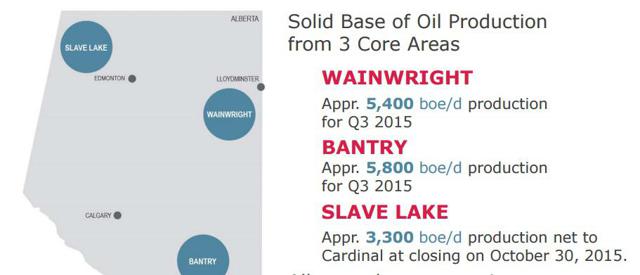 Source: Company presentation.
The original capex guidance for 2016 was to spend C$35M (US$24M) on new wells, which should result in an average production rate of 14,600 boe/day in 2016. However, due to the fact that the entire oil and gas market is falling apart, the expenses to drill and complete new wells have fallen quite considerably (undoubtedly also helped by the continuously weakening Canadian dollar). This allowed the company to reduce the capex from US$24M in 2016 to just US$17M, as Cardinal now expects it will need just 42% of its expected operating cash flow to cover the sustaining capital expenditures.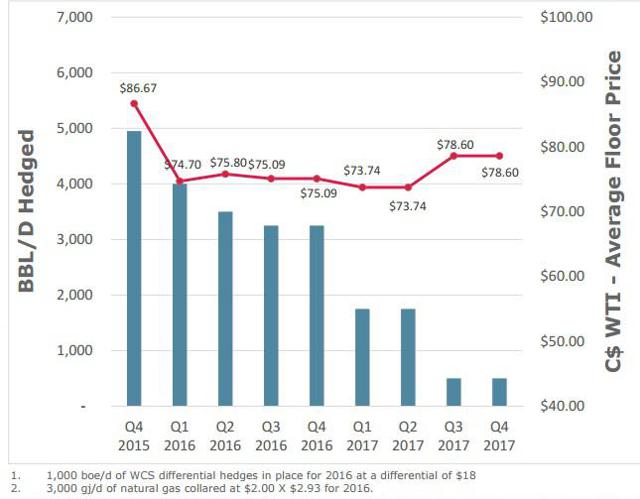 Source: Company presentation.
That's why I have been focusing on the decline rates in all articles I have written about oil and gas companies. I truly believe the decline rates will be the golden key and main difference between O&G companies that will be able to survive and those that will go down in flames. For instance, Cardinal's decline rate is less than 20%, which means that if the company does absolutely nothing in terms of capex, its production rate would fall by just 2,500 barrels per day. So should the situation get even worse, Cardinal could easily not spend a dime in three years and still produce in excess of 7,500 boe/day. Compare that to, for instance, Paramount Resources (OTCPK:PRMRF), which has a decline rate of 49%, and you'll understand why Cardinal doesn't need to spend a lot of cash to keep its operations going.
The Dividend Cut Is Actually a Positive Fact (and More Companies Should Do the Same)
Of course, the low oil price has some severe consequences for the company's ability to generate a positive operating cash flow. In light of the current oil prices, Cardinal has now revised its expected operating cash flow from C$90M ($62.5M) to C$60M ($42M). That still sounds high, but keep in mind this expectation and guidance includes the positive effects of the current hedge positions of Cardinal Energy.
As the operating cash flow projections have been revised, Cardinal Energy decided to reduce its dividend as well to make sure it would keep its payout ratio less than 100% of the free cash flow. The dividend payment was slashed by 50%, effective immediately. Whereas Cardinal paid C$0.07/month last year, the next dividend payment will be just C$0.035 ($0.025) -- which would still result in a dividend yield of 6.5%.
The dividend cut will reduce the yearly cash outflow by approximately US$20M per year. Even though the company could have drawn down more cash from the existing (and reconfirmed) credit facility, it wants to play it safe. In fact, it's one of the few companies that is adjusting its dividend payments to the oil price, instead of acting too late -- like other oil companies that still don't understand the urgency to cut dividends.

Source: Tmxmoney.com.
I'm also getting increasingly interested in the company's convertible debentures that were issued to finance an acquisition in 2015. The bonds are maturing at the end of 2020 and are currently trading at less than 92% of the par value. I'm not counting on Cardinal Energy reaching a level where I would be able to convert the bonds in new shares, but in this case I'd just aim to see the bonds being repaid at 100% on the maturity date in 2020. Based on the current coupon yield (5.5%) and the five-year term, the yield to maturity is approximately 7%, which is a tad higher than the dividend.
Should the bonds' value decrease a bit more (toward 88%-90% of par value), I would become interested, as the yield to maturity would be approaching 7.5%. Yes, I'd miss out on capital gains on the common stock in case the share price rebounds, but as a debt holder (even an unsecured one) you're enjoying more certainty than the common shareholders should the oil and gas markets remain weak.
Investment Thesis
The fact that the management team is so focused on keeping the company in financially sound shape is a clear positive for me. I most definitely don't want to invest in a company that is paying a dividend funded by increasing the net debt. If one cannot afford to pay a dividend, so be it. I don't mind falling back on a zero income if it means the company can continue to focus on value-creating activities.
A mix of common stock and the convertible debenture might be the best way to gain exposure to Cardinal Energy, and I hope the selling pressure on the convertible bond will persist. I know, that's quite evil of me. But why wouldn't I want to try to get the bond at an even better price than the 91$-92% it's currently trading at? Cardinal's management team has been scoring quite a few points with its proactive reactions, and even though a dividend cut isn't a popular move, I'm fully backing the policy of not spending more cash than one is earning.
Disclosure: I am/we are long CRLFF.
I wrote this article myself, and it expresses my own opinions. I am not receiving compensation for it (other than from Seeking Alpha). I have no business relationship with any company whose stock is mentioned in this article.
Additional disclosure: I have a long position in Cardinal Energy and am waiting for the convertible bonds to fall below 90% to initiate a position in those as well
Editor's Note: This article discusses one or more securities that do not trade on a major U.S. exchange. Please be aware of the risks associated with these stocks.