Too Late To Panic…For The Moment
As market historians, we are particularly fond of drawing parallels from previous market cycles. While the impetus for bear and bull markets are rarely the same, price action does tend to rhyme over market cycles. We have been writing about this 7½ cycle since early last year. Based on this cycle, the S&P 500 was due to top out in the Spring of 2015. As things stand, we are now confident that the 2130.82 close on May 21, 2015 marked the apogee of the last bull market.
The 7½ cycle dates from the March 2000 tech bubble top. The subsequent market top occurred in October 2007 (almost exactly seven years, six months hence) as the subprime crisis began to unfold. Projecting 7½ years from the October 2007 top and we arrive at last Spring's peak. Equally important, again from a temporal standpoint, the tech bubble bear market lasted 3-years (March 2000-March 2003) while the financial crisis bear market lasted barely 1.5 years (October 2007-March 2009). If past is prologue, the current bear market bottom can be projected anytime between October 2016 and May 2018. Of course, the rapidity of the correction (as seen by the prior two major bear markets) will be determinant.
A Most Unusual Trigger
While historians will attribute the current bear market to miss-guided central bank policies, the cause triggering the current market sell-off is, ironically, low oil prices. While high oil prices have been known to tip economies into recession, Wall Street is still trying to grasp the fall-outs from an oil price collapse. At WMA, a simple rule of thumb we follow is to focus analysis on the culprit of the recession/bear market. Only when the problems in the sector responsible for the initial chaos have been resolved do we signal the "all-clear" to our clients. By March 2003, all the 300x earnings, profit-less tech companies disappeared. By March 2009, governments assured investors that no more banks would go under.
With oil prices in the $20-$30 dollar/barrel range, Wall Street is expecting 1/3 of U.S. oil producers to go bankrupt (see WSJ article, 11 Jan.). This is the bogey to keep an eye on over 2016.
Looking back at U.S. stock price behaviour faced with an oil rout, historical trends suggest things should get worse. The red circles in the chart below highlight cases since 1990 when West Texas crude fell by over -30%. Using the Russell 3000 index to represent the broad market, the average draw-down for U.S. stocks over a period of collapsing oil prices has been -24%. The currently -10% draw-down on the Russell 3000 clearly has room to run.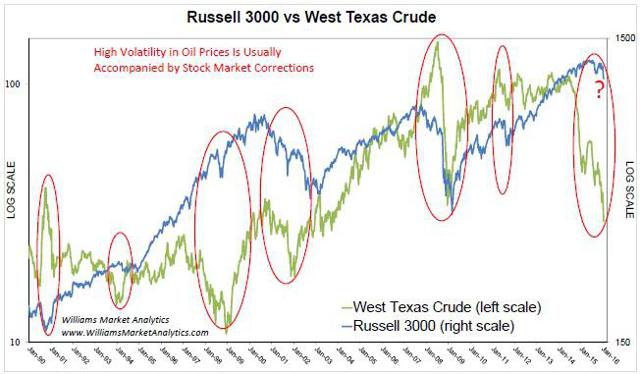 Tracking the performance of two key energy stock indexes is an excellent method to gauge the downside in the broad market. The next chart shows the S&P Oil Services Index (NYSEARCA:XES). Down -70% from its 2014 peak, the index has now retraced all the way back to the financial crisis low. Besides obviously being massively oversold, our analysis suggests that the index is likely completing a Wave 3 down. We do not believe the index will confirm a break of its financial crisis low in current oversold conditions.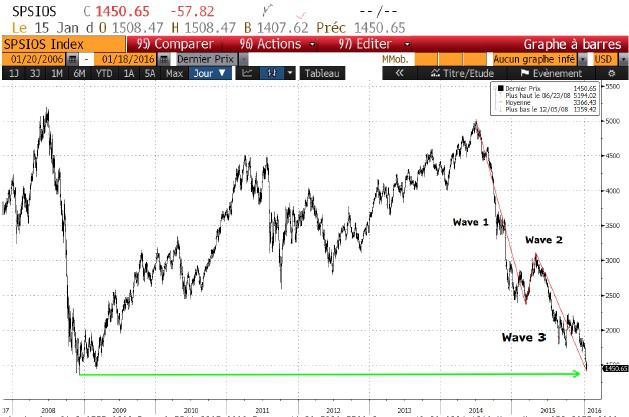 Our analysis for the S&P Exploration and Production (NYSEARCA:XOP) below is almost identical.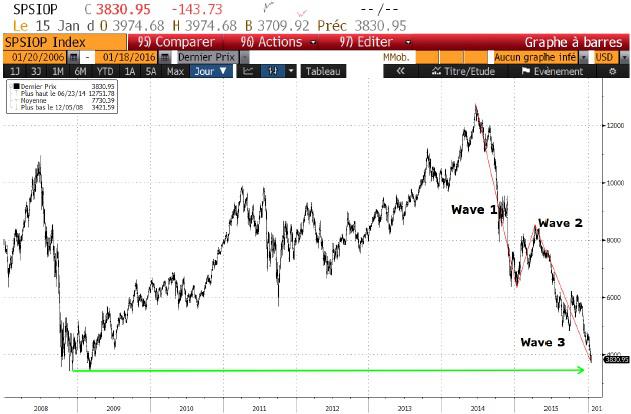 In anticipation of a possible corrective Wave 4 up for these energy indexes, we get one element suggesting that a broad market relief rally is due.
Risk, Sentiment Bad, But Should Deteriorate Further
The WMA U.S. Composite Market Risk Indicator has been tracking down since early 2015. Notably, our Risk Indicator (chart below) passed into "Moderate Risk Aversion" just after the S&P 500 peaked last May and entered the "Risk-Off" zone the second week of August - over a full week ahead of the late August sell-off.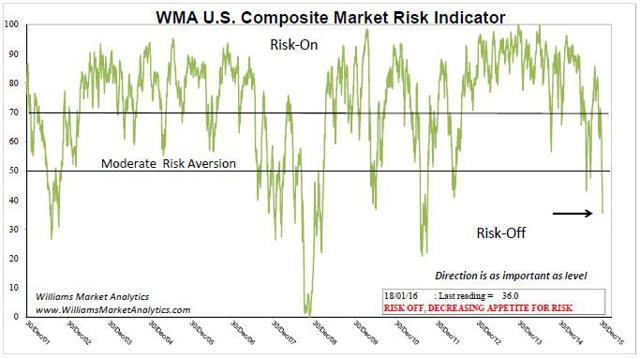 The current reading of 36.0 is the lowest since the Sovereign Debt debacle in 2011. We do not recommend closing longs or adding to shorts at this level. As during the 2008 bear market, we expect our indicator to descend in staggered steps, continually forming a series of lower highs. Take advantage of any rebound to the 50-70 range to exit long positions.
The WMA Europe Composite Market Risk Indicator (chart below) looks more pessimistic than the U.S. model. The highest reading occurred back in 2012, which we believe this corresponds to reality. Pan-European markets have rallied on a house-of-cards (ECB quantitative easing and Mario Draghi promises), with the underlying sovereign default risk still factoring into investor allocations. The composition of both our risk indicators can be found here.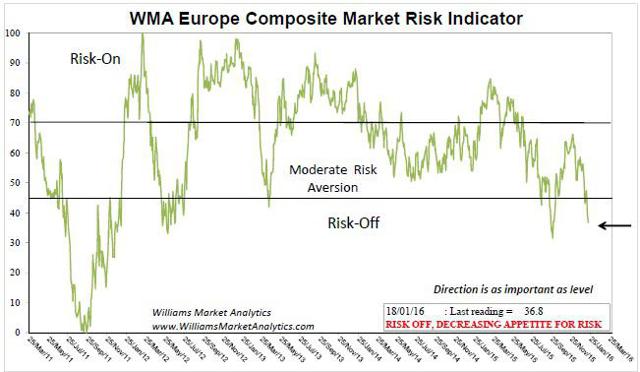 The WMA Market Sentiment Indicator again reflects the pessimism felt by markets since December (chart below). Sentiment, when it hits extremes, is an excellent contrarian indicator. The current 48.5 reading leaves our indicator in the "Pessimism" zone. This is not bearish enough to mark a major market bottom, but we are near the level that triggered last October's rally. Again, too late to short, too early to buy aggressively. Finally, we note the worrying trend of the Sentiment Indicator, registering falling peaks since early 2014. This pattern looks eerily similar to the pattern starting in 2006 (not shown), which cumulated in a deep, pessimistic capitulation in 2008.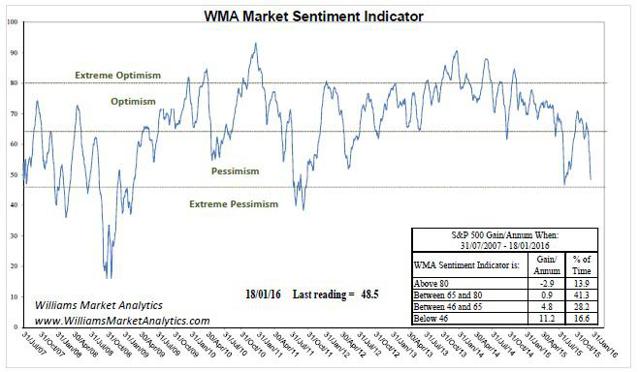 Finally, our Trend Model also suggests that this sell-off has legs. At WMA, we follow a macro, global rotation investment strategy. This strategy tracks approximately 200 world equity indexes (national and sector level). Last Friday, our model registered a whopping 93% "Under-Weight" reading across our equity universe. Our previous record for under-weight readings occurred on September 24, 2008, confirming the world-wide breath of this current sell-off.
WMA Equity Index Forecasts
Look for the S&P 500 (NYSEARCA:SPY) to either bounce immediately off the August/September 2015 support around 1870/60 or to fall slightly below this level in a fake-out before rebounding sharply. Our up-side target range is 1950-1960, which would also correspond to the traditional Fibonacci 38.2% retracement. On the downside, we see little support below 1840/25. Our downside target would be in the 1604/1583 range (see chart), a confluence of several key levels:
*50% retracement from the last significant correction (2011)
*Downside projection from the double-top neckline (2132 high - 1868 Aug/Sept low = 264 S&P 500 points. Projected down: 1868 - 264 = 1604)
*Prior bull market top of 1583, which should serve as major support.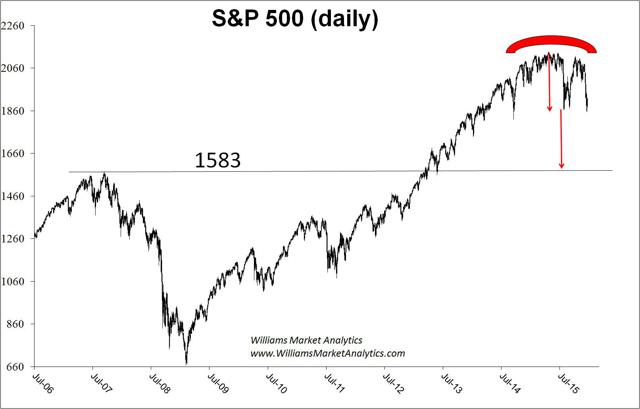 As for the Russell 2000 (NYSEARCA:IWM), plagued by fears of bankruptcy within smaller cap energy firms, the index has already corrected significantly. The pseudo Head-and-Shoulders figure was triggered this January with the break of the neck-line (in red) in the chart below. Notwithstanding a near-term relief rally, the trend is solidly down. Like clockwork, the Russell 2000 should continue to 870, formerly major resistance in addition to being the 61.8% retracement of the rally off 2011 lows.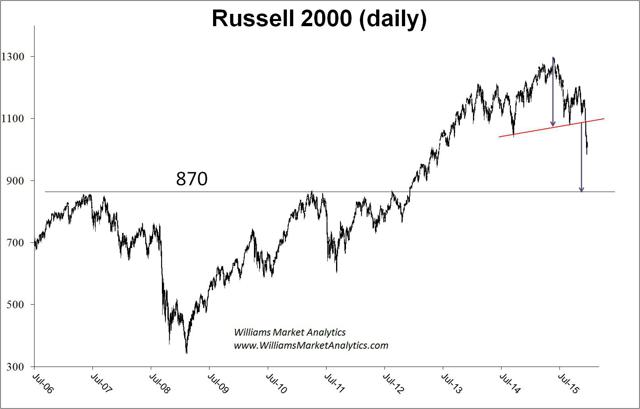 European indexes look more disastrous than the broad U.S. indexes. The EuroStoxx 50 (NYSEARCA:FEZ) has broken its uptrend line and is already below its pre-Sovereign Debt Crisis high. The EuroStoxx may be the first major developed market equity index to re-visit its financial crisis low. Thanks Greece!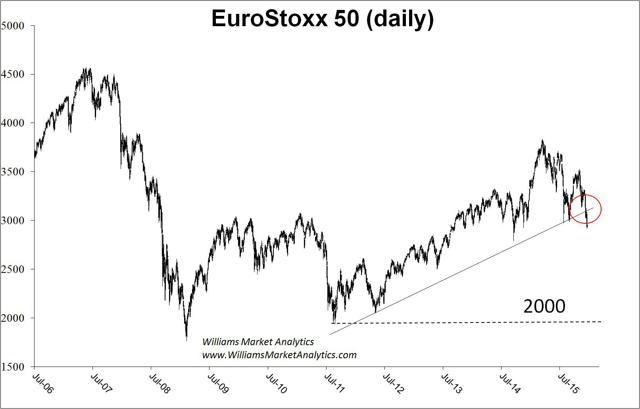 The DAX (NYSEARCA:EWG) is grasping at its last major support at 9335. The currently set-up makes a failure-swing easy to envision at this point. Next major level of support below is the 2007 market peak (8000) and the 61.8% Fib (7800).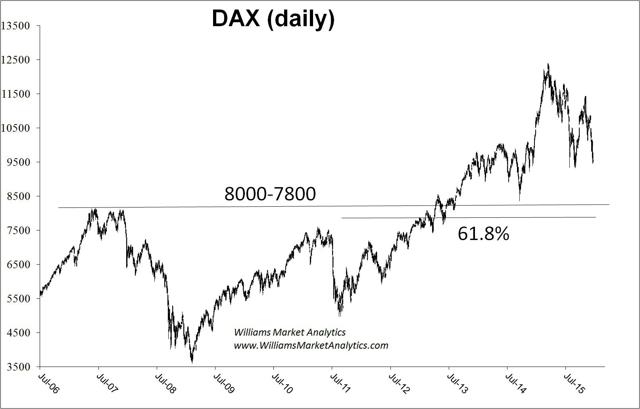 Conclusion
The market has sold off hard so far this year and it is tempting to now sell into weakness, knowing the market is likely going lower. While bear markets evolve more quickly than bull markets, prices never move in a straight line. A bounce in energy stock indexes off financial crisis lows would signal a pause in the bear market. We would anticipate a relive rally in the coming days but recommend selling cyclical stocks aggressively into market strength.
Disclosure: I/we have no positions in any stocks mentioned, and no plans to initiate any positions within the next 72 hours.
I wrote this article myself, and it expresses my own opinions. I am not receiving compensation for it (other than from Seeking Alpha). I have no business relationship with any company whose stock is mentioned in this article.