Recent reports that Apple (NASDAQ:AAPL) is scaling back or eliminating its advertising platform iAd raise larger questions regarding Apple's app business model and whether advertising should even be allowed on iOS devices. I believe in-app advertising is not in Apple's best interests, but getting to an ad-free iOS poses significant challenges.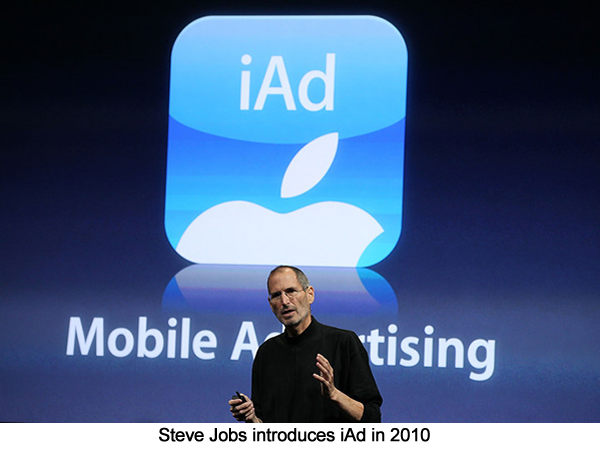 Source: Buzzfeed
Spyware Inadequacies
Since the initial report from Buzzfeed that Apple would disband the iAd sales team, there have been conflicting reports regarding what Apple intends for its in-app advertising platform. The WSJ confirms that Apple is laying off about 100 iAd sales personnel, but there is still some possibility that iAd could continue as a purely automated service.
An announcement on the Apple developer portal that the iAd App Network will be discontinued initially prompted reports that iAd would be completely shut down on June 30. However, the iAd App Network is a subset of iAd that allows app developers to advertise their apps in other apps that run iAd advertising. This shutdown doesn't preclude other general purpose advertising that iAd supports.
Regardless of the final fate of iAd, the Buzzfeed article makes some good points about iAd, pointing out that iAd revenue constituted only about 5% of mobile advertising revenue. Facebook (NASDAQ:FB) has 37.9% and Google (NASDAQ:GOOG) (NASDAQ:GOOGL) 9.5%. iAd was never a very important part of Apple's business.
Buzzfeed also makes clear what advertisers didn't like about iAd. Apple's privacy policies and restrictions on use of customer data made iAd "the best looking girl at the party, forced to wear a bag over her head." In other words, compared to most web-based advertising, iAd wasn't very good spyware.
Premature Celebration
The reports that iAd was being curtailed prompted Apple Insider's Daniel Eran Dilger to hail this as a move towards an "ad-free internet." If only it were that easy. Even if iAd were to be completely abolished, iOS developers would still have numerous options for inserting ads into their iOS apps, including Google's very own AdMob. To the extent that app developers who want ads in their apps would be forced to turn to AdMob, shutting down iAd would be something of a win for Google.
Not that Google is really desperate for the extra revenue. Research by Goldman Sachs (as reported in the NY Times) indicates that Google derived about 75% of its mobile ad revenue of $11.8 billion from iOS devices in 2014. Since most of Google's revenue comes from advertising in various forms and not from direct licensing of its Android operating system, Apple has effectively subsidized the growth of the Android ecosystem.
How to curtail that subsidy, as opposed to curtailing iAd, should really be Apple's key business objective.
Multiple Fronts
Pursuing this objective does appear to be what Apple is doing, but it has to be done on multiple fronts, because iOS device users can be subjected to ads in various ways. Search is still the cornerstone of Google's advertising empire. Whether an iOS user employs the Safari browser or the Google app, search results will contain "sponsored" results alongside genuine search results.
This subtle form of advertising is actually very difficult to eliminate. In iOS 9, Apple introduced a new set of developer tools that would allow the creation of a kind of ad-blocking plug-in for the built-in iOS Safari browser. Although this move caused a lot of consternation, this ad-blocking only worked for display ads on web sites, and not the "sponsored links" that appear in Google search results.
Although the ad-blocking features of iOS 9 were clearly aimed at Google as well as improving the browsing experience for iOS users, it missed the most important search target. Apple currently provides options for the default search engine in Safari, but until Apple develops a full-fledged search engine of its own, Google is still the best option.
Apple has been nibbling away at the search problem for some time, through Siri, and Apple Maps, and the Topsy acquisition. Last May, I reported that Apple appeared to be developing a critical search capability through the Applebot. Bots crawl web pages and catalog their contents for search engines. Clearly, Apple is motivated to develop its own search capability, but until it does, there's no way to provide a reasonably ad-free experience for iOS users.
That leaves in-app advertising. Personally, I think Apple should ban all in-app advertising, but the hue and cry from the developer community would be deafening, and some developers would probably abandon iOS. A better approach might be to segregate truly free apps from advertising-supported apps on the iOS App Store. This would allow users to choose more easily whether to install an ad-supported app.
Investor Takeaway
One of the key points I tried to make during the recent debate about ad-blocking is that we're seeing a bifurcation of mobile device usage into premium subscription supported services and lower tier ad supported services. Paid ad-free content can be in the form of paid apps, or apps that are gateways to ad free subscription content services such as Netflix (NASDAQ:NFLX). Part of the reason that iOS is so lucrative for developers is that it already constitutes a premium tier that emphasizes paid content over ad supported content.
Regardless of what happens with iAd, Apple's best interests are to keep moving in that direction. Attracting affluent users who will pay for content rather than have to look at ads is all part of the reason why Apple's mobile business is so much more profitable than the mobile industry as a whole. Providing a more ad-free experience is in effect, a way to further enhance that profitability.
As Apple investors contemplate the prospect of possible y/y declines in iPhone sales in the March quarter, we can take some comfort in the fact that Apple's iPhone profit will probably grow nevertheless. I continue to maintain a buy rating on Apple.
Disclosure: I am/we are long AAPL.
I wrote this article myself, and it expresses my own opinions. I am not receiving compensation for it (other than from Seeking Alpha). I have no business relationship with any company whose stock is mentioned in this article.