Continuing our health and wellness theme where we have looked at Lululemon (NASDAQ:LULU) and Whole Foods (NASDAQ:WFM) we've decided now to look at WhiteWave Foods (NYSE:WWAV). The stock was trading as high as $52.53 under six months ago and now finds itself 31% off its high all the way down at $36.20. We believe this might have opened up a great opportunity for growth investors to jump on in.
In case you're not familiar with WhiteWave Foods, let us tell you a little about it. It manufactures and markets plant-based foods and beverages, coffee creamers and beverages, premium dairy products, and organic produce in North America and in Europe.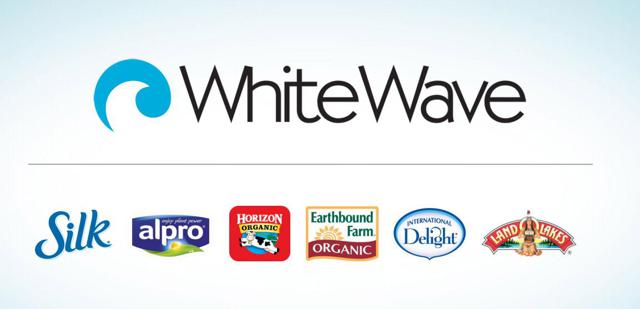 (Source: Company Website)
We believe as the societal shift to a healthier diet progresses this is a company at the very front of the line of those that are set to benefit. A 2015 survey by Nielsen (NYSE:NLSN) revealed that around 88% of those polled were willing to spend more for healthier foods. This supports our view that the company's products will continue to sell at strong levels despite being priced at a slight premium on less healthy alternatives.
At the risk of sounding like an advert, WhiteWave Foods makes healthy food simple. We absolutely love the Organic Smoothie Kickstart. If you're like us, you've probably bought or thought about buying a Nutribullet or George Foreman Mix and Go. We bought the latter and hold our hands up to confess that we love it. The only downside is buying all the ingredients and ensuring that you use them all before they turn to the dark side. The Organic Smoothie Kickstart the company makes is a ready-made mix of fresh but frozen ingredients that you pull out of the freezer and mix up.
While this product alone may not bring in billions of dollars of revenue each year, it demonstrates just one of a number of diverse revenue streams the company possesses in the health and wellness area. This is something that we find particularly appealing with the company.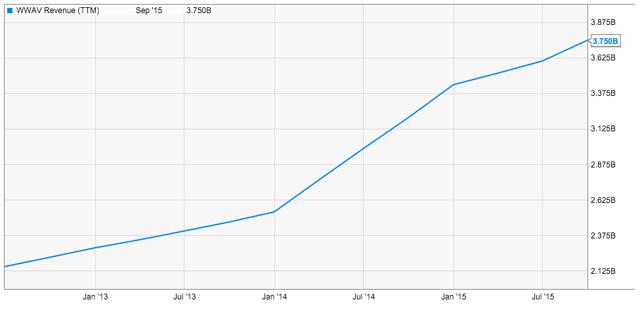 (Source: Ycharts)
The revenue growth the company has produced in the last three years has been outstanding, as demonstrated above, increasing by approximately 72% since June 2012.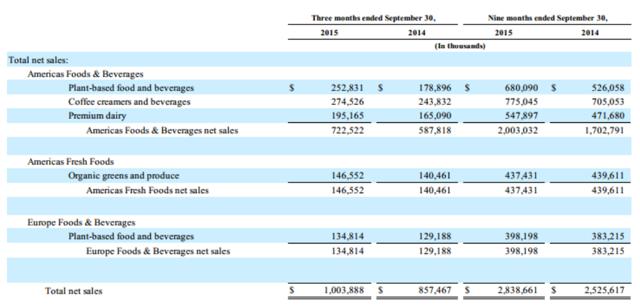 (Source: Company Filings)
As you can see above the performance has been impressive in nearly all segments. Fresh Foods has been the only negative in FY 2015 coming in a little below last year's level during the first three quarters. Management explained the slowdown on the earnings call as:
"Switching to Americas Fresh Foods, which is comprised of our Earthbound Farm brand, sales in this segment increased 5% in the quarter, marking a return to growth after a lower top line over the first half of the year due to poor growing conditions for organic leafy greens, as well as our fresh fruit sourcing decisions."
This segment is being carefully transformed now by the company and it is expected to stabilize in the next quarter, before accelerating at the start of fiscal 2016. We trust in management's plans and fully expect to see this happen in the next fiscal year.
When earnings are announced at the start of February the market is expecting earnings per share of $1.18 (up from $1.00 in FY 2014) on revenue of $3.88 billion (up from $3.44 billion in FY 2014). This equates to year over year increases of 18% and 12.8%, respectively. We feel the switch to healthier diets and general health and wellbeing will support this level of growth for several years to come, which in our view justifies paying a premium for the stock today. Our view is that once you go healthy, its hard to go back. Anecdotally, the difference we feel from eating healthily, as opposed to unhealthily, is huge. We think this should go some distance to preventing it from being a fad.
On a peer analysis with its competitor Hain Celestial Group (NASDAQ:HAIN) it is trading at a premium on first look.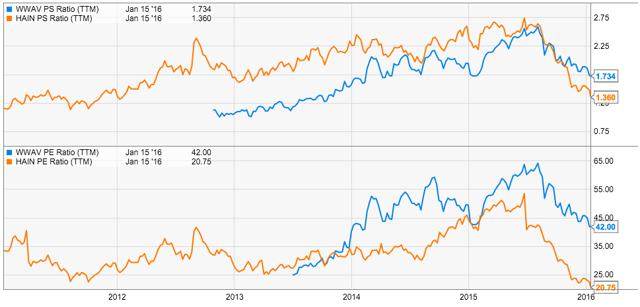 (Source: Ycharts)
WhiteWave is trading at 42 times earnings to Hain's 20.75, and similar can be said with the PS ratio. However, the growth prospects of WhiteWave far outweigh that of Hain (which are still great), and for this reason we reemphasize the fact that we feel the market is willing to pay over the odds.
In time we would like to see the stock's PE ratio settle down to around the industry average of 23 times earnings, but we imagine that would be at a time when its growth matches that of the industry. We support the view of analysts that believe the company will continue growing earnings by 18.5% per annum for the next five years.
Barclays analysts recently upgraded the stock to overweight and placed a $45 price target on its head. This would represent a significant gain from its current price of $36.20 and supports our view that now is an opportune time to buy into this growing company. We feel a $45 price target is reasonable and fully expect it to reach it with 2016.
Takeaway
We believe companies related to health and wellness are set to prosper in 2016 and beyond due to societal shifts in the way we live. WhiteWave is one of those companies that is positioned with perfection to benefit. The multiples might be high in comparison to the industry or the market, but so is the growth ahead for this company. This for us justifies paying a premium and we see significant long-term gains for investors.
Disclosure: I/we have no positions in any stocks mentioned, but may initiate a long position in WWAV over the next 72 hours.
I wrote this article myself, and it expresses my own opinions. I am not receiving compensation for it (other than from Seeking Alpha). I have no business relationship with any company whose stock is mentioned in this article.