For most normal Americans, their two biggest assets are their home, and their retirement accounts. So, when the stock market crashes 8% in a couple of weeks, and 14% down from its high, it is the equivalent of a housing market crash. The difference is, you can buy and sell stocks, and people love to give advice on what to do during market uncertainty. Personally, I believe the market will rebound, and we will be up for the year, but some very big names are coming out and predicting further deterioration in the marketplace. As a former financial advisor, I have many friends still in the business, and they are telling me that people are trying to figure out where to stash their money to stay away from the markets. As someone who has always hated the "sell everything, and time the market" approach, I decided to come up with an investing strategy for people who are scared that the market will continue downward, but hopeful that it moves back up. Basically, how can you limit your downside risk significantly, but participate in the gains if the market rebounds, either this year or the next.
This recommendation works best in IRAs, or non-retirement account, and will not likely transfer over into current 401K balances, because of plan type restrictions. This is a covered call strategy, and I have designed the portfolio recommendation based on what I would do with a $100,000 IRA if I was worried the market would continue downward, but wanted to participate in the gains if the market turns around. We will employ a covered call strategy, on a wide variety of value stocks, with a few hedges in the portfolio as well.
What is a covered call strategy? I am going to explain this at the highest level possible, so that readers are forced to do more research before they execute the strategy, which should really be done by using a financial advisor. At the highest level, you buy 100 shares of ABC for $100, for a total of $10,000. You sell the right to someone else to buy that block of shares from you at a given price, say $105/share. Because the stock is undervalued, that right costs the other investor $8/share. You pocket the $8 immediately. If the stock goes up beyond the $105, you will likely be forced to sell to the other investor, in which case you made $8 of profit on the option, and $5 on the stock, locking you into a 13% profit on the transaction. If the stock never moves up, throughout the 12 month option period, your breakeven on the stock is now $92/share, because you paid $100 for it, and you received $8 for selling the option. Essentially, you have lowered your downside risk (because the stock could go down 8% and you would break even), by capping your upside risk (no matter how high the stock goes, your gains are capped at 13% if the option gets called during the option period).
As you can see, this strategy is not for someone who thinks the market is going to come storming back, it is meant specifically for someone who is willing to agree to the following statement:
"I am willing to cap my gains at 5% - 15%, in exchange for drastically lowering my risk if the market continues to fall."
If you fall into that category, I have come up with a portfolio which will help you reduce your risk, and maximize your gains, in the choppy market that is likely here to stay for 2016. I have outlined the actual trades here, and will speak to the general strategy below:
I have outlined 13 stocks for you to fill your $100,000 portfolio with, along with the corresponding covered calls I would recommend writing, with prices as of the close on Friday, January 15th 2016. Then, I have placed the call profits into a "Corporate Bond" Bucket, which we will assume can grow reasonably at 5%, which is why you see the total invested listed at $113,825, instead of $100,000. Your out of pocket investment would be $100,000, you would invest the call profits into Corporate Bonds, and then this would be your anticipated return if the underlying stocks moved up/down by the percentages outlined in the chart.


As you can see, the strategy as a whole protects your downside risk, while capping your upside potential. Here is a look at how the various scenarios would play out:
If the underlying stocks drop 30%, you will only lose 15.5%, beating the underlying stocks by 14.5%
If the underlying stocks drop 20%, you will only lose 3.7%, beating the underlying stocks by 16.3%
If the underlying stocks drop 10%, you will actually make 4.4%, beating the underlying stocks by 14.4%
If the underlying stocks break even, you will make 14.4%, beating the underlying stocks by 14.4%
If the underlying stocks go up 10%, you will make 23.8%, beating the underlying stocks by 13.8%
If the underlying stocks go up by 20%, you will make 26.5%, beating the underlying stocks by 6.5%
The only way you lose, versus owning the underlying stocks, is if they all rise more than 27.4%.
Portfolio Makeup
Your final portfolio, after reinvesting the call profits into bonds, would look like this: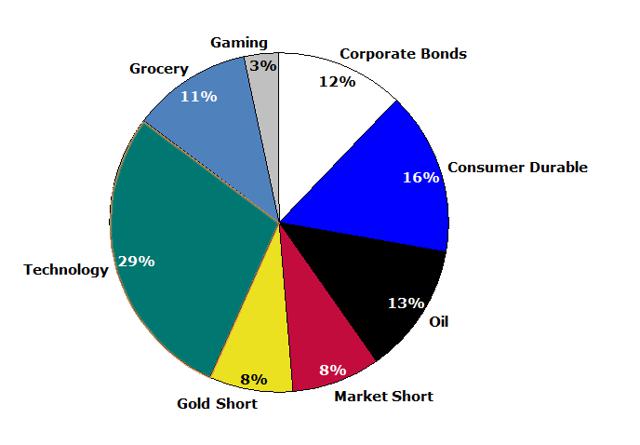 Consumer Durables
Great place to find a few classic American companies who are trading at incredible values at the moment. I chose Whirlpool (NYSE:WHR), and Ford (NYSE:F), because they both have a forward P/E of below 10. Whirlpool is over 35% off its high, and Ford is 25% off its high, giving each a lot of potential movement upward if the market were to come back. Also, this allows the options to sell at a nice value, so you can get 7% up front selling the WHR option that I outlined, while getting another 16% if WHR hits the strike price. For Ford, you get almost 7% up front selling the option, and another 8% if the stock hits the strike price. If the stocks don't hit the strike price within a year, you still own incredible American stocks at extraordinarily low prices, and you will be in great shape when the market returns to normalcy, while still cashing in on the options up front.
Technology
This seems like an odd sector to put so much of the portfolio in, but it will make sense in a minute. The technology stocks I chose were Microsoft (NASDAQ:MSFT), Apple (NASDAQ:AAPL), Netflix (NASDAQ:NFLX), and Pandora (NYSE:P). MSFT is a safe place to be inside of Technology, and will still allow you to get nearly 7% when you sell the call, and another 8% if the strike price is reached. AAPL is over 25% off its high, and is another safe tech bet that you can cash in 7% on selling the call, while still giving yourself 13% more if it reaches its strike price. NFLX is a little more risky, but because the stock is so volatile, you can make incredibly good money on the covered call strategy. You can cash in a 19% return on NFLX on day one by selling the call, and then get an additional 6% if the stock hit's the strike price. If the stock doesn't hit the strike price, you effectively bought NFLX at $84/share, which is almost 40% below its high. Still risky, but worth it to cash in on the immediate benefit, while betting on a media trend that has proven itself out over the past couple of years. The final pick is a buyout play, P should be bought out this year now that the price has cratered. I could have suggested an option that would make more money initially, but I wanted to leave room for you to cash in on the potential buyout (or even just buyout rumors) that will likely come. So, you still get to cash in almost 17% when you sell the call, but you get a whopping 38% if the buyout comes to fruition at/above $13/share.
Grocery
Grocery is a really nice sector play in a market like this. Even when the economy is bad, 401K's are cratering, and all hell is breaking loose…people still have to eat! The difference is, as they cut back on going out, they increase their trips to the grocery store. I outlined two picks in this sector, Kroger (NYSE:KR) and Whole Foods (WFM). Kroger is a leader in the industry, and will get the most benefit if shopping trips increase. You can make 6% on the option, and another 10% if the stock hits the strike price. Whole Foods is capitalizing on a trend in the industry (more fresh food options), but is also an interesting buyout target in an industry which has been under mass consolidation. WFM is down almost 50% from its high, and is a great buyout possibility at the moment. The Club Stores [Wal-Mart (NYSE:WMT) & Costco (NASDAQ:COST)] could use them to add a fresh component, or the traditional grocers (KR, Safeway, or HEB) could swipe them up if they had $11B - $14B, and wanted to make a large expansion into the fresh trend. Because of all of this, you get almost 10% when you sell the call on WFM, and another 10% if the stock hits the strike price.
Oil & Gas
You are reading this because you are worried the market might go down this year, but want to be positioned well if/when the market comes back in 6-18 months. You basically just described the Oil & Gas sector. It is at historic lows, but nearly everyone believes a recovery is coming in 3 years or less. Now is your chance to grab some huge names at bottom-feeder prices, along with selling some calls to lower your purchase price even more. I have recommended Schlumberger (NYSE:SLB), and Baker Hughes (BHI). SLB is the biggest name in the industry, and is trading 30% off its high. It has made a great strategic acquisition during the downturn, and is ready to capitalize on the Iran Sanctions being removed. In addition, you can make 7% selling the option, and an additional 11% if oil recovers faster than we think, and the strike price is hit. BHI is currently in an antitrust fight, with Haliburton attempting to purchase them. This one is admittedly risky. If the purchase falls through, BHI will fall dramatically (but they do get a $3.5B breakup fee payout). If the buyout goes through, this will be one of the better investments you've ever made. Because I believe the buyout will go through, I have structured the recommendation where you will make 9% on the option, and an additional 25% if the strike price is hit. For those with less risk tolerance, please insert your BHI dollars into Haliburton (NYSE:HAL) instead, or drop some more money on WHR or WFM (from earlier in the article).
Gold Short
This is a really interesting play right now. Gold typically falls when oil prices fall, but also increases when the world becomes unstable. At the moment, those two forces are working against each other, and Gold does not know which way to move. Currently, Gold is sitting at near an all-time high. Most people believe it is overpriced, which is why DUST makes for such an interesting play. You can purchase DUST, which bets that Gold will fall, and immediately make 39% selling the option (because the market is betting that gold will fall, and DUST will rise). In addition, you will make another 11% if your strike price is hit. This is not for the faint of heart, but the option premium, and the nonsensical price of gold at the moment, makes it too good to pass up.
Market Short
This is simply a hedge, so that if the market does fall, you have one stock that moves in the opposite direction as the others fall down, lowering your overall risk profile. Since most people believe the market will fall near-term, you can purchase DXD, and immediately make 16% selling the option, then an additional 5% if the strike price is actually hit. There is a lot of value in having things in your portfolio that will move in opposite directions, lowering your beta, while making a nice premium on the option immediately.
Gaming
I won't spend much time on this one, but I think Las Vegas Sands (NYSE:LVS) will return nicely this year. LVS will give you an immediate return of almost 9% on the option, and another 16% if you see the upside movement and hit the strike price. If Gaming is not your thing, increase the WHR or WFM positions.
Corporate Bonds
I am recommending that you take all of the income you reap when you sell the covered calls, and drop that into high quality corporate bonds. Again, this is more of a market hedge. Typically, when stocks go down, bonds perform well. This is probably a really smart move to lower your portfolio's beta, which allows you to lower your risk while maintaining the right portfolio to maximize your returns. In this analysis, I have assumed that you would find good, solid corporate bonds at 5%. You could easily find bond funds paying much more than this, but I would caution against them, as they will contain many junk bonds, who are much more likely to default in environments like this (not to mention many of those funds are weighted heavily in Oil/Gas, where small companies are bound to go bankrupt this year). I would be very selective in choosing high quality individual corporate bonds, and not get overly greedy on the interest rate. Remember, these serve as a hedge during a very risky market, so this is not the place to try to eke out another percentage point in exchange for higher risk.
Summary
This recommendation is meant for those who are afraid that the market will fall, but don't want to be left out if the market stabilizes, or rises, this year. This portfolio gives you a diversified, hedged way of playing a very risky market, which will allow you to beat the performance of the underlying stocks in nearly every scenario that I have laid out earlier.
For review, this is how it would play out in the three main scenarios:
If you think the underlying stocks will trade between =/- 30%, your total return will be -15.5% to 27.4%
If you think the underlying stocks will trade between +/- 20%, your total return will be -3.7% to +26.5%
If you think the underlying stocks will trade between +/- 10%, your total return will be 4.4% to 23.8%
Basically, you take a lot less risk, and only lose versus the underlying stocks if the market makes a massive recovery. I believe this portfolio meets the needs of uncertain investors, in uncertain markets. As always, and especially when discussing option strategies, you should review your plan with a financial professional before executing something like this with your nest egg. Good luck to everyone, I hope this helped!
Disclosure: I am/we are long WHR, BHI.
I wrote this article myself, and it expresses my own opinions. I am not receiving compensation for it (other than from Seeking Alpha). I have no business relationship with any company whose stock is mentioned in this article.
Additional disclosure: I used to work for Whirlpool Corporation, and I currently work in the grocery industry, but have no inside knowledge of the inner-workings at KR or WFM.